Eyes on the Sky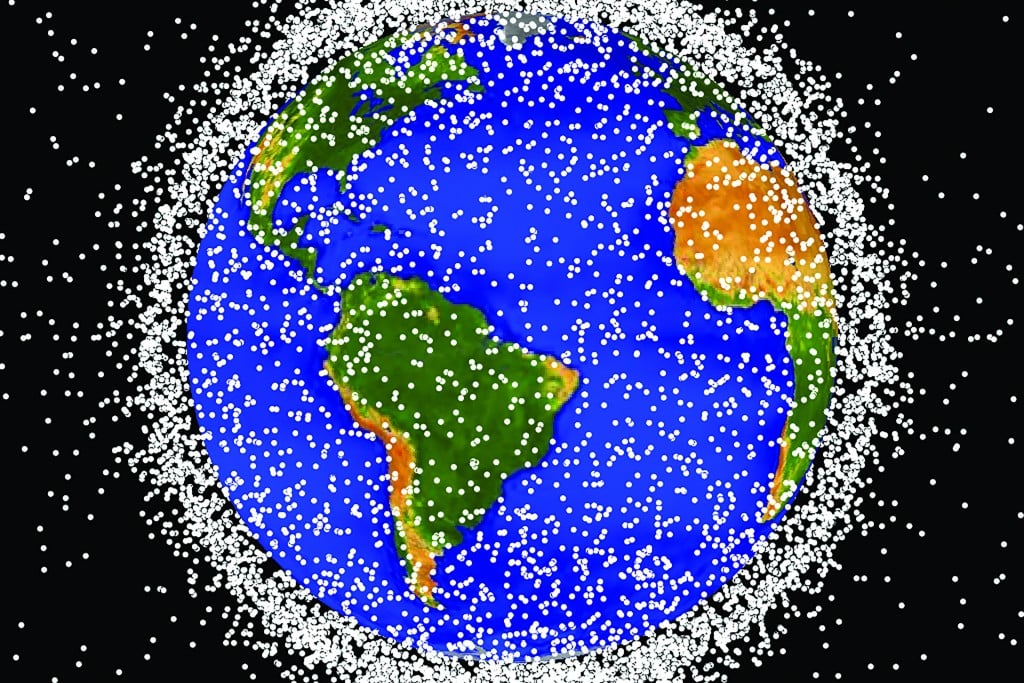 The world's worst traffic is not in Los Angeles, Bangkok or Beijing. It's hundreds of miles above the Earth, where an ever-increasing mishmash of satellites, debris and junk are circling the planet at thousands of miles per hour, and a team on Maui plays a crucial role in tracking it all while trying to prevent collisions.
It turns out the same qualities that make Hawaii an ideal place to study deep space (think Mauna Kea) also make it well suited to watch over near space.
"It's similar to the FAA in space: A big role is air traffic control," says Laura Ulibarri, deputy division chief for the space electro-optics division of the Air Force Research Laboratory's Directed Energy Directorate. "If you want to keep track of one satellite and make sure it stays safe, you have to keep track of everything else up there that might collide with your satellite. It becomes a very difficult problem very quickly."
To get a sense of the problem, let's go back to Feb. 10, 2009 and the first major known collision of orbiting satellites. Iridium 33, an active U.S. commercial communications satellite, and the out-of-service Russian satellite Kosmos-2251 each weighed almost a ton. When they collided at more than 26,000 miles per hour about 500 miles above Siberia, they scattered thousands of broken parts into high-speed orbits around the Earth.
To date, more than 60 countries have launched satellites; in fact, UH launched its own satellite in November 2013. Today, the job of traffic control involves not just tracking thousands of satellites, but also the tens of thousands of pieces of space junk that threaten them.
As with other forms of astronomy, Hawaii's combination of high mountains, clear air and mild climate make it an ideal spot from which to observe the sky. Its location in the central Pacific and near the equator give satellite watchers an important vantage point.
"It's pretty much the only thing out here if you want to get coverage" of space above the Pacific, Ulibarri says.
The division she supervises is based out of Kirtland Air Force Base in New Mexico, but she and more than half her workforce are on Maui, she says. Air Force Research Laboratory employs some 255 military, civilian and contractor personnel in Kihei or on Haleakala, while Air Force Space Command maintains a smaller presence.
In addition to the 24/7 job of watching the sky, the space surveillance mission serves as a magnet for R&D, funneling grants to UH and local firms such as Oceanit, HNu Photonics and Pacific Defense Solutions, to develop and improve on imaging, sensor and data-processing technologies, many of which have found applications in other industries.
It's also the focal point of the annual Advanced Maui Optical and Space Surveillance Technologies conference, started by the Air Force 15 years ago, and now organized by the Maui Economic Development Board. Recognized in the industry as one of the world's top conferences for space surveillance, this September's AMOS conference attracted 530 professionals from 13 countries to a weeklong symposium in Wailea.
A hot topic at this year's event: the coming boom in space clutter and how the industry will keep up. Not only is the total population of new satellites and orbital debris projected to steadily rise, but improved radar and imaging capabilities are expected to bring thousands of objects into view that couldn't be detected before. Their high speed means even tiny objects can disable important satellites. Conservative estimates call for the total number of objects we monitor to triple in the next several years – from the current 20,000 to more than 60,000. Other projections call for it to increase to 200,000 objects or more.
Will military spending on space surveillance increase to keep pace? Ulibarri doesn't think so, and instead expects an increased emphasis on improving automation and efficiency.
"There's been a lot of pressure on defense budgets," she says. "I don't see anything on the horizon that leads me to believe we'll see a huge influx of new staff, but I think we'll maintain a steady state."
Ideal Location
The Maui Space Surveillance System on Haleakala includes the 3.6-meter Advanced Electro-Optical System telescope, the largest telescope in the Department of Defense, along with three smaller optical telescopes, and the Ground-Based Electro-Optical Deep-Space Surveillance System. The system works closely with the Maui High Performance Computing Center, one of five supercomputing resource centers in the Defense Department.
Contractors currently supporting Air Force operations on Haleakala include Boeing, which holds a $476 million contract through next year to provide engineering, experimental support and site infrastructure on Maui and at the Starfire Optical Range at Kirtland Air Force Base; UH, which holds a $4.5 million base contract for management of the Maui High Performance Computing Center (up to $11.5 million if all options are exercised); Schafer Corp., which holds a $10 million contract to provide technical and administrative support, plus additional research contracts; and Wolf Creek Federal Services, which holds a $34.8 million contract to provide facility and infrastructure support.
MHPCC operations are set to transition next year to Virginia-based SAIC, which was awarded an $89.5 million contract to provide management and technical support for five DoD high-performance computing centers, including Maui's.
The Maui Space Surveillance System is part of a worldwide military space surveillance network that includes 30 radar and optical sensors at locations around the globe, including New Mexico, Kwajalein Atoll and Diego Garcia.
Speaking at this year's AMOS conference, Natalie Crawford, a senior fellow at the RAND Corp., called Haleakala "a singular link in the chain."
"That installation is not here because Maui's a beautiful place," she said. "It's here because the geographic location of Maui gives those systems the ability to see farther and lower (on the horizon) than anywhere else on Earth."
Another keynote speaker, Gen. John Hyten of Air Force Space Command, noted that the Defense Department had invested some $30 million over the past several years to improve Haleakala's technical capabilities. The upgrades, which included replacing aging electronics and software, were completed in 2012. The last major site upgrade had been more than a decade earlier, Ulibarri noted.
The timing of those improvements was extremely fortunate for Hawaii, said Elliot Holokauahi Pulham, CEO of the Space Foundation, a nonprofit advocate for the space industry. He noted "sequestration" of Defense Department budgets and a steep decline in overall U.S. government spending on space will likely mean other facilities will be passed over for upgrades going forward, putting them under increasing pressure to squeeze more results out of aging infrastructure.
"The capabilities of Haleakala are very, very good," he says. "It's not going to deteriorate anytime soon."
"Exquisite Detail"
In addition to keeping track of man-made objects in Earth orbit, an important part of the mission is determining exactly what they're doing up there, in what Crawford described as "forensics." "It's extremely, extremely critical," she said.
Many Air Force research goals focus on improving techniques for "cleaning up" shaky images and rendering small or distant objects in greater detail, notes Dr. Stuart Jefferies of the University of Hawaii Institute for Astronomy, one of several UH scientists with projects funded by the Air Force Office of Scientific Research.
Jefferies' work developing technologies and algorithms to squeeze out ever finer detail from the images gathered on Haleakala has received about $7.9 million from the Air Force over the last 10 years, including $1.2 million awarded in July for the next four fiscal years. Sitting in his Makawao office, he holds up a photograph of a blurry blob, next to a second image showing the clear profile of a satellite, a "before and after" contrast that illustrates how some of the techniques he's developed allow observers to get a better idea of what they're looking at.
"This is data that would just be thrown out normally, but now we're able to salvage it," he says.
Other projects Jefferies has worked on include developing techniques to get clearer images of distant objects, and improving sensors' daytime imaging.
The goal, he says, is to not just be able to know the satellite is up there and watch its orbit, but to be able to figure out what country it belongs to, and even to determine what its on-board cameras are looking at.
"That's why it's called 'space situational awareness,' " he says. "They want to know, is the satellite pointing here or here. They want to know what its intentions are. They want to be able to see it in exquisite detail."
Maui-based Pacific Defense Solutions has also received Air Force funding to improve imaging. Wes Freiwald, an electrical and telecommunications engineer who left Boeing to start the company in 2006, says he wanted to focus on more "high-end research and development."
"Satellites are getting smaller and smaller, and space debris is getting smaller and smaller," he says. "We wanted to develop algorithms and sensors that were able to detect very small, dim objects, and determine accurate orbits for those."
Pacific Defense Solutions currently holds about $14.5 million in research contracts with the Air Force and is also a subcontractor for Boeing.
Projects have included developing techniques for better detecting small, faint objects against a cluttered background. That work has also found application with the U.S. Navy, which has hired the company to develop algorithms for submarine technology, which is replacing traditional periscopes with high-tech sensors; and Freiwald says there's increasing interest in "general homeland surveillance," such as improving the ability of high-end security cameras to detect a person walking through a static field far away.
Freiwald sold the company to Virginia-based Integrity Applications Inc. in November 2013 for an undisclosed amount.
"We started with three people and, when we sold the company to IAI last year, we were at 36," he notes. The company has since grown to 40 employees, most of them on Maui.
Like Ulibarri, Freiwald expects defense spending on space surveillance to remain flat, even as the task gets more challenging, putting a premium on efficiency.
"It's incumbent on companies like ours to figure out how to do more with less," he says. "I don't think (spending is) going to increase, but I don't think it's going to decrease either. It's a critical domain for every aspect of our daily lives."
Ready for Takeoff
While defense and U.S. government budgets may be static, Maui Economic Development Board president Jeanne Skog believes future growth will come from the booming commercial space industry.
"The whole area of SSA (space situational awareness) is growing tremendously," she says. "It initially was more focused around security, but now there are so many commercial assets in space that it's heightened the interest in this SSA area around commercial lines as well."
Haleakala's natural attributes, as well as decades of investment in its infrastructure and technical capabilities by leaders like the late Sen. Daniel Inouye, will continue to make Maui a player in the field, she says.
Pullham agrees that the future of the space industry is on the commercial side. He noted that of the $314.17 billion spent worldwide on space in 2013, some 39 percent was on commercial space products and services, and 37 percent was on commercial infrastructure development and support. Only 13 percent came from U.S. government budgets, while the remaining 11 percent came from other governments.
U.S. government spending on space has continued to decline – it fell 9 percent in 2013 from the previous year, he added. So far, the majority of Hawaii's space surveillance industry is driven by government spending, but the state has "only begun to scratch the surface" of commercial operations, he says.
The seed may be planted for more commercial growth, he adds, noting that the satellite operations firms Intelsat and Inmarsat now share a joint satellite access station teleport on Oahu's North Shore. The two companies employ a total of 20 people at the teleport.
"Their presence here could be useful in attracting more commercial investments," he says. "I think Hawaii is well situated, but it has not thought yet about how to get there."
Looking to the future for his business, Freiwald feels secure.
"The space environment continues to get more and more cluttered," he says. "More countries are putting up satellites, more satellites are breaking up, creating more debris that requires more tracking. As long as that occurs, we'll be pretty good."