Fashion Forward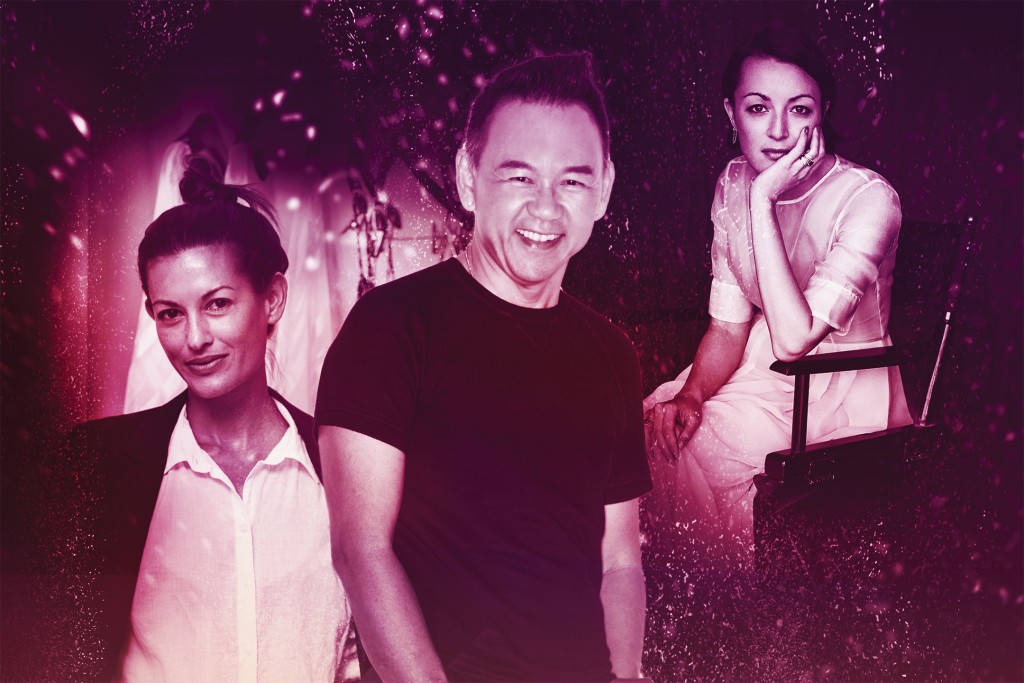 Savvy business experts offer advice to emerging designers on going global
Talk about a left-brain, right-brain challenge.
Local fashion entrepreneurs need to be innovative and continually create new looks that attract people's attention. But, if their skills end there, they will never sell more than a few outfits, and probably almost none outside of Hawaii. They need business skills and, ideally, a global outlook.
Enter the inaugural Pitch Panel at November's annual Honolulu Fashion Week. Three designers went before five business and fashion experts and the ideas and questions flew back and forth. But, as befits the Aloha State, the atmosphere was supportive, even fun, not like the intense and confrontational pitch panels you've seen on TV.
"We are not Shark Tank. This is more like a world-class aquarium," said Susan Eichor, COO of aio, the parent company of Hawaii Business.
"Our ultimate vision is not simply fashion, but to take Honolulu lifestyle brands global."

— Yasunobu Kyogoku, Founder and CEO of Innovation Global Capital
"Our ultimate vision is not simply fashion, but to take Honolulu lifestyle brands global," said Yasunobu Kyogoku, founder and CEO of Innovation Global Capital, and a former COO of Uniqlo USA. The panel of experts was looking for one local designer to support and advise as that lucky person leaped into the world market.
Among those in attendance in the packed conference room at the Hawaii International Convention Center were people with a keen interest in seeing Hawaii brands succeed internationally: representatives of government, the private sector and the fashion industry.
Three elite, local fashion designers were chosen to make pitches: Malia Jones, Bliss Lau and Kaypee Soh. Each had two weeks to prepare their 10-minute presentations with help from two business consultants who volunteered their time: Susan Yamada, executive director of the Pacific Asian Center for Entrepreneurship at UH Manoa's Shidler College of Business, and Omar Sultan, managing partner at Sultan Ventures, a Honolulu-based startup catalyst.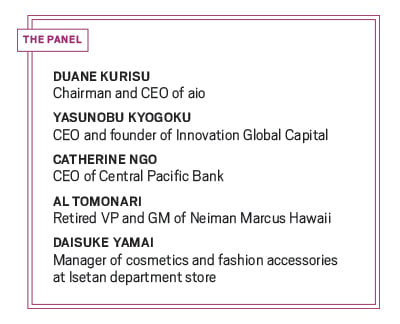 At the end of each "pitch," the designers were peppered with questions: How would your brand translate in Seattle? Japan? Australia? Would the designs be altered for different markets? How would your brand evolve?
"The art part is the fun part that people see – the creativity, the vision," Kyogoku said. "The second part of it is the science. How much of an inventory do you have to buy? How do you distribute this into department stores? How do you negotiate a real estate lease?" Probably the question that gave the designers most pause was whether they could separate their creative passions from their business decisions – an uncomfortable request of any artist.
While looking to support Hawaii brands, the panel was also searching for an authentic voice and a designer who would benefit most from the panel's expertise. The designer they chose was Malia Jones. As part of her prize package, she will receive personalized coaching every quarter from each of the panelists, an advertising and social media package, and a year of free access to Hawaii Business magazine's events at which business concepts are discussed and learned.
Why all of the interest in taking Hawaii's brands to the next level? Kyogoku sees the marketing power of paradise. "People from around the world want to live this lifestyle," he says. We'll be looking to Jones to give the world a further taste of it.
---
Malia Jones
Raised in Kailua on Oahu, Jones won the girls' division of the U.S. Amateur Surfing Championships at age 15 and went pro at 17. Soon after, she began modeling, and split her time between the two careers around the world. With a captivating sense of style, she was asked to advise, consult and design for various national and international brands.
After moving back to Hawaii to start a family, Jones focused her vision on creating her own swimwear line, which she launched in 2015. "I envision the girl going from New York to Montauk, Paris to Biarritz, L.A. to Malibu, and Tokyo to Kamakura," she says. Expansion is next on her list, with not only swimwear, but an entire lifestyle collection based on city/beach/travel. She already has her eyes set on Japan: "It's a culture that embraces and adores Hawaii. And they have a passion for travel, fashion, surf and style."
Kaypee Soh
Born and raised in Malaysia, Soh went to school in London, graduated with a degree in graphic design and eventually moved to New York. He made a name for himself there as a branding consultant for luxury labels like Stella McCartney. After a brief visit to Hawaii in 2004, he fell in love with the colors and the lifestyle, and moved here. "It felt like home," he says.
Soh opened a small branding agency, Somace, which eventually branched out to include interior design, and began creating his own line of modern Hawaii-inspired artwork and textiles. Soh's work is now in hotel lobbies and rooms throughout Hawaii. "To understand textiles you have to understand texture, you have to understand colors. I'm always inspired by nature," he says.
Since opening his eponymous retail store in 2008, the company has evolved into a lifestyle brand that includes textiles, pillows, rugs and lighting. Last year, Soh was approached to start a fashion collection, which he soon launched. His future goals include an expansion of his collection to include jewelry, sunglasses, handbags and shoes. Edward Macey, managing director of Kaypee Soh, sees great things ahead. "His sketchbook goes with him everywhere and it's just filled with designs," Macey says.
Bliss Lau
Lau realized at an early age that she wanted to be a designer and scoured library shelves for books on the subject. After high school, she moved to New York to attend Parsons School of Design, where she studied women's apparel, with a focus on accessories. She says that, within days of graduating, she sold her first collection of handbags, her senior thesis, to Opening Ceremony and Fred Segal, both influential boutiques, as well as Nordstrom, Takashimaya and Bloomingdales. Within two years she was featured in New York magazine as one of 30 designers to watch.
The inspiration for her next collection came from the Brooklyn Bridge, an icon she saw every day from her design studio. "I've always been inspired by suspension and how objects react to gravity." In her studio that day, she sparked a new global trend, the body chain. After defeating a copycat in court, her body chains appeared in Italian Vogue under her name, which jump-started her career.
Inspired by the "divine proportion," a concept found in the Fibonacci sequence, Lau says she designed another collection of successful body chains. A line of innovative rings followed and, in the future, she hopes to launch a collection of bridal jewelry. "Innovation is something that's very important to me," she says.