Feedback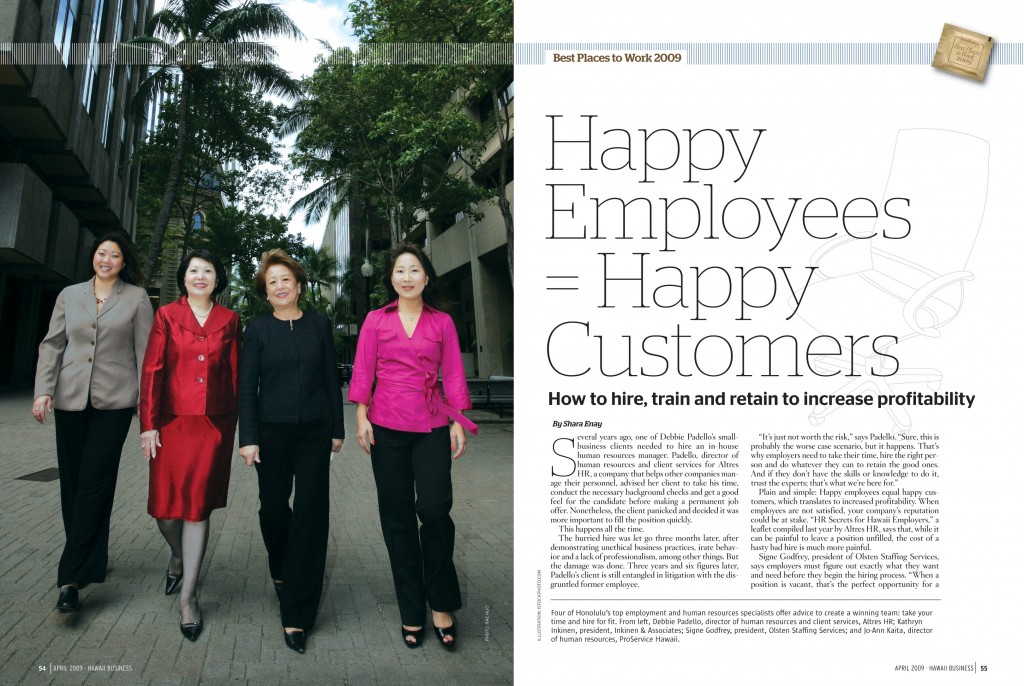 > Send letters to feedback@hawaiibusiness.com
Citizen Economists not paying its writers
I'm a freelance writer living in Bellingham, Wash. I recently ran across the December 2008 issue of Hawaii Business at my local library. I took a look at it, and had to laugh at the profile of CitizenEconomists.com on page 114 ("The Pitch").
I laughed because I'd been writing for Citizen Economists regularly until late 2008 … when they stopped returning my e-mails. The site is still active, but it has changed owners due to the regular and extensive financial losses the site was experiencing (the new owner indicated it was more than $1,000 a month), and that all authors on the site are currently unpaid (that includes not paying me for the last several book reviews I wrote for the site).
Greg Beatty
Useful information for all companies
I absolutely loved the article "Happy Employees = Happy Customers" (April 2009). I hope many businesses read this and apply the useful tips these ladies had to offer.
Workplace morale is important. I don't think a lot of companies consider this to be of importance. They quickly blame the employees for bad morale. This is why I think more companies SHOULD survey their employees and then follow up. How do you fix it if you don't know it's broken?
Why don't all companies participate in the Best Places to Work Survey?
Posted online by Crafty808
Great article. From my experience, the hallmark of a good company is measured by the turnover rate — plain and simple. The turnover rate is the most obvious way to know if the management cares about its employees and not just the bottom line.
I would recommend that job seekers stay away from local companies that are constantly advertising their job openings for the same positions all the time. There is a reason people don't stick around.
Posted online by BrownTurtle
Positive attitude can carry us through recession
The key lesson for small businesses today and perhaps for the next couple of years is that people are going to concentrate on true value for their money. This is true whether they seek: hamburger, café latte, cell phone, automobile, house or vacation.
When it comes to a Hawaiian vacation, we have been blessed with the reputation of great weather, great beaches, and beautiful foliage and topography combined with the aloha spirit and Hawaiian hospitality. But now, more than ever, we must provide the visiting traveler with better service and warmth. Everyone in the visitor industry, from the biggest hotel to the smallest supplier, must surpass the highest expectations of our guests. This can only be accomplished with a very positive attitude and outlook.
I believe that during this recession a majority of travelers will want to escape from the troubled news at home.  Hawaii can be their Valhalla. Its fantastic natural beauty and warm welcoming local ohana are just the remedies these travelers are looking for.
Ed Hogan, chairman and CEO of
Pleasant Hawaiian Holidays
Corrections
In our article "HMSA Will Remain Goliath" (May 2009), we misstated the size of HMSA's reserves. The correct number is $406 million. Also, HMSA has not been a member of the Prepaid Health Care Advisory Council since 2003. And the actual membership for UHA is 35,283.