Our Goal is Being Useful to You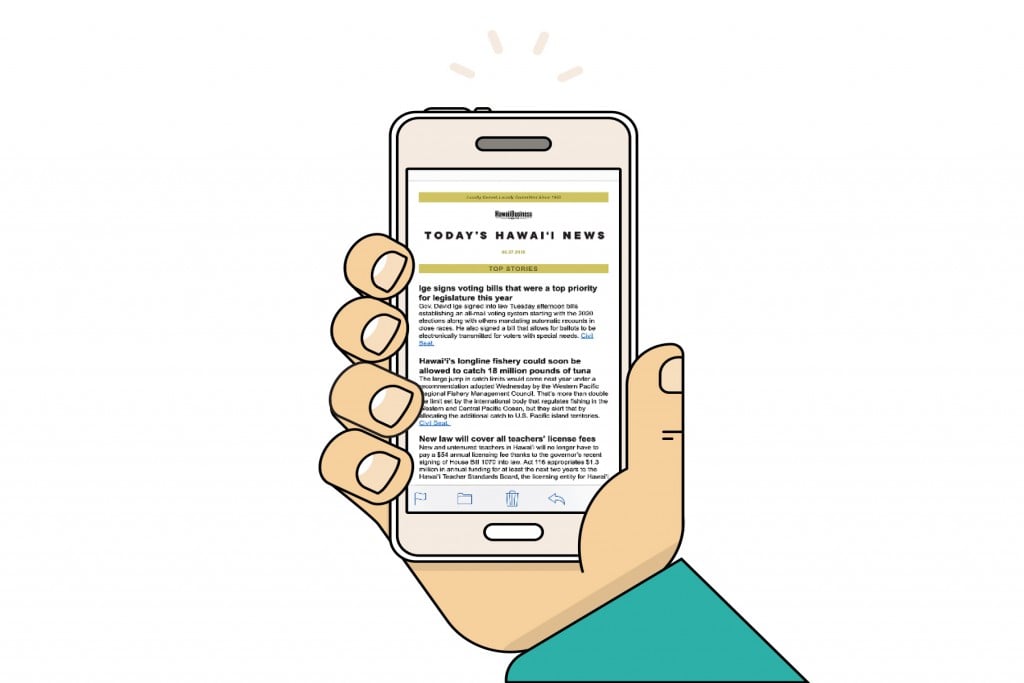 One of the main goals
of
Hawaii Business Magazine is to be useful to our readers and one of our most useful services is Today's Hawaii News.
The email newsletter was launched in April 2017 to give you a quick summary of local news each weekday morning, and our PM edition took flight this March. Sign up for them at hawaiibusiness.com/newsletter.
We visit the websites of a dozen local news media twice a day, find the most important and interesting news stories and summarize those items for you. We include a link back to the original story in case you want to learn more. The AM edition is all news while the PM edition includes the day's breaking news and major business announcements plus pau hana suggestions and my favorite, Today's Hawaii Views, a beautiful or engaging photo from somewhere in Hawai'i nei.
The main idea behind THN AM and PM is to save you time while keeping you informed. I think we're succeeding because the feedback has been positive from Day One: "Great idea," "useful" and "informative" are some of the most common words heard. The numbers speak for themselves: The AM edition now has 22,727 subscribers, while the PM version went from zero to 4,407 subscribers in four months. The most amazing number is that half of the PM subscribers open the newsletter every day; the AM open rate is almost as good.
Everyone uses the newsletters in different ways. Some people read them all the way through, which takes two to four minutes; sometimes they find a story of particular interest and follow the link to the original report. Big stories typically have links to four or five versions of the story from different media.
Other people only spend about 20 or 30 seconds with the newsletter on most days – just enough time to scan the headlines for something that might affect them or their organization. Whatever works for you.
Managing Editor Jeff Hawe takes the lead on THN AM and shares duties with Projects Editor Taahirah Ali on the PM edition. "Staying informed about what is happening in our community is important for many reasons. THN makes it easier and faster to do that," says Hawe.
If you have feedback or suggestions for the newsletter, we'd like to hear them. Send your thoughts to feedback@hawaiibusiness.com. We don't want to load the newsletters with too much – their biggest virtue is they are informative yet brief – but we aim to keep evolving to meet your needs.