Finding Sunken Ships and Discovering their Secrets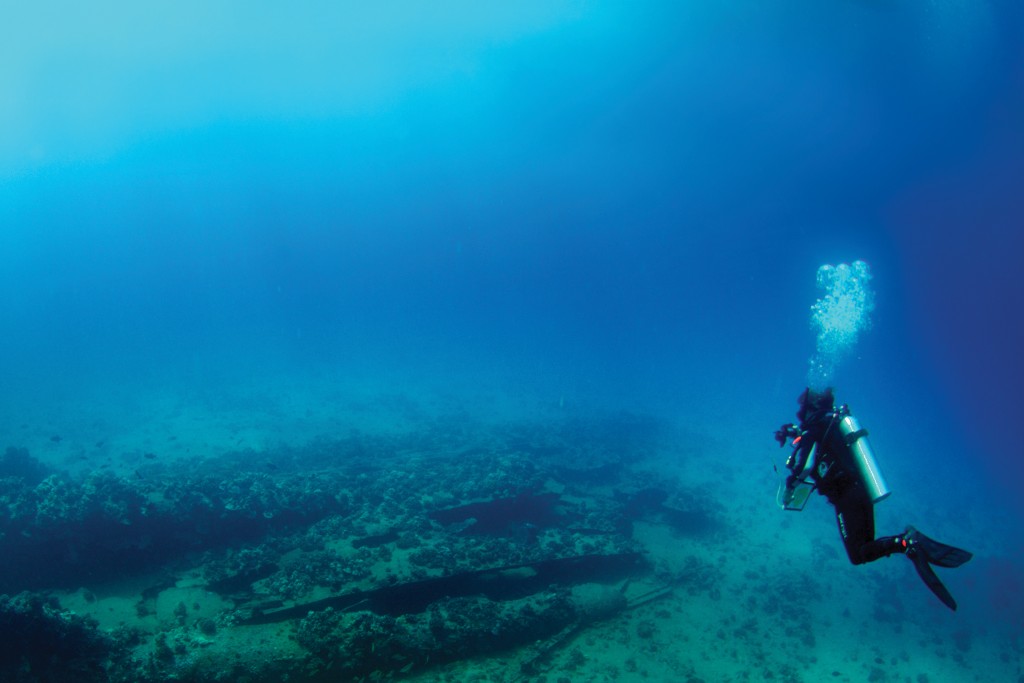 Name:
Hans Van Tilburg
Age:
56
Job:
Maritime archaeologist and diving supervisor, Office of National Marine Sanctuaries Maritime Heritage Program, National Oceanic and Atmospheric Administration
Start:
Hans Van Tilburg was born in New Jersey and raised in California. "My mother's large Chinese family is on Oahu, where she was born. As a kid, I came out here to spend the summers – lots of bodysurfing and Chinese dinners," Van Tilburg recalls.
"I was raised sailing with my father on his sloop, so I was a California diver at the age of 11. After getting my undergraduate degree in geography from UC Berkeley, I was later active in their research diving program, and also did some commercial diving in Los Angeles and Louisiana.
Van Tilburg's master's is from East Carolina University's program in Maritime History and Nautical Archaeology. He calls the program "a unique way to delve into maritime history and the forensic approach of systematically following a series of clues to reveal the details of some past tragic sinking."
He moved here in 1996 to join the Marine Option Program at UH Manoa and earned his doctorate in history.
What It Takes: "It's not simply a matter of finding a shipwreck and trying to discover its identity. It's a matter of carefully and systematically retrieving all information from the site and fully interpreting these observations to learn something new about the past event.
"As a maritime archaeologist for NOAA, I'm responsible for the discovery, inventory, assessment and protection of selected historic submerged properties.
"As a NOAA unit diving supervisor, I'm responsible for training local divers and maintaining their proficiency. I teach first aid, oxygen administration and CPR. In addition, I oversee emergency response and diving equipment and review dive plans to assure diving operations are conducted properly."
Challenges: "Sometimes just getting to the wreck site seems to take a herculean effort. In 2007, we assisted the Alaska state archaeologist in the discovery and survey of the wreck site of the Clara Nevada (a wooden passenger steamer that struck a reef and caught fire on Feb. 5, 1898). We had to fight wind and sleet and temperatures in the 30s. By the time we had donned the heavy suits and tanks, and climbed from the vessel into the launch, we were exhausted – and the dive hadn't even begun!"
Epic Tale: "One of the oddest sites we ever recorded was a Civil War-era U.S. Navy steamship wrecked in the middle of the Pacific at Kure Atoll. In 2003, during the site survey we literally had to hold on tight to the bottom and, through the surge and currents, creep through coral grooves as the breakers were crashing over our heads, to get pictures and measurements of the artifacts of the ship. It's now a book ("A Civil War Gunboat in Pacific Waters: Life on Board USS Saginaw") and a dive I won't forget."
Pay Range: "A maritime archaeologist is a professional archaeologist with the additional skill set of diving and specialized equipment thrown in, so I think the typical pay would be around $70,000 per year."
This interview has been edited for clarity and conciseness.