New State Law Imposes Fines for Fake Service Animals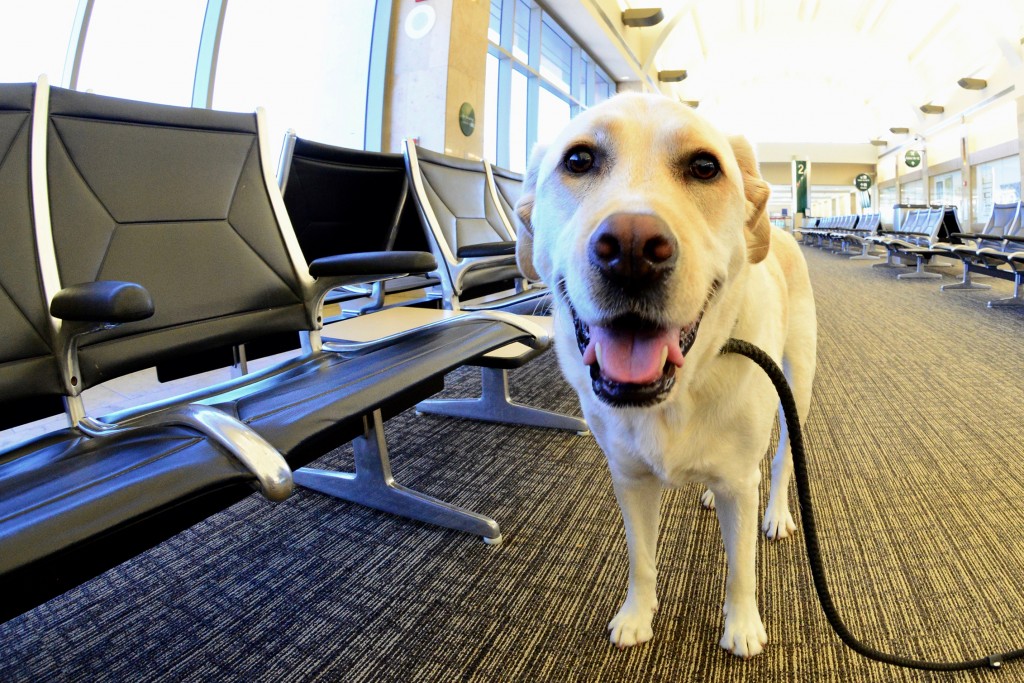 America loves dogs more than ever.
In 2019, with nearly 90 million of man's best friends living in 55 percent of American households, the retail pet industry expects to fetch $86 billion in sales.
Also on the upswing in recent years is the sale of animal vests and credentials that allow an owner to publicly misrepresent their pet as a trained service dog while falsely claiming to be a person with a disability. This is a violation of the federal Americans with Disabilities Act.
As of Jan. 2, 2019, some local pet owners may be treated to some unexpected expenses as a new state law takes effect. SB2461, sponsored by state Sen. Russell Ruderman (D-Puna), could result in fines as high as $500 for passing off a pet as a trained service animal.
But enforcement is problematic. Currently, there is no federal registry for service animals.
The text of Ruderman's bill asserts that the proliferation of online sales of brightly colored vests bearing unofficial patches and fabricated titles are fraudulently representing pets as trained service dogs, which "has resulted in legitimate service dogs being attacked by untrained dogs and violations of the food and sanitation code."
Mo Maurer knows the tragic reality of such attacks. She is the founder of Assistance Dogs of Hawaii, one of the state's two nonprofit service dog training programs accredited by Assistance Dogs International (ADI), the leading authority in the industry since 1987.
Maurer describes one "devastating" attack by a fake service dog that left a disabled veteran doubly traumatized.
In Maurer's Makawao office on Maui hangs a banner titled "Courage," featuring the happy faces of Melanie, a disabled veteran who lives on Oahu, and her golden retriever, Freedom.
Maurer and her team trained Freedom to assist Melanie with a variety of tasks specific to her disability.
Freedom helped Melanie, who uses a power wheelchair, to do her shopping, go to the movies and "just be out on her own," Maurer explains.
"She regained her independence," recalls Maurer, "and she was so thankful for that."
About five years after Melanie and Freedom became a team, Melanie lost her sight completely. According to Maurer, it took two years to retrain Freedom, and to build Melanie's confidence enough to venture back out in public.
"It was so liberating for her to be independent again," Maurer says. That is until Freedom was viciously attacked by a pet wearing a fake service dog vest, Maurer says.
"It was so traumatizing for Melanie that she never went out on her own again. In just one moment her independence was taken away because of someone who wanted to take their pet dog into a restaurant," Maurer said.
After the traumatizing attack, "Freedom recovered more than Melanie did. She couldn't leave the house without Freedom and now she can't leave the house at all," Maurer says, adding there was no repercussion for the other dog's owner.
While selecting dogs for training, Maurer frequently partners with Canine Companions for Independence, an ADI accredited program that breeds, raises and provides expertly trained assistance dogs to children, adults and military veterans with disabilities. CCI advocates that "education is the key to reducing the number of pet dogs masquerading as assistance dogs."
"According to a 2016 survey, 77 percent of CCI graduates had an encounter with a fraudulent or out-of-control service dog. Over a quarter had 10 or more encounters, and more than half had their CCI service dog bitten, snapped at or distracted by one of these dogs," says the nonprofit's web page on service dog fraud guidelines titled, "A service dog is more than a vest."
Michael Greenough, legislative aide to Ruderman, says that although enforcement of the law created by Senate bill 2461 will be challenging, "It is intended to bring about awareness and hopefully, some behavior modification for those trying to pass off pets" as service animals.
Greenough says he recently tried to educate a woman in a local grocery store who had a small, loud and aggressively barking dog she claimed was a service animal.
"The dog leaned over and tried to bite me. It didn't break the skin, but it cut and tore my shirt sleeve," Greenough says, adding, "I told her 'That's not a service animal.' Then she picked up her phone and bolted, leaving her purse behind."
Laws similar to Hawaii's passed in 20 U.S. states tend to be all bark and no enforcement bite because ADA statutes that are meant to protect the privacy of people with disabilities are also purposely vague.
Businesses and law enforcement can only ask two simple questions to determine the legitimacy of a service animal:
Is this a service animal?

What task does this animal provide for you?
"Our hope is that when more people become educated about why this legislation is necessary, they will have an aha! moment," says Jim Kennedy, executive director of Hawaii Fi-Do Service Dogs, an ADI accredited nonprofit training program on Oahu.
"We hope it will have a deterrent effect," Kennedy says.
Kennedy is also a member of the national legislative committee for Assistance Dogs International, which is focused on public education and establishing ADI's high standards for service dog training facilities across the globe.
Physical attacks aren't the only concern, Kennedy says. Misrepresentation of untrained dogs as service dogs spreads general mistrust of all service animals, resulting in increased scrutiny for people with disabilities. This adds to the stress these people suffer in navigating public spaces while coping with significant, medically documented physical and mental challenges.
Educating the public and pet owners about the difference between service dogs that perform necessary, functional tasks for their owners and emotional support animals, is also crucial according to Kennedy.
This false equivalence stems from provisions within the Fair Housing Act and the Air Carrier Access Act that protect people with disabilities from discrimination when seeking access to housing and air travel.
Francine Wai, executive director of the state Department of Health's Disability and Communication Access Board, says one of the most difficult challenges relating to the new state law will be people who mistakenly believe that comfort dogs qualify as service dogs under the ADA.
"We have far more problems with people with mental disabilities who truly in their heart believe that comfort is a service. If you ask them over and over again what service the dog performs, they just say, 'It keeps me calm.' But the dog doesn't do anything," Wai says.
The Americans with Disabilities Act defines a service animal as being "individually trained to do work or perform tasks for the benefit of an individual with a disability, including a physical, sensory, psychiatric, intellectual or other mental disability."
Tasks can include pulling a wheelchair, retrieving dropped items, alerting a person to sounds, protecting them during a seizure, providing medication reminders or pressing an elevator or crosswalk button.
According to the Americans with Disabilities Act: "Emotional support animals, comfort animals and therapy dogs are not service animals under Title II and Title III of the ADA. … The work or tasks performed by a service animal must be directly related to the individual's disability. It does not matter if a person has a note from a doctor that states that the person has a disability and needs to have the animal for emotional support. A doctor's letter does not turn an animal into a service animal."
Website is "Official" But "Unofficial"
No wonder people get confused about what is or is not a service dog.
Take a website that sells "service dog" vests and tags and related materials. It also operates what it calls the "Official Service Dog Registry." The site, officialservicedogregistry.com, urges people to use the registry to "simply register your dog & protect your rights now" and "gain access to public places with your dog."
But a disclaimer posted elsewhere on officialservicedogregistry.com specifies that the registry process is completely "unofficial." The privately run website urges people to use the register responsibly but does not verify those who register.
"Registration is conducted under the honor system and we are not required to verify any disability or review any documentation to verify any disability," the website says.
The site also includes encouraging information for people with an "emotional support dog" or a "therapy dog." However, the Americans with Disabilities Act does not define such dogs as service animals.
Kennedy says it's usually "pretty obvious" when a pet is being misrepresented.
"A dog in a Gucci carrier or a baby carriage can't help or provide a service," Kennedy says.
Kennedy explains that the majority of service dogs are trained to be "four-on-the-floor," although some medical alert dogs require physical contact with their partner. They are almost always on a leash, unless it gets in the way of their partner's mobility.
"A trained service dog won't pull, lunge, growl or bark. It's trained to heel beside a partner," Kennedy says, adding that they also have rigid feeding and elimination routines that make public "accidents" extremely rare.
Both Kennedy and Wai note that business owners have the right to ask an owner to remove any dog, including service dogs, from the premises if it exhibits inappropriate behavior. Inappropriate behavior could include overt aggression, indoor elimination or making contact with food or preparation and service areas.
Wai contends that the Americans with Disabilities Act exists to prevent discrimination against people with disabilities defined and documented by medical professionals and the federal government.
"The ADA doesn't give any right to the animal; it gives the right (of public access) to the person," she says, emphasizing that the state's new law doesn't just seek to create more well-behaved pet dogs. "If our only focus remains on the behavior of the animal you make the disability status irrelevant."