Want to Buy Your First Home? It's Hard but Not Impossible
Here's how you can make it happen on O'ahu, even without a big loan from your family.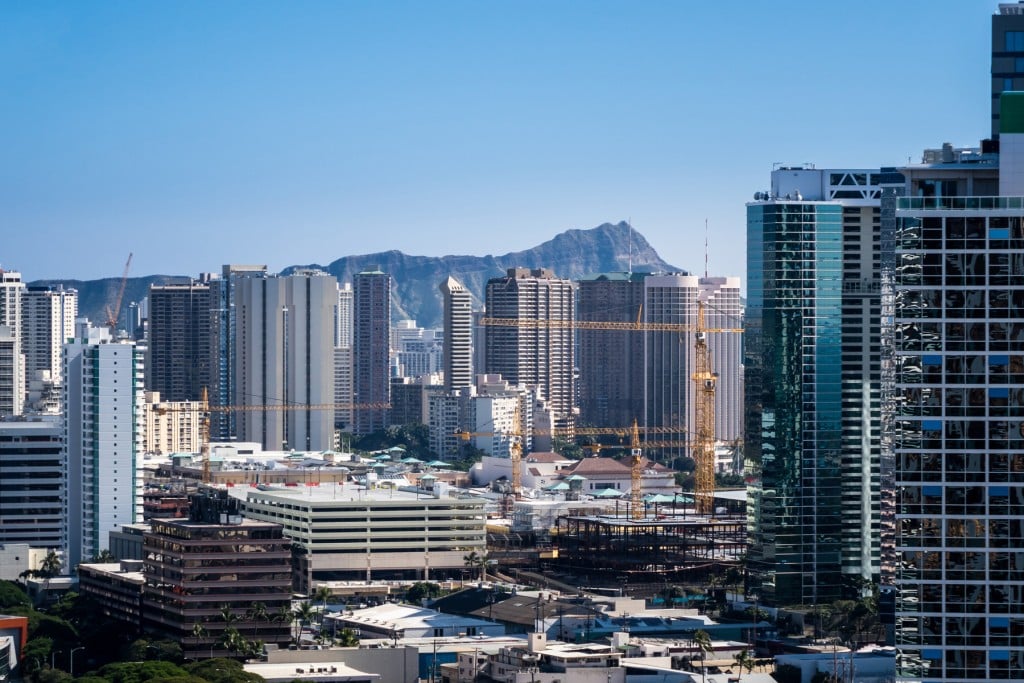 It seems almost impossible now to buy your first house or condominium on Oʻahu.
Homes are selling as fast as they are listed, prices have increased by 20% over the past year for single-family homes and by 12% for condos and mortgage rates are rising. From early January through April, those rates rose faster than at any time in the past 35 years.
But local real estate experts point to some entryways: New condominiums being built in Kaka'ako and the Ala Moana area are geared toward first-time buyers, as are single-family homes and townhomes in Central and West Oʻahu. And if you don't have help from parents or other family members, financing options are available to help a first-timer get a mortgage with less than a 20% down payment – a big hurdle for most people.
And professionals can guide novices through the process, from pulling that first credit report to signing for a mortgage and closing the deal.
First-time Journey
Two years after choosing a studio unit in a new condominium tower called The Central Ala Moana, first-time homebuyer Sami Lobley got the keys to her brand-new condo in November and has settled in with her dog, a shiba inu named Nami.
Lobley, 30, took advantage of the affordable units that developer SamKoo offered at The Central for buyers earning 80% to 140% of Honolulu's area median income. Her road to homeownership began by submitting an application in 2019, which was then selected in a lottery, and getting prequalified for a mortgage by her bank.
While the building was under construction, she tightened her spending – the Covid-19 pandemic actually helped – and shopped for a favorable rate on a mortgage and was fortunate to close on her 541-square-foot unit for $294,000 with 10% down and a mortgage from First Hawaiian Bank at 2.75% last fall, before interest rates rose this year.
She was also fortunate that both of her parents, George and Chikako Lobley, are Realtors who advised her through the process. Lobley says it's important to find a Realtor who's passionate about working with first-time homebuyers.
"My best piece of advice for first-time homebuyers, Millennials, is definitely partner or find your sources who can give you all the information on affordable housing available in the market," says Lobley. "It's really worthwhile keeping an eye on the market because some affordable projects are great. I feel like I've been very lucky with this place."
His Favorite Group
Realtor Abe Lee, owner and broker in charge of Century 21 iProperties, which was the exclusive broker on The Central, says first-time homebuyers are his favorite group to work with because they need the most help.
"I would rather have 10 people at $300,000 and make commissions on $3 million in sales than one person who did a $3 million deal," he says.
Lee says he refers many of his first-time clients to the Hawai'i HomeOwnership Center, a nonprofit that supports first-time homebuyers and educates them about the homebuying process and how their credit scores can determine what and where they can buy. Lobley and other buyers at The Central and other affordable projects were also offered classes and support from HHOC.
Lee recalls one client who went through the HHOC process and bought a condo in Whitmore Village near Wahiawā for $220,000.
"He was the first in his family to buy a condo or a house. Everybody else was renting all their lives," Lee says.
He has had numerous successes with first-time buyers; some were helped with down payments from family so they could qualify for a higher price. But he also worked with clients who were repeatedly outbid on homes in their price range.
Start the Conversation
Keri Shepherd, Honolulu area manager with the mortgage firm Homebridge, says she sees a lot of people who say they're waiting for the perfect time to buy. But just like everything else in life, there's no perfect time to buy a home.
She encourages people to start the conversation with a lender about qualifying for a mortgage and even have them pull what is called a soft credit report to get an idea of where they stand. Some people learn they need to wait, but others learn they're in a better position than they thought, she says.
"Some people are surprised at how much they can actually qualify for," she says.
However, Shepherd cautions that using an app such as Credit Karma won't give prospective homebuyers an accurate picture of their credit.
"Credit Karma is not a good gauge for mortgage readiness," she says. "They use a different credit-scoring engine than we do, they use a different model, they don't take into consideration the same things that we do."
Because of that, clients may be lulled into believing their credit scores are higher than they actually are when they apply for mortgages.
"It's having a real conversation with somebody that can actually help you and allowing them to pull your credit because that's the credit that we're going to look at," Shepherd says. "Don't be afraid to have your credit pulled. It's a necessary part of the homebuying process, and one credit pull here or there is not going to negatively affect your credit where you can't buy something."
Knowledge is Crucial
The Hawaiʻi HomeOwnership Center is another good place to start when thinking about buying your first home. The organization charges a lifetime membership fee of $60 per household – the Honolulu Board of Realtors currently covers $50 of that for anyone who comes to HHOC through a referral – and provides Zoom classes, workshops and coaching for people who want to become homeowners.
The organization likes to say homeownership can be achieved one home-brewed cup of coffee at a time. Most people who seek help don't come with an accurate picture of their finances, says Executive Director Reina Miyamoto.
"The majority of people don't have a real budget in terms of actually analyzing their expenses. We call it a spending plan," Miyamoto says. "Debt is also an impacting factor, whether it's credit card debt, student loans, car loans. A lot of folks don't understand how their monthly debt payments impact how much they can buy and what the lender will calculate as an affordable or qualified monthly payment for them based on their gross income and debt payments."
That knowledge helps buyers work to pay down debt and make and stick to a budget – including small things that add up like making coffee at home instead of buying a daily latte or bringing a homemade lunch to work. That helps them build savings for a down payment and qualify for a loan.
Other Help for Buyers
Clients also learn about buyer assistance programs, for example, loan products that allow for lower or zero down payments; VA loans for veterans; and U.S. Department of Agriculture loans that can finance 100% of a purchase for qualified buyers in eligible rural areas.
"Knowing that there's assistance available can help out too, in terms of cobbling together what might be available," Miyamoto says.
Prospective buyers can also learn about affordable housing programs and what's involved, such as the mortgage credit certificate program, which allows a buyer to purchase an existing home by reducing the amount of federal income tax they pay, or affordable units offered in new construction projects such as The Central Ala Moana.
Both of those programs have time restrictions: At The Central Ala Moana, for example, Lobley would have to share any appreciation in her unit if she were to sell before the end of the 10-year period specified under the state law known as Hawaiʻi Revised Statutes 201H. Other buildings, such as those developed in Kakaʻako under Hawaii Community Development Authority rules, have shorter buyback periods.
Yes, Buying Can Be Scary
Anina Quaranto, a Realtor with Locations who works with many first-time homebuyers and was a member of the brokerage team for Ke Kilohana, The Howard Hughes Corp.'s first reserved housing tower at Ward Village, acknowledges that buying a first home is unnerving.
"Regardless of the current market that we're in right now – the escalating interest rates, world events – so many factors play into it, but regardless, the experience of a first-time homebuyer is always going to be scary."
The numbers alone can generate anxiety: The median price for single-family homes now tops $1 million and for condos is above $500,000; the average rate on 30-year mortgages went from historic lows in 2021 to over 5% – much of that increase from January to April this year, marking the fastest increase since 1987.
But that also means that half of all homes and condos sold for less than those prices. Quaranto likens this year's situation to 2018, when interest rates were also 4% to 5%.
"Back in 2018, a lot of my first-time homebuyers did get into the market at that time, too," she says. "Now, when I show them graphs of when interest rates were like 17% and 18%, then they understand that 4%, 5%, maybe even 6%, that's still a really competitive rate."
Quaranto advises her clients not to focus so much on the interest rate, but rather on what kind of monthly payment they are comfortable with.
"From there, we can work backward and see locations, price points, loan products that are going to work best, provide them all the information necessary so that they can then make a comfortable and confident decision, whether they decide to buy, they decide to wait or we decide to try new projects," she says.
Holden Lau is a Realtor with Coldwell Banker Realty and a member of the brokerage team for The Park on Keʻeaumoku, which will have 972 units in two 44-story towers, including about 137 affordable units. He says interest rates are making it more difficult for first-time buyers to find a new home.
"The difficulty with being a first-time homebuyer is interest rates," he says. "They're really sensitive to interest rates."
Every increase in interest rates means a reduction in buying power for some of those buyers.
"If you were looking in the $500,000s six months ago, you're certainly looking at the $400,000s now, if not high $300,000s," he says.
That means buyers may have to shift their sights from a 20-year-old condo in Kakaʻako to a 50-year-old building in Makiki or Mō'ili'ili.
Lau says he's seen little interest from first-timers in the Keʻeaumoku project's market-priced units because a 20% down payment is required for those units, but he says the 137 units that will be offered as affordable are geared to first-time buyers.
Go West for New Homes
Almost all first-timers who want a townhome or single-family home must head to Central and West Oʻahu, where thousands of new homes are being built, including Hoʻopili by D.R. Horton's Schuler Division, Gentry Homes subdivisions in 'Ewa Beach and soon in Kalaeloa, and Castle & Cooke Hawai'i's Koa Ridge.
Koa Ridge will have 3,500 homes spread over 576 acres from Waipi'o to Mililani at full buildout. Most of the first-time homebuyers there have purchased affordable townhome units in the project's Malina section, priced between $380,000 and $580,000.
But Garret Matsunami, VP of residential operations at Castle & Cooke Hawai'i, says about 45% of the buyers at Walea, a market-priced townhome neighborhood where prices ranged from $600,000 to $800,000, were also first-time homebuyers; their average age was 37.
He adds that even some single-family homes priced above $1 million went to first-time buyers.
The Koa Ridge homes are taking about five months to build, so buyers can get into a new home much faster than into a condo tower, which takes at least two years to build.
Waiting that long can affect affordability if interest rates rise, but Lee says it's still worth it to buy your first home.
"I've been saying this for the last 40, 50 years," Lee says. "If you have a decent job, you're not afraid that you're going to lose your job, and you can make the monthly payments then you should buy. … I tell them if you can afford it, better start moving."
Lobley says she feels privileged and blessed to have been able to buy her first home. Her advice to friends and others is to get their budgets together and start saving money.
"Don't be extravagant when you're in the whole homebuying process," she says. "If your ultimate goal is to own a property here, start making changes now in your finances."
---
What is Considered "Affordable Housing"?
The term affordable housing may conjure images of public housing projects for some, but the fact is that many professionals in Hawai'i, including teachers, police officers and Downtown office workers, qualify for affordable housing based on their incomes.
Housing for people with moderate incomes is also sometimes called workforce or reserved housing.
Honolulu's area median family income is $113,300 in 2022, according to the Hawaii Housing Finance & Development Corp., which administers the state's affordable housing programs for all four counties. The link shows AMIs for the counties.
Honolulu's 100% AMI for a single person is $91,500, $104,500 for a couple and $130,600 for a family of four.
So, for a project that targets people making 80% to 140% of the AMI, the income range for a:
Single is $73,200 to $128,100.
Couple is $83,600 to $146,300.
Family of three is $94,080 to $164,640.
Family of four is $104,480 to $182,840.
Some of the recent projects built for that segment include Ke Kilohana at Ward Village, Kapiolani Residence and The Central Ala Moana on Kapi'olani Boulevard. New projects that have units aimed at such buyers include The Park on Keʻeaumoku and Ulana Ward Village and Ililani in Kaka'ako.
One thing prospective buyers should know about affordable homes is that they carry restrictions on resales, often called a buyback or shared equity, that come with the unit in exchange for the discounted price upfront. The time period can vary, depending on which program's rules the developer is using, but most, such as for The Central and Koa Ridge, are 10 years.
---
Learn more:
Resources for first-time homebuyers and details about affordable housing can be found here: