Fit and Effective Hawaii Business Professionals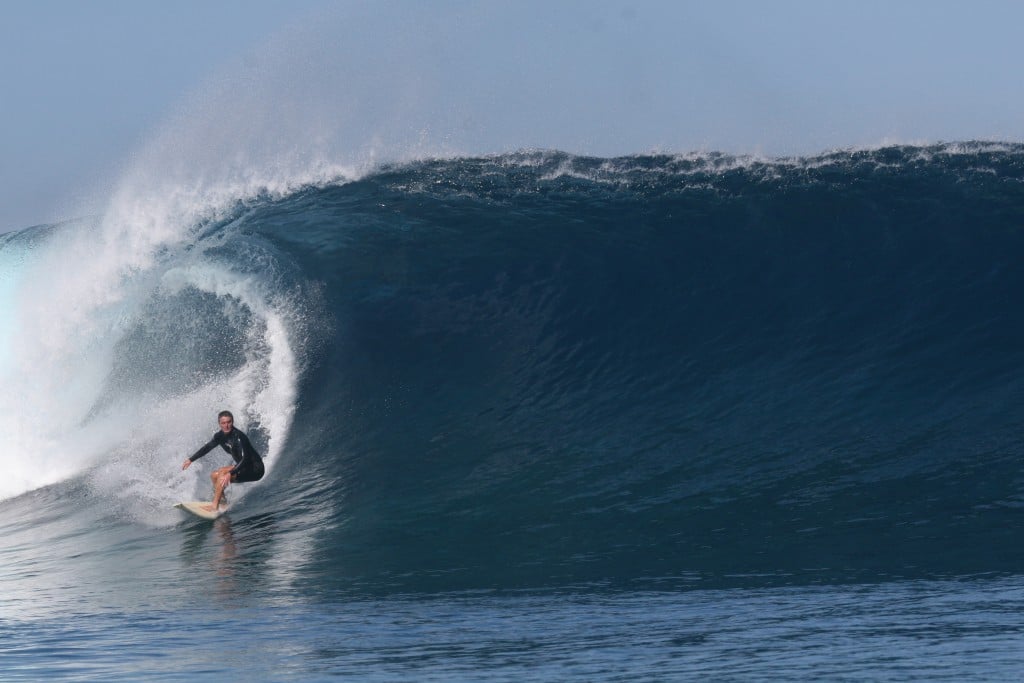 Tim Johns
Age:
56
Position:

Chief consumer officer at HMSA

Workouts: Swimming, surfing, resistance training, stationary biking, jogging, paddle boarding, hiking, long walks with his dog

On weekdays, Johns says he wakes extra early to fit in a swim before work. "Then I just try to grab the time whenever I have a break in my schedule. The weekends usually have multiple activities, which is fun."

Johns has always been active with surfing, hiking, running and skiing. In his 30s, inspired by his athletic children, he kicked it up a notch, adding open-ocean swim races to the mix, helping him focus his fitness goals and use targeted training.

Advice: Johns says it is important to guard against the effects of aging. "I think you have to work harder. I have increased my resistance training and I do more high-intensity workouts in the morning. I think both of these things help compensate for the metabolic changes our bodies go through as we age."
Virginia Pressler
Age:
63
Position:

Executive VP at Hawaii Pacific Health, retired surgeon

Workouts: Standup paddling, walking, hiking, cycling, skiing, kayaking, yoga

Pressler sets her alarm for 4:30 every morning to ensure she fits in a daily three-mile walk with her husband on a steep hill in their neighborhood. She follows that with chinups, pushups, core exercises and stretching. She also walks to meetings downtown and uses stairs rather than elevators.

"I love the feeling of being in shape, being able to run and jump and not get hurt," Pressler says. "I don't wake up stiff in the morning. It is a stress buster and also helps me think. I am also an older mom and want to stay healthy for my family. Our bodies are meant to be active. Once we stop being active, it's all downhill."

Advice: "Find something you enjoy and make sure it's sustainable so that you will keep at it. Make it part of the routine of your life, not an option. Sharing it with a buddy makes it more enjoyable, sustainable and gives you the added advantage of social activity."
Lloyd Kawakami
Age:
59
Position:

CEO of Iolani Sportswear and musician with Manoa DNA

Workouts: Squash, weights, cardio, yoga

Motivation isn't a problem for Kawakami. "I've been involved in sports ever since I was a kid, as a swimmer and water-polo player throughout my school and college years, then as a paddler, jogger and squash player in my later years."

Although Kawakami's schedule is extremely tight, traveling constantly with his family's musical group, Manoa DNA, and running a fashion business, his competitive spirit helps him keep going to the gym. "I don't like getting my butt kicked around the squash court by the younger guys," he says. "As I feel my body aging, I want to try and mitigate the effects by focusing on strength and overall conditioning."

Advice: "Being overweight and under stress are the two biggest threats to anyone's health, in my opinion. As a businessman, I see examples of this every day and people who don't start taking care of themselves could end up with some very serious health problems a lot sooner than they think. Something as easy as a daily walk or a change in diet can be a great way to get started. It's really about establishing a mindset."
Faauga To'oto'o
Age:
55
Position:

Circuit Court judge

Workouts: Pickup basketball, Stairmaster, weightlifting

When To'oto'o is overseeing a trial, he makes the time to work out because it helps him focus. "The more intense the trial, the more I work out," he says. "I stay on top of things by working out. I have to be alert and awake every second the trial is on and working out makes me sharp."

Advice: Find a strong motivator; To'oto'o's primary motivation is his 12-year-old daughter. "I want to be around as long as I can for my daughter. I also enjoy taking her to sports like volleyball."
Kelly Gleason
Age:
37
Position:

Maritime archaeologist with Papahanaumokuakea Marine National Monument

Workouts: Ocean and pool swimming, lacrosse, running, yoga, cycling

Gleason's job as a maritime archaeologist requires a high level of fitness. She has swum the Molokai Channel and along the Na Pali Coast, and is currently participating in the Waikiki Swim Club's biathlons. To keep in shape for competition, she works out once or twice a day, six days a week.

"Fitness and sports is a big priority for me, so it's part of my daily schedule that I don't consider an option. It is sort of who I am as a person and consequently what I will always make time for. I also know I'm a better version of myself when I've made time for fitness."

Gleason swims with the Oahu Club masters at 6 a.m. or noon. As a referee for the Aloha Youth Lacrosse League, she has to run after the players at breakneck speed. A year ago she realized she was overworking some muscle groups and underutilizing others, so she hired a personal trainer, Lou Ortiz, to help her achieve balance.

Advice: "Choose your friends wisely. Healthy friends are the best motivator for a healthy lifestyle. If your friends are part of your fitness routine, you have the opportunity to lead a much more balanced lifestyle."
Kirk Caldwell
Age:
60
Position:

Mayor of Honolulu

Workouts: Standup paddling, surfing, jogging, yard work

Despite one of Hawaii' busiest schedules, Caldwell finds time for fitness because he schedules his workouts "like any other event and plan around it."

"Working out alone, especially running, gives me the opportunity to clear my mind and enjoy silence for a change." That said, Sundays are for standup paddling with his friends.

Caldwell was first motivated to keep fit by John F. Kennedy. "Many people don't know this, but President Kennedy launched a huge fitness initiative around the time he started the Peace Corps and his 50-mile walk. A lot of my healthy habits come from what I learned growing up in Hilo. My generation was the first to be conscious of things like exercise, a healthy diet and the dangers of smoking."

Advice: "Twenty or 30 minutes are better than nothing. I try not to put off exercising because I know that if I do, I'll never get around to it. Something will always come up, so you need to make exercise a part of your routine."
Diana Huang
Age:
45
Position:

Ob/Gyn doctor

Workouts: Incline treadmill at home two or three times a week and with personal trainer Amy Forsyth twice a week

In 2004, Huang went to a Curves location with two of her medical assistants and decided to join. "It was only 30 minutes, three times a week, but I started losing weight and feeling more fit. Since then, I have lost 25 pounds," she says.

After her Curves location closed, she kept working out at home. "I like to exercise first thing in the morning so that I get it over with, don't feel guilty and have more energy for the day. Also, the chronic pain in my neck and shoulder is alleviated with exercise."

Since getting fit, she tends to eat more healthily. "It's surprising, but exercising makes me eat less rather than more."

Advice: "Sometimes you feel that you have no time or are too tired to exercise. I hear it all the time from my patients. You have to just squeeze it into your schedule. Even 15 or 20 minutes is better than nothing. It is true what everyone says: You feel better and have more energy. Also, once you start exercising, don't stop. Sometimes you have to trick your mind into it. I'll tell myself, 'OK, I'm really tired today, but, instead of walking two laps around the block, I'll just walk one lap.' But, once I start, I feel good and just keep going. Once you stop, it's often very hard to get back into the routine."
Peter Ehrman
Age:
54
Position:

Wealth advisor at Morgan Stanley

Workouts: Standup paddling, ocean swimming, surfing, walking the dog, yard work

Since Ehrman has to be at work by 6:30 a.m., he makes evenings his workout time. Three days a week he gets in the ocean to swim or standup paddle. Six days a week he walks his black Labrador, Nikki, for at least 45 minutes. On the weekends, he paddles, swims or surfs early and does hard physical labor in his yard in the afternoon.

Since developing arthritis in his hip, Ehrman has had to quit volleyball, a sport he played at Punahou and UCLA. However, swimming has been an ideal, pain-free substitute.

Ehrman is motivated by older people who are "out there and still being active." He cites Peter Balding Sr., 79, the father of his best friend, Peter Balding. "He goes surfing with Peter and me and I'm admiring him every moment," Ehrman says.

Advice: "Try to make (fitness) a part of your normal routine without thinking about it, sort of like brushing your teeth."
Kalei Inn
Age:
65
Position:

Management consultant and executive coach

Workouts: Group classes at The Honolulu Club, including kickboxing, Zumba, Iyengar yoga, stretch and muscle conditioning

With an erratic work schedule, Inn can't always make it to exercise classes. "I will use the (cardio) machines as an alternative, especially when I have much reading or thinking to do. Multitasking in that way has been a good way for me to make time to work out as I work."

A knee injury sidelined her last year, so Inn modified her actions during fitness classes to avoid further injury. She talks to the instructors about safe moves.
Inn often networks with other Honolulu Club members and "many times, business relationships have grown out of the sharing of fitness experiences and health tips."

Advice: Her multitasking tips include making it a game to step in place while watching TV, doing squats while checking email on the phone, and performing pushups against a desk or kitchen counter.
Louise Ing
Age:
61
Position:

Lawyer with Alston Hunt Floyd & Ing (fifth from left in photo at right)

Workouts: Sessions with a personal trainer, hula, jogging with husband and daughter, Fit Camp Bootcamps, P90-X classes

Because her work schedule is brutal, Ing says, "I have to make a conscious effort to wake up early or tear away from my desk at the end of the day. It's almost always a struggle and when work gets intense, workouts are often the first to go, but the reward is how I feel afterwards: more energized, stronger, more confident, less grouchy."

"I call exercise our natural fountain of youth," Ing says. "I want to be in even better shape in my later years than I was when younger."

Advice: "Hula helps with toning and coordination and is a beautiful artistic counterpoint to lawyer work and a link to our host culture."
Dee Jay Mailer
Age:
61
Position:

CEO, Kamehameha Schools

Workouts: Pilates, walking the city, "just discovered P90-X with my best friends"

Mailer says she seeks balance in all aspects of her life. "I eat well half the time, exercise half the time and get a good night's sleep half the time. The theme is not all the time but enough to allow balance between having discipline and having fun."

She eats small portions and has cut down on sugar. She tries to walk whenever possible, to the store, to restaurants, to parks. On weekends, she and her husband walk from their home in Makiki to other neighborhoods, such as Diamond Head, Manoa, Kewalo Basin and Ala Moana. "If we don't want to walk back, we catch TheBus."

Mailer's commitment to fitness and good nutrition comes from "knowing that it is ultimately the right thing for every moment in your life. As you get older, you see and feel how important it is. From the body shifting from north to south, clothes that don't fit, your mirror wake-up call every morning and your doctor's constant reminders, staying fit is staying alive, in the best of all ways."

Advice: "Don't let (exercise) be just one more reason to be busier, make it one more reason to slow down."