Good Value for Your Donations?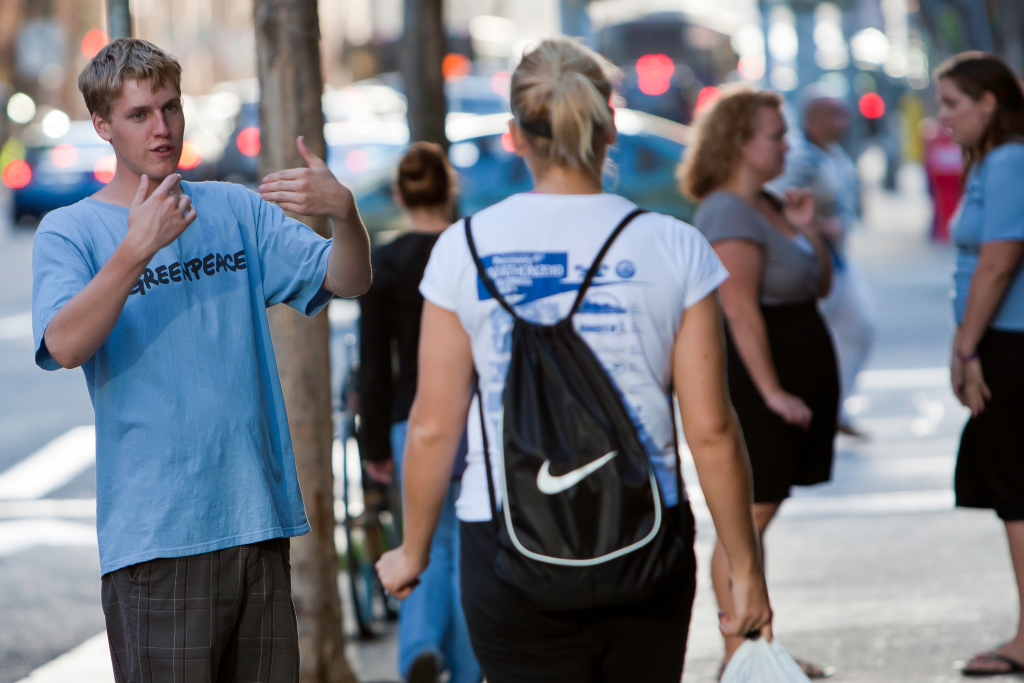 Major nonprofits rarely put paid staff on street corners to ask for donations and recruit members. So when Hawaii Business staff kept seeing youthful Greenpeace employees around Oahu asking passersby for donations, we wanted to know: Is this a cost-effective way to raise money?
You may have seen them in their light-blue shirts, waiting on busy sidewalks in downtown Honolulu and Waikiki. If you stop to listen, they will talk about global warming, or threats to marine life and rain forests, and then ask for money.
"Not everyone can do this," says Jessica, a "frontliner" for Greenpeace USA, who did not give her last name. "You have to be open and talk to people for donations. You can't be afraid of rejection."
Greenpeace says it pays its frontliners a salary, not commissions, and Jessica confirms that. But, during their trial period, these employees must get at least three donations in three days.
The American Institute of Philanthropy says Save the Children, Oxfam-America and some other national nonprofits also use "chuggers" – a conjunction of charity and muggers. Some of these groups pay their chuggers by commission or with similar incentives, the institute said in a 2007 edition of its "Charity Rating Guide and Watchdog Report." Nonprofits use chuggers because they are effective at fundraising, the report says, but it recommends against on-the-street donations as less than ideal for informed and well-considered giving. The institute also warns that con artists could masquerade as chuggers.
National Greenpeace spokesman Joe Smyth says the frontliners help preserve the group's independence from corporate and government donations. "Greenpeace grassroots fundraisers stand on busy street corners across the nation to raise funds and engage citizens in discussion, turning individuals into grassroots activists one person at a time." But Greenpeace would not tell us its return on investment from these frontliners – or how much of your donation pays their salaries.
Since Greenpeace refused to tell us how much it was spending to raise money this way, we looked elsewhere for information. The American Institute of Philanthropy gave an A-minus (excellent) to the Greenpeace Fund, the charitable arm of Greenpeace, but gave a C (satisfactory) to the main organization. The main branch of Greenpeace is a 501(c)(4) organization that spends a substantial portion of its revenue on lobbying governments, and donations may not be tax-deductible.
We were not able to find out how much it costs Greenpeace to raise money with chuggers, but the American Institute of Philanthropy reported on a different system of chuggers: Children International paid an independent agency $210 for each new contributor who agreed to a minimum monthly donation of $22. That meant a donor would have to make payments for 10 months before any contributions benefited children.