Student Entrepreneurs Honored for Actual Businesses, Not Just Ideas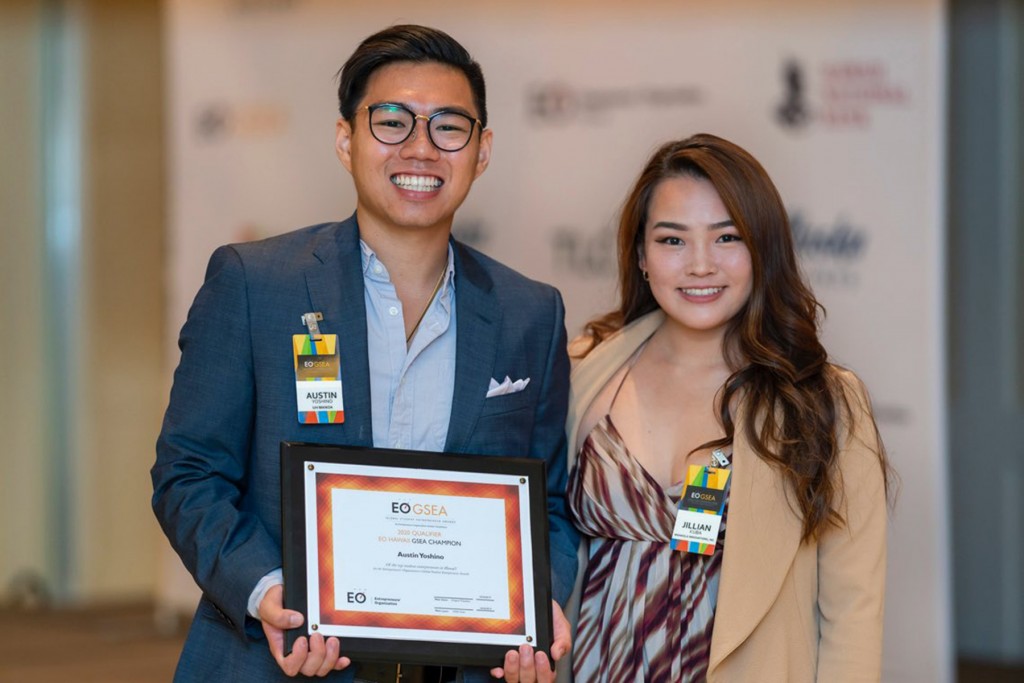 Anyone who saw Austin Yoshino jogging on Oct. 24 at the UH Mānoa campus while wearing headphones probably assumed he was listening to music or a podcast. He wasn't: The 21-year-old was listening to his self-recorded practice pitch in preparation for Hawai'i's Global Student Entrepreneur Awards that evening.
The practice paid off as Yoshino finished first among four finalists.
"This event, unlike other business plan competitions, is about a student not with just a good idea, but with an actual business," said Hawai'i GSEA event chair Matt Lyum. "These kids are very impressive."
Applicants must be 30 or younger, enrolled as a graduate or undergraduate student, and have been running a business for at least six months that has either generated $500 or received $1,000 in investments, said Lyum.
Four contestants presented first behind closed doors to the judges, then again to all attendees in strictly timed 12-minute segments. Each shared a story about their journey to entrepreneurship, which included struggle and at times self-doubt, but also perseverance and a vision for making a mark in the world.
"My whole life I've been described as disruptive by teachers, parents, classmates, even employers. … But I've learned to embrace being different," Yoshino told the audience. "And I'm ready to change the world."
Yoshino's business is Manaola Innovations, which he founded in November 2018. Its focus product is the G-trainer, a mobility assistance device that uses self-stabilizing gyroscopic technology to improve the quality of life for people with disabilities. It's a product that drives Yoshino on a deeply personal level because his little brother has cerebral palsy.
"Existing devices are so bulky that my brother barely fits through the door into our home," Yoshino said. He designed the G-trainer to be lower profile and more functional – think motorcycle versus car, he said. Harness options make the device customizable for people who've lost mobility due to stroke, muscular dystrophy, multiple sclerosis or traumatic injury.
The device is still being prototyped, but Yoshino and his all-student team of eight have far surpassed the GSEA criteria: They've already raised $18,000 by winning several entrepreneurial competitions.
Yoshino juggles a full-time course load in mechanical engineering at UH Mānoa and a part-time job as a waiter, so running the business requires time-management skills. "I am very picky about what I choose to spend my time on, and everything I do throughout the week has a dedicated purpose," he said after the event, adding, "and I drink a lot of coffee."
In February, Yoshino will travel to Silicon Valley and present at the U.S. national GSEA competition. If he wins, he'll go to the finals in Johannesburg, South Africa, to compete against 50 of the world's top student entrepreneurs for a prize package valued at more than $40,000.
Winning the Hawai'i competition provided Yoshino with several prizes that should help with his entrepreneurial goals: a scholarship for an eight-week Dale Carnegie training course; a Birkman Assessment and brief by Simon Leadership Group; a life-coaching session with Business Consulting Resources Hawaii; and a Surface Pro tablet from the Microsoft Store. He also won two Alaska Airlines flight vouchers, one of which will get him to the national competition.
"I think Austin has as good a chance as anybody to advance to the [global finals]," said Scott Paul, president and CEO of Kleenco Group, who volunteered at GSEA Hawai'i as timer. Paul also coached Yoshino last year when he won the Breakthrough Innovation Challenge at UH. "It was fun to see him up on stage and see him win."
The GSEA Hawai'i event, put on by the Entrepreneurs' Organization Hawaii Chapter, has been held for five consecutive years. For EO members, "this is our way to pull up the younger entrepreneurs, ultimately to help grow our local economy, which is good for all of us. We want these guys to succeed," said Paul
The GSEA Hawai'i runner-up was 25 year-old Samuel Mangakahia, a student at Brigham Young University Hawaii. He told the audience that he founded Hamiora, a company that sells 'ukulele and guitars adorned with his hand-carved designs rooted in his Maori heritage.
"I've always had this desire to create things with my hands," said Mangakahia, who first carved onto an 'ukulele with a butter knife from the kitchen at age 15. "I'm presenting to you what I love to do the most.
After the event, he talked to this reporter about the experience: "This event helped me push my boundaries as an artist but also an entrepreneur. It's really tough to bridge both worlds. Trying to condense my story into 12 minutes was really hard, and to a business audience, not to an artistic audience.
"Sometimes, I feel alone in this. But when I meet like-minded individuals it gives me more passion, more energy and mana to move forward."
The other finalists were:
• Nathan Bek, a UH Manoa student, who took inspiration from his mother to launch a soap-making business called the Green Dream. He said he sources most ingredients from local farmers, and even has a line of coffee soap, which uses recycled coffee grounds for enhanced exfoliation. He plans to make and sell additional products, including an all-natural surf wax.
• Jillian Schafer, a BYUH student, who launched SelfPause, an app that allows users to create positive affirmations layered onto meditation tracks. It's her solution to what she described as the growing epidemic of anxiety, depression and mental illness that disproportionately afflicts her generation.
"We want to help people decrease stress and give them back the courage they need to succeed in their lives," Schafer said, adding that soon after launching the business this year, monthly streamings on Spotify reached 35,000.