Harnessing Global Creativity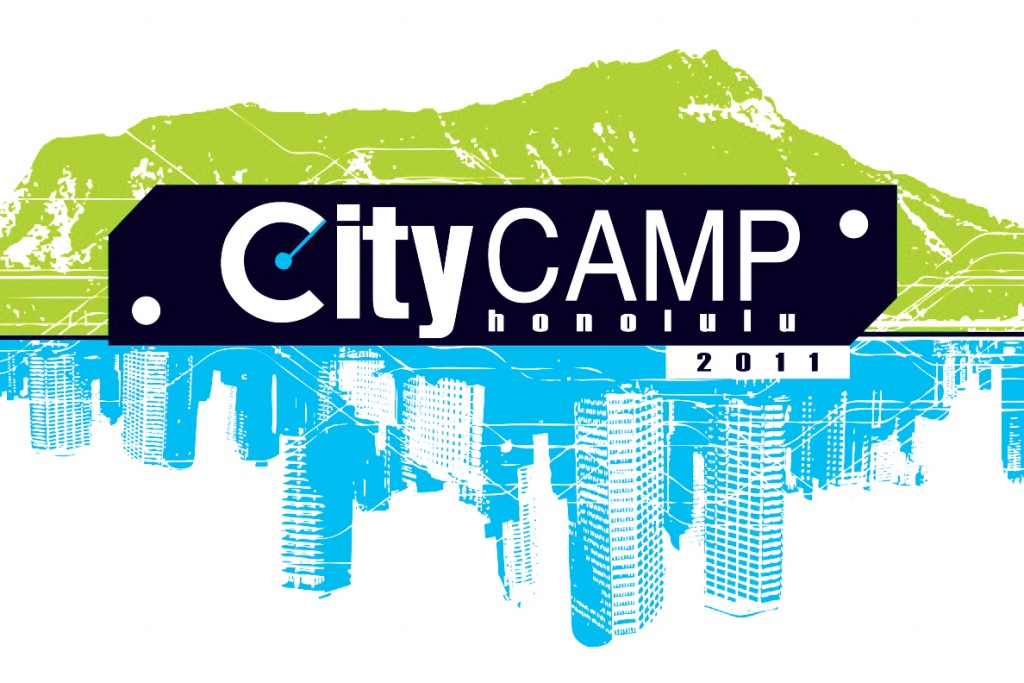 Local entrepreneurs Chris and Kimberly Dey, who have ventures in varied fields from finance to sports, have found another niche, this time in advertising. AdTournament.com, their online graphic design agency, allows businesses to create an online contest for their advertisement needs and have designers worldwide submit entries.
Burt Lum and Forest Frizzell – organizers of CityCamp Honolulu, a county project that taps the community for ideas and solutions – used AdTournament to find a design for a T-shirt and got 61 entries.
"We thought it'd be a fun way to drive excitement, put a little money on the line and get the word out for our conference," Lum says. (The winning logo is shown above right.)
Chris Dey says necessity was the mother of his latest invention. He needed graphic design work done and knew about crowd sourcing as a way to collect ideas and information. He tested different crowdsourcing sites but felt he could build something better. "It was a function of the need that we had for the business to get graphic design done well, fast and inexpensively," he says.
Here's how it works: Contest holders post a contest, write a creative brief, determine the prize and the deadline. Freelance designers submit designs, and the contest holders rank them and choose a winner.
"This gives the client more design options in a remarkably short period of time at a price that the client determines," Dey says.
Through research and experience, the Deys figured out a threshold for the prize that would entice designers yet make them a profit. It costs a minimum of $99 to post a contest (add $50 to make it private), and the prize money ranges from $150 for a T-shirt design, to $400 for logos and other services and $1,000 for a webpage. AdTournament gets 15 percent of the prize and the rest goes to the designer.
Dey says the site has more than 300 designers from more than 30 countries, and averages about one or two contests a week.
Mark Mugiishi from Endoscopy Institute of Hawaii used AdTournament to get a logo for his company. With 74 entries, he says, it was difficult to choose a winner. "I was very happy with the quantity and quality of the various designs," he says.
CityCamp Honolulu chose a local design company as its winner, Moxie3Innovations.
Moxie's Dana Kagawa says she and her two partners had misgivings about participating at first. "There's been a lot of concern from the designer community about participating or supporting it because they feel that it is lowering the value of your work as an artist," Moxie said. "With AdTournament, you can't own the work, but you can still use it in your portfolio."
For Moxie, the pros outweighed the cons. "For us, we do believe that it was a benefit for our company for that contest in particular," Kagawa says.
AdTournament also provides a secondary channel by creating partnerships with ad agencies. If creative directors are overrun with work, they can use AdTournament on their private channels to post contests and use the freelance designers. So far, AdTournament has partnerships with AdWalls, ReTargeter, EGC Group and Karma411, Dey says.
"We look at how using technology, including social media, can build a community of designers, and leverage that community to improve the design process," Dey says.