Hawaii Business wins 18 SPJ Awards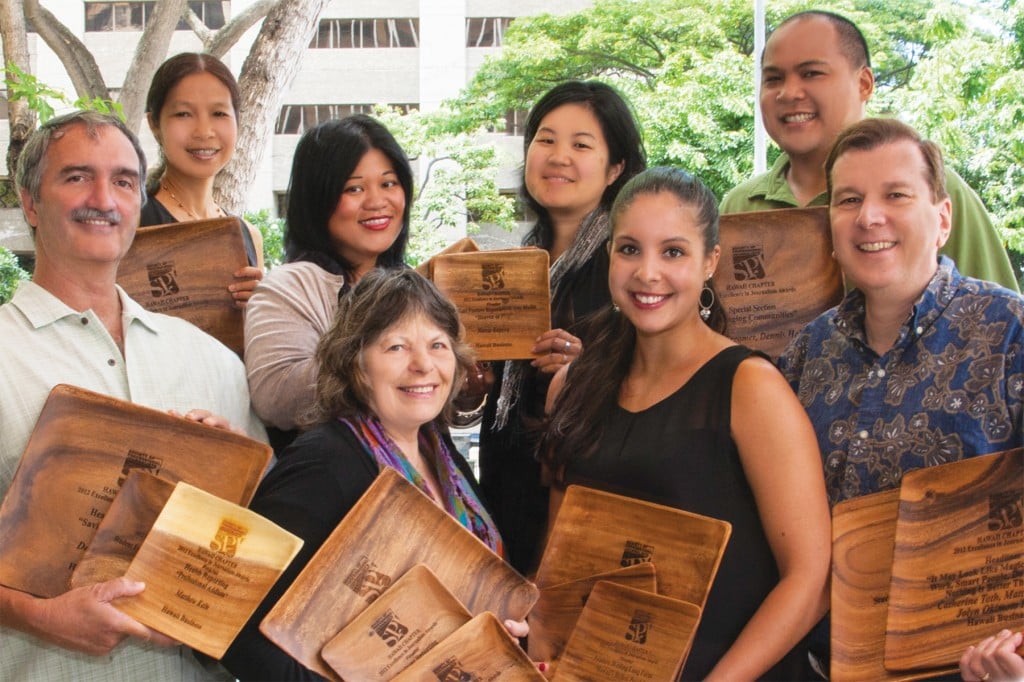 Hawaii Business won 18 awards this year from the Hawaii chapter of the Society of Professional Journalists, more than any other organization.
The prizes were announced June 24 and covered all media in the state, including newspapers, magazines, TV and radio stations, and websites. The awards honored articles, design, photographs and videos published and shown during 2012. Twenty-one local news and media organizations won awards.
Hawaii Business did well in categories reserved for magazines, but also won six first-place and six finalist awards in categories that were open to all media in Hawaii.
We won first place in the open category of Special Sections for our package called "Changing Communities" (July 2012 issue), a look at Kailua and Haleiwa that was written by Beverly Creamer and Dennis Hollier, with photography by Greg Yamamoto and David Croxford.(Editor's note: Story titles in this story reflect headlines that appeared in the print edition. Some headlines were changed for the online edition.)
"These stories do an excellent job taking readers inside two very different communities as they deal with changes brought on by new development," said the judge's comments. "The good use of many viewpoints shows deep reporting."
In the category of Informational Graphics open to all media, Hawaii Business art director Jen Tadaki Catanzariti won first place for "New Cool for Downtown," a colorful, three-page infographic about the Honolulu Seawater Air Conditioning project.
In the open category of Health Reporting, Dennis Hollier won first place for his story "Saving Healthcare" (April 2012). Freelance writer Matthew Kain won a finalist award in the same category for  "Professional Addicts" (December 2012).
In the category of Magazine Profiles, Beverly Creamer won first place for "Eric Yeaman Revives an Island Icon" (January 2012), a revealing portrait of the CEO of Hawaiian Telcom. In the same category, Bev also won a finalist award for "New World," her behind-the-scenes look at the launch of the online store for Eden in Love, which appeared in the June issue.
In the open category of Headlines, I won first place for a collection of my headlines scattered throughout the year that included: "It May Look Like Magic, but It's Hard Work," "Smart People, Dumb Mistakes," "Nothing Is Better Than Free" and "From Mars to the Streets of Honolulu."
In the category of Business Reporting in magazines, Hawaii Business won both finalist awards for:
"Let's Make a Deal"

 

by Shara Enay (January), which the judge said, "provides us with a fun, interesting look at the people who buy and sell outside the typical realm of retail stores."
"Kakaako's Building Boom"

 

by Beverly Creamer (September), "a well-researched and comprehensive look at an important transformation taking place in Hawaii's urban landscape."
In the magazine category of Feature Writing/Long Form, we won both finalist awards: Managing editor Jason Ubay won for "Create a Business in 54 Hours" (November 2012) and Dennis Hollier for "Hawaii's Richest People" (February 2012).
In the open category of Photo or Video Essay, staff photographer David Croxford won a finalist award for his September photo essay "First Responders." The judge said, "The photographer clearly had to make a great effort to get these images, and was possibly even in harm's way. Powerful."
In the broad category of Column Writing or Blog in Features or Sports, which was open to all media, Hawaii Business won a finalist award for the monthly "My Job" column, which is written by both staff and freelance writers.
Hawaii Business also swept the category of News Reporting by a Student in any media. Intern Marcie Kagawa, a recent graduate of Hawaii Pacific University now working for Kyodo news service in California, won first place for "Tax Pyramid" (April 2013).
Kagawa also won the only finalist award for "Hawaii Struggles to Level the Playing Field"(October 2013), a story about efairness legislation.
Hawaii Business interns also swept the category of Feature Reporting by a Student in any media:
Go to www.hawaiispj.org for a full list of winners and judge's comments.