In Hawai'i's Housing Crunch, Tenants Are Vulnerable to Rent Hikes and Evictions. Here's What They Need to Know.
This overview of renter protections explains what their rights are, where to get help and how Hawai'i's laws stack up against other states.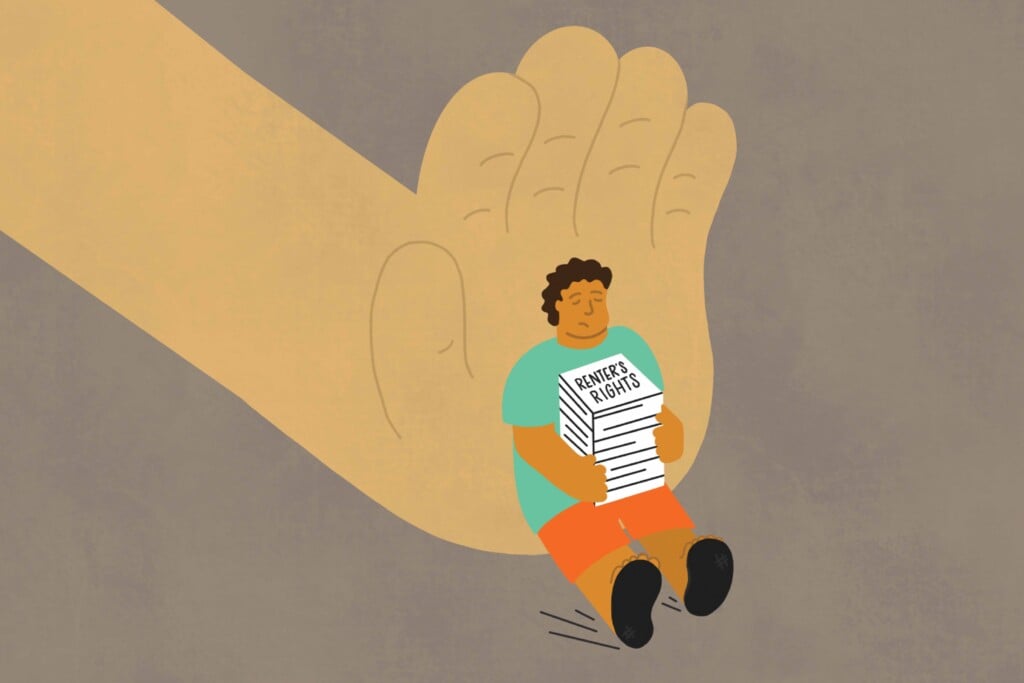 Honolulu renter Nikhil Khurana says he has spent much of his free time the last two years knocking on hundreds of doors to talk with and organize tenants.
The most common stories he's heard? Rent is too expensive, even for multiple jobholders; maintenance issues are going unaddressed by landlords; and tenants aren't getting back their security deposits after their leases end.
"When we're talking about this tension between tenants and landlords, from my perspective it's very simple: Everyone deserves to be housed, and landlords or people profiting is not more important than that. Whether that puts us at odds or not, that's the basis where I seek to change things from where the system is currently at," says Khurana. He is a member of the Honolulu Tenants Union, but said he was talking to Hawaii Business Magazine as an individual, not as a representative of the organization.
In 2013, renters made up nearly 44% of households in Hawai'i, according to the U.S. Census Bureau. By 2021, only 37% were renters.
What is happening to more of those renters is ominous: In 2021, 58% of renter households were cost-burdened, meaning they spent more than 30% of their incomes on rent. That's a 5 percentage point increase from 2019.
Home rentals and the rights and obligations of landlords and tenants are governed by Hawai'i's Residential Landlord-Tenant Code. Renters and tenant advocates say they want beefed up tenant protections.
Those advocates say the code lacks key policies needed in Hawai'i's tight housing market, such as longer notice periods before someone can be evicted, caps on yearly rent increases and limits on the reasons landlords can evict tenants.
On the other side of the issue is Russell Kyono, whose company, Kauai Rentals and Real Estate, manages about 400 rental units.
"When you talk about tenant rights, I think the pendulum in the state has always been towards the tenant, and it's swinging more strongly in favor of tenants now than before," he says.
Other landlords and property managers interviewed by Hawaii Business say tenants and landlords have the same goal: to keep people housed. And they say that some of the proposals to deal with Hawai'i's housing crisis would help both parties, such as rent relief payments from the government and mediation programs that resolve landlord-tenant disputes.
But those proposals don't address the main problem: For many people, local wages do not cover the high cost of housing and the overall cost of living in Hawai'i – plus there aren't nearly enough affordable homes for all the people who live here. Nonetheless, without a vast transformation in wages, prices and home development in Hawai'i, partial changes in landlord-tenant relations seem to be the only realistic possibilities for now.
Power Dynamics
In Hawai'i, only 89 rental homes are affordable and available for every 100 renter households that live on 100% of the area median income or less, according to a 2021 report by the National Low Income Housing Coalition.
Go further down the income ladder and the numbers are much worse: There are only 44 affordable and available units for every 100 renter households with incomes at or below 50% AMI. Hawai'i needs 37,372 more housing units for renters in that income group, according to the coalition's report.
Abbey Seitz is a renter, member of the Hawai'i Housing Affordability Coalition and owner of an urban planning consultancy business. She is also an author of recent reports on Hawai'i's Covid pre-litigation mediation program and other tenant protections.
She says Hawai'i's housing shortage and prevalence of mom-and-pop landlords skew the power dynamics between renters and landlords. Too few homes mean renters are forced to take whatever units they can get, even if it means the unit is in poor condition, or they must remain in homes despite bad relationships with their landlords.
Chevelle Davis, a renter under a corporate landlord on O'ahu and a member of the Hawai'i Housing Affordability Coalition, says renters also don't want to be viewed as difficult tenants simply for asking their landlords for things they know they have a right to, such as electric-meter readings to explain the high cost of their utility bills. "It's almost like you're retaliated against for knowing your rights," she says.
Retaliatory rent hikes and evictions are prohibited by the state's landlord-tenant code, but tenant attorneys say the fear of retaliation is still prevalent.
"For a lot of people, the affordable apartments are those old, a-lot-of-times-in-disrepair, falling down units, and people are terrified to complain," says Deja Ostrowski, an attorney with the Medical-Legal Partnership for Children in Hawai'i. "Because they're worried that as soon as they complain, they'll get a 45-day notice to leave. Because our market is so tight, someone else will choose to live in there and deal with whatever the conditions of the unit is."
Nick Severson, managing attorney for Legal Aid Society of Hawai'i's housing and consumer unit, says the fear of retaliation is more common on the Neighbor Islands because rental communities there are smaller and tenants don't want to risk getting blacklisted when they need to rent another place.
Education and Investigations
Many Hawai'i landlords will address issues as soon as their tenants alert them, but renters and tenant advocates worry about those landlords who they say exploit the laws, find loopholes or are ignorant of the rules.
Seitz says some mom-and-pop landlords have limited knowledge and training about landlord expectations and laws. A Hawai'i real estate license is required to buy, sell, lease and manage property; education on the landlord-tenant code and fair housing laws are part of the state's pre-license curriculum. But individuals who self-manage their properties are not required to be licensed.
The Office of Consumer Protection in the state Department of Commerce and Consumer Affairs investigates nonlicensed professions on behalf of consumers. The OCP conducted 37 investigations related to landlord-tenant matters from 2020 through 2022. Many involved allegations involving the state statute that prohibited rent increases and certain lease terminations when Hawai'i was under a Covid state of emergency. Landlords could only give a 45-day termination notice to a month-to-month tenant if the unit was sold or if the landlord or an immediate family member of the landlord was moving in.
Some investigations were dropped due to insufficient evidence or were passed on to other agencies with jurisdiction. Other times, OCP sent warning or advisory letters. Sasi Faildo, supervising investigator with the office, says a warning letter might tell a landlord to retract a rent increase. Several cases were also referred to an OCP enforcement attorney for further analysis. Under state law, the office can sue a landlord during a declared state of emergency but not under the normal landlord-tenant code.
"During a state of emergency, Section 127A-30 makes violations of the statutory rent-freeze and eviction moratorium into unfair or deceptive acts or practices (UDAPs)," an OCP spokesman wrote in an email. "Although OCP may investigate disputes under HRS section 521-77, OCP does not file lawsuits on behalf of tenants under the Landlord-Tenant Code."
Kyono, who manages properties on Kaua'i, says he thinks more education would be helpful for mom-and-pop landlords: "When you talk about tenant rights, it's more on the mom and pops who don't know the laws."
Calls to Hawai'i's Landlord-Tenant Center
The state Department of Commerce and Consumer Affairs' Landlord/Tenant Information Center provides information about Hawai'i's Residential Landlord-Tenant Code. The center can be reached by calling 808-586-2634 and is open from 8 a.m. to noon Mondays through Fridays, except state holidays.
Below are the number of calls the center received over the last five calendar years and the most common subjects discussed. Most of the callers are tenants, landlords and property managers, but the center sometimes receives questions from service providers and friends and family of tenants and landlords.
More Rights Wanted
Once rich in farmland and pineapple plantations, Launani Valley, Whitmore Village and Wahiawā are now home to more working-class communities. State Rep. Amy Perruso says many Wahiawā renters can't afford increasing rents, which are often set on how much active-duty military members receive for their basic housing allowances. Soldiers based at nearby Schofield Barracks and Wheeler Army Airfield receive housing allowances ranging from $2,313 to $4,608 a month, depending on their ranks and number of dependents.
"That far exceeds what our average community member can afford, and I think that's kind of where I see most of what I would consider to be rent gouging happening," she says. "It's kind of just baked into what we see happening with the housing market."
According to UH's Economic Research Organization, statewide median asking rents on Craigslist were up 26% in February 2023 compared with February 2021, and 22% on O'ahu.
Perruso says Hawai'i focuses too much on housing for speculation and commodification. She introduced proposals this past session to cap yearly rent increases to 2% plus any rise in the cost of living, limit the reasons that landlords can evict tenants, and require longer notice periods for rent increases or to terminate rental agreements. Other proposals in the Senate aimed to provide remedies for retaliatory evictions and set a tenant's liability for rent if their unit has significant habitability issues.
"I think that the lack of tenant protections actually exacerbates the housing crisis because it enables more rapid displacement," says Tina Grandinetti, Perruso's office manager. "So, for people who are looking to speculate off property, they're more able to do so, and so our housing market continues to become more and more skewed in that purpose."
Perruso's proposals and the Senate bills died during the legislative session. Perruso says she plans to continue pushing for her proposals.
Some tenant advocates say extending notice periods for intent to terminate a rental agreement would be a game changer. Currently, landlords are not required to notify fixed-term renters of their intent to terminate once the lease expires. But if the renter is on a month-to-month lease, the landlord usually must provide 45 days' notice. A landlord is only required to give a longer notice, 120 days, if the rental unit will be demolished or converted to a condo or vacation rental.
"A 45-day notice, for someone who's working, that usually means at maximum four weekends to go look for a new place," Ostrowski says. "Yeah, that's not enough time in our market." She says 90-day notices would be a good start, especially as renters face increasing competition from vacation rentals and people moving to the Islands.
Fernando Cosio, an attorney at Medical-Legal Partnership, says there's a false narrative among some landlords and property managers that renters can get immediate housing after their leases are terminated, simply by checking into a homeless shelter. Many don't realize that shelters are full and that specific criteria must be met to get a spot. Displaced renters, he says, often end up doubling up with a family member or friend, which jeopardizes those people's leases.
"There's not too many options," he says. "I think by giving more time you give people more opportunity to plan, you know, accordingly to the best that they can."
In January, the White House published a blueprint for a renter's bill of rights, outlining five things that tenants need:
Safe, quality, accessible and affordable housing.
Clear and fair leases.
Education, enforcement and enhancement of renter rights.
The right to organize.
Eviction safeguards and relief.
The White House says those requirements would create "a shared baseline for fairness for renters."
Kristen Alice, a renter and director of community relations at Hope Services, a homeless service provider in Hilo, says the White House blueprint shows there's traction nationally to protect renters and ensure fairness.
Eviction Prevention
Evictions have damaging human and economic costs, according to a March 2023 report by the nonprofit Hawai'i Budget and Policy Center. Forced moves often involve disruptions to renters' schooling and employment and can cause anxiety and depression, all of which can make it harder for renters to find new housing.
The report estimated that 2,500 evictions would cost Hawai'i about $30.7 million a year from increased spending on safety net services like emergency shelters, medical care, foster care and juvenile delinquency. In 2018, 2,500 individuals experienced eviction in the Islands. Among its recommendations were for Hawai'i to create permanent rent relief and pre-litigation mediation programs modeled after lessons learned from Covid-era efforts.
According to the report, the four county emergency rental assistance programs distributed $265 million to 29,132 renter households over two years. A permanent rent relief program that provides 2,500 individuals with $3,000 per year in support would cost the state $7.5 million annually and result in over $23 million in new safety net savings each year.
Lyons Law attorney Naomi Iwabuchi says a permanent rent relief program would be a win-win for landlords and tenants because
they have the same goal of keeping tenants in their units. She represents property managers for affordable rentals and says many requests for her assistance don't arrive until a tenant is five or six months behind on rent.
Christyl Nagao, a property manager and landlord on Kaua'i, agrees that permanent rent relief would be helpful, but says there should also be emergency mortgage relief for landlords when renters don't pay their rent.
Mediated Disputes
Mediation is a common way to try to prevent evictions. Between August 2021 and August 2022, the state's Act 57 extended the notice period to terminate a lease for nonpayment of rent from five business days to 15 calendar days and required landlords and tenants to participate in free mediation before landlords file for summary possession in the courts.
The program ran at the same time as the counties' Covid rent relief programs. Of 4,078 mediation cases opened statewide, 1,660 were actually mediated. Of those, agreements were reached 85% of the time, according to the Hawai'i Budget and Policy Center report.
After initial frustration with closed courts and eviction delays, many landlords and property managers saw mediation under Act 57 as another opportunity to try to resolve issues, says Richard Yanagi, an attorney who represents landlords and property managers. His clients and their tenants were often able to work out payment plans. Other times, he says, the mediation efforts resulted in tenants being emotionally ready to accept that they had to move out.
Ostrowski of the Medical-Legal Partnership in Hawai'i says Act 57 was important because it required mediation before the court filing, thus preventing a tenant from having an eviction on record. The longer notice period also allowed tenants time to talk to service providers about rental assistance.
Lawmakers this past session discussed House Bill 1439, which died but would have created two-year emergency rent relief and pre-litigation mediation pilot programs. It also would have extended the period for a notice of termination of the rental agreement from five business days to 10 calendar days.
Some landlords argue this type of program isn't necessary. Kyono, the landlord and property manager on Kaua'i, says it would just prolong the eviction process and increase costs to landlords. Kaua'i judges have also been requiring that landlords and tenants go to mediation after eviction actions are filed, he says.
According to an emailed statement from the Hawai'i State Judiciary, as it works now presiding judges assess the circumstances of each case and determine whether mediation is appropriate.
"Judges statewide have consistently expressed support for mandating mediation before a rent-related case is filed in court, particularly when complemented by funding for pre-filing mediation services and rent relief," the Judiciary wrote, adding that it is supportive of legislation that would create a similar program to the now-expired Act 57.
An October 2022 report by the Hawai'i Appleseed Center for Law and Economic Justice compared the impacts of Act 57 mediation to the pre-Covid mediation that occurred after an eviction was filed in court. It found that, while Act 57 mediation resulted in 85% of tenants being able to stay in their homes, only 11% of pre-Covid mediations ended that way.
Yanagi, the attorney who represents landlords and property managers, says landlords don't want to kick out tenants because they lose revenue until they find another renter. But he adds that proposals to create mediation and rent relief programs aren't enough to address the underlying issue of people's wages being too low to pay rent, which is exacerbated by the rising cost of living and the state's housing shortage. He says these are issues that legislators and other government leaders need to address.
Providing Homes
Nagao has been a landlord for about six years. All her units are part of Kaua'i County's affordable long-term rental program. Through the program, the tax rate on her properties is lowered and in exchange, she offers rents based on what households earning 90% or less of the area median income can afford.
She says she enjoys being able to help families who may have been in bad situations prior and give them safe, stable places to stay so that, hopefully, they can start saving for their own goals. Her tenants are thankful, Nagao says, and she appreciates how her tenants take care of her properties because purchasing them wasn't easy.
Her firm, Taba Realty, provides property management for almost 300 rental units. She says many of the unit owners are second-, third- and fourth-generation Kaua'i residents. Some, she says, have moved to more affordable places on the mainland and hope to return one day.
She says it's tough being a landlord because owners' bills are increasing. Fewer than 60 of the units in her property management portfolio participate in the county's affordable rental program because it's hard to make the lower rents pencil out.
Given that Hawai'i wages are low compared to the cost of housing, her firm generally gives tenants a five-day grace period for late rent. Hawai'i law does not require a grace period, but 16 other states do. According to a February 2023 report by Freddie Mac on state landlord-tenant acts, the most common state-mandated grace period is five days; the longest is 30 days.
Ostrowski says providing a grace period is a huge help to tenants, especially if they use benefits to help pay their rents. Many of her clients at the Medical-Legal Partnership for Children in Hawai'i rely on Social Security or Temporary Assistance for Needy Families, and they might not know when paperwork is filed too late for them to receive their benefits payments on time. Kyono says his company used to provide a 10-day grace period but stopped when it saw that it would just push back the date that tenants would pay.
Other landlords are giving tenants longer notices to vacate than required by state law. In Mō'ili'ili, Kobayashi Group told 124 renter households at the Kapi'olani Village Apartments in October last year that they would need to vacate by September 2023. The landlord plans to demolish the walk-up apartments and build a 43-story condominium.
Tenants will be provided with two months' free rent, plus relocation support by transition teams from Cirrus Asset Management and Hawaiian Community Assets, wrote Alana Kobayashi Pakkala, executive VP and managing partner of Kobayashi Group, in an emailed statement.
(June 21, 2023 Update: A spokesperson for the Kobayashi Group says the relocation assistance has since expanded to include a relocation specialist who will search for new homes, free rent for August and September, a reference letter, a full refund of security deposits (minus utilities), and $1,500 in additional relocation assistance.)
"As we move forward to develop Kuilei Place, we remain committed to working openly with the community and supporting impacted residents," she wrote.
Existing renters pay between $1,400 and $1,800 in monthly rent. They made headlines this spring for questioning why they're being forced out to make way for moderate-income homebuyers. The $619 million Kuilei Place received about $12 million in waived permit fees through a state program that allows expedited review in exchange for affordable units.
Kobayashi Pakkala wrote that 4,000 Hawai'i residents are active in Kuilei Place's application process, which she says speaks to the need for affordable and workforce housing.
Knowledge of Renters' Rights
Khurana, the Honolulu renter, says he got involved with the Honolulu Tenants Union after renting a Kalihi house with a damaged roof. He and his roommates complained multiple times to their landlord, who made temporary fixes. But a heavy rainstorm in 2021 blew off the roof and the house flooded.
Khurana says the landlord terminated their one-year lease on the Kalihi house after only six months, leaving him and his roommates to move from one Airbnb to another. Eventually, he made his way to the tenants union and found that he liked the idea of organizing renters to collectively address issues.
Khurana says the union is a grassroots group of renters that aims to eventually create a citywide organized tenant movement. He says the group's work is complementary to that of other individuals and organizations that are trying to even out the power imbalance between renters and landlords.
He says it would be great to have more tenant protections, but the challenge is enforcing them. "It really is about having a strong presence of organized tenants who can actually fight for each other," he says.
Many renters don't know the rights they already have. Hope Services, the homeless service provider in Hilo, offers a renter education curriculum as part of its case management. Many of the provider's clients enter housing with limited to no knowledge of what it takes to be a good renter, says Alice, the Hope Services director of community relations.
Staffers help clients understand landlord and tenant rights and teach them how to budget, set goals and maintain household finances. They also talk about ways to keep the home in good condition and how to prepare for emergencies.
"Landlords have expressed gratitude for this education because it gives them the peace of mind that their investment is being properly maintained," Alice says. In fiscal year 2022, Hope Services provided this curriculum to 297 individuals, all of whom have since moved into permanent housing.
The Honolulu Tenants Union also provided renter rights training in 2021 and 2022. And DCCA's Office of Consumer Protection publishes a landlord-tenant handbook and operates a Landlord/Tenant Information Center that residents can call with questions. The handbook is available online, in regular print, Braille, large print and audio at OCP's Honolulu office in the King Kalakaua Building at 335 Merchant St. OCP says it offers translation services for phone and in-person meetings between community members and OCP staff.
One outgrowth of Act 57 was a partnership between Legal Aid Society of Hawai'i and O'ahu courts. Legal Aid makes one of its attorneys available to provide limited legal information to tenants who are at court for eviction hearings. According to a 2018 report by Lawyers for Equal Justice, only 5% of tenants facing eviction had legal counsel in 2017.
The Legal Aid attorney will explain how the hearing works, what will happen if the renter admits or denies that the landlord is entitled to possession of the rental unit, and what to expect going forward. Severson says the program provided information to 433 O'ahu tenants in 2022.
"I think it increases awareness not only day-of but kind of gets gears turning for what their options may be or at least have a sense that they have rights and can reach out to see what those are," he says.
How Hawai'i's Tenant Protections Compare to Other States
Freddie Mac earlier this year released a white paper on tenant protections across the country. While we provide context as to what other states' mandates look like and whether there are common requirements, this table does not cover all the details.
In addition, some states, like California, have local level laws that provide more tenant protections. This table only focuses on the state-level laws. The District of Columbia and Guam are included as states.