To Get to X with Their Ideas, Hawai'i Entrepreneurs Turn to preX
The virtual "master class" run by XLR8HI is helping people launch and scale their businesses.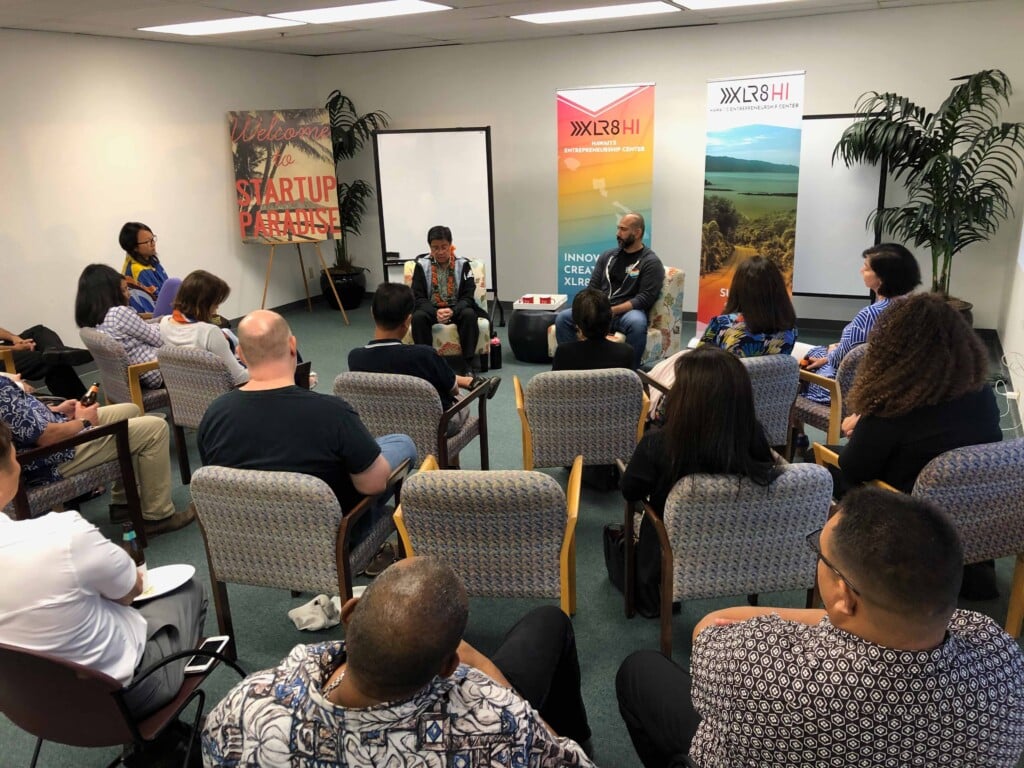 preX, a scaling accelerator for local businesses, passed a significant threshold this year: The number of companies that have graduated from its program is now in triple digits.
The free monthlong course – which is offered two to three times a year and is 100% virtual – was created in 2020 by XLR8HI, which calls itself Hawai'i's Entrepreneur Center.
Tarik Sultan, co-founder of XLR8HI and managing partner of Sultan Ventures, says preX was originally created to help companies and entrepreneurs who struggled during the pandemic.
"We saw a massive, underserved need in the community," Sultan says.
He says the program helps small business owners who want to get to "X" but don't know how. That includes how to start or change a business, how to secure funding and how to expand operations.
Since 2020, 111 companies have gone through preX. These companies have created or retained over 400 jobs, generated a total of more than $110 million in revenue since they entered the program and raised nearly $50 million in funding, according to Sultan.
"We're proud of these impact numbers, and it's a true testament to the preX companies' focus on creating products and services that are needed and used in Hawai'i, rather than simply chasing the next funding round."
The companies that have gone through preX's program come from multiple sectors, including businesses that provide high-tech software, consumer-packaged goods and even artificial intelligence platforms. About 30% to 40% come from the Neighbor Islands; the rest are based on O'ahu.
"Guiding Light" for Entrepreneurs
Nova Signings, a mobile notary service in Honolulu, was part of this summer's cohort. Since launching in 2021, Nova Signings has served over 170 customers and leveraged over 5,500 real estate closings, according to co-founder Olivia Esquivia.
Nova enrolled in preX to help as it pivots to additional services, she says. The company remains a mobile notary service but also is developing an e-closing software platform so it can offer remote notary services plus e-signature and e-recording capabilities.
preX is "like a master class on business and how you can learn the process of your business," including how to craft a pitch to investors and how to sell your business model, Esquivia says.
"It's a guiding light because sometimes as an entrepreneur you're already wearing multiple hats and you're in the weeds of your business. And sometimes you can't see the bigger picture."
Work it Out Kaua'i, an online and in-store retailer that offers activewear, swimwear and everyday casual wear, was in preX's first cohort in 2020.
Co-owner Jeni Kaohelaulii started Work it Out Kaua'i in 2008, and during the pandemic, she and her sister Jasmine wanted to learn how to grow their business. At that time, Work it Out Kaua'i was "successful in the sense that we've had the business for over 10 years," Kaohelaulii says. But that success came with a price, and day-to-day operations left her "pretty burned out."
The preX program helped spark "a whole other side of the business" because now, Work it Out Kaua'i has extended relationships with other companies and entrepreneurs like Sultan and his brother Omar, who serve as consultants for the retailer.
"The preX family is very open to you even after you graduate," says Kaohelaulii. "You still have a lot of opportunity to ask questions and whatnot."
Pandemic Pivot
During the pandemic, Aline Steiner decided to pivot from her 15-year career as a private chef, but she still wanted to cook. By entering the consumer-packaged goods industry and co-founding Koko Kai Yogurt, she could do just that.
The chef in her, she says, still wanted to "nurture people" and feed them something healthy. With that in mind, she created a probiotic-rich coconut yogurt that's plant-based and dairy-free.
She describes her time in a 2021 preX cohort as intense and worthwhile. "(It) gave me an insight into how to grow a business … and how to scale smartly." And, she says, it taught her how to recognize the signs of a viable business.
Steiner started by selling her yogurt at farmers markets; now it's sold in Hawai'i in stores such as Foodland, Whole Foods Market, Safeway and Down to Earth, plus some stores in California.
Tarik Sultan says preX is different from other accelerators and programs in Hawai'i because it is "tailored to the specific needs" of companies.
"We took a different path by intentionally catering to the vast majority of Hawai'i's economy – the small businesses and startups that make up 95% of the market – as well as the traditional high-growth companies."
Over a quarter of the companies that have gone through the preX program are led by Native Hawaiian founders, two-thirds by female founders, and 84% of the companies are spearheaded by people from traditionally underserved and underrepresented communities, he says.
The accelerator has had six cohorts so far and plans to announce its next one in the fall.
"preX is a transformative experience for entrepreneurs and company owners, allowing them to turn their innovative ideas into impactful businesses that drive positive change and make a lasting difference in Hawai'i's community," says Sultan.