Hawaiʻi's Top 250 Company Profiles 2023
Learn more about some of the Top 250 companies that made this year's list — each a leader in its field.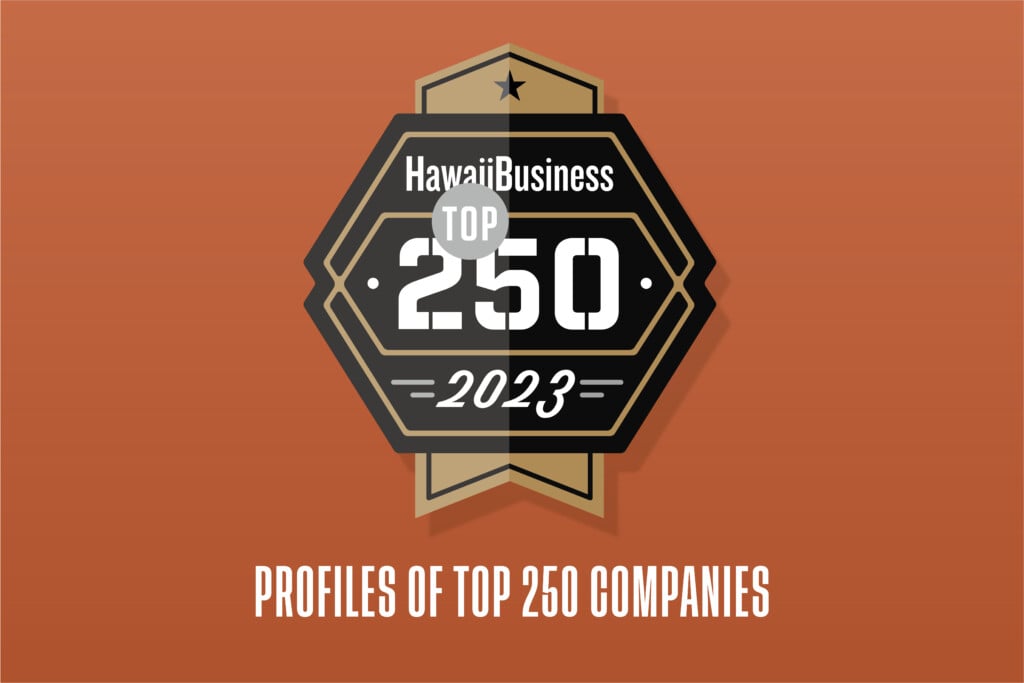 The signature August issue featuring the Top 250 companies in Hawaiʻi is available for print purchase. Click here!
---
Hawaii USA Federal Credit Union
HawaiiUSA Federal Credit Union is more than a banking organization – it is a valued community partner. As Hawaii's largest credit union, learning from the communities it serves is an integral part of its growth and success. This reciprocal relationship is rooted in their belief that financial wellness contributes to healthy communities. HawaiiUSA's mission is simple: Empower households, businesses, and communities to thrive and achieve what matters to them the most.
At HawaiiUSA one will find abundant examples of innovation and dedication to improving the member experience. Through data analytics and thoughtful research, HawaiiUSA creates banking solutions that meet members' ever-changing needs and provide frictionless, personalized experiences. Individuals appreciate earning rewards on their everyday debit and credit card purchases. Families in the market for a home will find HawaiiUSA's financing options to be achievable and the borrowing process easy to navigate. Small business members who bank here are more empowered than ever before with online invoicing to help support business growth and operations.
HawaiiUSA makes banking effortless and intuitive for its members. HawaiiUSA draws constant inspiration from members and works to align them with the best banking options that help accomplish their financial goals. With its online Account Guide, individuals, families, and businesses can leverage this digital tool to customize the right financial path for their needs. As people's money needs change over time, HawaiiUSA helps members to select accounts that better reflect and adapt to those changes.
With 14 branch locations statewide, HawaiiUSA is more than a typical financial institution. They are an organization that is equally committed to you as a member, as they are to the community you live in, firmly believing that a financially healthy you is better for a financially healthy Hawaii. As a member of HawaiiUSA, you will be empowered with the tools and support you need to simplify your finances and achieve your lifelong goals.
HawaiiUSA Federal Credit Union
1226 College Walk,
Honolulu, HI 96817
(808) 534-4300
hawaiiusafcu.com
PAR Hawaii
Providing energy security for Hawaii consumers is a 24/7 job. It requires vigilance in monitoring global events, technical prowess, operational and logistical excellence, and keeping a pulse on the evolving energy needs of the state.
Businesses, residents, and visitors rely on Par Hawaii to meet the relentless demand for fuels: gasoline for vehicles, fuel for first responders and critical services, jet fuel for flights to the continental U.S., Asia, and the Pacific Islands, and fuel oil to generate electricity that feeds the electric grid to power everything from EV charging to computers. It never stops.
Par Hawaii welcomes the responsibility to meet our state's energy needs, but keeping energy affordable is challenging. Par Hawaii must source crudes from around the world to make the fuels Hawaii needs. When crude prices go up, fuel prices correspondingly increase. Since it takes energy to make energy, Par Hawaii's refining costs also escalate.
Building Energy Resilience
Energy resiliency is a priority for Par Hawaii and the state. By investing $90 million to repurpose a processing unit at its Kapolei refinery, Par Hawaii is projected to start producing renewable diesel and sustainable aviation fuels by 2024.
"Our $90 million investment is an investment in our state," said Eric Wright, Par Hawaii's president. "We're glad to play a pivotal role in the transition from fossil fuels to reduce Hawaii's carbon intensity and help everyone decrease their contribution to climate change."
Locally Produced Renewable Fuels
The new unit will process plant-based oils, either imported to Hawaii or from locally-grown plants. Par Hawaii is partnering with numerous agricultural organizations such as Pono Pacific, and field studies are now underway to cultivate oil-producing plants such as camelina.
"Our shift to clean energy won't happen overnight, but it's part of an exciting journey," Wright said.
Par Hawaii
91-325 Komohana St,
Kapolei, HI 96707
(808) 547-3111
www.parhawaii.com
Central Pacific Bank
Why do people like banking at Central Pacific Bank? It comes down to CPB's commitment to exceptional service in-branch and online.
Rooted in a rich legacy dating back nearly 70 years, CPB was founded by Nisei veterans who had trouble getting financial services from other local banks. This history of being there for everyone in Hawaii drives CPB to go above and beyond for their customers in every possible way.
CPB branches are designed to offer an epic customer experience. Customers feel comfortable and welcomed from the moment they step in the door. And CPB team members actually take the time to build strong relationships with their customers and understand their unique needs. This allows them to create tailored solutions that meet the specific financial goals of each customer.
Building relationships is an important element of exceptional service. But in this day and age, it's also vital to offer state-of-the-art digital banking solutions. CPB delivers. Their online and mobile services are top-rated, and their user-friendly platforms provide a comprehensive set of features that make managing finances easy, even while on the go. They have the trust of their customers, earning the bank national recognition from publications, including Forbes and Newsweek.
Finally, CPB actively contributes to the communities they serve. Whether it's giving back to local organizations and charities, supporting small businesses and entrepreneurs, or developing initiatives aimed at improving the well-being of others, CPB is dedicated to helping all of Hawaii's ohana reach their full potential. That's the spirit of aloha in action. That's CPB.
Central Pacific Bank
220 S King St Floor 1,
Honolulu, HI 96813
(808) 544-0500
www.cpb.bank
Swinerton
A Culture of Ownership
Founded in 1888, Swinerton is a national construction and construction management firm with 20 offices nationwide. We have been a trusted partner of Hawaii since the 1960s with our tight-knit Honolulu-based office that engages in local internal and outreach events to promote collaboration and cohesion within our company and our industry.
One of the most integral parts of our Swinerton culture is the fact that we are 100% employee-owned. This means that we act in the best interest of our fellow employee-owners in everything we do, both regionally and nationally. As a division, it is important to create a sense of place for our employee-owners and create a culture within our Swinerton teams that reflects the positive impact we leave on our communities. Together, we aim to truly be a community builder dedicated to the local communities we serve.
We passionately invest dollars and volunteer hours back into a few key local organizations, including Make-A-Wish Hawaii, for which Hawaii Vice President and Division Manager Aaron Yamasaki serves on the leadership board; Honolulu Habitat for Humanity; Child & Family Services of Hawaii; Kapiolani Radiothon; The Pantry; and Hawaiian Humane Society, to name a few.
Swinerton ensures our commitment to building sustainable and strong communities also extends to our recruitment efforts. We focus on hiring the best and brightest talent through internship opportunities, career fairs with University of Hawaii, and other locally based events that build awareness and excitement for creating sustainable growth opportunities and careers in construction.
Swinerton's Honolulu office has the ability to leverage the resources of a $5 billion national construction firm in order to serve our clients wherever and however they need us. Our culture of ownership means our 4,300 construction professionals across the nation not only have a personal stake in the success of every project, but share a sense of pride over our decisions, results, and performance.
Most of all, as employee-owners, we work toward a common purpose: to be the preferred builder and trusted partner in every market we serve— proudly leading with ownership, integrity, passion, and excellence.
Swinerton
841 Bishop Street,
Honolulu, HI 96813
(808) 521-8408
swinerton.com
Hawaii State Federal Credit Union
At Hawaii State Federal Credit Union (Hawaii State FCU), we believe that "always right by you" isn't just a tagline – it's our way of life. It's also a promise, to treat our members fairly, like family, and to always consider what's best for them in all we do.
Credit unions were originally established to provide financial services and support to communities that were underserved and unserved by traditional banks. This idea of people helping people was the foundation on which Hawaii State FCU began. By maintaining our member-focused, community-minded way of doing business, we have continued to grow from our humble beginnings serving Hawaii's territorial government workers to becoming one of the largest credit unions in the state, with 14 branches on Oahu and Maui.
Over our 87-year history, our dedication to our members never wavered. We invest significant time and resources toward continually improving our member experience, offering value-added products, convenience, innovative technology, and educational tools and resources to set people on the path to financial wellness. Our members are an essential part of our financial cooperative, and our commitment to them ensures that we can continue to provide vital financial services that support the well-being of the community in meaningful ways for many years to come.
Hawaii State Federal Credit Union
333 Queen Street
Honolulu, HI 96813
(808) 587-2700
www.hawaiistatefcu.com
---
The signature August issue featuring the Top 250 companies in Hawaiʻi is available for print purchase. Click here!
---
Atlas
We have seen a lot of change over the last 96 years that we've been in business, but one thing that hasn't changed is our steadfast commitment to our employees, the community, and our partners.
Expanded Services
In 2023 we expanded our offerings to include a private client group, a concierge-type service for our highnet-worth clients. It's customizing personal risk management – a portfolio designed to access sophisticated property and liability insurance products and solutions tailored to protect the unique needs of our clients. Complex personal insurance coverage includes luxury collectibles, fine art, jewelry, antiques and exotic cars, international travel, non-profit board, and family trusts, employing domestic staff and contractors, custom luxury homes, and much more.
We fully launched our personalized small business unit, led by dedicated local representation. Additionally, we added free expanded services for our clients including a 24/7 portal that offers an HR hotline, custom job description builder, employee cost calculator, safety training modules, news and article library, and dozens of other apps and features.
Community Investment
Our investment goes beyond helping our clients; we also believe in giving back to the community we call home. Since its inception in 2002, The Atlas Insurance Agency Foundation has donated over $1.7 million dollars to causes we're passionate about and our employees have given back thousands of volunteer hours.
Lasting Legacy
Our commitment to doing what is right has helped us become one of Hawaii's Top 250 Companies, one of the Best Places to Work, a BBB Torch Award recipient, and one of Insurance Journal's Top 100 Independent Property & Casualty Agencies nationwide.
One of our guiding principles has been the belief that Hawaii is not simply a place where we do business, Hawaii is our home, and we take our responsibility as a locally owned company to heart. The way we serve our community has evolved over the years, but we always strive to be our clients' insurance navigation partner.
Atlas Insurance Agency
201 Merchant St, Honolulu, HI 96813
(808) 533-3222
info@atlasinsurance.com
www.atlasinsurance.com
Cetra Technology
It may surprise you to know that Hawaii is one of the 10 riskiest states in the country for malware hits according to a 2023 SonicWall Cyber Threat Report.
"Even the smallest businesses have data that is valuable to hackers. Customer and employee information, and financial material all can be sold on the Dark Web or used in phishing schemes," said Michael McMurdo, CEO of Cetra Technology. "A malware attack can be devastating but many businesses think they cannot afford a staff of cyber experts or expensive software. The real question is: how can you afford not to protect your business?"
Helping You Qualify for Cyber Insurance
Only 17% of small businesses have cyber insurance according to Kaseya Cybersecurity. Many businesses do not have the basic security tools required to qualify for insurance. Cetra Technology is making small business access to big business cybersecurity tools affordable and attainable. Measures that include:
Zero Trust – Assumes that no user or device can be trusted, even if already within the network.
24/7 Endpoint Monitoring – Continuous behavioral analysis to detect and stop ransomware.
Vulnerability Testing – Identifying and assessing security weaknesses in a system or application.
Dark Web Monitoring – Searching for and tracking personal information found on the dark web.
Insurance – Access to affordable cybersecurity insurance through our insurance partners.
Protected Backups – Encrypted and air-gapped.
An Integrated Approach
Today, cyberattacks happen not just by computer but also by air conditioning systems, video camera systems and even a digitally-controlled fish tank!
"It is becoming increasingly important to take a 360 degree look at your company's security—both physical and cyber," McMurdo said. "Only through a coordinated and well thought-out design can you feel comfortable that your company's data, assets and people are secure."
Cetra Technology provides businesses with leading-edge solutions for all their internet-based technology needs including managed services, cybersecurity, physical security (access control and security cameras), VOIP systems, cloud solutions, virtual desktop, network infrastructure, backup and disaster recovery, forensic investigation, and bandwidth. Contact us for a free assessment.
Cetra Technology
900 Fort Street Mall #1320,
Honolulu, HI 96813
(808) 545-7505
www.cetratech.com
ProService
Since its founding in 1994, ProService Hawaii has provided bundled HR solutions that make it easier for employers to succeed in their business. Thousands of local businesses depend on their HR services for time-consuming and complex HR tasks that help employers manage HR and employee benefits and costs. These bundled solutions include configured HR technology, payroll, scheduling, HR consultations, health benefits management, administrative & risk management, workers' compensation, 401(k), and regulatory compliance. Today, ProService Hawaii serves over 2,500 businesses representing over 44,000 employees in Hawaii.
What's Next for ProService?
ProService is entering a very exciting time in the company's history. Earlier this year, they announced that Silver Lake, a global technology investment company, will partner as their new private equity investor, alongside its 130 employees who are also owners. "This value-added partnership with Silver Lake will help us get significantly better for our clients in the area of technology," said ProService CEO, Ben Godsey. "It will also maximize our opportunity to become a much larger, multi-state business headquartered in Hawaii," he added.
Continued Growth by Investing in Employees & Clients
As the company accelerates progress across the organization, especially in areas of technology and process improvement, high-performing employees and a high-performing service culture are paramount to the company's future success. Over the next several years, the company will invest resources to bring operational efficiency and better technology to empower their employees and clients to do their best work. The company's mindset of continuous improvement is one of the reasons why local employers enjoy partnering with ProService, and why the company has been recognized as one of Hawaii's Best Places to Work for the last 17 years.
ProService Hawaii
6600 Kalaniana'ole Hwy #200,
Honolulu, HI 96825
(808) 202-2343
www.proservice.com
---
The signature August issue featuring the Top 250 companies in Hawaiʻi is available for print purchase. Click here!