Here Comes Gen Z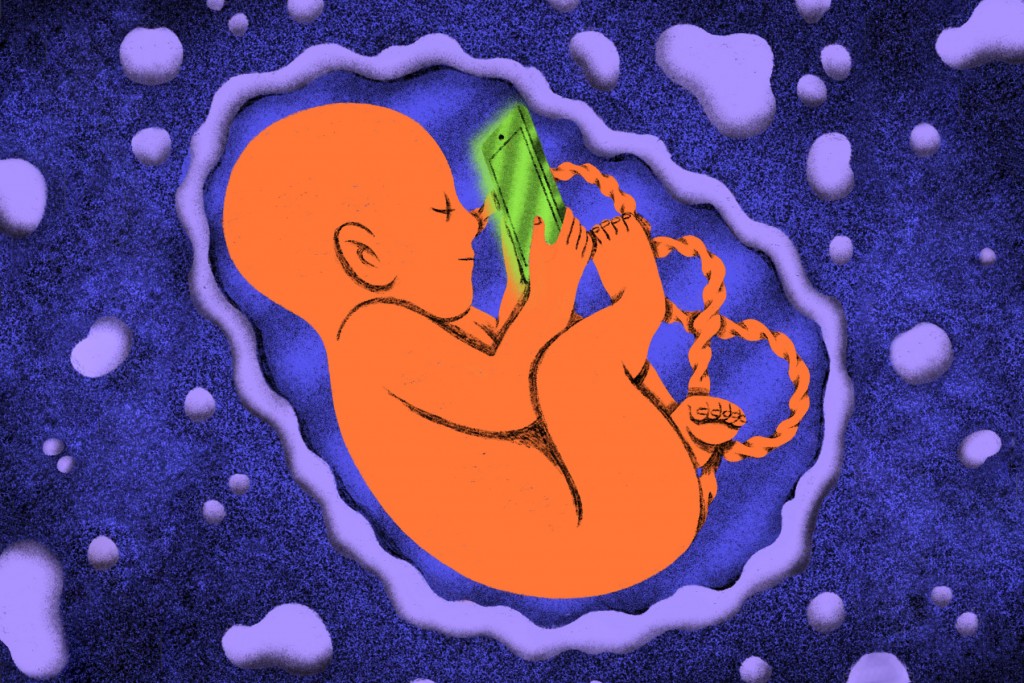 About 72 million people in America have been born since 1995, with the oldest in their early 20s and entering the workforce.
Here are four important things that supervisors and colleagues should know about the growing wave of post-Millennial young professionals. We also provide tips for Gen Z on how to thrive in a business world still largely run by Boomers and Xers.
1.
They're True Digital Natives
The most notable characteristic of Gen Z is they were born into the digital age, says Sonia Ghumman, associate professor of management at UH's Shidler College of Business.
"Gen Z experienced the digital age via osmosis, and the normalization of always being wired was already taking place during their birth years," Ghumman explains in an email. "In fact, some of these Gen Z individuals have had a digital presence since birth, thanks to their parents being unable to resist posting their adorable childhood pics on social media."
Because of the constant emergence of new technology, research shows that Gen Z individuals tend to be very open, independent-minded, innovative and entrepreneurial, she adds.
Ken Gilbert, co-founder of Business Consulting Resources, works with family businesses and has Gen Z children of his own. He explains that the digital age, an environment marked by rapid advances, is all they know. "They're excellent at sourcing data and they're smart because of it, smarter than probably any other generation we've ever had."
A 2017 national survey conducted by David Stillman, generations expert and founder of GenZGuru, found that 91% of Gen Z say an organization's technological sophistication would be a factor in any job search. And they prefer companies with a strong digital presence: Websites and social media accounts are the first places Gen Z look to learn about a company and they are likely to be most impressed by platforms that are frequently updated and easy to navigate, according to the survey.
It's important for people to see the culture of the organization they're going to work for, says Janina Abiles, manager of client HR training at ProService Hawaii. Gen Z has grown up with information at their fingertips, so they expect to find what they're looking for about a business quickly online.
Ghumman adds that recruiters can use traditional career websites such as LinkedIn, Monster and Craigslist, but should also consider using social media depending on the nature of the job. That is, after all, where this generation hangs out.
2.
They're Looking for Stability
According to Jonah Stillman, Gen Z expert, best-selling author and Gen Z son of David Stillman, Millennials and Gen Z are looking for vastly different things. Millennials grew up during economic prosperity and tend to have an idealistic outlook, but Gen Z grew up during the Great Recession and they tend to be more realistic and pragmatic. They operate in survival mode and value career stability.
"The No. 1 thing I look for in a job is the opportunity for professional growth," says Maile Kawasaki, underwriter for business banking at Central Pacific Bank and a Gen Zer. "Does the company have a career path for me? Is there something to work for? A next step? I look for a company that will promote its people, which goes hand in hand with company culture." She feels fortunate in her current role at CPB to experience a company culture that makes everyone feel like part of the team. She also appreciates the many opportunities for development and training.
Annie Nguyen is a recent graduate of the Shidler College of Business at UH Mānoa. She works as an associate account executive at Amazon Advertising and is enrolled in a six-month trainee program at the company's headquarters in Seattle. At the end of the program, she will be promoted to account executive. Nguyen says she specifically looked for programs that were designed for recent college graduates.
"I feel like those types of programs were designed to set me up for success, going from college to career," she says. "I looked for companies that would invest in me. I also looked for mentorship opportunities and companies that have policies that promote continued education." (Note: Nguyen is a former digital media intern at Hawaii Business Magazine.)
According to David Stillman's national survey, 61% of Gen Z say they would be willing to stay at a company for more than 10 years. That's because Gen Z is looking for stability and are willing to stick around if allowed to grow in their careers, says Jonah Stillman.
"It's important for managers to understand how their own insecurities and biases might be coloring their impression of future generations."

Sonia Ghumman, Associate professor of management,
UH Shidler College of Business
Sherri Okinaga, VP and talent development manager at First Hawaiian Bank, says she was stunned by the shift in what interns have been focused on recently. "They're very influenced by the downturn of the economy in 2008-09. We saw that Millennials think you can be whatever you want to be. But now it's like, 'How do I get a secure job?' 'How do I make sure that I have stability in my employer?' That's a really different conversation. And quite frankly, that's good news to employers like us because our employee value proposition is about the long term."
Okinaga says career development is a top priority at FHB. In the past four years the company has introduced an emerging leader program for employees who are starting to lead teams. The next step is FHB's advanced leader program for those who will lead major transformations that call for innovative work. Finally, the executive leadership program helps prepare individuals for the bank's C-Suite.
There are formal career development opportunities at every level within the organization to help people accelerate their careers, Okinaga says, and FHB also encourages informal, self-organized peer-to-peer learning. "We don't believe in matchmaking mentorship. It has to be organic. It has to be chemistry. We create opportunities for people to have that interaction so that there is exposure to potential mentors."
Tips for Older Generations
"Probably the biggest obstacle that the older generations will have with Gen Z is not understanding how to help leverage and support what they're bringing to the table. I think it's better for the older generations to really build a strategy of how to embrace this younger generation and help them to excel as they move into the world of careers."
"(Older generations) will always look at the younger generation and think that they're spoiled or lazy, but really what they're becoming is savvier with technology and learning how to make their lives more efficient. … You can't call them lazy just because of what you don't see. We all just need more empathy."
"There is so much hype about how the younger generations are too spoiled, too wired, too 'insert any negative adjective here.' What is lost in this conversation is just how tolerant these younger generations are, how much they embrace diversity, their sense of global mindedness and interconnectedness with the world via technology and trade, and their passion for human rights and environmental issues."
3.
Meaningful Work is Important
Gen Z is a bit of a paradox, says Katie Chang, executive director of the Center for Tomorrow's Leaders. Although its members are looking for more stability in their work compared to the previous generation, they also want to find meaning in what they do. Employers have to think not only of stability, but
also how to provide purpose and a bigger picture for the work.
Some employers allow their employees to tackle projects that affect the broader community. This year Hawaiian Telcom launched an employee volunteer program called Mālama Hours that gives all full-time employees 40 paid hours per year to volunteer in their communities, says Ann Nishida, senior manager of corporate communications at Hawaiian Telcom. The company encourages employees to make a positive impact in a way that's meaningful to them and helps them by providing resources and information on local nonprofits.
Maile Duffy is a UH Mānoa senior pursuing a degree in electrical engineering in the electrophysics track. She is also an engineering intern at Hawaiian Telcom and one of her most important tasks is calculating the stress that's put on utility poles around the state. Her work ensures the utility poles can function properly and she is able to identify potential safety hazards. She says her work is both challenging and impactful. "Something that's very important to me is having meaningful work, work that I really pride myself
in, that I can really enjoy," she says.
4.
They're Entrepreneurial and Want to Contribute
The 2016 Gallup-HOPE index report found that 41% of middle and high school students plan to start their own businesses and 45% said they want to invent something world-changing.
Shiraz Dole is a Gen Zer who formerly worked as the program manager for Blue Startups in downtown Honolulu and has always had an entrepreneurial spirit. He conceived several startups as a college student, including a reminder app called "Mynder," which he co-founded with friend Kirk Wei. Dole also has a "side hustle" in which he sells high-quality mountain bikes that he imports from China.
"What inspires me to be an entrepreneur is having control over a problem that you really care about," he says. "The bicycle project was purely a way to make a quick buck, but for everything else it was about finding a solution to a problem and taking ownership of it. You can pursue it as strongly as you want, and you can be creative and hardworking with your ideas and solutions. You can grow it into something that's pretty everlasting and incredible."
Ideally, leaders encourage entrepreneurial energy in the workplace by allowing employees to take ownership of projects, says David Stillman. Encouraging a culture of innovation and idea sharing within an organization begins with an open dialogue that includes everyone in the conversation.
"This may not be specific to Gen Z, I think it's true of all young people when you first enter the workplace: They just want to contribute," says ProService's Abiles.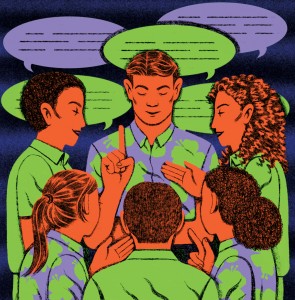 She adds that it can be challenging to open up to new ideas, especially for some long-time employers who've taken risks in the past that haven't worked. But it's important not to shoot down ideas from people just because they have recently arrived. That, Abiles says, can squash a new employee's enthusiasm and passion.
Dole says he learned a valuable lesson early in college from his mentor, Susan Yamada, now director of UH Ventures. "You don't have to be an entrepreneur to create change. Some of the best entrepreneurs are 'intrapreneurs' – people who refine processes within a company or develop new innovations that lead to big things."
It is also crucial to have bosses who are willing to empower you and listen to your ideas, he adds. "If you feel like you're in a great place where others empower and believe in you, then you have that opportunity to take a risk and do new things."
"We employ five generations," says FHB's Okinaga. "And as much as we have to honor differences, at the end of the day, I think people are looking for the same thing. They're looking for a way to contribute their talents and be appreciated for them."
Advice for Gen Z
"My biggest piece of advice would be to network and build relationships. Build connections with people because that's how you can broaden your opportunities and meet potential mentors. You really don't know what's out there until you talk to people. You may also find an opportunity to help and mentor someone else."

"If you're applying for a job and you're expecting that company to invest in you, you have to be prepared to give back to that company, whether that's working really hard to generate revenue or planning a long career at that company. Investment goes both ways."
"What's amazing about Hawaii is that everyone wants to help you in some capacity. Their willingness to help you relies on the level of work and preparation you're willing to put in. You need to do your own research to understand the path that you want to take and what kind of guidance you need. And once you're there, all you need to do is ask."
"Learn from the older generation knowing that there's still a lot of wisdom and things that are timeless. I think in some ways every generation needs to be able to meet each other in the middle."