Hopes and Dreams– Extended Version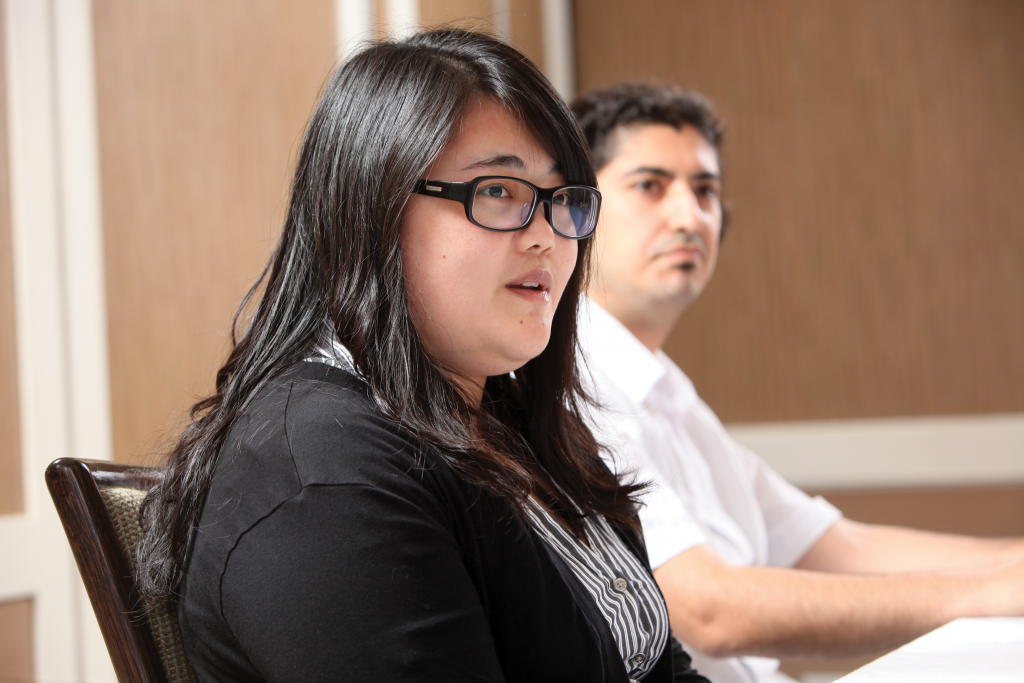 Yu-Hsuan "Anthia" Chen, 25. Born: Taiwan. MBA: HPU, marketing. Plans after graduation: Start my career in Hawaii.
Maria Goto, 26. Born: Honolulu. MBA: UH, general. Plans after graduation: Work for N&K CPAs.
Kandice Johns, 29. Born: Wailuku, Maui. MBA: UH, general. Plans after graduation: Possibly work for Ulupono Initiative.
Ngoc Nguyen, 28. Born: Hanoi, Vietnam. MBA: UH, entrepreneurship. Plans after graduation: Work in Hawaii for a few years before returning to Vietnam.
Josiah Nishita, 25. Born: Wailuku, Maui. MBA: UH, entrepreneurship. Plans after graduation: Work in Hawaii.
Emre Tuncbilek, 30. Born: Isparta, Turkey. MBAL HPU, marketing. Plans after graduation: Join Hawaii's business community.
Moderator: Steve Petranik, editor of Hawaii Business.
Petranik: Why did you seek an MBA?
Nguyen: That is a good question that they ask us during our interview process. I was four years into my career and I felt there was still much more that I hadn't learned from my job, which I loved. But I thought that if I go back to school using the experience from my job I could understand more.
Nishita: My family has really stressed education and developing yourself as a person, so I've always known that I was going to pursue graduate education as well as, possibly, a Ph.D. program later in my life.
Goto: I wanted to get the credits for a CPA license and I decided to go through the MBA program rather than the master's in accountancy, because I wanted to expand my knowledge in management and to have broader technical knowledge and explore changing careers if something interested me. The entire education is valuable because the market is more competitive than ever. I wanted to market myself better and be a more valuable employee.
Johns: For me, it stemmed from my work experience, which, after college, was in nonprofits specific to HIV and AIDS, and some of the frustrations I experienced seeing a lack of capacity within nonprofits and a need for more business skills. I also want to further the impact I make in the community. I wanted to bring it to the next level either by incorporating my skills and leadership into a corporate social-responsibility role on the for-profit side or in nonprofits.
Tuncbilek: If, five years ago, somebody had told me I was going to leave the workforce, spend all my savings on a master's program, I would have laughed, because I am a very practical person. I learn by doing, I don't learn from books. But the more I advanced my career, I realized the difference between management and leadership, and I really wanted to get international experience and to get more leadership skills. I always used to do things my way, but I figured out that is not the best way, so it was a real wake-up call for me and I'm really happy to be here and getting my MBA degree.
Chen: A master's degree was always on my life list. I wanted to finish all the education I could possibly have at the beginning of my life. That's why, after I graduated from college with a finance degree, I entered the MBA program right away. I don't have any job experience yet, but I want to apply all the knowledge I've learned to the real world.
Petranik: What are the most important things you've learned?
Johns: For me, some of the most important things, and the most challenging, are the financial and accounting skills. My background was in psychology, so that was a vastly different experience, but I definitely see a need for those skills to run a successful business. The other most important thing is marketing, to be able to understand what a strong role that plays regardless of the business you're in. Lastly, sustainability is something we've been focusing on lately and that is what I was already passionate about. It was also good to learn what other students and faculty are interested in.
Petranik: How is sustainability taught? As a way to be profitable or as a moral/ethical issue?
Johns: It's been approached from both sides: Not that it's just the morally and socially right thing to do, but also that there are bottom-line benefits from, say, eco-efficiencies and cost savings. I've learned that, for a business to adopt sustainability initiatives, it has to make sense for the bottom line. Just the fact that it feels good is not necessarily good enough for most companies.
Petranik: I want to follow up on how mathematical courses can be challenging for students who got their BAs in the liberal arts. What happened in your first accounting class?
Johns: I did well in the class but it definitely was the most challenging. That doesn't come as naturally to me or is as exciting as something like marketing, which can be more creative and abstract. So, if you are someone like me, who does not have a math-based undergraduate degree, just be ready to put in the time to study hard and get to know your professor. One of the nice things about an MBA is that there are lots of other students who do have business backgrounds and very thorough experience that you can learn from and, luckily, that is the way our groups were structured. There was always someone who had that strength.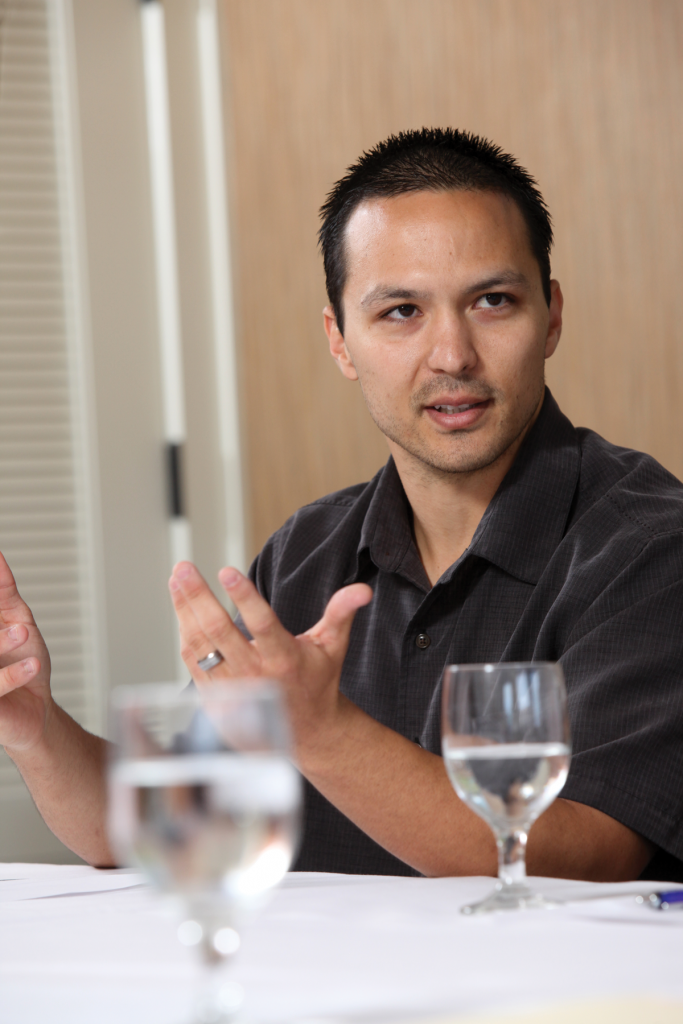 Goto: I think the greatest challenge and the greatest thing I've learned in the MBA program is teamwork. I found it to be a challenge working with different personalities. Everyone in the program has different work ethics and different priorities at any given time. Even though the work always gets done, you have some team members who are procrastinators or want to get things done early, and so balancing that was a challenge. My work experience was with a small public accounting firm and I work pretty independently. So coming into the MBA program, I started working in teams again. It was rewarding to remember to recognize other people and respect them for their different skill sets even if they're not like you.
Petranik: Did you pick the teams?
Goto: They were assigned, which is rewarding in some ways, because when you're working, you can't pick who you work with. You have to learn to deal with different personalities and respect each individual, and you'll learn to perform well with what you're given.
Nishita: The biggest thing I learned, and I'm really pleasantly surprised about, is the level of resources we have available to us through UH. Some of the examples I can think of are, just last week, I had a class with the former head counsel for Nintendo, and, tonight, we're having a guy named Barry Weinman, who owns a venture-capital firm in Silicon Valley and has gone through over 70 IPOs. Last night, I had a class with Dennis Coleman, who was one of the founders of Symantec, which is best known for Norton antivirus software. We've been to presentations from Pierre Omidyar, the e-Bay founder. I have had a personal/work relationship with Robert Clarke, former CEO of Hawaiian Electric Industries. But it is pretty much up to us students to leverage those resources.
Petranik: What about the opportunities for summer work, for internships, for real-world experience? Were there enough of those opportunities available?
Nishita: There are lots of useful opportunities. For one semester, a group and I worked on a franchising model for RevoluSun, and, just a couple of weeks ago, RevoluSun outlined their franchise plan. We're providing free resources to the community but also gaining very valuable experience. But the summer between our first and second years was a low point in the economy and so there were few companies looking for interns then.
Nguyen: One of the main things I learned was to manage my time between school full time, a part-time internship and having a family with a 3-year-old. I didn't know that I could do what I was able to do. With the help of my family, I worked hard during the week and, on the weekend, I was able to spend the time with my family. No homework. That was a very rewarding experience. When you're in school you get the opportunity to do things a different way and explore things, so that, at the end of the day, you look back and say, "Wow, I really did it!" You have time to reflect on yourself.
Chen: The most valuable thing I learned is practical experience. Our professors brought all kinds of local businesses into our classroom, made us appreciate their problems, and we helped make business plans and marketing plans for them.
Tuncbilek: My first and second years were very different for me. The first year was all about validating my work experience with the formal education, because I learned very important theoretical points or perspectives about business. In practical work, you usually have to ignore the theory. By the end of the first year, it all made sense. The second year, it was more about understanding the creative part of marketing, because, throughout my life, I always worked on the analytical side of things. I have a computer-engineering education and I have a business-administration undergrad degree. I was a fan of the analytical approach, and now I'm majoring in e-marketing and strategic marketing, and I never before realized the creative side. It opened up a side of my brain that I never used before.
Another great thing was being downtown. HPU is downtown, and that's like treasure for the MBA program because we live and breathe with the business community.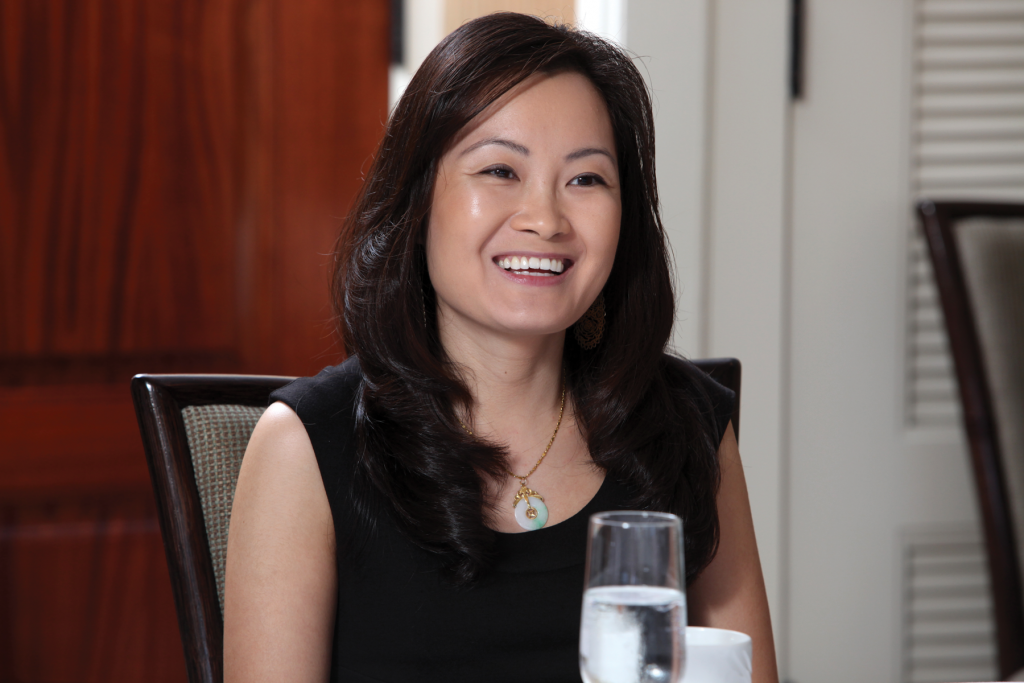 Petranik: You said earlier that you had been working for six or seven years and you took your life savings and made this investment in an MBA.
Tuncbilek: It was a gamble. Either I was going to settle in my country and open up my office, because I was working as a freelance consultant, or take all my money and study abroad and get an MBA degree and see what would happen. Of course, I took the risk and I am really happy. I never regretted anything.
Petranik: An MBA is a substantial investment in tuition and lost income. Is it a good investment?
Nishita: For me, personally, it is a good investment. It really depends on the individual, because if you're not willing to put in the hard work and the effort outside of the classroom, then I don't think that it will be worth your money.
Petranik: All of you except for Anthia worked for a few years before entering the MBA program. Was that a good move?
Nishita: I think it was definitely a good move. If I could maybe modify anything, I would have gotten more experience in a bigger organization. My previous work experience was in a startup, which was invaluable, because you get hands-on with everything, whether it's operations or customers or financials. But when you're hitting the job market after, and especially if you're trying to get into bigger organizations, they tend to favor bigger organizational experience rather than startup experience.
Goto: When I finished my undergraduate studies, I felt done with school. A large reason why I went back was because I realized the value of higher education while I was in the work field. So, if I went straight into the MBA out of undergrad, I don't think I would have had the motivation to keep going. If you're going to pay that much for your graduate degree, you really want to be completely committed to it. And my work years gave me valuable experience to apply in my courses.
Johns: Yes, I second what everyone has said. But, I want to add that the MBA environment is very competitive, and when looking for internships and future employment, it helps to have work experience to leverage with your degree and make you more attractive to potential employers.
Tuncbilek: I strongly advise anybody considering an MBA to work for at least three to five years, struggle with business life, maybe get beaten up, whatever, because then you will be able to ask the correct questions and you will be able to learn. When you learn something about, let's say, organizational behavior, you realize, "Oh, I had that problem with that employee who I used to manage. I know what he is talking about." And it applies to all concentrations, whether it be finance or marketing or management. When you ask the right questions, you get the right answers that are not in the textbooks.
Petranik: Anthia, you are the only one here who went straight from undergrad to MBA. How did that work out for you?
Chen: I agree that it would be helpful to work a few years before getting into an MBA program. In my first year, I took an organizational behavior class and that class was miserable. I had no idea what those people were talking about. But now I've gained practical experience with local companies and I think I'm good now.
Petranik: You are from Taiwan. Is your plan to stay in Hawaii?
Chen: I plan to stay in Hawaii or go to the U.S. Mainland for one or two years to gain more experience with American companies before I go back to Taiwan to handle my father's business, a medical-supply business. I want to take it international, starting with the Mainland Chinese market first. That's my biggest goal.
Petranik: Emre, are you staying in Hawaii?
Tuncbilek: Yes, I am definitely staying in Hawaii. It's a great business community here. It's almost like a family. When I first came to Hawaii, it was August 2009, and I didn't know anybody. I just got off the plane, went to school, started to meet people and, today, I have more than 100 business cards from people I know personally. The more you meet people, the more friends you have. I know from my personal experience that it's not that easy in other locations to carry that aloha spirit. So the aloha spirit really works well in Hawaii. It creates a synergy of businesses and that's what I really love. I feel at home here.
Petranik: And the challenges in Hawaii?
Tuncbilek: I think the way business is done in Hawaii needs more understanding. People who talk negatively about Hawaii are those who don't really understand it. Either they didn't spend enough time or they really have had several bad experiences. As an international person, since day 1, I never had a negative experience and it was always constructive criticism that I received. The more you give back, the more you receive. That's something unique to Hawaii and that's very important. So, I'm very confident in Hawaii and very comfortable in Hawaii's business community.
Petranik: Do you plan to start your own business or join a company?
Tuncbilek: I think anyone who gets an MBA wants to start their own business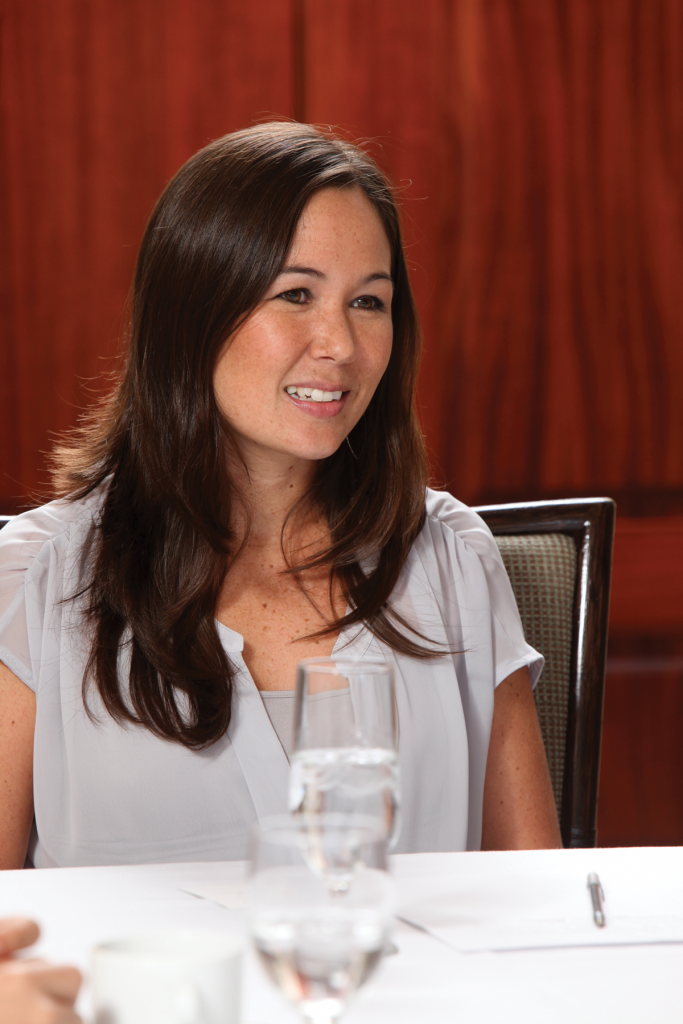 eventually, but that's not an immediate goal. First, I want to get more experience with business in Hawaii and also doing business in an international environment. Then the goal is to set up my own business and contribute back to the Hawaii community.
Petranik: Kandice, stay or go?
Johns: Most likely, I'll be staying here. I'm originally from Maui, so I would like to at least be on Oahu for the short run and then, hopefully, be able to find something that I could do in Maui and return to where my family is.
Goto: I will be staying in Hawaii and working for N&K CPAs.
Nishita: I will definitely stay. I love everything about Hawaii and I'm originally from Maui, too, and would definitely like to go back there someday. But I think in the short term, there's not as many opportunities there, so I will probably be here for a while on Oahu.
Nguyen: I would like to stay here and then – I'm from Vietnam – go back to Vietnam in 10 years or so.
Petranik: The cost of living is a huge issue in Hawaii and young people, especially, face the issue: Will I ever be able to afford a home here? Do any of you own your own home yet?
Nguyen: I own a condo.
Nishita: We've had multiple discussions with our colleagues about what it costs to live in Hawaii. I've read that if you make $100,000 in Hawaii, that's equivalent to about $70,000 in other states. And the cost of homes! I did my undergrad studies in Oregon and friends of mine there bought a two- or three-bedroom apartment with lots of amenities for about a hundred-something thousand, a beautiful place. And over here that would cost $600,000 or $700,000, so that is definitely discouraging. But there are a lot of people who are trying to get Hawaii back on the map in terms of business and investments and stimulating the economy, so hopefully that will pay off.
Tuncbilek: I think there is nothing to worry. I come from a very rough economy, from Turkey. And back there, we really had big turbulences. And I think most people don't realize the great potential in Hawaii, though, yes, homes are more expensive. Water and electricity are more expensive. But you just work harder. There is potential in Hawaii and I'm very confident about the future.
Petranik: I want to discuss work-life balance because I'm sure most of you want a family someday and a decent life. You don't want to spend all your time working. How do you resolve that in your mind?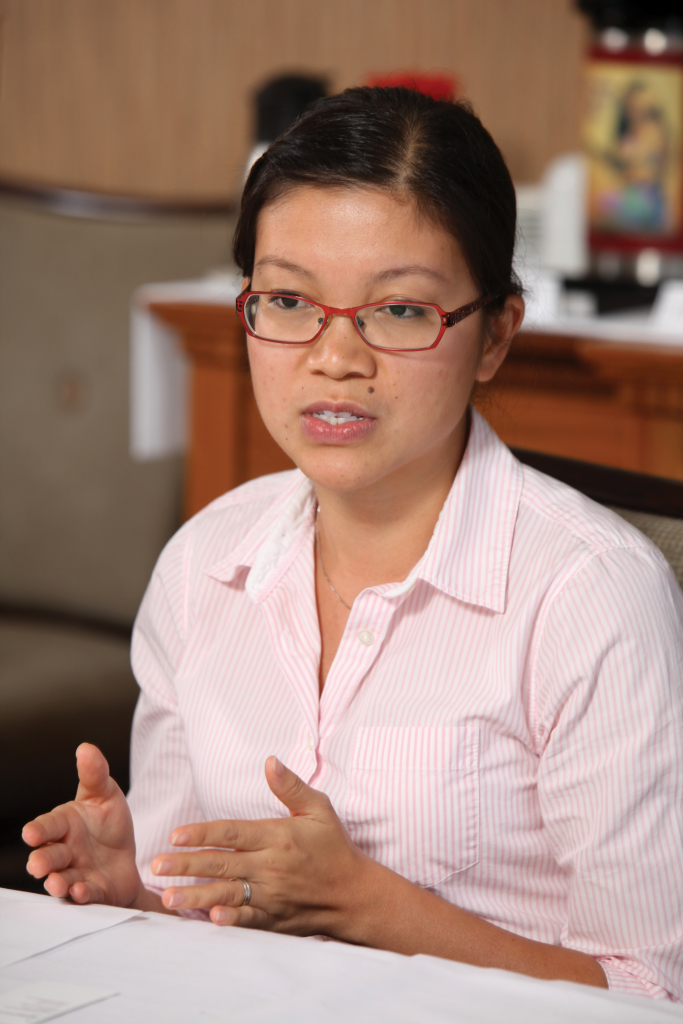 Nguyen: To me, it's a matter of making trade offs. If you choose to live in Hawaii, you get to live in a beautiful place with your family and kids. Maybe your job doesn't pay as much as elsewhere, but that's OK because you're here with your family in a very nice setting. Maybe you don't go shopping at high-end stores or don't buy a big house, but you get to live here with your family and do work that you like.
Petranik: When balancing work and life, how important is it to find the right company?
Goto: I'm going to be working for N&K CPAs, which has been featured as one of Hawaii's Best Places to Work in Hawaii Business magazine, so I have been fortunate. One of the factors that appealed to me was that the firm has such a great reputation in the community for taking care of its employees.
Petranik: What about support from your spouse or partner?
Goto: I'm so grateful to have a wonderful spouse and partner in my life. He has been invaluable in making the MBA process better for me. In our first year, especially, it was very stressful. There was a lot of work, I wasn't earning any money and not making dinner anymore, and you feel like you're not being a good spouse. He was extremely supportive. He washed dishes and cooked and cleaned and he was there when I was stressed out or I questioned whether I made the right choice in leaving the work environment to go back to school. So having that support system is amazing.
Nishita: One thing that a lot of people don't think through is that your sacrifices are not just your personal sacrifices. Your spouse is going to have to sacrifice as well. I'm a newlywed so this time is really special, but my wife has definitely been very supportive and she has actually taken steps to learn what I enjoy about business and she is competing with me in the (UH) business-plan competition. So your spouse is very important to your career-advancement opportunities and work-life balance.
Petranik: I would like to hear what your big dreams are. What do you want to be the main achievement of your business career?
Tuncbilek: I definitely want to be a venture capitalist and to empower business startups, and my business will be based in Hawaii.
Johns: My big, audacious goal is to have my own foundation so I could inspire positive change for other people and for Hawaii. There is so much opportunity for Hawaii to be a model for energy efficiency and for sustainability. Sustainability for me incorporates both social and environmental change. There are so many different areas: I want to have a family, and to be able to experience some of the things that really have connected me to this place and to create something that will be a legacy of continuous positive change.
Petranik: You chose to get an MBA rather than a …
Johns: Masters of Public Health.
Petranik: Can you explain your reasoning?
Johns: I enjoy and appreciate my background in nonprofits, but it does get frustrating being always in need of resources and being constrained. I thought I would love to be on the side of the equation that has resources and be allocating them. That is why corporate social responsibility and corporate philanthropy appeal to me, because I appreciate how creative and resourceful nonprofits are, so to be working for a larger foundation or a private corporation that has the means to fund those initiatives is what appealed to me.
Petranik: Josiah: Big audacious goal down the road?
Nishita: A couple of months ago, my wife and I were talking about what we really wanted to do and our goals align around children. We love working with children and we both have experience in volunteer opportunities and coaching, but our main focus would be to improve the public education system on Maui because Maui holds a dear place in my heart. I just love everything about it and the people, and there is so much talent there and I think it needs to be fostered better in the educational system.
Nguyen: My dream is to go back to Vietnam, open a university that incorporates the American higher-education system into the Vietnamese way and provide Vietnamese students with access to higher education.
Petranik: Hawaii faces challenges that different people define in different ways: Some say it's the lack of the right people with the right skills, or it's a lack of venture capital, or it's the tax structure, the public school system, the regulatory environment. All these issues are raised. What do you see as the big stumbling block that we need to overcome to help more businesses succeed here and help the economy succeed?
Tuncbilek: My impression is that many people think it is OK to be mediocre in Hawaii. People tend to be happy with things being just OK and that is the big problem because we need more perfectionists. We need more idealistic people and they need to apply that to business life, to services, to restaurants. That is the disadvantage of being a famous travel destination – the place loses some of the things that make it successful in the business life. People should ask for better roles, for better services, for better education.
The second thing is that I'm an outside observer, an international student, but I see a misalignment between the priorities of politics and priorities of the Islands. We lack a strategic master plan for the whole state.
Petranik: When I talk to small-business owners, many talk about the regulatory environment.
Nguyen: From my experience – I have worked with Hawaii Telecom – it's a very heavily regulated environment but the trend in telecommunications is deregulation. That way the competitions are fairer.
Nishita: My experience in the regulatory area is with RevoluSun. I know one of its big challenges is the whole business is tied to government tax credits. But these credits are surrounded by an uncertain atmosphere and, at any point, they might get cut, which would put all of these renewable-energy companies pretty much out of business.
In my internship with RevoluSun now, we work a lot with building permits and the city Department of Planning and Permitting, and there are definitely a lot of hurdles because of the time it takes to get things approved. There needs to be an expedited process or some other way that would spur economic development.
HB Writer Shara Enay: Nobody has mentioned pay as the reason for going back to school. That would have been first on my list: "I want to get paid more." Was that one of the reasons you went back to school?
Chen: That definitely was a reason for me. I saw all my friends with jobs already and they're getting minimal pay after college. That's not the life I wanted so I got into the MBA program.
Petranik: I see a lot of nods from the rest of you.
Johns: Definitely, especially from my experience in nonprofits. You see that there is only so much mobility and then a salary ceiling, so to take that next step, an MBA is critical. You give yourself more mobility to move around the business community here or elsewhere. We all want to do things for the right reason and for values that are very important, but, at the end of the day, we still need to pay our bills and now we need to pay off our loans also. I just hope that, after completing school, we can reconcile those two.
Petranik: Is there an MBA premium that is discussed in your classes, that over the next three years you'll get a 10 percent pay increase or 20 percent?
Johns: One thing surprised me. I assumed that, once I get this degree, I'd automatically jump into this next huge pay bracket. But then you talk to some of our administrative directors and class advisors and they say it's based on where you were before and what industry you're in. So, yes, there will be an increase, but it's not like you're going to be doubling or tripling your salary just by having a degree.
Nguyen: As well as the economic environment that you're coming out to. Hopefully, for us, it's going to be on a good cycle.
Senior Writer Dennis Hollier: What kind of expectations do people have of an MBA graduate? Do they expect certain training or attitudes or perspectives?
Tuncbilek: One thing on the rise is ethics and moral values. This was not on the table years ago, but, now, when you say MBA, that's one of the first things – business ethics – because now it is all about sustainability in the long run. We see these bubbles are not healthy.
Johns: Employers also want to see your commitment to staying in Hawaii. They're going to be investing in you and they want to know if it will be worth their time.
Petranik: Thank you so much. Good luck in your careers.