How Fashion Happens in Hawaii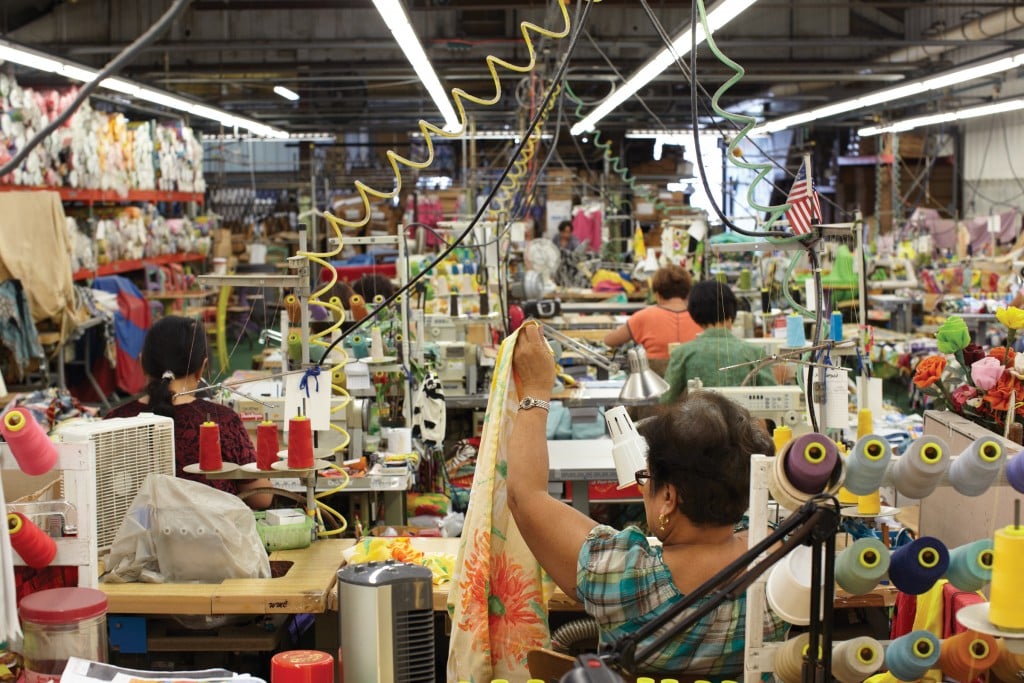 PHOTOS BY MARK ABEIT
---
When people think about the fashion business, they tend to focus on the designer's creative ideas and the finished products they buy. The beginning and the end. But it takes a great deal of work – and many hands – to get that garment from sketch to sales rack.
To understand the process, we went behind the scenes to trace a garment from inspiration to completion. To do that, we selected two Hawaii companies, each with a different business model: Jams World, one of Hawaii's biggest fashion companies, and UMEE, a much smaller operation.
Jams World
Jams World is celebrating its 50th year in business and currently earns about $6 million a year in revenue. Founded by Hawaii fashion legend Dave Rochlen, it is now run by Pua Rochlen, the founder's youngest son.
Jams World does most of the work itself and even runs six of its own stores on three islands – though it also uses local contractors for some designs and sells through retailers across the mainland and around the world. Seventy-five people work at the Kalihi factory and another 20 in the local shops.
Even the catalogue is a family and friends affair. Rochlen's wife, Heather, rents a camera and gathers daughter Savannah Forti and her Kaiser High School friends to act as models for a day. They go on location at a beach or someone's home and shoot the photos. Mother and daughter then complete the layout together for a fresh and young look.
In recent years, Jams World has ventured into the licensing business. Collaborations include bags with Nixon and Kippy's, and shoes with Converse. Coming soon: Jams World sunglasses.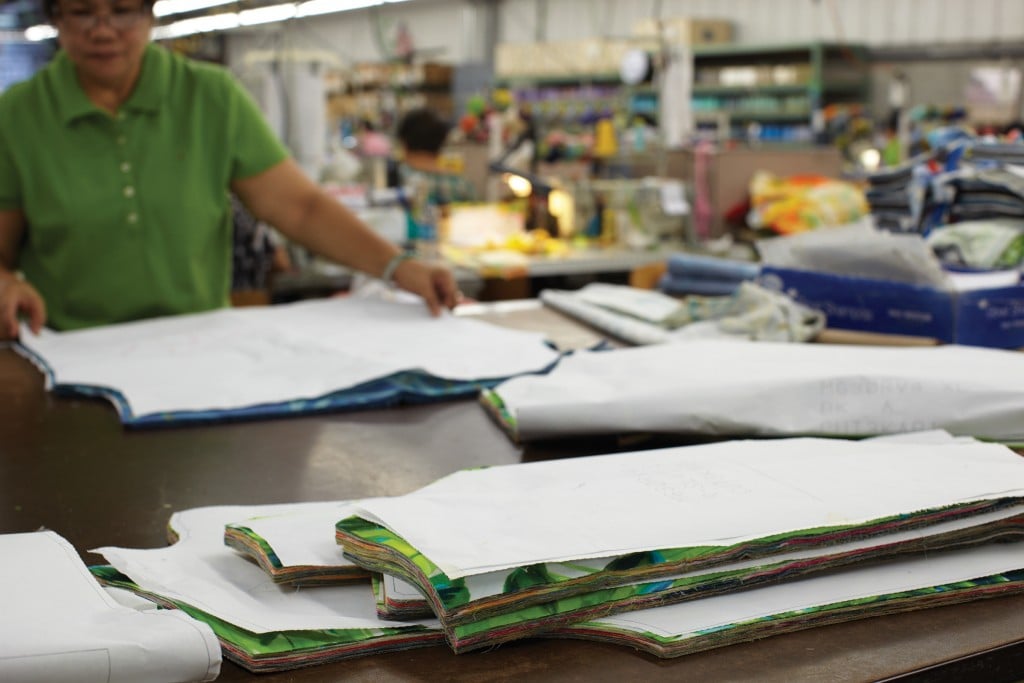 Inspiration
Pua Rochlen finds inspiration in many places. For instance, he bought a vintage dress in a French boutique on Carnaby Street in London. His design manager, Doreen Minami, took off layers of fabric and an inch here and there to create the Connie dress. 1 In other cases, Jams World has gone back through its own archives for inspiration, modernizing a design from the '60s, '70s or '80s.
Fabric
Jams World works with textile artists, mainly in Como, Italy, to create its colorful prints. That means Rochlen will travel to textile art shows in Paris or Como to see the original art. Nearly all of the company's art is hand painted. "Computer-generated art just doesn't have the right feel for us," Rochlen says.
Jams World fabrics have always been printed in Wakayama, Japan. The company currently uses a unique crushed rayon that drapes well and takes dyes beautifully.
Pattern
Minami works with pattern maker Mei-Li Greenleaf to determine how the print and pattern will play together. "It takes at least four times to get the pattern right," Minami explains. For example, the Connie dress is cut on the bias and the bust is fitted, so the hem can easily become higher in the front than in the back. A little elastic was inserted at the empire waist and in the back for a better fit. It was decided to make the straps adjustable to work for more women. Even a Jams World style that has been successful for years may get modified and updated. For example, the next iteration of the Connie will be more bra-friendly, Minami explains, with a higher back and wider straps.
Grading
Unless a garment is one size only, it must be graded, or sized, to small, medium and large or sizes 2, 4, 6, 8 and so on. Jams World has its own computerized grading system, which works well for its shirts and some other garments, but not for those with engineered prints. An engineered print means the print can go in only one direction, and must be placed strategically on the garment. A border print, for example, is an engineered print.
Marker Making
When manufacturing garments, it's important to maximize the use of fabric and waste as little as possible. This is done by creating a marker, 2 which scientifically lays out the fabric pieces for maximum use.
The Connie dress requires an engineered print, therefore the layout must be done by hand. Maribel Duldulao tries to find the most efficient way to lay out the dress, perhaps finding a use for the excess fabric, such as visors or bags. There is always the question: Is it worth the waste to have this garment engineered? Sometimes a pocket on an aloha shirt may be left off simply to give the shirt a cleaner look and avoid the issue of the pocket being matched exactly to the body of the shirt.
Cutting
While most factories stack up hundreds of garments to cut all at one time, Jams World can only cut about 20 at a time because of the slippery nature of crushed rayon. 3 Sometimes the marker needs to be adjusted after seeing how the pattern is laid out in relation to the print. The first time it laid out the Connie dress, Minami discovered that one side of the bodice was nearly all navy and the other was nearly all white. This required moving the pattern on the marker for a more pleasing effect.
Notions
Rochlen has all the buttons for Jams World garments made by an "old hippie and his buddies" in California who hand paint every one with designs or spatters. Minami chooses and orders buttons specifically to match each garment. This is a costly endeavor. Each button is 30 cents and a shirt requires seven buttons. 4
Sample Making
Jams World uses a sample model but it also tries the garments on some women who work in the factory. Minami and Duldulao scrutinize the sample for every detail. How does the circle skirt drape and is it shorter in the front than in the back? Can a bra be worn under it? How much elastic is needed for the right amount of stretch, without scrunching or cinching?
Sales
In 2008, as the economy nose-dived, buyers were "leery of anything new," Rochlen says, so he opened Jams World stores to be directly in touch with customers. There are now six retail stores: two each on Oahu, Maui and Hawaii Island.
Jams World also goes to the WWIN trade show in Las Vegas, also known as Women's Wear in Nevada, where buyers from all over the country congregate. Jams World clothing is sold in hundreds of boutiques. They have sales representatives in the Caribbean, California, the Southeast and Hawaii. "Our market is wherever the sun shines a lot," Rochlen says.
UMEE
UMEE is owned by Deena Tearney 1, who designs all the outfits. She has a full-time day job as an IT consultant and runs her line of chic, sophisticated womenswear in her spare time.
Although it takes more time and money to make the clothes in Hawaii, Tearney is committed to that principle. Once, she missed an entire season because her Hawaii production company could not complete the work. She also tried to have her grading done in Hawaii, but it was a manual operation. While the quality was high, it was inefficient and far more expensive than having computerized grading done in Los Angeles. Now, UMEE's pattern making and grading are done in L.A. and her cutting and sewing are done in Hawaii.

Inspiration
The Honolulu City Shirt was inspired by a design created by Tearney's mother, Michiko White, when she was a fashion student in Japan. Tearney says she updated that design "for today's modern woman" with shorter sleeves and a more comfortable fit and fabric choice.
Fabric
The cotton fabric for the Honolulu Shirt had two elements: denim found in Los Angeles 2 and white pique found in New York (Tearney says she buys her silks in the San Francisco Bay Area and in New York). While Tearney dreams of designing her own prints one day, it's just not feasible now. To have an original fabric printed usually requires an order upward of 3,000 yards of fabric. Since Tearney manufactured only 50 Honolulu City Shirts, she needed only 50 yards of fabric.
Pattern
Tearney works with a pattern maker in Los Angeles.3 She emails her measurements, sketches 4 and talks through design details, such as how to finish the hem, where to place the tag, what facing material to use on the placket and where to place the buttons 5. The pattern maker is highly experienced "and she leverages her experience with recommendations for improvements using standards she draws from her own experience and reference materials," Tearney explains.
Grading
Tearney originally worked with a Honolulu grader who did all the adjustments by hand. The results were excellent but it was costly and time consuming. Now she has her garments graded in Los Angeles on a specialized computer.
Cutting
As a small company with small runs, UMEE had great difficulty finding a manufacturer to cut garments in Hawaii. "They would say, 'I won't cut fewer than 100 at a time,' or 'I only do aloha shirts,' or 'I only sew, I don't cut," Tearney says.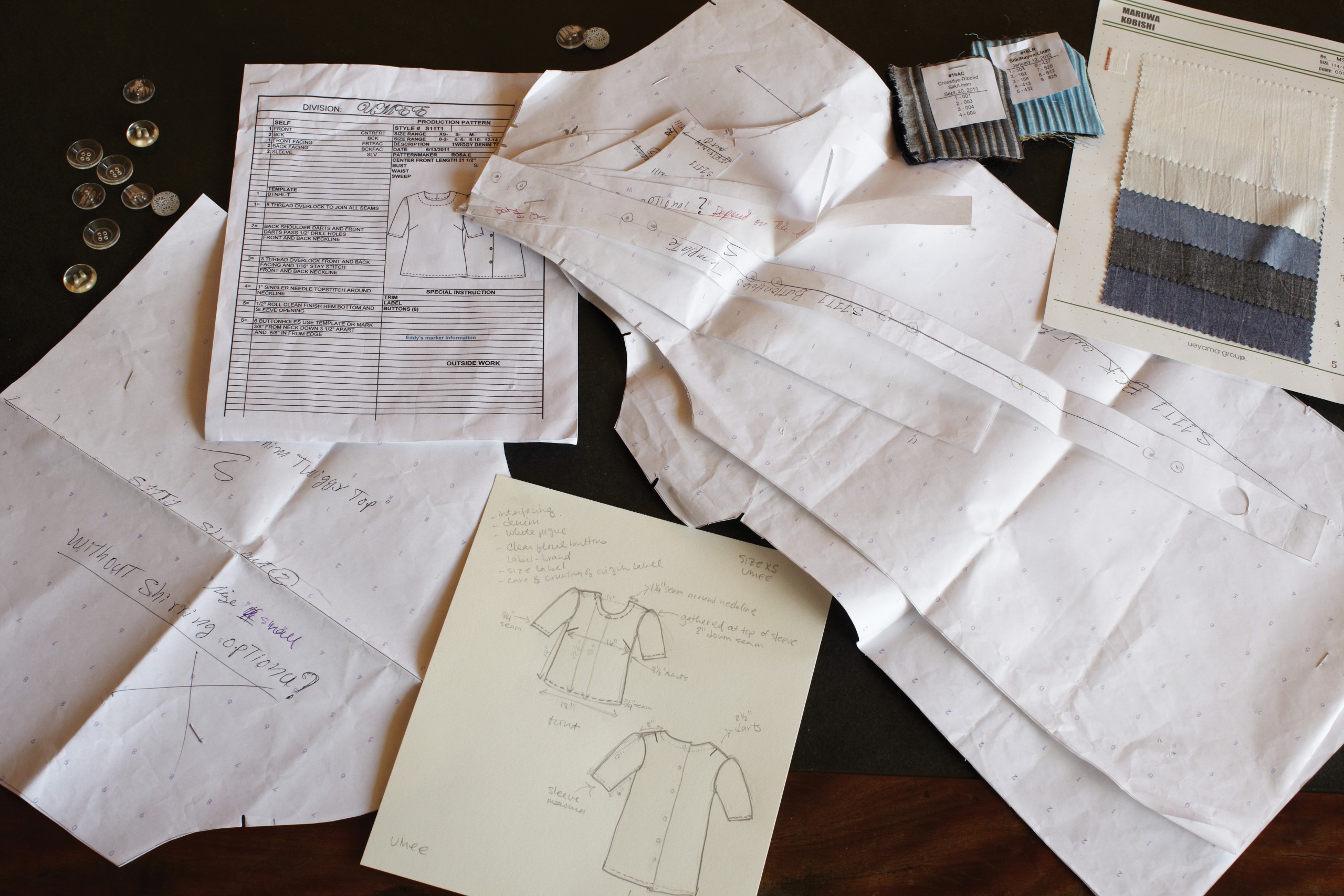 Notions
Tearney attends textile shows in L.A. to source notions such as the clear acrylic flower buttons on the Honolulu City Shirt.
Sample Making
The sample stage is critical, as many little problems – and big ones – with the pattern can be discovered when it is made up. Tearney uses herself as the primary fit model, but she also has models of different heights, sizes and body types who she can call on when necessary to ensure proper fits.6
Sales
Tearney makes her own sales calls. As a new designer, still little known in the local market, it is hard for Tearney to get into department stores, so she mainly approaches boutiques. She needs buyers who are willing to think outside the box. She is currently sold in Hifi Coop in Ward Warehouse, Super Citizen in Kahala Mall, the Kahala Boutique in the Kahala Hotel & Resort and online at Freshionable.com. Sadly, some of the more innovative boutiques don't last long. UMEE was carried in several that have closed: Island Edge, Therapy and Community.
Fashion Month
The state is celebrating Hawaii Fashion Month in October. It's a community-driven initiative of the Hawaii Fashion Incubator and the state government.
"We want the local and visitor community to come away wowed by the diversity and level of talent that we have here in the Islands, with a renewed commitment to supporting Hawaii fashion," says Melissa White, co-founder of the incubator (hawaiifashion.org).
To learn about events during the month, go to www.hawaiifashionmonth.com or follow them on Facebook, Twitter, Instagram and Pinterest at #HFM2013.
"In addition to showcasing current work, HFM provides an opportunity for stakeholders to launch new projects and set goals moving forward," said Toby Portner, co-founder of the incubator.
---
Fashion Dollars
The local fashion industry includes many sectors, including design, manufacturing, retail, art and more. The state Department of Business, Economic Development and Tourism estimates that in 2012 the local fashion industry:
Generated sales of $756 million;
Employed 3,630 people; and
Paid $20.4 million in taxes.
---
State Support
The state government is supporting the local fashion industry in several ways:
DBEDT provided $50,000 and the City and County of Honolulu another $10,000 for a two-day international trade show to showcase Hawaii fashion. It was held Oct. 2 and 3 in the space below the TJ Maxx in Kakaako.
The Legislature provided a $100,000 grant to Hawaii Fashion Incubator in May.
DBEDT's Creative Industries Division put up $7,500 for seminars on the business of fashion in Hawaii.