How much does it cost to start up a business?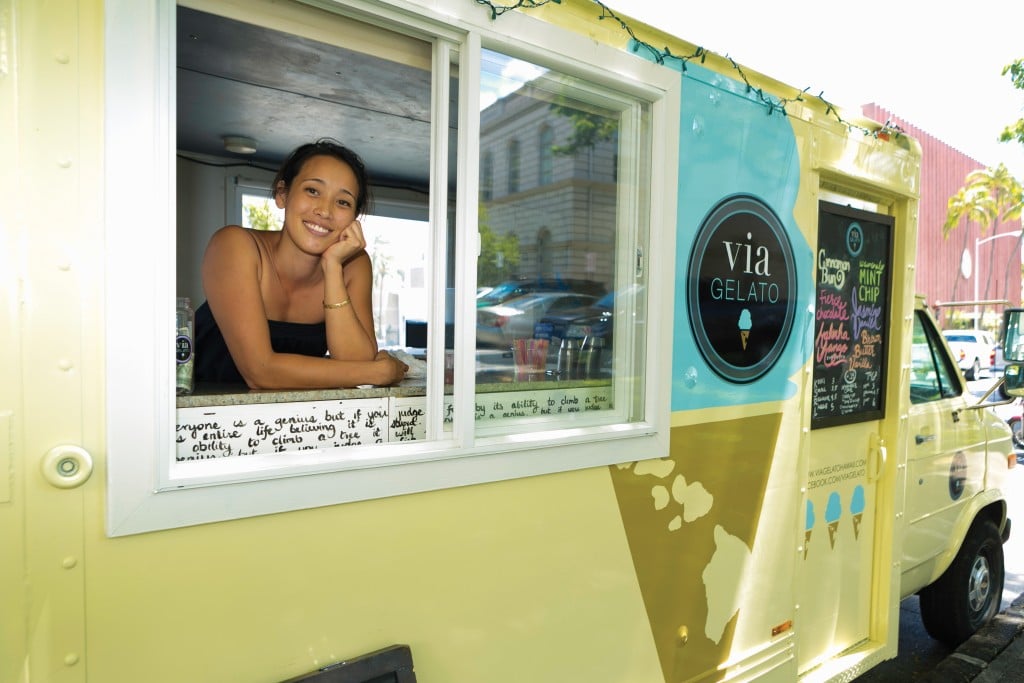 PHOTOS BY DAVID CROXFORD
You know the truism: It takes money to make money. That much is obvious, but how much money does it take to make money? In this case: How much does it cost to launch a successful small business in Hawaii? To find out, we talked with entrepreneurs who launched four different businesses in the past two years, and to experts who advise new business owners. Warning: Startup costs are just that, a starting point. Many businesses lose money for years before they begin to turn a profit. Some, of course, never do.
On the surface, what Laurie Oda and Nick Leong did last year was crazy.
Without any business experience, the couple signed a lease on a 980-square-foot space at Ward Warehouse, invested $50,000 in savings and borrowed money, and opened their boutique, Basique Threads, the week before Black Friday.
"It's an idea we had talked about. Everybody knows she loves to shop," Leong says of Oda, his longtime girlfriend. "As time went on, I saw this was her passion and that gave me clarity. I knew we could build something together."
The couple prepared by saving their money; Oda, 25, worked at a local boutique and Leong, 26, worked for ProPark Inc., his family's business.
Thinking they might be too much of a risk to secure a traditional bank loan, Oda and Leong borrowed $20,000 at the Lending Club, an online community where entrepreneurs get loans from investors.
Asking their parents for money was never an option. "We really wanted to give this a run on our own," Leong says.
Picking a location was tricky. They wanted to be in a neighborhood where people came to shop, like Ala Moana or Kakaako, but were reluctant to consider a mall, because mall owners set rules for their tenants, including hours of operation. However, they found that Ward Warehouse – with its steady foot traffic, trolley stops and assortment of boutiques with loyal followings – was ideal for them.
"Opening hours are really slow and, for us, that's an expense," Leong says. "But we get a lot more foot traffic (than at other places they considered) and the other stores are supportive of each other."
It cost about $15,000 to build out the 980-square-foot retail space, though they saved money when Leong built some of the shelving himself.  Inventory cost several thousands more. In total, the couple spent about $50,000 to open the doors last November. Today, they go on buying trips about every six weeks to Los Angeles, where they scoop up the latest looks and find lesser-known brands to bring back to Hawaii.
They initially bought ads in Japanese magazines, but now most of their promotion is done on social media. They blast their new inventory on Instagram and Facebook – free to use and manage – and take orders online or by phone.
"That's where we get the most response," Oda says. "People place orders, ask questions, put clothes on hold. Once we post pictures, we notice the next day there's a rush of customers."
Leong estimates they will break even in a couple of years, if the economy and other factors continue to improve. For now, they're just happy to be able to hire five part-time employees and take two days off a week (though they run errands for the shop and do other work on their days off).
Oda thought she was going to be a school counselor, until she had an epiphany one day in college. "I just panicked. I thought, 'I don't think I could do that.' " Today, Oda loves being a small-business owner and says, "I'm still having fun with it."
She and Leong acknowledge their business produced some surprises. "This may sound wrong, but I think it was a lot more work than we expected," Leong says. "Not to say we took this lightly, but it's really beyond a typical eight-hour workday."
About 800 small businesses are created in Hawaii every year, and about the same number go out of business, says Kurt Corbin, assistant state director for the Hawaii Small Business Development Center, which provides professional consulting, research and training to business owners and new entrepreneurs. The new businesses include everything from one-person, part-time operations with few startup expenses to bricks-and-mortar stores, restaurants and service companies with dozens of employees from the get-go and up to hundreds of thousands of dollars in startup costs.
"What happens in down economies is people think, 'If I can't find work, maybe I can start a business on my own,' and that's what we're seeing," Corbin says. "And we're seeing a real generational difference: Younger people who have gone to school and worked are much more fearless about going out on their own and starting businesses. That's not the case with the older generation, which is still clinging to the security that working for someone else provides."
The Internet fuels today's entrepreneurial spirit. "There's a sense that I, too, can create a world-class company out of a simple idea, and technology enables that," he says.
After working as a physical therapist in New York for eight years, Melissa Bow got homesick and moved back to Honolulu.
She decided to make handcrafted gelato, one of her favorite treats, and sell her distinct flavors out of a food truck.
"I wanted to really enjoy my life here by working with all the things that I love: food and Hawaii culture," says Bow, 32, who started Via Gelato this year.
She found a delivery truck on Craigslist for $4,200 and, with the help of a mechanic in Kalihi, did all of the bodywork and painting. She went to Re-use Hawaii and found cubicles that she cut and turned into cabinets. "The only thing I paid for were the granite countertops and freezers," she says. "That's it."
In all, she spent $100 for the countertops and paid another $200 to a friend who cut and installed them. She bought the two freezers on sale at Sears for about $1,200.
After months of prepping the truck, building a social media presence and perfecting flavors using as many locally sourced ingredients as possible, Bow hit the streets of Honolulu in June, selling flavors such as brown butter vanilla, green tea haupia and black sesame with freshly made cones.
Now, ingredients are her biggest expense. She uses high-quality local items – macadamia nuts from the Big Island, strawberries from Maui, lilikoi and kalo grown on Oahu – that cost more than ordinary ingredients and she creates only small batches of the unique-to-Hawaii flavors. But that extra cost was built into her business plan and her customers seem willing to pay more for handcrafted gelato.
"People in Hawaii are super cool," she says. "They want to support local business."
She runs her truck five days a week and makes gelato just about every day. She's always experimenting with new flavors – right now she's toying with corn and bacon – and does most of her own marketing through Instagram, Twitterand Facebook.
Without a mortgage or children, Bow knows this is the right time to take a risk on a new business. She's hoping to break even in about six months.
It's rewarding to put all of your energy into something you want to do, she says. "Everyone always says owning your own business is so hard. I wouldn't say it's so hard. It's hard work. You have to be willing to put in that work. But, if you believe in your product and your vision and you put in the work, yeah, you can definitely do it."
Armed with a master's degree and an impressive art portfolio, Melissa Rivera-Torres had to decide between New York City, where she was offered a job teaching design, and Hawaii, where no job awaited her.
She picked Honolulu and took part-time teaching jobs to pay her expenses, but they didn't satisfy her urge to create.
So, in 2009, she invested $20,000 from her savings to launch Unleash Studio, a company focused on creative and functional two- and three-dimensional designs. These included graphic T-shirts, desktop robots, lifeguard doghouses and a tissue box shaped like a whale. She saves money by working out of her apartment lanai, using affordable and often previously used materials – such as aluminum ladders, and pieces of Plexiglas and wood – and to create an industrial décor that showcases her design style.
She'd love to build her interior design portfolio and create more three-dimensional pieces, but they're costly to produce. So she banks on graphic design work such as corporate logos and graphic prints to fund her other projects.
"It takes time to get your money back to break even and keep things interesting for people," says Rivera-Torres, 33, who was born and raised in Cocoyoc, a small town south of Mexico City. (Her mother is from Kauai.) "And it is lots of work, especially the shirt side of things. It's lots of money going into starting a business. And it's hard doing everything yourself."
Rivera-Torres started out printing T-shirts locally, which cost a lot and required a large print run. She quickly found that focusing too much on apparel was taking her away from her true passions of three-dimensional product design and interior design.
"I am doing more graphic work to bring more money in to focus more on interior spaces and possibly producing my products one day," she says.
One of her biggest challenges was figuring out how much to charge people for her professional services. She didn't want to overcharge clients, but she couldn't undersell herself, either.
"It took me awhile to understand how to charge people for my design services, since I love what I do," she says. "But it's very important, in order to survive, to stick to your prices and charge accordingly."
With almost 20 years of coffee-roasting experience on the North Shore, John Alvarez decided to open a coffee shop in Waikiki with two partners.
One partner was the major financial contributor to the project, which cost about $70,000 to launch. The other partner was responsible for building out and operating the business. Alvarez, who continued to roast coffee at North Shore Coffee Roasters with his brother, was signed on to be a consultant to the business.
But things didn't work out as planned.
The build-out of Mt. Kaala Coffee Co. in the Ilikai Hotel & Suites took longer and cost more than initially estimated. Then, due to a series of setbacks, the operating partner was removed from his position and Alvarez had to run the business.
"It was a total mess," says Alvarez, who still runs the wholesale coffee-roasting business in Haleiwa. "The big adjustment made was that I had to become the operator of the business."
Alvarez, who lives on the North Shore, commutes to Waikiki three or four days a week, mostly to pick up and deliver supplies, do the banking, and repair equipment. He also handles the paperwork, taxes and payroll for the shop's six employees.
"My typical day is spent putting out fires and oiling squeaky wheels," he says. "I really wish I was closer and could spend more time in the shop, but such is how the situation worked out. It was never my plan to go to town to operate a shop."
While the shop's location is challenging – "There is almost no traffic coming in off the street to shop like you would see in other hotels in Waikiki" – he says it hasn't lost money, thanks to loyal followers who love Mt. Kaala's high-quality, locally grown coffee, all roasted by Alvarez.
With his wholesale and retail ventures doing well, Alvarez says, he has time to focus on a new venture: building a coffee visitor center near the Dole Plantation on the North Shore. It's scheduled to open this fall.
"Fortunately, the wholesale company runs pretty smoothly and I can spend the rest of my time working on this new venture," he says, adding, "with intermittent surfing sessions along the way."
Know Before You Jump
Four things every new business owner should know, courtesy of the Hawaii Small Business Development Center:
1. Failure isn't exactly failure: According to the U.S. Small Business Administration, 56 percent of businesses don't make it through the first five years. Not all of these are financial failures. For instance, some first-time owners realize running a business isn't for them. "Failing in business is not perceived as a bad thing," says Kurt Corbin, assistant state director for the SBDC. "Twenty years ago, you had one shot and, if you failed, that would have followed you. Now, as long as you're successful more often than you fail, there's a sense that it's OK. You're getting better at it."
2. You can get financed: It costs money to start a business, regardless of type or size. While most traditional banks may not take a risk on someone with little or no experience, there are other ways to get money. Funding platforms like Kickstarter and online financial communities like Lending Club raise money or issue loans to entrepreneurs. "Alternative forms of funding and cloud-based funding sources are very viable options," Corbin says.
3. Business plans matter: It may seem old school to devise a business plan, but it will help you organize your business and keep it on track. "Financial management, cash controls and accounting practices are as important to running the business as the product or service," Corbin says. "Every business must have a solid business plan." The plan should include a clear understanding of what you plan to offer, to whom and at what price; your target customers; and what it will take to produce your product or deliver your service.
4. Build a circle of advisors: Surround yourself with people who know more than you do about your business, Corbin says. This group may evolve into a formal board of advisors or directors or financial investors. "Engaged and knowledgeable advisors can help the new entrepreneur avoid pitfalls, point to efficiencies in practice or procedure, and create introductions to new customers, markets or suppliers."
122,720 Businesses in Hawaii
*Each store and branch counts as a single location, so a business that has three stores would show as three establishments.
Source: U.S. Census Bureau
Hawaii's New Entrepreneurial Class
Hawaii had the third-lowest rate of new entrepreneurial activity in the country after West Virginia and Pennsylvania. Here is the rate of adults, ages 20 to 64 per 100,000 population, who started a business for the first time in 2011 and made it their main profession:
Source: The Kauffman Index of Entrepreneurial Activity, created by the Ewing Marion Kauffman Foundation, which supports entrepreneuship in America.
Five Steps to Budgeting for a Startup
Before starting a business, creating a budget lets you objectively weigh the chances of success. JW Ellsworth, former president of Aston Hotels and now a small business counselor at Score Hawaii, offers these five steps to creating a budget.
1) Gauge the market
Before firing up your QuickBooks application to prepare a budget, you need to walk and talk your idea, judiciously, among peers and trusted friends, and identify your competition and customers. Talk to potential suppliers and distributors about costs and margins.
2) Gather information
A startup budget is a projection of revenue and expenses to be incurred over a finite period, typically one to three years. It should include startup and operating expenses plus conservative and middle-of-the-road estimates of annual revenue broken down by months.
3) Expenses summarized
Expenses can be broken down into the following:
First, startup expenses are all costs incurred to allow the proverbial lights to go on;
Second are variable costs, which fluctuate with revenue such as staffing;
Third are fixed costs, which you pay regardless of how much revenue you have, such as rent and insurance.
4) Revenue predictions
Startup revenue predictions can be a shot in the dark given the lack of operating history; that's why it's best to do two levels of forecasts. The conservative view takes the almost-worse-case snapshot of sales, both volume and growth, while the middle-of-the-road version moderately increases both. Try to break down the revenue and its sources with as much detail as possible.
5) Interpreting and acting upon the budget information
If you have projected income within a reasonable period and the amount is more than you would get working for someone else, you have further questions to consider: Is the potential return worth the risk? Is the new business the primary source of income for you and your family? Do you have the necessary capital or will you need loans or investors? What are the competitive barriers your business will face?
Source: SCORE Hawaii
SCORE is a national nonprofit that provides free business counseling to business owners. Go to www.hawaii.score.org or call 547-2700 to arrange a free mentoring session.