How to Change Course in Midcareer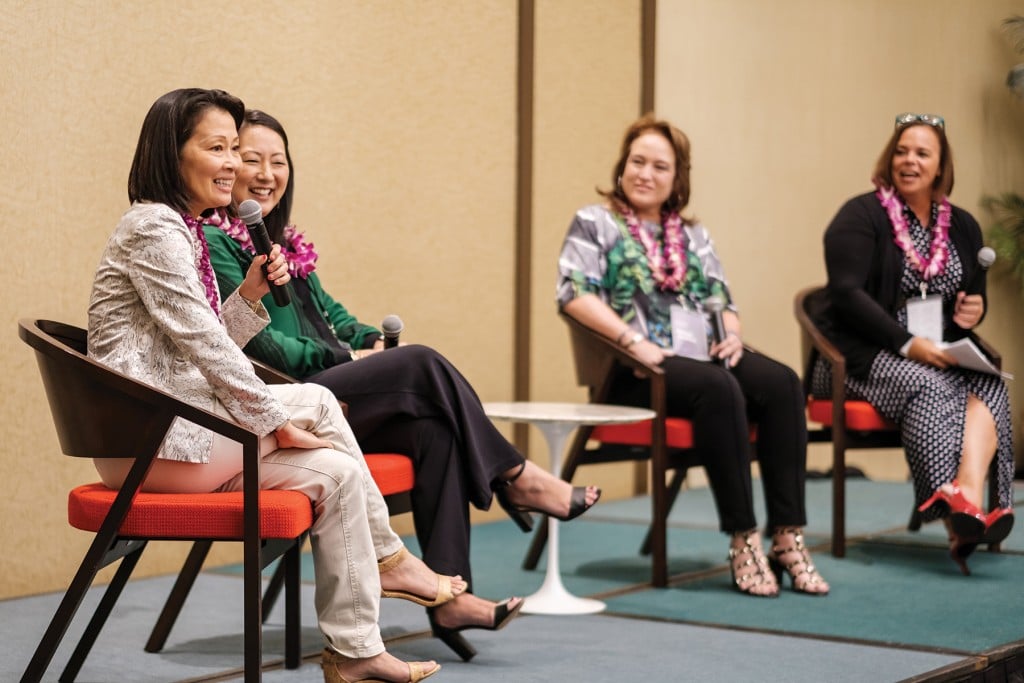 Whether considering a new position in the same company or pivoting to a new career, consider the lessons learned from these local leaders.
Here are edited and condensed excerpts from a session held at Hawaii Business Magazine's Wahine Forum in October 2019.
What Drives Personal Change
Eichor: High blood pressure, high cholesterol and weight gain. For real. That's when I knew it was time. But also I love learning. I complain about it, but I love when I feel like I'm drinking from the firehose. So I spent the first half of my career at Hawaiian Telcom, and now I'm with aio.
Jenkins: I was a commercial banker for Bank of Hawaii and about nine years in, Sony Records wanted to sign us (Na Leo Pilimehana). That might sound like an easy decision, but I thought, "Oh my gosh, am I good enough? Can I do this? Should I do it? If I stay, here's what I get. But if I go, here are the other opportunities and what if I never get to realize that." It was the push I needed.
Teranishi: When I started law school in the '90s, they said on average people will have five different careers. I thought, "Well, that's just crazy. I can't imagine not doing law." So I was a litigation attorney for several years. When I had an opportunity to move to American Savings Bank, it was not legal-related at all, and that was scary. I almost didn't take the job. The person hiring me recommended I meet with then CEO Connie Lau before making my decision.
I have been at American Savings for 12 years and it was the best decision. I'm in my fourth position in totally different areas. So, you can change your career within one organization as well.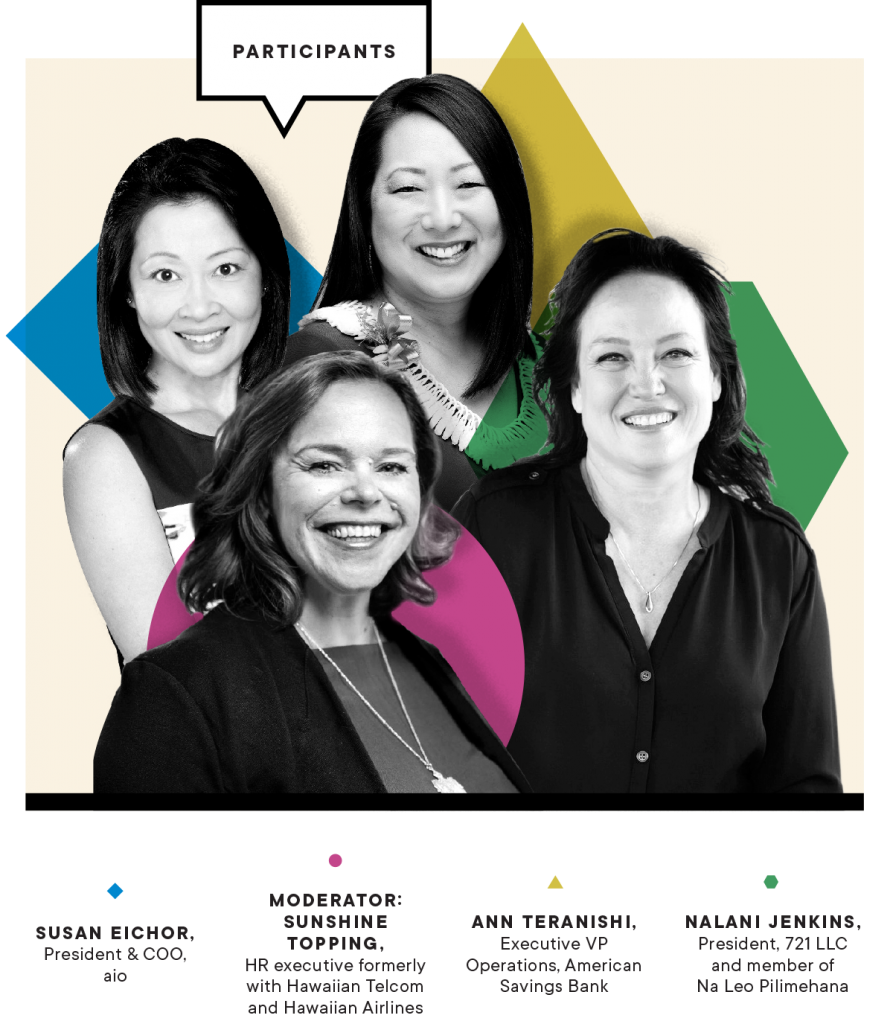 Understanding Risks, Gains and Losses
Teranishi: What you have and what you're giving up should factor into your decision. At the law firm I had a great incentive program in addition to a base salary. They covered health care for myself, my 1-year-old and any future children. When I went to the bank I took a lower salary and that was a pretty significant difference. It was a scary decision. But I went on faith that it was going to be a good career move.
Eichor: My change wasn't planned. I was getting super burnt out and Hawaiian Telcom was shifting to digital so the workforce was shrinking. For about the third time they offered an early retirement package. This time I said, "I am going to do this." I had no plan. I didn't have a job. I didn't think about it. I was kind of consumed with my job, so I certainly didn't have time to think about what I was going to do next. I went home and told my husband, "I think I want to retire." He looked at me and said, "Honey, you do what makes you happy." So, I did it. Was it scary? Absolutely. But I really wanted to just rip off the Band-Aid and go for it.
There's a part two to this story. Years later, I learned what really happened: My husband tells me all this nice stuff. He opens the refrigerator, grabs a beer, goes to our neighbor's house and says, "Oh my God, my wife's having a midlife crisis." But we are still married.
Jenkins: This is a really cool perspective, looking out at this sea of faces. Every one of us in this room have had to deal with transition and tough choices. Women are tough. We're resilient and smart. Hawaiian style, this is a kākou conversation. Each one of us has a wealth of knowledge we can share and offer support to a friend or someone in a similar situation.
I had a very stable job as a branch manager at a bank, on an upwardly mobile track. My mom said, "You're not going to waste your life and be a musician, are you?" I felt I might be letting some people down. I felt a tremendous amount of pressure. I also was going to become self-employed, which meant my own medical, living month to month, trying to figure out where my paycheck is coming from because nobody's there to give it to me. This was very scary for me.
I was the first to leave my job. (Bandmates) Lehua and Angela both had full-time jobs and I told them, "You cannot leave yet. You guys keep working. I'm going to start working the business full time because I have to run the record label."
They called me two weeks later and said, "Guess what? We quit!"
The point is it takes all types, right? We all have our different flow in life. Me, I am the financial worrier: I need enough cash in the bank to cover six months of bills and perfect credit and I can't mess anything up. But other people can live paycheck to paycheck. It was neat to see that we each could just let go and do it regardless of the risk.
Which Help Is Not Helpful
Eichor: Family support was really key. I think it would have been hard if my husband told me the truth of how he was feeling. The concept for my parents was super hard. They could not get their head around, "You leave, but you don't have a job lined up," so I was trying to make them feel good, even though I was scared.
From my friends' perspective, some of them were totally onboard, like, "Wow, this is a cool, epic moment in your life." And some of my friends were like, "What are you doing!?" But I knew I was very intentionally wandering. If you know the book, "The Lord of the Rings," you understand, "Not all those who wander are lost." I had never taken time out for myself. I was working since I was a sophomore in high school. So, that year was precious to me. I'm glad I did it. I hope I get to do it again.
Teranishi: When you make a decision to transition, there will always be the people who are cheerleading, and then there are those who say things like, "Why would you go to that company?" So just expect that and be prepared for it.
How we talk matters. The conversation from friends and family shouldn't be like, "Are you looking for something?" Or "What's next?" Or "I have this job." To be supportive is to let the person contemplating a change lead. It's similar to when you're on maternity leave and everybody asks, "When are you going back?" Or if you haven't started a family yet and others ask, "When are you having children?" What's the purpose of that conversation? Let the person lead you when they're ready to discuss.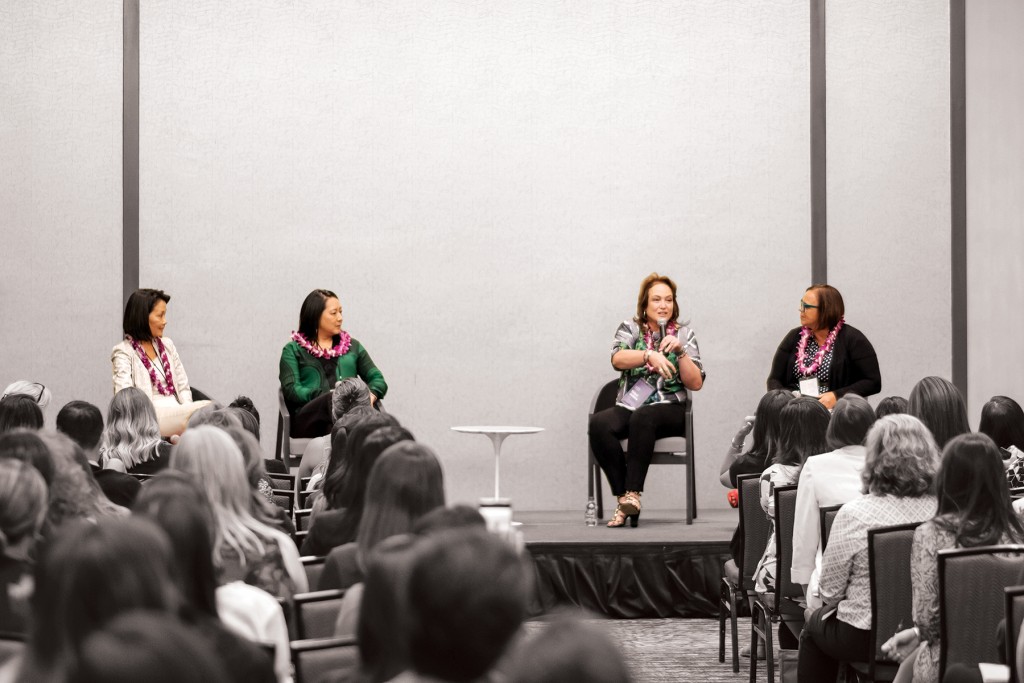 Also, it's not fair to encourage people to do things that we want to do, but we're a little bit too scared to do ourselves. I've seen that a lot, especially among women. It may be well-intentioned, but because you're not happy and you see somebody else is sort of unhappy, you nudge them more. Is that really what they need or is that what you need to prove a point because your situation needs to change? If we were really looking out for each other, we wouldn't do that. We would say, "I'm not happy and here's what I'm going to do about it," not use a friend as a proxy to start the change you'd like to see, like a crash-test dummy.
Jenkins: Almost everybody told me not to do it; almost everybody. My boss said, "You couldn't be that stupid, could you?" My mom said, "Don't waste your education and be a musician." Others often assume they know what advice you need, and although they may mean well, it feels like they're questioning what you're doing. I wish I had someone in my life who just said, "How can I support you?" I would've put that person in my Rolodex file under "First number to call when I don't know what I'm going to do." That's the person who would help me without judgment.
What I wish I did differently is not take the negative personally. I should have filtered that as, "What I'm doing probably looks stupid or maybe it looks scary, or maybe they're putting themselves in my shoes and saying, 'I wouldn't do that if I were you, so you shouldn't do it either.' " When my boss said, "You couldn't be that stupid," I internalized that a lot – it actually drove me to succeed. But I know I'm not stupid. Maybe I should've just let that one go.
Discovering Truth Through Change
Topping: For the last 16 years I've had this humongous guilt that if I didn't work, I would do all these other things: I'd be a classroom mom and I'd be there at pickup. Guess what? It's been five months – I don't do those things. I do pick up my kids and I'm a little more available. But at the end of the day, I can say, "I am who I am and I've done the best I could, and not much has changed." That's one truth about me I learned through this process.
Teranishi: Attorneys always think they work the hardest. The truth was, my first couple of years in banking were the hardest I've ever worked. I had a 1-year-old daughter. I would go for a week without seeing her awake because I was working so intensely. I realized it was not the job; it was me. So how do you approach your work? How do you need to self-regulate? That's one thing I've learned and I'm working on being more self-reflective of where I spend my time.
The second thing I learned is that it's like muscle memory. It's always hard to make your first career change, whether you're changing within the same organization or asked to take on a big new responsibility. If it's your first change, just go for it. That one will be the hardest. The second one will be a little easier, but just get started.
Jenkins: If you made a mistake, it's OK. It really is, because you might look back a few years later and say, "Through that choice I learned things that prepared me for the even better choice." You have a lifetime to do some really cool, fun stuff. So, go for it. There's time to recover. My grandmother, who lived to be 100, told me once in her 90s, "Oh Nalani, if only I were 75 again, the things I could do."
Topping: I was accepted into a Native Hawaiian medical school program. I told my mom, "If I go through this process, mom, I'm not going to be a doctor until I'm 30 years old." She said, "Babe, you're going to be 30 anyway. You're either going to be a 30-year-old doctor or you're going to be a 30-year-old not-doctor, but don't make that decision because the number 30 is in it."
Preparing For A Change
Jenkins: Maintain your networks. Give people permission to stay in your life because people are important in everything you do. Don't leave poorly; finish well. Be a person of character not necessarily because others deserve it, but because that's who you are.
Topping: HR nationwide thanks you for the "leave on good terms" part. Thank you very much.
Eichor: Wake up other parts of your brain. In my career at Hawaiian Telcom – which I really loved – I didn't have brain-space and bandwidth to think about what else I could possibly do. As women, sometimes the last person we take care of is ourselves. So even if it's one day, put it on your calendar. That's your day. Go do something you've never tried before. You might not do that for your career, but it just wakes up something that makes you think and dream about the possibilities. At aio, one of our employee benefits is personal development leave. It's a paid week where you develop a plan to develop yourself. The only rule is it cannot be tied to the job you're in. For example, if you're a journalist, you cannot go to writing school, but you can learn how to golf. You can help with Hurricane Katrina relief. I went to the Iditarod dog sled race.
Overcoming the Experience Hurdle
Topping: A great way to change is within the same company because leadership knows people and is comfortable with their skill sets once they've demonstrated proficiency. If you don't get the job in the new field, don't take it personally because companies can get sued for hiring a person without experience. Find a way to get there that's defensible. Another great way is having a champion who's going to take a risk on you, who can vouch for you and say, "I know this person doesn't meet the requirements, but they've shown they have a lot of skills to offer."
Eichor: Your life experiences count, and they do translate to other industries. Go to that core inside because you have accomplished a lot. You've learned leadership. You've learned about being compassionate with people in the workplace and bringing out the very best in them. You've learned about how to create and innovate in sometimes really small spaces.
Navigating Change at Your Workplace
Teranishi: Be curious. Challenge your assumptions. Find the channels and people who can explain the company's perspective. If you care about the organization and people, you'll want to understand. If you have questions, probably a lot of your colleagues do, too.
Topping: Trust leadership. Perhaps there's more to it (issues going on at a company) that can't be shared, whether it's nonpublic information or personnel issues. Sometimes not everybody can know why.
Another way is to not just point out the issues, but also possible solutions. People tend to listen to people who have a plan to resolve issues.
Letting Go or Not
Jenkins: Here's a visual: Tarzan swinging through the jungle, grabbing this vine then reaching for the next. You've got to let go of the one behind you, right? If this resonates with you, it might be that hanging on over here and reaching for the other, you just get stuck in the middle. So, as a risk taker, I would say go for it. Let go.
Eichor: When I was torn between consulting and aio, the best advice I got was this lady told me, "Do both." It never occurred to me. Why do we have to have one job for 40 hours a week? We can create our own model of what work looks like. Maybe there's a way to keep a foot in something you love and build on that.
When Do You Know You Did the Right Thing?
Jenkins: When people say, "I've never seen you look happier." Isn't that what life's about, feeling you're in the right place and letting that kind of exude from you.
Eichor: For me, it was exactly two months.
I was at aio when I found out in about two days that both my parents had dementia. I went to our owner and said, "I got to quit." Those of you who are caregivers, you know. He said, "What are you talking about? This is a company that treasures families." That's when I realized. When you find a company where your core values align – I mean happiness, yeah.