HR Technology Helps Local Businesses Simplify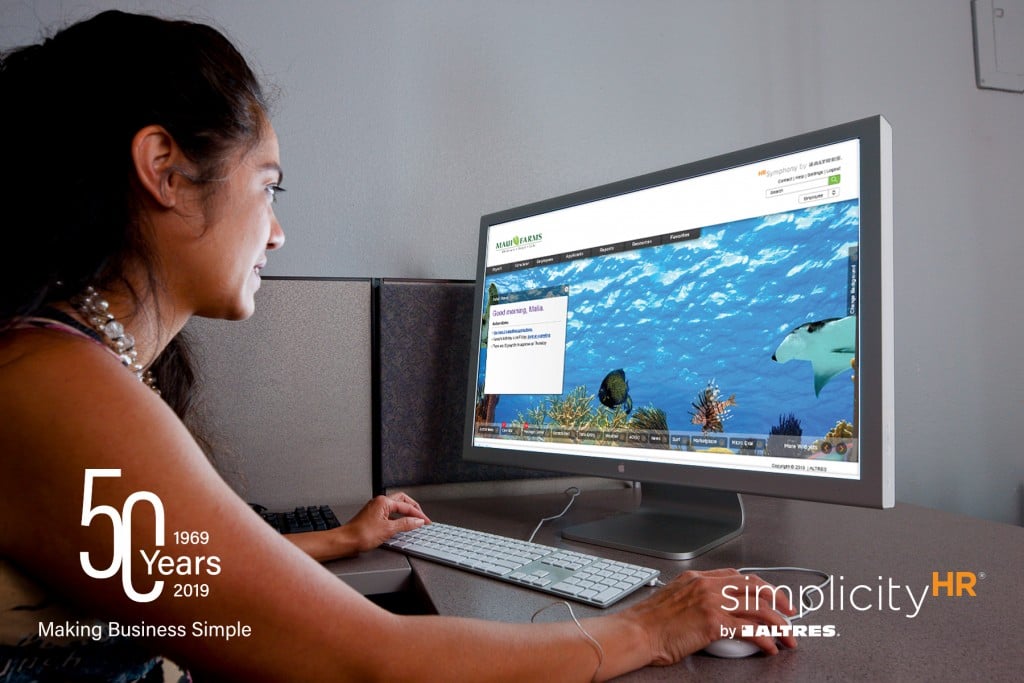 "Making business simple is our goal."

–Bill Guss, Founder, ALTRES
A lot has changed in 50 years. New technologies shape and disrupt business processes and entire industries, seemingly overnight. Regulatory and compliance issues are endlessly complex and workplace dynamics constantly shifting.
Through it all, ALTRES has remained steadfast in its commitment to Hawaii's business community to help make business simple. Local entrepreneurs and HR professionals can focus on what matters most with HR software that improves the way business works.
"From retail to travel to banking, the consumer expectation of on-demand service is the new normal. This goes for human resources, too," says Barron Guss, CEO of Hawaii's most experienced HR outsourcing company, simplicityHR by ALTRES. "We're constantly evolving to meet the needs of the business community and the future is exciting."
Technology is the key. When someone applies for a job, or changes their withholding amounts, or submits their hours at the end of a pay period, the expectation is that it will be simple to do. With that in mind, simplicityHR by ALTRES developed HR Symphony, an award-winning, best of class, cloud-based human resources information system designed for the unique challenges of Hawaii businesses.
Extremely powerful and easy-to-use, there is no part of the employee lifecycle that can't be simplified with HR Symphony. The software boasts features for targeted recruiting, streamlined onboarding, efficient time and attendance tracking, error-free payroll, self-service benefits administration, and more.
For over half a century, ALTRES has been a trusted partner for Hawaii businesses. Give us a call today and find out how we can help your business survive and thrive for the next 50 years.

simplicityHR by ALTRES
(808) 791-4900
www.simplicityhr.com
---
HR Certification Studies Promote Leadership
Business leaders increasingly value the credentials earned by certified human resource management professionals. The designation SHRM-Certified Professional or SHRM-Strategic Certified Professional denotes mastery of HR technical and behavioral competencies that drive an organization's business results. The Society for Human Resource Management Hawaii Chapter supports professional HR certification as an indicator of professional achievement and competency. More than 200 HR professionals in Hawaii have already been designated as certified. HR professionals may study on their own or participate in an annual certification exam preparation course, which emphasizes the knowledge and practical real-life experiences needed by HR professionals to excel in their careers today.


For more information about human resource management certification, go to www.shrmhawaii.org
---
HR360° Directory

Eliminate the distractions of being an employer and simplify with Hawaii's most experienced and trusted provider of outsourced payroll and HR. Learn why we're Hawaii's premier HR outsourcing company.
808-791-4900 | simplicityHR.com

Everything you need to run a more efficient business.
From hiring and payroll, to records and benefits, HR Symphony provides all the employee lifecycle tools you need in one integrated, cloud based HR ecosystem'". No other HR technology gives you more to build a better business.
Get a FREE demo!
808-791-4900 | HR-Symphony.com


Provides staffing and HR needs for top-quality executive placements, direct hire, temporary, temp-to-hire, payroll, and government contracts services. Hawaii's leader in health care staffing specializing in Registered Nurses, LPN's, CNA's, MA's, Case Managers, Private Duty Caregivers & Technicians. Certified Joint Commission WOSB, EDWOSB, SBA 8(a) firm.

For 25 years, ProService Hawaii has partnered with local businesses to make it easier to hire, retain and manage employees through our strategic HR solutions that take the pain out of paperwork and administration, and keep you focused on running your core business.