Great Ideas for Small Local Stores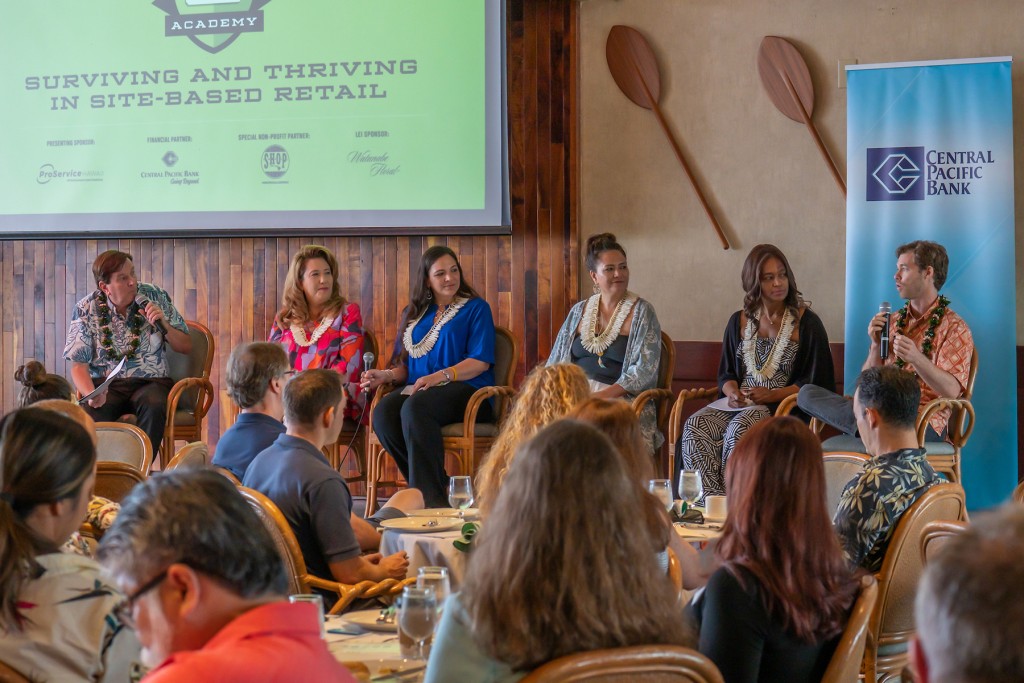 "The way people buy things has been changing over the last decade, but I feel like people haven't changed. They still want to have that connection, they still want that personal experience," says Dylan Butterbaugh, founder and owner of Manoa Chocolate.
He and four other panelists shared their experiences and knowledge at a Hawaii Business Magazine event on how to thrive as a site-based retail business. The event was part of the magazine's SmallBiz Academy and held Thursday at Lanikai's Mid-Pacific Country Club.
The other panelists were Debbie Ah Chick-Hopkins, co-owner of Global Village; Ceandrys Black, founder and owner of R.A.W. Body Essentials; Tina Yamaki, president of Retail Merchants of Hawaii; and Haunani Fujimoto, director of leasing for Kamehameha Schools. Sponsors for the event were ProService Hawaii and Central Pacific Bank.
Brick and mortar stores need first to get people in the door. Ah Chick-Hopkins says that among the things bringing in new and returning customers are a blend of promotions such as pop-up-shops coupled with quality products that have a story. One popular product she sells are bamboo sunglasses; with every sale, a tree is planted. Customers love that, she says.
Black says that one thing that brings in people is do-it-yourself experiences like classes that teach customers about skin care. R.A.W. also makes personalized skincare products that customers can request and watch being made. "They love seeing us make the product because they can see the materials are actually coming from Hawai'i," she says.
Yamaki says authentic customer experiences are important, and she urged businesses to adapt to the times. "Businesses that say, 'This is how we do business, this is how we've always done business.' Those businesses are going out of business," she says.
Business owners can't always greet customers and that's why they must train good employees with the right tools and knowledge to drive sales. Ah Chick-Hopkins says new hires often lack the interpersonal skills that are important in sales. She is constantly talking about making eye contact, smiling and conversing with customers – she even created an instructional video with her sister about good customer service. It has resonated with the younger employees, she says.
Geotagging is one tool for understanding shopper habits, says Fujimoto. Cell phones track customers through a shopping center, and share data about where a customer lives and where they just came from, she says. This data is something that Kamehameha Schools' Commercial Real Estate Division uses to understand customer habits. Collecting it can be expensive for a small business, but she encourages business owners to talk to their landlords to see if they have that data and what they can learn from it.
Local customers and tourist customers are equally valuable and often there is a thin line between the two. Butterbaugh was surprised by the ratio of locals to tourists when he opened his shop in Kailua. "I thought tourists would be our primary customers. But that wasn't the case."