Impact of Oʻahu's Vacation Rental Crackdown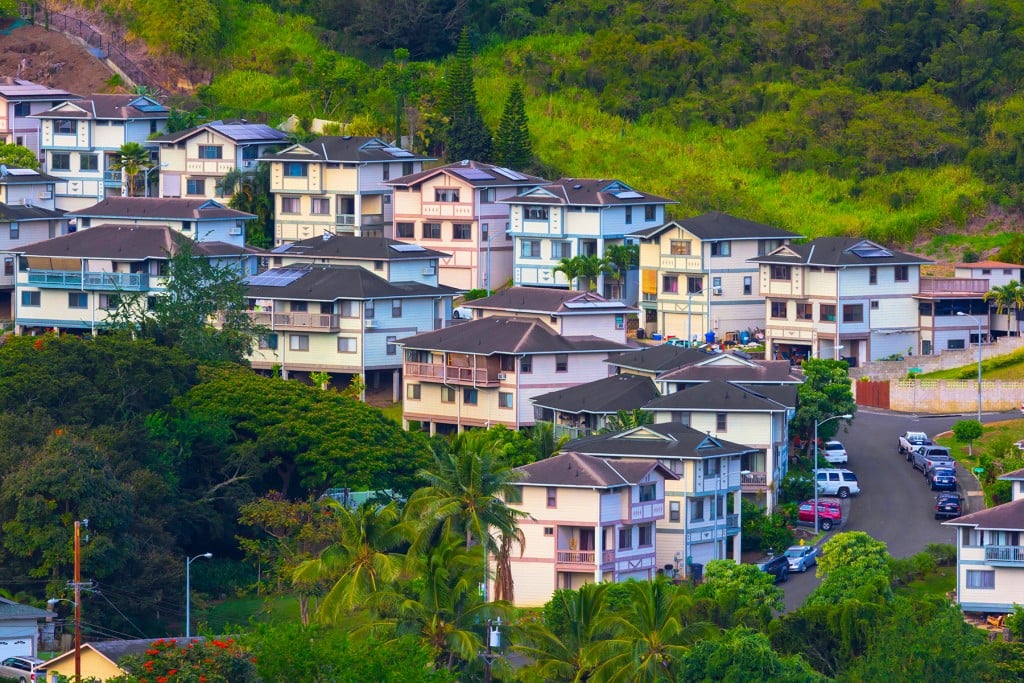 A new law went into effect Aug. 1 on Oʻahu that limits the number of new short-term rentals — which are rented for less than 30 days at a time — bans the advertising of unpermitted rentals and imposes hefty fines on violators.
The law permits only 1,715 new bed-and-breakfasts — where the owner-occupant is present — and prohibits whole-home rentals.
An internet search by the Honolulu Department of Planning and Permitting found the new law is reducing the number of vacation rental advertisements. The department identified 5,044 vacation rental listings on July 19 and 3,287 on Aug. 13.
In 2018, visitors who stayed in vacation rentals spent less overall than those who stayed in hotels, according to the Hawai'i Tourism Authority. Visitors staying in rental homes, private rooms, shared rooms and bed-and-breakfasts spent less than their hotel counterparts on lodging, food and beverages, entertainment and shopping. Transportation was the one area where they spent more.
Several experts in Hawai'i's visitor industry say it's too early to say how this new law will impact visitor spending. Haas, the Marketing Management president, says one study prepared for the Hawai'i Tourism Authority in 2016 found that 15% of visitors surveyed said they would not have made the trip to Hawai'i if not for these kinds of alternative accommodations. "There is a risk that not as many people will come here, but that may be an acceptable risk because if the people who come here spend more money, money is what drives the economy," he says.
Matt Middlebrook, Airbnb's head of public policy in Hawai'i, says the new ordinance will "devastate" visitor spending on O'ahu. He cites a study commissioned by Travel Technology Association – an organization that encourages innovation and consumer choice in travel and has several short-term rental platform members including Airbnb – which found that O'ahu would risk losing $1.2 billion in total spending if unpermitted vacation rentals were eliminated. Such rentals would include those located outside of resort zones and those that lack special permission to operate – or about 60% of the island's vacation rentals before the new law took effect.
He adds that visitors will go to other destinations if the types of accommodations that they like are gone. "If the question is how do you increase overall visitor spending, telling a huge portion of your market just to not come is not a good strategy," he says. "Because that's what they're saying, don't come."
Jennifer Chun, HTA's director of tourism research, says it's too early to say what the impact will be. It's possible that hotel usage will rise in the short term if people change their reservations after discovering their vacation rentals are illegal. But, she says, when she looks at the numbers, she won't be able to tell that someone made a last-minute change from a vacation rental to a hotel. August is typically a high occupancy month for hotels already.
"I wouldn't feel good making any kind of conclusions until we look at like a year's worth of data," she says.
A New Tourism Tax?
Other nations, like Japan and New Zealand, have imposed a tax on tourists when they enter or leave the country. The revenues generally go toward supporting tourism, natural resources and infrastructure.
Some people in Hawai'i have suggested something similar for the Islands. But Tom Yamachika, president of the Tax Foundation of Hawaii, says Hawai'i can't impose this type of tourist tax. He cites an 1867 U.S. Supreme Court decision for Crandall v. Nevada, which said that U.S. citizens are entitled to travel freely between the states. "So no state has any business imposing a tax on that privilege," he says.
In addition, only the federal government can impose a tax limited to international visitors, he says. Another constitutional provision says states cannot discriminate against foreign commerce.
---
READ MORE:
Policing Hawaii's Illegal Vacation Rentals