20 for the Next 20: Kelly J. Ueoka, Pacxa
This "quiet but effective" president of a local technology company is devoted to developing Hawai'i's tech workforce.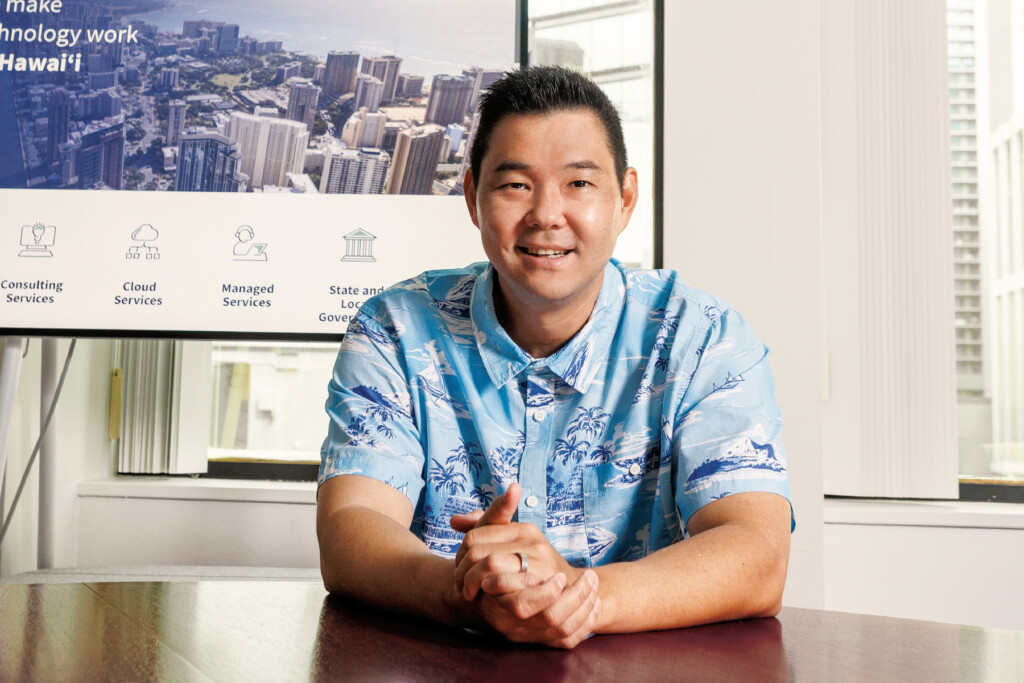 Kelly J. Ueoka

President, Pacxa
Kelly J. Ueoka grew up on Kaua'i, in Hanapēpē. His family has deep roots in the town; a historic old building bears the words "Ueoka Store."
His upbringing there "is reflected in the kind of person he is, in his humility," says longtime friend Jason Higa, CEO of FCH Enterprises, which includes Zippy's Restaurants. "He's quiet but effective. He's there to help when you are in need. I would often reach out to him to talk, sometimes about technology, sometimes not."
Ueoka is president of Pacxa, a technology provider that works with 400 commercial, government and nonprofit organizations across Hawai'i. He has a bachelor's degree in information systems from Southern Oregon University and is an expert on Microsoft infrastructure and cyber-security. Ueoka notes that with the increase of attacks on critical infrastructure worldwide, cyber-security is a particular concern for many companies he works with.
He is highly devoted to developing Hawai'i's tech workforce and investing in the state's future, serving as a member of the Chamber of Commerce Hawaii's IT Sector Partnership Steering Committee, on the HIDOE Information Technology and Digital Transformation Pathway Advisory Council, and on Campbell High School's STEAM Advisory Board. He is also on the boards of the Blood Bank of Hawaii, Parents And Children Together, and the TRUE Initiative.
Ueoka was instrumental in helping create the TRUE Esports + Tech Lab, a community-based esports facility at Waipahu Public Library that opened in July 2022. "The Hawai'i State Library System came to us looking for ways to make use of the tremendous connectivity they have; it's really good," he says.
With the growing popularity of esports – UH Mānoa's program was recently named the nation's best collegiate esports program – Ueoka saw opportunity. "I thought, why not bring an esports lab to the library, one that would also be able to provide self-paced computer training? That way, anyone with a library card can get technology training."
The esports lab was a catalyst, he says, to get the community to use resources such as gaming PCs and software, and to introduce STEM career paths to West O'ahu residents.
"His knowledge base with technology is at such a high level," says Higa. "He sees so much opportunity in technology, not only from a business opportunity standpoint, but it's more about the outcome. We're lucky to have someone like him in Hawai'i."