Leading the Way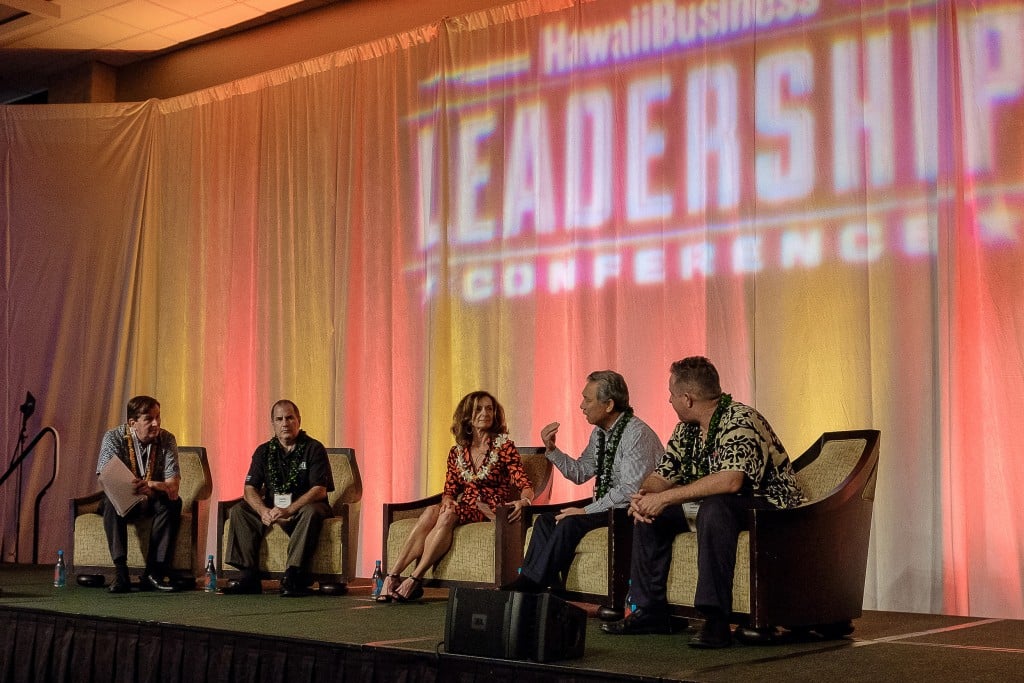 Cultivating leaders takes a lot of work, but it's a crucial task for companies and nonprofits, and for the future of Hawaii.
Nearly 600 people came together Thursday to nurture leadership at Hawaii Business magazine's fourth annual Leadership Conference at the Hilton Hawaiian Village.
"Leadership development is the most compelling issue to ensure that our whole community thrives," says Sherri Okinaga, VP of corporate training and development at First Hawaiian Bank, the conference's presenting sponsor.
"There are so many complex problems to solve that not one person can do it … so we have to find ways to collaborate, to connect people, to increase the leadership capacity in order to solve those problems and have our community thrive."
The conference featured nine breakout sessions and two general sessions with about 45 speakers from different sectors. Topics included building effective teams, making your point quickly and effectively, win-win negotiations and cultivating a great culture within a company.
The event's speakers and panelists connected with each other at a special luncheon. Evan Leong, co-founder of kokua.org, a group that unites individuals from various professions, facilitated an activity designed to help the speakers build deeper relationships and solve each other's problems.
Working in groups of eight, speakers explained a problem they faced and other group members tried to help them find a solution or identify another person who could do so.
Unyong Nakata, executive director of development at UH's Shidler College of Business, called the activity thought-provoking. She said she thinks it's important to recognize that in the world, there are givers and takers but it's also important to "recognize who you are and understand how to interact with fellow givers and takers and matchers … and how to help others."
A common problem that the speakers shared with others was not enough time each day to do what needs to get done. Suggestions were offered to that and other problems that people faced. "I liked it in the end and everyone was open and vulnerable and it was really good to see if we share a lot of the issues and opportunities."
The conference wrapped up with a discussion on the lessons learned from sports that can be applied to business. Hawaii Business editor Steve Petranik moderated the panel, and speakers were David Matlin, UH athletics director, Matt Apana, ESPN 1420 general sales manager, Lori McCarney, Bikeshare Hawaii CEO, and Peter Kim, Yummy Restaurant Group founder.
In sports, it's important to set goals that make overcoming challenges worthwhile. The same can be said for business, said McCarney. She participates in Ironman triathlons, where she has to especially push herself to complete all three sections, but especially the 112-mile bike rides. "That lesson of knowing if I just get past that part, it's going to get better and I have a goal to get to the finish line, and it's going to be worth it," she said. "That helps me in business as I was working on Biki. Very similar thing. It wasn't a piece of cake, it was very hard, but when you have that end goal and have hard times, it helps to get through them."
Apana, who was a pitcher for UH and professionally, said sports taught him to have the right attitude and work hard. "Times will always get tough, and in sports, you're going to fail a lot of times," Apana said. "It's how you embrace it, how you bounce back. Just like in the real world you're going to have your good days, you're going to have your bad days. It's really how you recognize the failures and learn from the failures and it's really about having right attitude and pushing yourself to work harder to make yourself better."
CLICK HERE TO VIEW AND DOWNLOAD PHOTOS FROM THE 2017 LEADERSHIP CONFERENCE