LocalKineBiz: Primo Gelato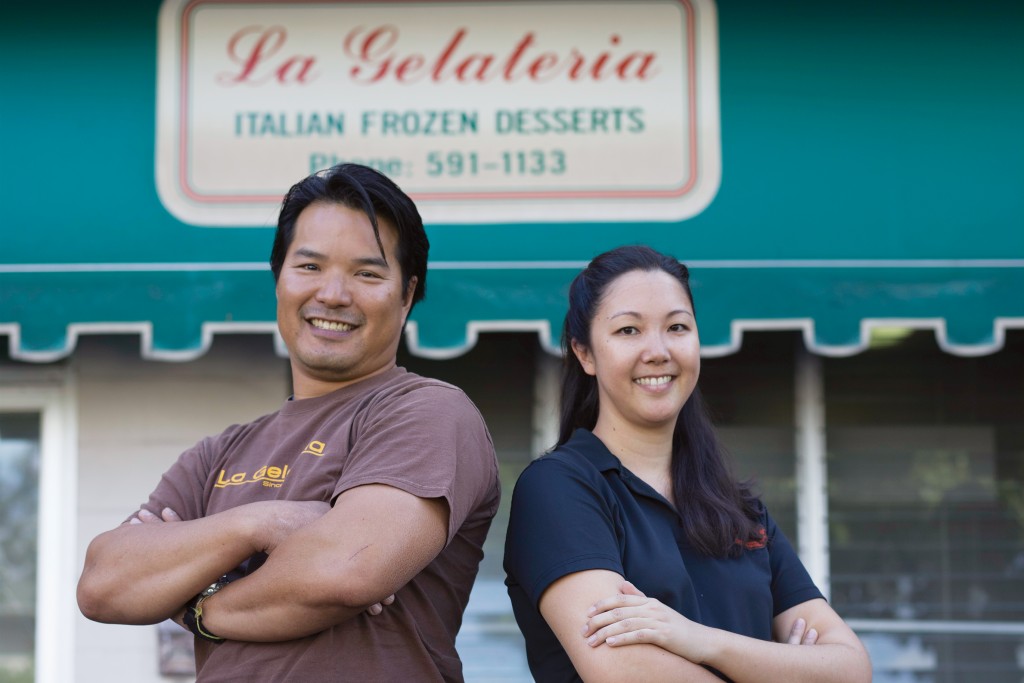 Once you've had gelato, you may never go back to plain ol' ice cream.
Gelato is Italian-style ice cream, made with less butterfat and less air, which make it denser and more flavorful, usually with less fat and fewer calories than ice cream. Oahu's oldest maker of gelato is La Gelateria, which means ice cream parlor in Italian, and was started by Torino-born gelato grand master Maurice Grasso in 1981.
When Grasso retired in 2007, two of his fans jumped at the chance to buy his dessert factory in Makiki, business partners Kenwei Chong and Erik Ludwick, now both 46. Their first taste came at a party when someone brought Grasso's Paradise Cake, made with layers of guava, mango and coconut sorbetti. The love affair deepened as Grasso made custom flavors for a restaurant they owned.
"His creations were amazing, ever consistent, with vibrant flavors and rich textures," says Chong. "By mid-2007, the purchase was complete and I was Maurice's disciple in the art of making handcrafted gelati and sorbetti."
Chong says La Gelateria likes to use fresh, local ingredients when possible and imports the raw materials for all its Italian flavors from Italy.
"Sourcing ingredients is somewhat of an art," he explains. "Always trying to find the best-quality ingredients, but within the confines of reliable supply and pricing that will not make the final product cost prohibitive. This results in sourcing ingredients from places such as Canada, South America and Asia.
"But, dairy comes from our neighbor, Meadow Gold."
When Chong took over as chief "gelato guy" in 2007, about 200 flavors had already been created. Since then, so many new flavors have been added that Chong has lost count.
"New product and flavor ideas come about in different ways: market trends, my and Tori's ideas (GM Tori Kinney) and, most often, from our customer base."
Those customers are hotels, restaurants, schools, private clubs, military-base restaurants, hospitals, airlines and specialty outlets. Various batch remnants are sold at its factory to a small number of walk-in customers.
Among its high-end clients is Nordstrom's Gelato Bar at Ala Moana Center.
"Kenwei and his team have continued to produce the same high-quality gelato using the same recipes started by Maurice, along with the high-quality service that Nordstrom and its customers expect," says Bill Wilson, national director of specialty-coffee operations for Nordstrom.
"Despite new competition in the mall, the Nordstrom Gelato Bar has not seen sales slip," Wilson says. "I think this is a testament to the quality of La Gelateria gelato, as well as its reputation in the community. Our customers love it!"
Soon after La Gelateria's new owners took over, Chong says, they were hit hard by the recession in 2008, yet, by the end of 2009, their sales had grown by double digits compared to when they had bought the company. Today, their sales are more than double those in 2007 and further growth is hampered only by the plant's capacity – a problem Chong and his team are working to solve.
Chong is optimistic about the future.
"Sales from existing customers continue to grow yearly, there are many more prospective customers to serve and we are excited about some new product development and strategic initiatives currently in the works."
---
Bestsellers:
Gelati flavors
Vanilla bean, Kona coffee, macadamia nut, green tea, pistachio and chocolate.
Sorbetti flavors
Mango, lilikoi, guava, coconut and lemon.
Exotic Flavors:
Gelati flavors
Gianduia (Italian hazelnut and chocolate), black sesame seed, caramel and Italian chocolate with sea salt flakes, and bacon and maple syrup.
Sorbetti flavors
Dragon fruit, hibiscus-Tahitian lime and Hawaii mango.
---
La Gelateria
819 Cedar St.
591-1133
www.lagelateriahawaii.com