Luxury Condos for Sale in Waikīkī Top Out at $16.8 Million
Japanese buyers have been mostly absent from the high-end market since the pandemic started, but many mainlanders, and some locals, are showing interest.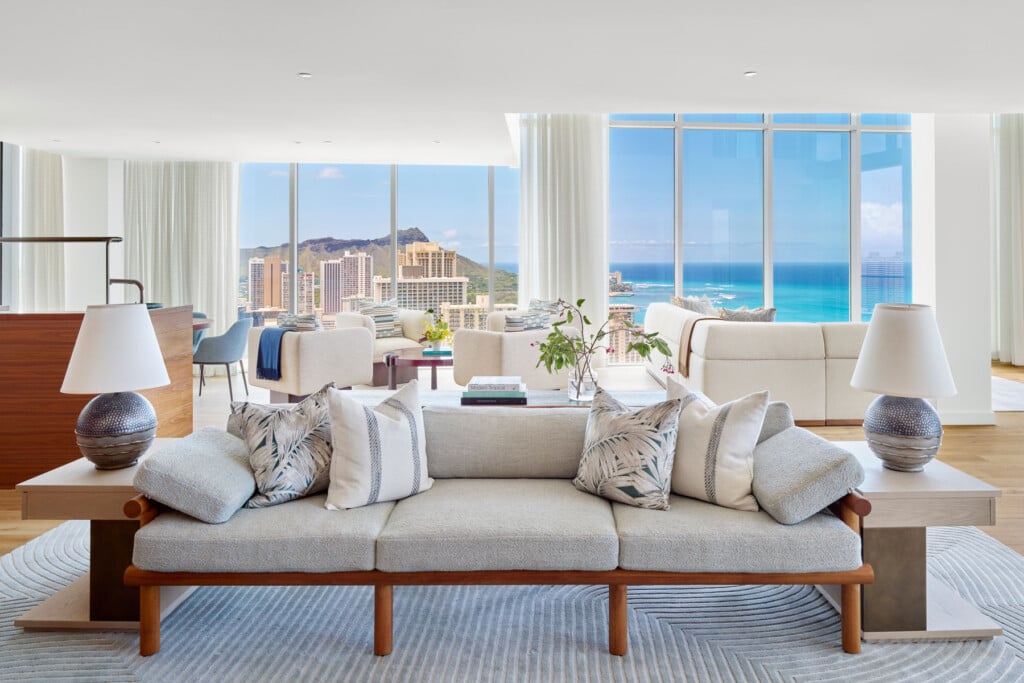 Irongate, developer of The Ritz-Carlton Residences, Waikiki Beach, recently put six new penthouse units on the market at prices ranging from $5.9 million to $16.8 million. Those prices are virtually unrivaled in the Waikīkī condominium market, yet already, one unit has sold for close to the asking price.
While 2023 condo sales on Oʻahu dropped 35.8% through June when compared to the same period in 2022, sales of condos for more than $5 million are on par with last year. Eleven condos have sold for $5 million or more in the first six months of this year, compared with 10 in the first half of 2022.
Prices for the two- and three-bedroom penthouse units on the 37th, 38th and 39th floors of Ritz-Carlton top out at $16.8 million for a three-bedroom, 4.5 bath, three-story, 4,157-square-foot unit with a private rooftop that includes a plunge pool, Jacuzzi and barbecue grill. The buyer of that unit will also have access to all the hotel-style amenities of The Ritz-Carlton.
Another penthouse, with two bedrooms and 4.5 baths was listed for $7.9 million and closed for $7.25 million in late May.
Potential buyers for such penthouses are set apart from the average condo buyer in Waikīkī, says Jonathan Ford, principal broker of Honolulu Property Finds, better known by its website, HIcondos.com.
"They're more looking for lifestyle choice than an investment choice," says Ford. "I wouldn't see it as a traditional market."
The Ritz-Carlton stands out for both its prices and its newness in Waikīkī. At the Trump International Hotel Waikiki, another luxury hotel-condo building that is relatively new for Waikīkī, having opened in 2009, studios can sell for less than $400,000, and the highest price so far this year was $2.8 million for a two-bedroom, three-bath unit on the 37th floor. However, a penthouse unit there recently went on the market for $9.98 million.
Baby Boomers Flying In
In the past, the high-end condo market comprised a mix of Japanese and mainland buyers, and locals looking to live or invest in urban Honolulu. But since the start of the Covid-19 pandemic, there have been far fewer Japanese buyers.
Tracy Yamato, a Realtor with the boutique firm Hawaii Living, says a lot of baby boomers have been flying in from the mainland looking to pay cash for condos in Waikīkī or the Ala Moana-Kaka'ako area.
"Most of them either come here a lot or have some connection to Hawai'i," he says. "They love Hawai'i – everybody does."
There's a lot to choose from: Five of The Howard Hughes Corp.'s market-priced Ward Village towers have opened, three more are under construction, another has been announced and two more are planned. Additionally, the Kobayashi Group started sales earlier this year at Ālia, the tower nearby on Ala Moana Boulevard that will have more than 200 luxury units.
Yamato says that while some people want a condo they can occupy now – whether as a primary home or a vacation home – others are lured by new buildings that will open in the next two to four years.
"Some are saying I don't mind waiting," Yamato says. "They all want the same thing: They all want a Diamond Head ocean view."
While a Diamond Head view may lead to a quick sale, HIcondos.com's Ford says some condos priced at more than $1 million are taking longer to sell.
"I'm seeing them sit on the market longer," he says. "And that can present an opportunity for local buyers, because there's less competition."
Sellers may also be willing to negotiate if a unit has been sitting on the market for a while. Ford suggests that people looking to score a deal on a condo look at days-on-market data in the listings.
"Another point is to look daily, because the best deals are the ones that are priced well to begin with," he says. "Those will go fast."