Making Hawaii Green, One Meal at a Time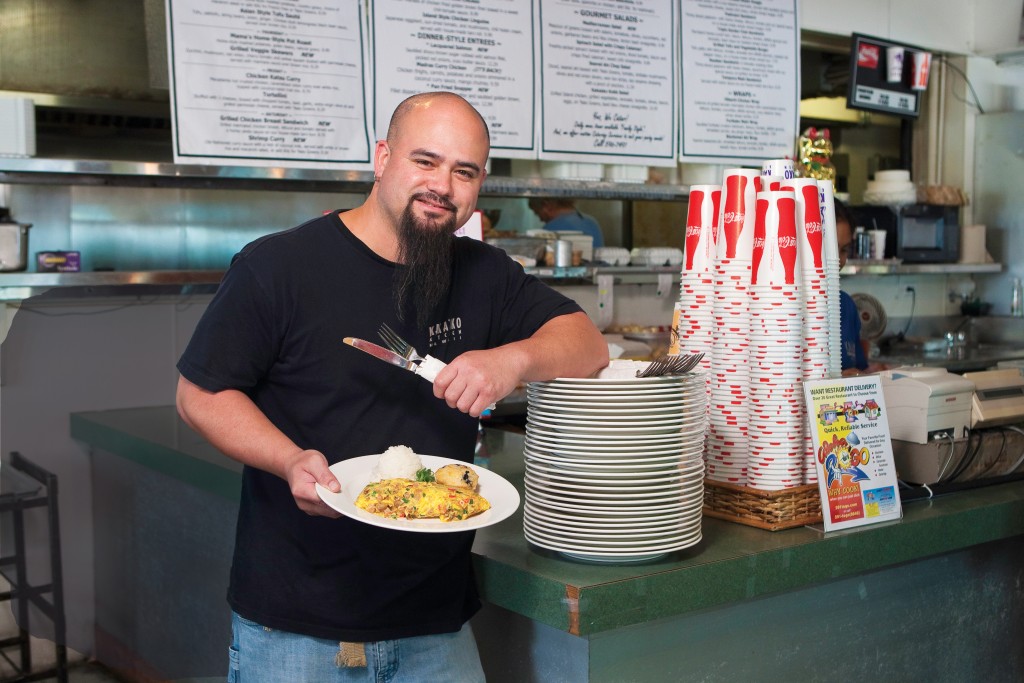 A group of Punahou School students has persuaded 10 restaurants to rethink their use of plastics and how to recycle, and they want to persuade more.
The LEAF project's primary target is the ubiquitous use of plate lunch containers made with polystyrene — often known by the brand Styrofoam.
General manager Billy Bal has proudly attached the LEAF logo to the front door of the Kakaako Kitchen and distributes LEAF flyers. The restaurant is now using china plates and silverware at breakfast, and has switched from polystyrene to more biodegradable containers for lunch and dinner.
"When they approached us, it was perfect timing," says Bal. "We were already moving in this direction. We're local and wanted to help out as a company to reduce our impact on the environment."
Bal says customers like the changes and the restaurant has been busier this year than last. "Some customers have been really surprised and now it's like, 'Yeah, give it to me on the real plates!' They say, 'We're going to save a couple of disposable plates and that's great.' "
"Let's hope this is driving more business to them," says Sarah Mau, 16, a member of the LEAF project.
Bal says the new take-out containers are better for the environment not only because they biodegrade more easily, but because, at the H-Power garbage-to-energy plant, they burn hotter and create more energy than the previous containers.
While environmentally friendly products can be more expensive, Bal says, the balance sheet seems to be working out even with upfront costs to buy breakfast plates, and added dishwashing and busing duties. To help businesses, LEAF students have researched the prices of different products, says Mau, and posted them on the LEAF Web site.
All About LEAF
Stands for: Leaving Earth a Future.
Founded: Two years ago by students Kristen Ige and Whitney Sia.
Web site: LeavingEarthAFuture.org.
Restaurants on board: Kakaako Kitchen, Town, Blue Hawaii Lifestyle, Café Laufer, Ka'u Cloud Rest Coffee, Mocha Java Café, Red Ginger Café, The Counter, the Wedding Café and Waipuna Sushi.