Man Up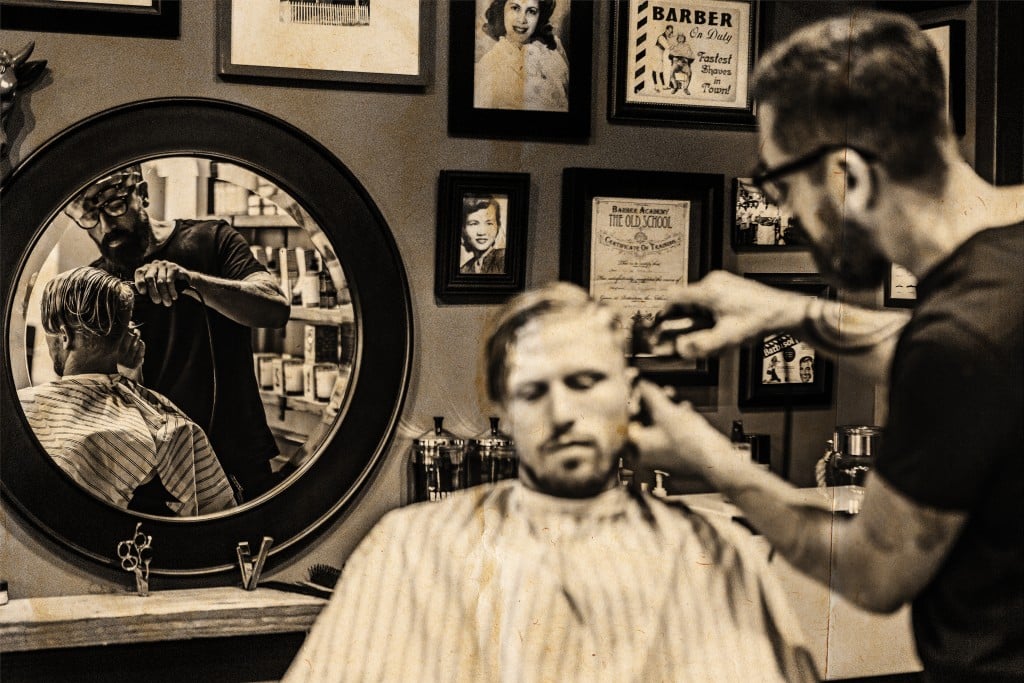 More men across Oahu are turning to upscale barbershops for an experience beyond the traditional in-and-out haircut, with two high-end shops recently opening in Honolulu and others expected to follow.
Yes, you can still get a simple trim, but options include straight-razor shaves, complete with steamed and cold towels, etchings, smooth lines, comb-overs, "man buns" and you can even grab a beer while watching sports on TV. However, the biggest draw at "hipster" barbershops,
as many people call them, may be the more masculine social atmosphere than is found at a women's or unisex salon.
"I used to go (to a chain barbershop) but once I came here it was over," says Randall Asuega, who brought his 7-year-old son, Rancyn, to the second Mojo Barbershop & Social Club, this one on the corner of King and McCully in the old Chop Suey building. "It's really not that much more to pay for what you get," he says. "And it's the quality and the people. Once in a while I'll get a beer, but most of the time it's in and out. From a guy's perspective it's a great place and the quality is top-notch, guaranteed."
The dozens of barbershops across Oahu cover high end to no frills, with prices ranging from $10 to $60, though even the most expensive shops charge much less than what many women spend at salons.
Josh Valdez, manager of Mojo on King Street, says men often try the upscale experience when spouses or girlfriends give them gift cards. "Once you come in, you get hooked," says Valdez, who started at the original Mojo on Bethel Street in Chinatown. "We couldn't accommodate all of the requests downtown and we're getting a lot of appointments here already. I would think there will be more in the future."
Joe Randazzo agrees. A hairstylist and barber for 35 years, Randazzo opened Phil's Barber Shop on Dec. 15 inside J Salon on the corner of Ward and Ala Moana. Owner of both the shop and salon, he works on men and women but charges $140 for a woman's cut (not including coloring) and $60 for a man's. Randazzo's goal with both the salon and barbershop was to create an experience that goes beyond a cut.
"In New York, there's a hipster barbershop on nearly every block and you can't even get in to get a haircut because they are so busy," he says. "Hawaii hasn't quite caught up to it yet, but more shops are coming and I think it's great."
Randazzo says he's been yearning for three years to create an upscale barbershop with a nostalgic feel. He finally turned his former office and storage room into a 300-square-foot traditional barbershop complete with two men-only old-style chairs that fully recline. He named the shop in memory of his grandfather, Phil Marsala, who opened his barbershop in 1931 in the front room of the family home in Benton Harbor, Michigan. Phil's hair tools are on display, as are many other relics.
"This is something I've always wanted to do," Randazzo says. "I can make more doing a woman's cut, but I love this."
The men's grooming industry is growing and will bring in more than $21 billion in revenue in 2016, according to an estimate from Complex, a New York-based website that reports on style trends and more.
"Guys want to look good, get a quality cut and get treated right," says Valdez. "It's worth it. You see guys who buy a new pair of shoes or sneakers every other month, but they don't want to shell out a little extra to look good on grooming. I never understood that."
Socializing is a big part of the barbershop renaissance and that's especially evident at Michael's Barber Shop II in the Stadium Mall. If you walk in late in the week or on the weekend, expect to wait two hours or more. But pay $8 extra for an appointment, and there's no wait for a haircut and shave that costs $17.
"There are days we're so busy from the time we open that I don't eat until I come home after 8," says Michael's assistant manager, Quintin "Q" Marnan. "With all the bases in the area, we have a lot of military who come in. If you've ever seen the movie 'Barbershop,' that's what you get here. People come in here for laughs, to talk story, for convenience and because the barbers are really skilled."
Q worked at Mojo downtown before joining Michael's and is a fan of both.
"It's much more high class over at Mojo," Q says, "but both places are really good. It comes down to what experience you're looking for."
A survey of shops across Oahu revealed the average men's haircut is $17 to $25, without extras. One chain, Sports Clips, with stores in Waipahu and Mililani, focuses on male hair at a low cost. The Waipahu shop has eight chairs and five TVs, all on sports. First-timers receive a free MVP package that includes a shampoo, towel, and neck and shoulder massage. After the first time, the MVP is an extra $5, with adult cuts being $20 and $15 for juniors and seniors.
What follows is a brief look at eight barbershops on Oahu, including three with multiple locations.
---
11 Barbershop Locations

Across Oahu
PHIL'S BARBERSHOP
210 Ward Ave., #101 (inside J Salon)
philsbarber.com
550-4441
The pop-up barbershop inside a swank J Salon has a more masculine feel with wood, leather, chrome and dark walls, almost like a gentlemen's study or club. Randazzo says he's the highest priced hairstylist/barber on the Island, but he also believes he's the only barber in Hawaii who trained at the highly acclaimed Schorem, Haarsnijder En Barbier in Rotterdam.
Phil's is an old-school barbershop that specializes in traditional men's haircuts and hot-towel, straight-razor shaves. Walk-ins are accepted but appointments are recommended. Haircuts range from $40 to $60, depending on which barbetr cuts your hair.
MOJO BARBERSHOP & SOCIAL CLUB
mojobarbershop.com
1157 Bethel St. across from Mark's Garage (888-2068) and 2005 S. King St. (800-3960)
From the time you walk in, you know these places were designed for men: wood, leather and chrome everywhere and sports on TV. The first thing offered is a beer and all haircare and shave products are men specific with names like "Uppercut." In addition to straight-razor shaves and lineups ($15), they also do detox face treatments. Traditional cuts are $35, buzz cuts $25 and straight-razor shaves $40 (cut and shave combo is $65). Both locations accept walk-ins and appointments.
FLAVA & DA WIG SHOP
1750 Kalakaua Ave. (Century Center)
flavahawaii.com
944-9321
This combination barbershop, salon and wig shop with its own clothing line has been in business since 1999, with a barbershop following that includes male celebrities who pass through the Islands. It's known as a great place to talk story, and the barbers there can create specific designs with great attention to detail. They do color application, etching, razor lines – it's one-stop shopping. The shop prides itself on being a community barbershop and has youth programs.
URBAN FADE HAWAII
97-719 Kamehameha Highway, Pearl City
200-4330
Facebook: urbanfadehawaii
Looking to make a statement with your hair? This is the place to get it done. Urban Fade has a lively feel and etching (designs in hair) is a specialty. The man bun is also a popular haircut, an indication of how trendy the shop is. Walk-ins are accepted, but you may wait awhile, so appointments are recommended. Urban Fade services both men and women, but six chairs are specifically for men. Haircuts start at $15 for kids, $20 for students and $25 for men. Shape-up/beard-lineups are $10 and design cuts start at $15. For men, add $5 to the $25 cut for a shave.
MICHAEL'S BARBERSHOPS
Stadium Mall (488-8098) and 1660 Wilikina Drive in Wahiawa (621-0052)
No coloring, but included with a $17 haircut is a straight-razor lineup and shave. Chairs can be filled from opening to closing, so pay $8 extra for an appointment. "We get a lot of military because of all the nearby bases," says Stadium Mall assistant manager Quintin "Q" Marnan.
REGULATION
Aikahi Park Shopping Center
25 Kaneohe Bay Drive, Kailua
254-4111
This barbershop caters to military men. "They are most of my clients," says owner Tuan Vo. "A buzzcut for civilians is $13, $10 for military." He says they also do a lot of fades. Regulation will do straight-razor shaves for $12 to $15, but by appointment only.
SPORTS CLIPS
94-050 Farrington Highway in Waipahu
haircutmenwaipahuhi.com
(808) 678-1919
95-221 Kipapa Drive Suite C 11 Mililani
(808) 623-3500
haircutmenmililanihi.com
With eight chairs and five TVs in the Waipahu shop, the chain offers $20 cuts for adults and $15 for seniors at both locations. Most of the barbers are women.
MATS BARBER AND STYLING
1114 Smith St, Honolulu
(808) 537-1214
One of the best bargains on Oahu. No TVs, but men's haircuts are $11 and include shaving around the neck area. Walk-ins are accepted but appointments are encouraged. Straight shaves are $10.