20 for the Next 20: Mark Wasielewski, Diagnostic Laboratory Services
His vision and leadership helped Diagnostic Laboratory Services overcome the Covid-19 crisis in many innovative and creative ways.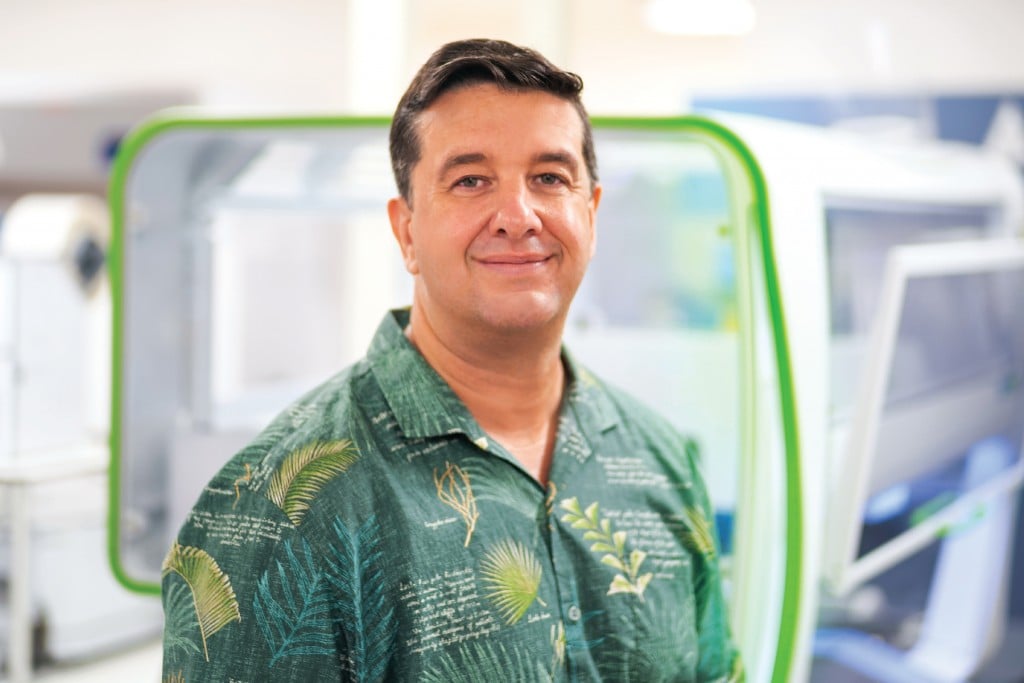 Mark Wasielewski
President, Diagnostic Laboratory Services
The pandemic created huge challenges for Diagnostic Laboratory Services: Demand for the company's services skyrocketed just as its mainland suppliers were suffering shortages.
"Almost overnight, it felt like the demand tripled," recalls Mark Wasielewski, president of DLS. "And at the same time as the demand tripled, our ability to do higher value testing was cut by at least 80%. So, it was the perfect storm of chaos."
But Mark Bloom, VP of sales and marketing for DLS, says Wasielewski's vision and leadership "led DLS to overcome the very challenging Covid-19 crisis in many innovative and creative ways and we are now well prepared and positioned for the next epidemic that we may be faced with."
Pre-Covid, DLS was performing more than 600,000 medical diagnostic tests monthly for people in Hawai'i, Guam and Japan. After Covid hit, DLS quickly set up eight Covid testing platforms at six locations on four islands and built a new molecular lab within six months to increase capacity to 10,000 Covid tests a day.
Wasielewski was also responsible for launching a new team of Covid collection specialists, a rapid response vehicle with on-site rapid testing equipment and other innovations.
Bloom says Wasielewski's vision extends beyond Covid: He identified the need for next generation sequencing for personalized cancer treatments based on comprehensive tumor profiling. And DLS' lab can now identify known targets for FDA-approved therapies, helping oncologists create highly targeted cancer treatments.
Wasielewski began his biomedical career as a lab assistant at the age of 16. He recalls the job as a "very, very cool job opportunity for a high school kid."
Out of high school, he enlisted in the Air Force, where he envisioned a career as a physician. Instead he discovered an aptitude for business and has earned a bachelor's degree in economics and management from the University of Illinois in Chicago and a master's in clinical laboratory sciences from Rutgers University.
He worked in hospitals and labs on the mainland and in Hawai'i before joining DLS in 2002, where he's risen through the ranks and created what Bloom calls an 'ohana culture with "very high levels of cooperation and engagement among our staff and management." DLS finished third among all large companies on Hawaii Business Magazine's 2021 list of Hawai'i's Best Places to Work.
"Mark is one of the most effective executive leaders that I have had the opportunity of working with during the 30 years I've been in this industry," says Bloom.