MBA Has Big Costs but Big Payoffs, Too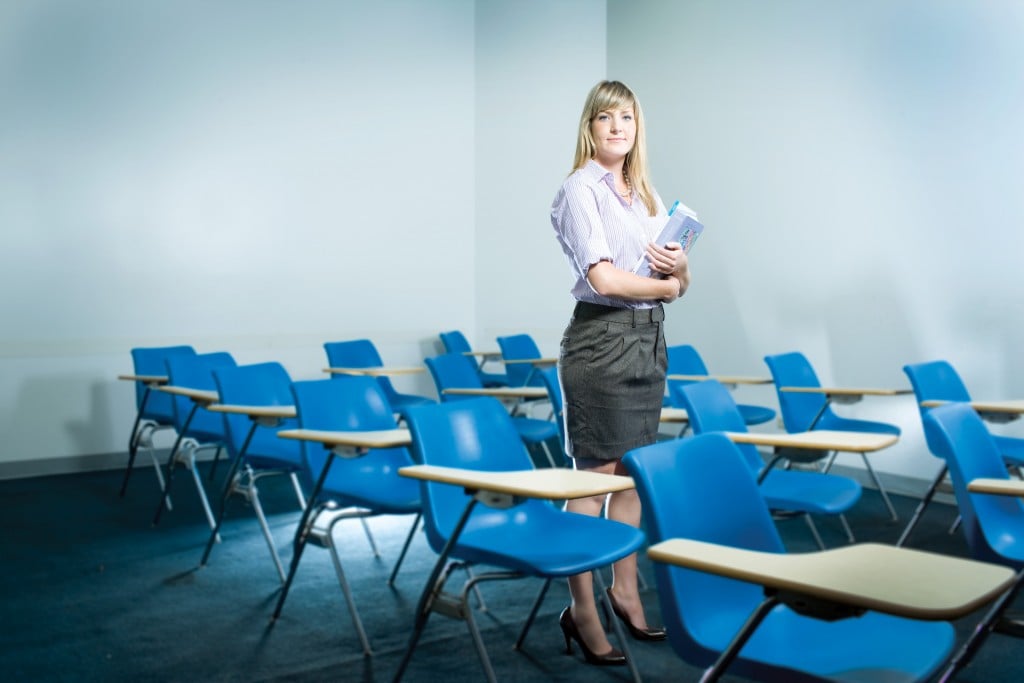 David Akina spent $50,000 over two years and sweated through evening and weekend classes for a master's degree in business administration. He's never been sorry, not for a single moment.
That degree launched his company, Paradise Pages, into the stratosphere, gave him ideas for strategic partnerships, deals with vendors and business alliances. He felt secure when making decisions and avoided second-guessing himself. In short, it made him money. A lot of money.
"The negotiation classes with Larry Price alone made the company millions of dollars," says the 2005 MBA graduate of Chaminade University of Honolulu. "It suggests things you wouldn't have thought of, and it makes you a better negotiator, a better listener. The things he taught I use every day in my business."
Not every MBA graduate is going to see big bucks just because of a gold-tipped certificate and the know-how that goes with it. Still, Hawaii colleges are bursting with students doggedly pursuing this Holy Grail, hoping it's the wedge that opens a door, burnishes a career, or offers new challenges and direction.
Here's how 13 people view the MBA, including current students, recent and longtime graduates, people who recruit and hire, and people who run local MBA programs.
The College Leaders
Worth the Price?
Hawaii MBA programs cost $40,000 or more and usually take at least two years to finish. Double the cost at top Mainland schools – and take many more years to pay it off if your company doesn't help cover the bills.
But Kristine Lesperance, chairwoman of graduate business programs at Argosy University in Honolulu, says there's no question that the MBA is worth the time and expense. "The MBA is opening more doors in terms of upper management types of positions," she says. "It still has that 'wow' factor that shows somebody is really serious about what they do and interested in increasing their knowledge base and the tools in their tool kit."
"Some companies absolutely require it," notes David Bess, professor of management and former dean at the Shidler College of Business at the University of Hawaii-Manoa. "They won't hire you without it. For a number of organizations, an advanced degree – an MBA – is required for promotion."
Aytun Ozturk, business dean at Hawaii Pacific University, says a master's degree is the new B.A. while the B.A. is the new high school diploma. "Many of our MBA graduates have told us that their return on investment manifests in a variety of ways. First, the credentials for upward movement, then confidence to perform at an optimum level, and finally the critical thinking and analytical skills to excel beyond the norm."
Higher salaries on average

On average, MBA salaries range from $10,000 to $20,000 higher than salaries for those with a B.A. in business.

Source: Payscale.com
The Hiring Executive
'An Entree Ticket'
Jean Hamakawa, executive vice president and director of human resources for Bank of Hawaii, doesn't look for an MBA first when scanning resumes, but she says it can't hurt. "We would look at the job-related experience first," says Hamakawa. "However, that MBA surely makes your candidacy attractive. … You have an entree ticket."
The Grad Student
$60,000 of Debt, But 'Worth It'
Loryn Guiffre, 27, a Hawaii Pacific University MBA student, wants it all – the wow, the shiny star, the management job – and she's been busting her chops for two years, with one more to go, to reel in hers.
"The buzz is if you're going up for a promotion and someone up against you has an MBA, they'll get it," she says. "A lot of the major companies I've been looking into, the people they hire are only the ones with the MBA. But there are a lot of MBAs out there so you have to do other things to make yourself stand out. So the way I do that is work in the community, take internships and do freelance consulting work with a student organization called the MBA Club. The MBA is a foot in the door, but it's no guarantee."
Guiffre will be $60,000 in debt when she graduates next May.
"I am so scared about that," she says of the debt, "but it's definitely worth it to me. It was what I want to do and it's realistic. You can work in almost any industry with an MBA because you have the skill set that's transferable."
After Guiffre graduated in 2006 with a B.A. in journalism from New Mexico State University, she fell behind financially while writing stories for a Mainland newspaper. "I couldn't make ends meet."
With an MBA she'll be able to switch careers and double her salary, moving up to general or marketing manager in a corporate job. "It wasn't that my boss told me," she says, "it was that I knew what education they had and it was an MBA."

The CEO and Donor
Today's Edge: Specialization
Real estate tycoon Jay Shidler, a major benefactor and namesake of the UH-Manoa business college, values an MBA "as a plus," even though he doesn't hold the degree himself. Major organizations like Goldman Sachs use the MBA as a "sorting tool," he says, to winnow out applicants.
But, more than ever, Shidler says he values specialization within the MBA. He sees ever more companies looking to those with both a broad MBA background and more focused training, such as in financial engineering. It's those graduates who will be drawing down six-figure salaries while tossing around volatile terms like derivatives valuation.
"Twenty years ago, you asked the question – MBA or no MBA?" says Shidler. "But the second question (today) is MBA and what? What is the specific focus you wish to study?"
The Program Manager
'Whoa, This Guy's Ambitious'
While the MBA degree has been around more than a century, the recession added urgency to mid-career executives who wanted to move up the ladder, and to young 20- and 30-somethings not sure which ladder to climb. It can provide the finely tuned financial, accounting, analytical and leadership skills companies look for as they plan promotions, and may bring younger people to the attention of the boss. But it also provides a broader view of an organization, how it works, and how to develop skills for leadership.
"It's like you've got a shiny gold star on your resume," says Paul Masters, Chaminade's MBA program manager, whose own MBA landed him an immediate job as a national sales manager in Silicon Valley in the 1980s, with a bottomless credit card and an airline ticket expense account.
"Without an MBA that never would have happened," says Masters. "The fact that you went and did it says to anyone who's looking, 'Whoa, this guy's ambitious' or 'This girl's on the ball.' "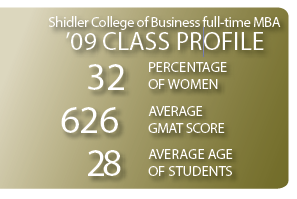 The Financial Adviser
Pay Shouldn't Be Your Main Motive
"You quickly realize it's not about money," says Eric Fujimoto, one of the state's top financial advisers. He went for his MBA at age 20, right after earning his undergraduate degree in economics and government. "If you're going to get an MBA because you think you're going to make more money, don't do it. You get your master's to build confidence, to be a better communicator."
His MBA gave him a network of contacts he still uses and prepared him for a financial management career. It also gave him more than an ability with numbers. "It gave me the confidence to interact with business leaders of Hawaii. … I'm younger than their sons and I guide their finances."
Fujimoto, now 37 and working at Ameriprise Financial, sees the degree as a universal need across many professions. "You talk to a dentist, and they wish they knew business," he says. "You talk to a lawyer and they wish they knew business. They all want to know how to run their numbers."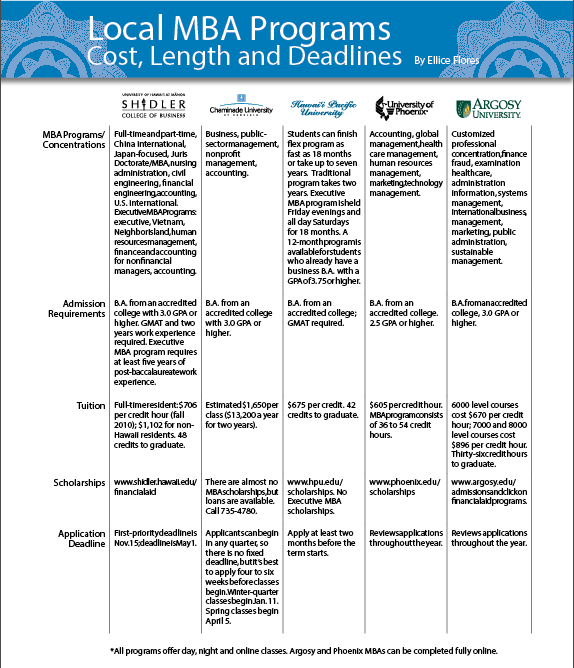 The HR Executive
Extra Edge, But Maybe Not More Money
Human resources executive Lauraine Bifulco says she rarely sees hiring decisions based solely on the degree, but notices it can provide an extra edge, although not always extra money.
"Given equal backgrounds, skill sets, experience, I've seen our clients look at two candidates side by side, equal in every way, but if one has an MBA, that one's going to be given a little nudge over the other person," says Bifulco, president of Vantaggio HR, headquartered in San Juan Capistrano, Calif., with an office on Maui.
"We recruit and place people in positions in a lot of industries," she says, "and I don't think I've seen more than a handful of occasions when having an MBA got that person a higher salary. I've seen positions where they need an MBA, usually financial services. Any other time, I think it's not a question of more money but a nice heads-up on the other candidates."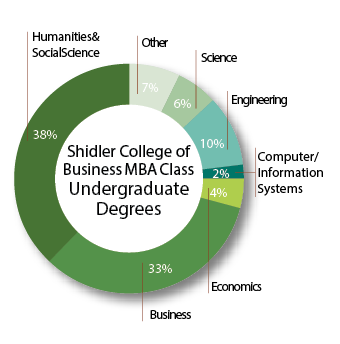 The Young Owner
Adaptability, Nimbleness
The beauty of the MBA, say many of those who possess one, is its adaptability to many fields.
Mike Pietsch, 31, who, with sisters Noel Pietsch and Stephanie Pietsch Gambetta, launched the restaurant Wahoos, has just finished the executive MBA program at Shidler. Now, his younger sister Noel, 27, has enrolled.
"I felt I needed more of a backing in finance," he says, "to get better at managing our numbers, managing our costs."
Mike Pietsch earned an undergraduate degree in business from Boston College in 2000, but, as he stepped more fully into management of the family business, a title guaranty firm, he felt the need for advanced skills.
The MBA was his first choice and it has already helped both businesses, especially applying case studies to his own endeavors, understanding costs better, and refining how he works with employees.
"It provides some reassurance and confidence with this uncertain business climate," says Pietsch. "Management techniques do need to change as the workforce changes – as it gets older, or younger, with the new generation coming in. It's basically about understanding the different generations and how they're going to respond in the workforce."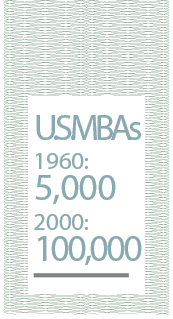 The Longtime Leader
Same Job, New Vision
The MBA helps make you nimble, says Maj. Gen. Darryll Wong, commander of about 2,500 men and women in the Hawaii Air National Guard. And business today – no matter what kind – requires nimbleness.
At 57, with a well-established career, Wong went back to school at UH-Manoa for an Executive MBA, graduating in May. It was something he had always wanted to do – and a crucial component of keeping him ahead of the curve in a changing world. He was in school as the economy plunged – and was able to analyze changes in a whole new way. Wong has no intention of changing careers, but wants to grow the Air Guard. He felt the MBA would help.
"You need to be versatile to adapt to change and then strategically come up with a vision to take advantage of those changes," he says. "When you come up with a vision, you have to be able to lead people to that vision. The MBA can help give you skills to do both."
The Strategic Chief
Changing Direction
For Dr. Virginia Pressler, executive vice president for strategic business development for Hawaii Pacific Health, a consortium of four hospitals, getting an MBA more than three decades ago, while she was working at Bank of Hawaii, created the lynchpin for an entire change of direction.
"It was worth it for me," says Pressler, who later earned an M.D. and then moved into healthcare management. "I was seeking more knowledge about finance and business and economics and broader issues related to my work and the bank encouraged me.
"If you do it to make more money, that's not a good reason. People with advanced degrees in general get paid better than those without. But for me that's not a good motivating reason.
"I could see the immediate application of the classes I was taking, how strategic decisions are made by looking at a systems approach, and understanding the broader context of the financial community. It's not just a job, but something intellectually stimulating. It gets you more invested and engaged and involved in your work."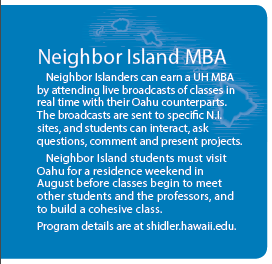 The Ph.D. Student
Coming Back for More
Michelle Harada is finishing her MBA capstone project at Argosy University, but she's not done. Before she can dust off her mortar board, she'll be on to the doctoral program in business – another four or five years and probably another $40,000 to add to the $20,000 in loans she's already accumulated. She's also about to launch two businesses and hopes to teach college someday.
"When I do my research for my business, I can do a complete analysis, understand consumer behavior, cost structure, how much you need to break even. Then you can forecast your sales for the next five years."
Says Harada: "Wherever I can, I've been applying what I've learned."