Minimum Wage Dilemma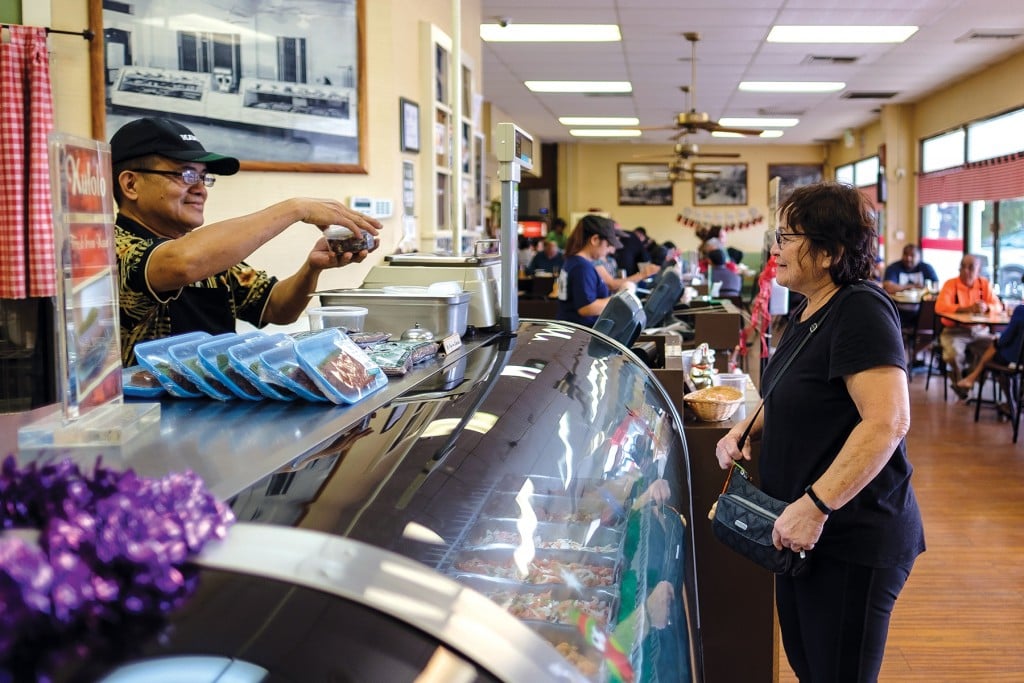 In the restaurant sector, trying to balance the financial interests of employees, customers and owners is difficult. A higher minimum wage will drastically change that equation.
A proposal to raise Hawaii's minimum wage from $10.10 to $15 an hour has support heading into this year's legislative session, and that's generating plenty of conversation in the food service industry. Balancing the needs of employees and the company is never easy for any business, but it's especially hard to finesse in Hawaii's $4.6 billion a year restaurant sector, which provides 66,100 jobs.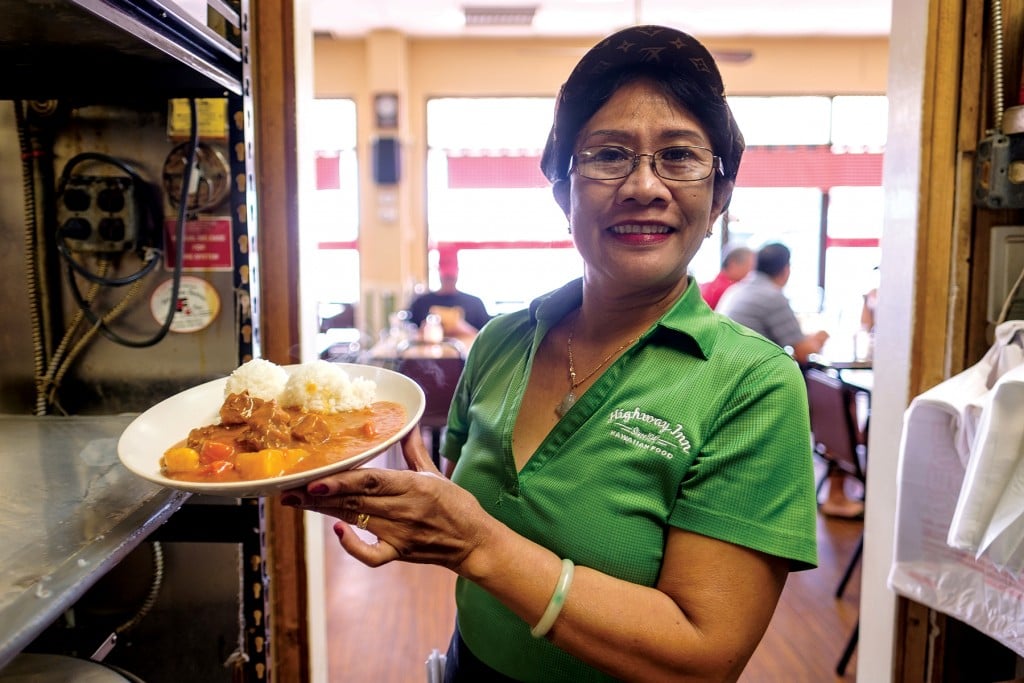 "For Hawaii restaurants, raising the minimum wage to $15 will have significant unintended consequences," says Monica Toguchi Ryan, president and CEO of Highway Inn Cos. "To compensate for the increased labor costs, restaurants will raise menu prices 20 to 30 percent. When prices rise, customer demand falls. This leads to less GET collected, fewer labor hours, lower restaurant profits, lower state tax receipts and more business closures. Restaurants and their supply chains will suffer disproportionally."
Adding to the stress: Hawaii's low tip credit. The tip credit is part of federal and state law, a mechanism to legally balance the wage disparity between the "back-of-house" (BOH) kitchen employees and the "front of house" (FOH) waitstaff who often take home much more money because they collect tips. In Hawaii if an employee regularly makes at least $20 an hour in tips, an employer can use a tip credit of 75 cents. So instead of the current minimum wage of $10.10, a tipped employee can be paid a minimum of $9.35 an hour. Tip credits vary across the country: California, Alaska and five other states have no tip credit for many or all tipped employees, while Oklahoma's tip credit is $5.12.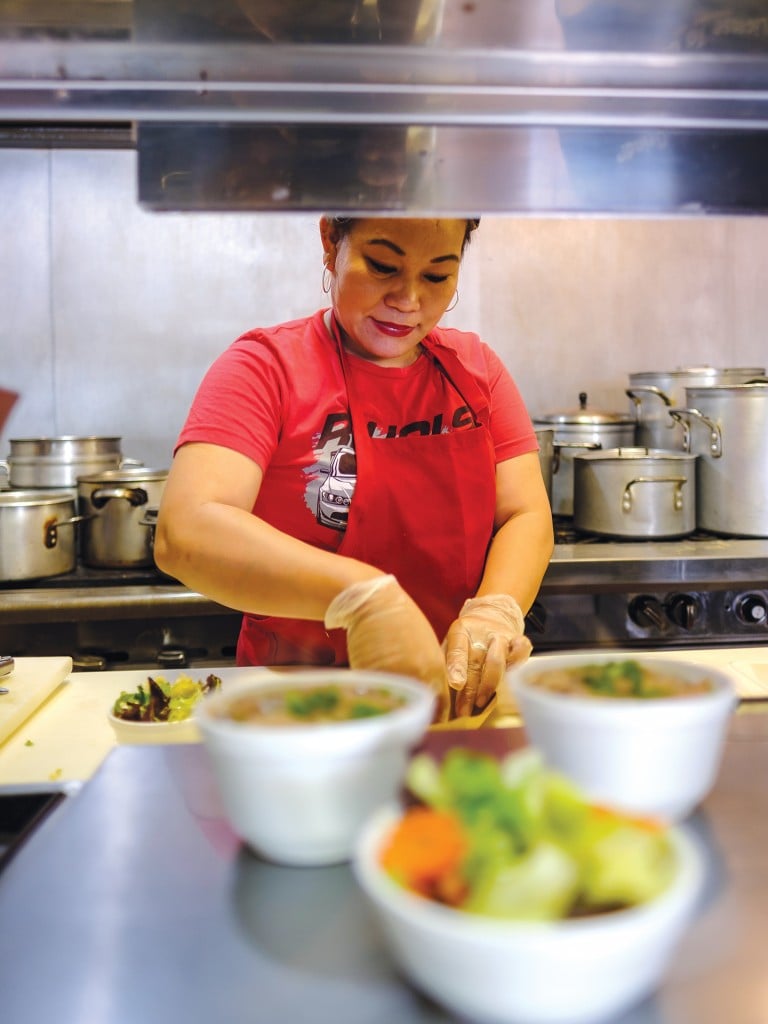 "We want our employees to receive a fair market wage, and we also want our kitchen staff and waitstaff to be compensated equitably," says Toguchi Ryan. "The latter is extremely difficult when raising the floor for minimum wage is required for all employees. This also causes wage compression, when senior employees are no longer compensated well above junior employees. Currently a person with skill in the customer service business, if they are compensated hourly, makes $15 to $20 an hour." When the minimum wage was increased, a new hire straight out of high school or college was making close to what a long-time, experienced employee was making, she says. The long-time employees "naturally asked what their pay would be. Consider what our response would be to a loyal, well-skilled worker who has been with us for eight years, and what would happen if we did not increase their salary."
Tip Pools
In the consolidated appropriations act of 2018 – tax changes signed into law by President Donald Trump – Congress lifted the rule against tip pooling, meaning that servers' tips can now be shared with cooks and dishwashers, though managers and supervisors are still prohibited from participating.
"With minimum wages and sharing their tips, my servers are making $35 an hour," says Tom Jones, president and co-owner of REI Food Service/Gyotaku Restaurants. "Our kitchen average was $15 to $16 an hour and has gone up about $1.75 an hour more, after the tips are shared out. That was a good thing for us." But tax laws are volatile, depending largely on who is occupying the White House and Congress, and federal and state laws differ. The differing federal and state laws and ever-changing political winds make longterm decisions difficult.
Keoki Anderson is the pub manager at Kona Brewing Co.'s Koko Marina location. "Here at Kona, it's encouraged that the servers throw a little something at the back of the house. However, we can only encourage and suggest. Managers are not allowed to enforce tip sharing. Each restaurant does it their own way. I've seen where the server has to tip out 2 percent of their sales. I've seen where the server has to tip out 15 percent of their tips to the food runner, bartenders, and 30 percent to the bussers. In my opinion, a complete pooling of tips can cause animosity among the employees because of some working hard and others doing the minimum."
Over the 11 years he's worked at various restaurants, Anderson has been a server, trainer and manager, but says his perspective on the subject of tipping hasn't changed as he moved through the ranks. "If anything, I have a better understanding."
A Tipping Innovation
To try to balance the wages for FOH and BOH staff, some local and Mainland restaurants instituted a kitchen appreciation fee. At Highway Inn, Toguchi Ryan says: "This adds a set percentage fee to the customer's bill that is specifically allocated to the kitchen staff. Customers are asked to consider this service fee as part of their total tip amount and accordingly adjust their server's tip. In total, it makes no difference on the customer's bill but maintains the same distribution as our former tip pool system but with more positive results for our staff."
Such policies sometimes upset customers. Check out the reviews Gyotaku got on Yelp in 2016, when it implemented a 4 percent kitchen service fee. "Why is it the customers' job to pay the kitchen staff salary?" one unhappy diner grumbled. "That's the company's job." Another disgruntled guest reviewed, "Auwe! This owner is all about the owner." Gyotaku stopped the program.
One customer griped, also via Yelp: "Why not add a service fee for the hostess that seats you or the janitor that keeps the restaurant clean or the person who washes the linens for the restaurant? Where does it end?"
Hawaii lawmakers have their own opinions. "I view income inequality as the second biggest problem in the world, second to global warming," says state Sen. Karl Rhoads. Rhoads was a co-sponsor of 2018's Senate bill 2291, which would have raised Hawaii's minimum wage to $12.25 an hour on Jan. 1, 2019, and $15 on Jan. 1, 2020, as well as abolishing the tip credit entirely. After that, the minimum wage would be adjusted by the state Department of Labor and Industrial Relations, using the Honolulu region consumer price index for urban wage earners and clerical workers (CPI-W). The bill did not get out of committee, but Rhoads says it's likely similar legislation will be introduced during the 2019 session.
"My concern is that every year the minimum wage doesn't go up, the purchasing power someone has decreases due to inflation. Minimum wage should at least be indexed to the inflation rate."
Arkansas just passed a ballot initiative, Issue B, to go from a minimum wage of $8.50 an hour to $11 by 2021, with steppingstones in between. "Their step-up will be higher than ours and I don't see how that makes any sense, where you can have a decent quality of life there if you are making $50,000," says Rhoads. Missouri also voted to raise its minimum wage, from $7.85 to $12, over five years. While states are tackling this individually, Rhoads says, this is a national problem, not a local one. "If you look at the U.S. compared to other industrialized countries, we are way below with our minimum wage compared to the median wage."
Nonglak Kapileo is a student at Chaminade and, until recently, a server for Lucky Strike at Ala Moana Center. She made $9.35 an hour – the minimum wage minus the 75-cent tip credit. The hourly rate, she says, is "kind of rough, but the tips help me make it through. I only was working at Lucky two days a week. I would say that for someone who was a fulltime worker, their income would really depend on the tips. On a good day, you make a lot of tips, and on days when there aren't a lot of customers coming in, you won't make much." In fact, Kapileo tailored her work schedule to come in on busier days. "Usually when it is slow, you're scheduled for a shift like 11 a.m. to 5 p.m., and if they have three or four people on the floor, they will send someone home. I take the bus to work so it is a lot of time to take the bus in, and then only work for three hours. If there was a higher minimum wage, you could at least go in for the hours. For me, it's extra money but there are people trying to support themselves who are working three jobs."
"I can't remember a time when a business group wanted to raise the minimum wage," Rhoads says. "If we're in a good economy, they say it will tank the economy. If we're in a recession, then it's, oh, we can't raise it now! There's never a good time to raise the minimum wage. It's not surprising. They would prefer to let the market dictate."
Some owners in the local food service industry already pay well above the minimum wage. Olivier Vetter found success with a chain of coffee shops in London, Bean About Town, and in spring of 2018, opened one in Kaimuki. He pays $15 an hour: "I don't like to pay minimum wages, because of the nature of the job. They are performing," he says of his baristas. "If someone doesn't have experience, they may not get the job here. Or they get one day a week and we'll see how they get on. For me, it is important to attract someone who will last longer in the position, and for the balance to be right." As soon as he opened his business in Honolulu, he says, he could "see that people were struggling with money, the working class. The more you pay your staff, the more they spend. It's a rolling thing. It's a sharing thing."
Takeout dining, fueled by delivery companies such as Bite Squad, Door Dash and Uber Eats is "going through the roof," says Jones, and while this model of dining keeps chefs busy, it eats into servers' tips.
Technology may soon replace some server jobs, as well. "I was at Newark (Liberty) Airport," says Jones, "and there were iPads on all the restaurant tables, and no food runners. Each one of those iPads is taking away a high paying job" that doesn't require a college education, he says.
Many of those who will suffer from such automation are students, first-time job holders and single mothers. "I have a lot of single moms and this is their job. They drop their kids off at school, work a lunch shift, go pick the kids up and have made some decent money. They may suffer if we become automated. … It's an unintended consequence of the government driving costs up. Businesses will do what they have to do to stay in business. I'd hate to see all those jobs go away."
Employers' View
By and large, most employers want to do right by their employees, especially in this market, where it's so competitive to find good workers," says Jones. "Yet at the Legislature, it's like they don't believe us when we testify. It's like business is always trying to treat their employees badly.
"I have a wife and family, too; I have a lot on the line. We put every last penny into the business. I don't think we get much respect for that. I become a bogeyman because I'm not paying $15 an hour, when I know how many jobs I provide, and about $5.5 million in wages and benefits a year, and that doesn't even include GET tax. We're driving the economy. Yet there's this sense, 'Oh, we can just pile more stuff onto them and they can take it.' "
Both he and Toguchi Ryan favor a larger tip credit. "Having a meaningful tip credit is the only path out of this artificially created crisis," Toguchi Ryan says. "The Feds provided for this as the (federal) government realized that people making tips are already very well-compensated for tipped positions." A larger tip credit could allow restaurants to balance out employee compensation between FOH and BOH, she says, without impacting menu prices and contributing to cost inflation.