Mission to Mars via Mauna Loa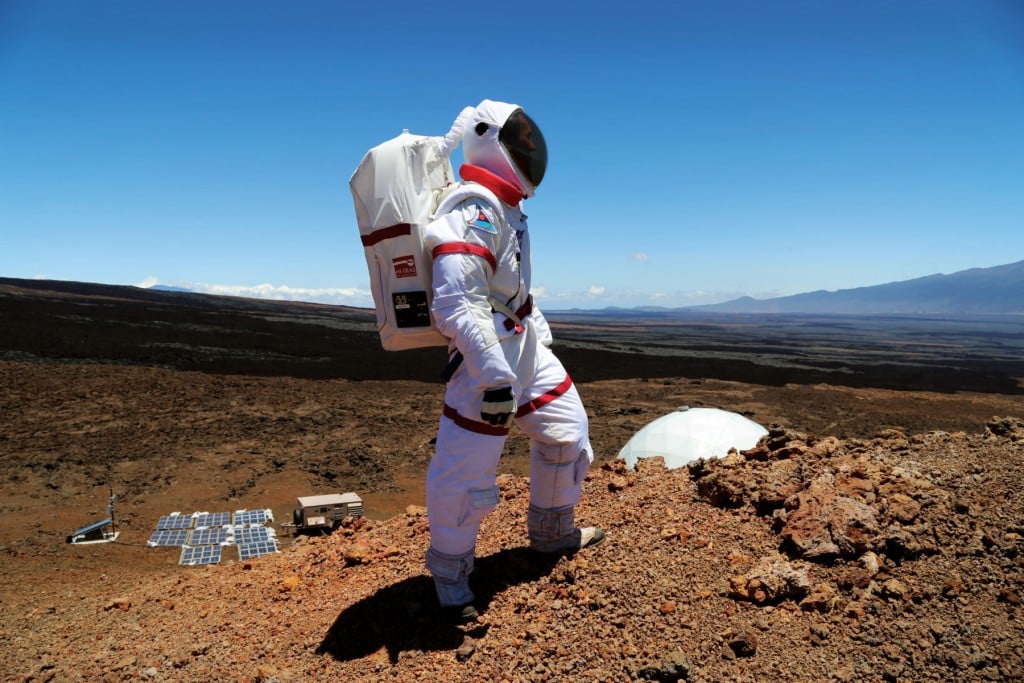 Faced with a problem that's literally out of this world, scientists went looking for a solution on an isolated part of Mauna Loa.
Astronauts who eat the same freeze-dried and dehydrated options day after day tend to suffer from "menu fatigue" in outer space. That's more than just a challenge for the taste buds, because a loss of appetite can lead to nutritional deficiencies, loss of bone and muscle mass, and weight loss, leaving astronauts less motivated, energetic and productive. On a multibillion-dollar mission to Mars, that's no trivial matter.
To find answers, six human guinea pigs spent four months in a 1,000-square-foot dome on the northern slope of Mauna Loa emulating a team of astronauts on Mars.
Four months may seem like a long time to be stuck in a dome, but scientists estimate it will actually take about six months each way to travel to and from Mars, and a typical crew will spend about 18 months on the planet's surface. That's two-and-a-half years living together and sharing the same food. At the core of the project, says commander Angelo Vermeulen, is the question, "Do you want a happy crew or an unhappy crew?" Since the obvious answer is "happy," how do you make that happen without adding billions to the cost of the mission?
Freeze-dried and dehydrated food is cheap but bland. On top of that, pre-prepared foods all tend to smell the same, says Sian Proctor, a geology professor from Arizona and one of the six crewmembers "on-board" the mission. But it is much more costly to bring the extra water that is needed to prepare meals and clean up afterward, plus there's the cost in man hours when the crew spends lots of time cooking instead of conducting tests and doing other astronaut work.
On Mauna Loa, the crew took turns preparing meals and quickly developed preferences. Thumbs down on the pre-prepared "Kung Fu chicken," which had the taste and consistency of paste, with a slightly chemical aftertaste. Favorites included seafood chowder, sushi, a Moroccan beef tagine, no-bake crustless biscuits and space scientist Oleg Abramov's Russian borscht.
One of Hawaii's shelf-stable staples also garnered good reviews. "Spam played a big part in the recipe contest," says Proctor. "That was unique for me. I really enjoyed it and have a new respect for Spam."
Much of the data from the four-month mission is still being analyzed, but initial reaction by the crew and the researchers is that it was a success. A couple of crewmembers even gained a few pounds.
That success is further evidence that Hawaii Island and the entire state are good places for space experiments and innovations, says Jim Crisafulli. "We think Hawaii has an enormous amount to contribute to the space program," says Crisafulli, director of the state Office of Aerospace Development. "We have the astronomy, the terrain. We can enhance the national space program and our state economy. The sky is not the limit, literally."
Thanks to its extraterrestrial-like terrain, Hawaii Island has a history with the U.S. space program that goes back to the late 1960s and the Apollo missions to the moon. In 2008, NASA tested its autonomous Scarab rover on the rocky slopes of Mauna Kea, where the volcanic soil resembles the surface of asteroids, the moon and Mars. The four-wheeled Scarab traveled to different sites to drill for geologic core samples, which were analyzed by onboard instruments.
The University of Hawaii is likely to play a big role in Hawaii's space future – including both the Manoa and Hilo campuses. UH-Manoa associate professor Kim Binsted was the principal investigator on this Mars simulation program and worked with three scientists based at Cornell University. The project, called the Hawaii State Exploration Analog and Simulation or HI-SEAS, was funded by a $1.2 million grant from NASA's Human Research Program, which extended the program to 2015.
"We have a very close bond with NASA," says Crisafulli, whose job is to promote aerospace-related industries in Hawaii. "Hawaii's state aerospace economy is growing and diversifying, and the support from our legislators is enormous."
In 2011, Hawaii and NASA agreed on a two-year Umbrella Space Act Agreement between the state and NASA's Ames Research Center in Mountain View, Calif., the first such agreement between NASA and a state. "This partnership with NASA will broaden educational and employment opportunities for our local families and bring dollars into our economy," Gov. Neil Abercrombie said at the time. Financial support for the HI-SEAS mission was a direct result of this agreement, as was a program to support small-satellite research at UH-Manoa that has enabled university students to build and deploy satellite payloads aboard rockets launched from the Pacific Missile Range on Kauai.
Another result of the agreement is a collaboration among UH-Manoa's Space Flight Lab, NASA and the Ames Research Center to develop microsatellites with remote sensing capabilities for orbiting the Earth at low altitudes. The agreement has also resulted in joint research between NASA and the Pacific International Space Center for Exploration Systems (PISCES) at UH-Hilo, in distance-related technology between humans and robots. Crisafulli says the initial agreement has been extended for another year and is expected to be extended another year after that. Similar agreements are also in the works.
Private local businesses have also benefited from the HI-SEAS mission. Support for the HI-SEAS project included Kona Lua, which helped with the sanitary facilities, Hawaiian Solar, Dean Bowman Construction and Jessica Cruzan of J.C. Hilo, who modified hazmat suits into space suits.
HI-SEAS is also working with Hawaii Preparatory Academy and Bill Wiecking, director of its Energy Lab, which designed and installed an automated system that collected and transmitted data from the dome. Wiecking and his students are busy analyzing that data.
The six-member HI-SEAS crew was selected from more than 700 applicants from around the world. In addition to Proctor, Vermeulen – a biologist, space researcher, visual artist and social scientist from Belgium – and Abramov, a Russian-born scientist now working in Arizona, the crew included Simon Engler, a scientific programmer from Canada who specializes in robotics; Kate Greene, a science and technology journalist based in San Francisco; and Yajaira Sierra-Sastre, a materials scientist and educator from New York.
Their kitchen was equipped with a small refrigerator, microwave, pantry and center island with a three-burner hot plate and pressure cooker. The crew stayed in shape with a treadmill, yoga mats and a stationary bike. Once a week they ventured out of the dome to explore the terrain, but each time they had to don space suits that weighed about 40 pounds and took an hour to get into.
Psychologically, the toughest issue was separation from friends and family. Emailing on a time-delay – to mimic the communication situation they would encounter on Mars – was their only connection to home.
Within the split-level dome, all participants had their own closet-size bedroom upstairs, separated from the others only by thin walls. Downstairs, in the common area, they shared worktables, computers, a 3D printer and one porthole with a spectacular view of Mauna Kea and beautiful sunsets. Astronauts on Mars may actually not get windows due to radiation dangers, but NASA is working on that.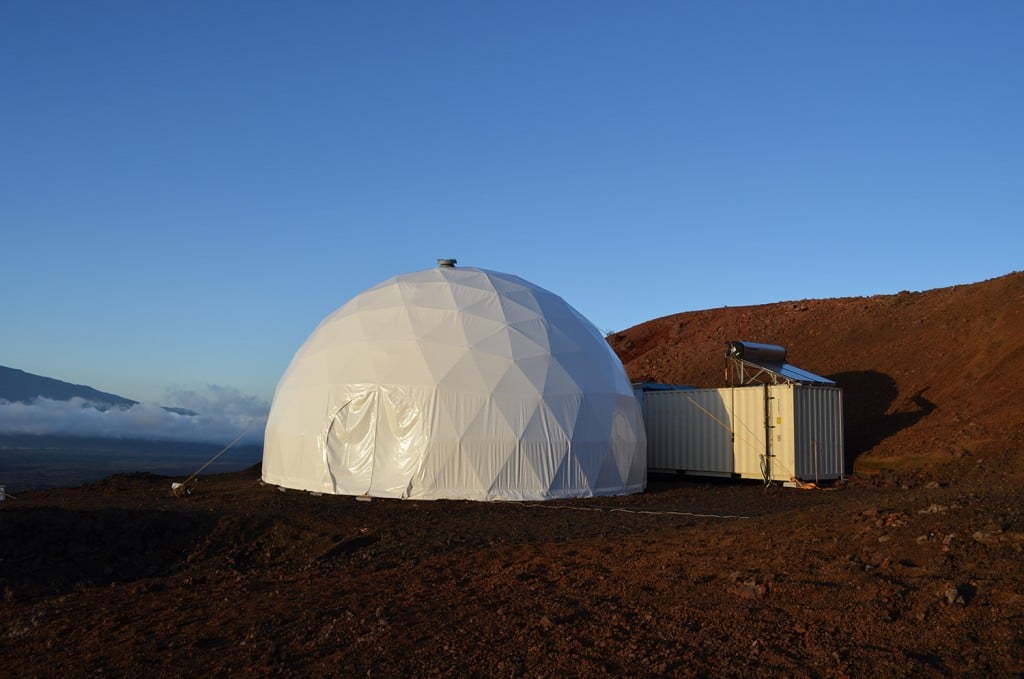 "If they have windows, they will probably be small and thick," says Binsted. "Radiation on, say, the space station is less of an issue than on Mars, in part because their cupola faces Earth, but even so, the crew might reschedule space walks or even shelter in the more-shielded parts of the station if there is a lot of solar activity."
Even if the actual Mars missions get a window, it may not be much help: Crewmembers agreed that as beautiful as their view of Hawaii was, the same scenery every day got monotonous.
Despite living close together, friction with fellow dome-mates did not turn out to be an issue, the crew says. One reason was Commander Vermeulen set up structured days that included mandatory social time. Like a well-functioning family, everyone attended a morning briefing to discuss the day's activities and gathered again in the evening to eat, rate the meals and share their day. The crew unanimously agreed that shared laughter at the dining table created a bond. Vermeulen says a culture of sharing grew in which everyone became aware of each other's research and offered contributions.
"We longed for a moment alone, but we all knew we were in the same boat. Talking was the main strategy," says Vermeulen, who also experimented by allowing other members of the crew to take turns as commander, and was surprised by the variation in leadership styles.
The crew also found that its isolation triggered creativity. Vermeulen grew sprouts to tackle the concern about microbial substances growing on vegetation planted in space while Simon Engler created pots for the plants using the 3D printer. Multiple projects, carried out jointly and individually, left little spare time. Vermeulen even said that, if asked, he would have been willing to spend another month in the dome to continue his research. "We were not bored at all. Time was my biggest enemy. Every single day was too short," he says.
During the experiment, the crew was only allowed outside briefly and only with their cumbersome space suits. So when they emerged after 120 days of isolation, what struck them most were subtleties in the surrounding environment that were lost while looking through a visor.
"Everything is sharp, in high resolution," Vermeulen says.
NASA has conducted other Mars simulations in Arizona and Florida. However, Brian Shiro, a geophysicist with the National Oceanic and Atmospheric Association who is working with HI-SEAS, says the terrain on Mauna Loa most closely resembles that of Mars due to the sedimentary and volcanic landscape. The dome sat in an abandoned quarry, on a lava flow that was more than 2,000 years old.
For the past few years, PISCES, NASA and other international space agencies have been using the lunar-like surface on the lower elevations of Mauna Kea to conduct tests related to space exploration. PISCES has a five-year Space Act Agreement with NASA's Kennedy Space Center, in which the center provides technical support to help develop robotic systems and other technologies required for space exploration beyond low Earth orbit. Such collaborations will help catalyze innovation in Hawaii and engage engineers, scientists, educators, students and entrepreneurs.
"Hawaii is a great place for research and development," says wealthy entrepreneur and videogame pioneer Henk Rogers, vice chairman of PISCES and a major sponsor of HI-SEAS. Hawaii is home to those with an "exploratory gene," Rogers says, and adds that ancient Polynesians who discovered Hawaii took a leap of faith similar to that of today's space explorers.
Rogers designed, financed and installed the dome habitat with crew comfort in mind. "They better have darned nice digs with creature comforts. This is just the beginning. It's going to get better and better," he says, adding that Hawaii stands to gain from missions to outer space and space tourism conducted by private companies.
Indeed, space tourism could be in the state's not-so-distant future.
"We are working on getting a spaceport license for commercial space travel. That would include horizontal-takeoff space planes and vertical sea-based launches. We are surrounded by water and close to the equator, so there is a tremendous opportunity here in the space-launch industry," says Crisafulli.
HI-SEAS has received another $1.2 million grant for three more missions, with the first scheduled to begin in January. In spring of 2015, a one-year study in Hawaii is scheduled to coincide with the joint U.S.-Russian one-year mission to the International Space Station. Hawaii's yearlong mission will provide a comparison to the one in space.
"We have three more missions, between three and 12 months long," Binsted says. "The focus will be on crew cohesion and how to keep the crew happy with each other over that duration."