Inside the Vault at 'Ulu'ulu Archives
Preserving a century of moving images from the Islands.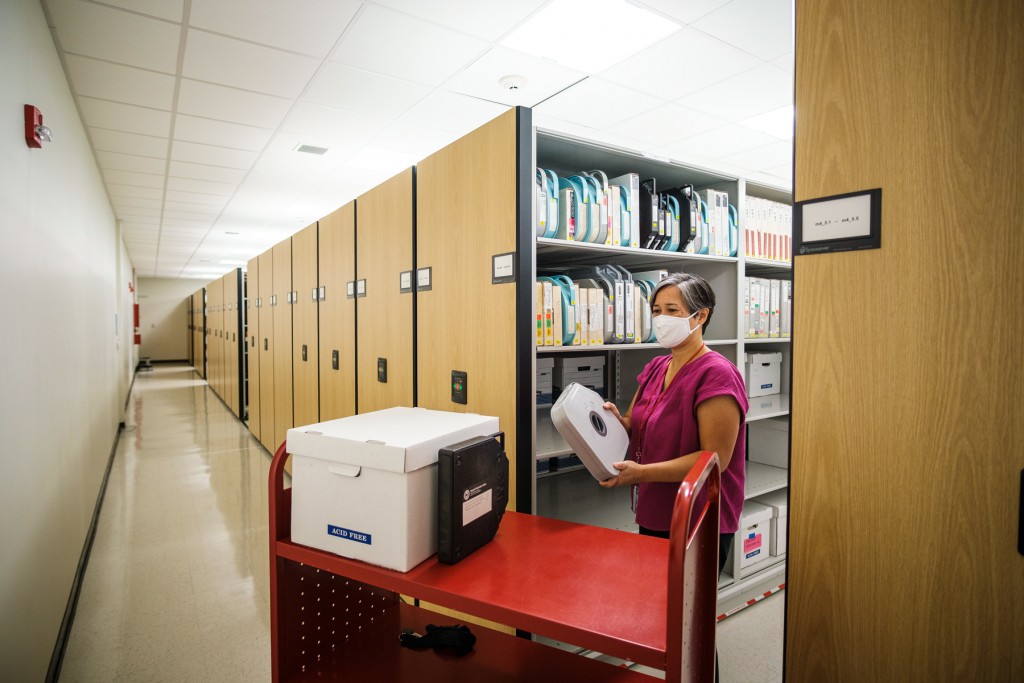 In 1979, seven kūpuna from Kalihi-Pālama gave a stirring rendition of "Molokaʻi Nui A Hina" on PBS' Pau Hana Years, a "program for and by the senior citizens of Hawai'i" that aired in the 1970s and '80s.
The show may be a distant memory and the musicians forgotten. But at 'Ulu'ulu: The Henry Ku'ualoha Giugni Moving Image Archive of Hawai'i, the performance is preserved, digitized and available for viewing. It's a tiny piece of history housed in the vast archive at the UH West O'ahu campus.
"What makes film archives really unique places is the ability to make history much more engaging," says Janel Quirante, head archivist at 'Ulu'ulu, which means collections, assembly or gathering. "Being able to see people's faces and hear their voices telling their stories is a much more visceral way of experiencing history."
Here, Quirante holds a 2-inch quadruplex videotape, one of about 60,000 film and video reels preserved in the archive's vault. Such 20-pound videotapes were used in TV broadcasting in the 1950s to early 1970s. This particular reel was originally housed at the Bishop Museum, says Quirante, but moved after the pilot archive launched in 2009.
'Ulu'ulu's growing collection includes donations from a variety of sources, including UH Mānoa, Hawaii News Now, KHON2, Lyman Museum, Nā Maka o ka 'Āina, Hawai'i Council for the Humanities, Don Ho, and filmmaker Victoria Keith, who has documented Hawaiian culture and land issues since the mid-1970s.
Quirante estimates that about 3,000 hours of original analog material have been digitized – a laborious process that requires specialty equipment to view the original footage. "We have about 57,000 more hours to go," she notes.
Some of the footage lining the vault's shelves are segments of "Hawaii's Kitchen" from 1998, including spots on the East Maui Taro Festival, cuisine of the Pacific and Chai's Island Bistro. The popular food show still runs on KHON2.
Another KHON2 classic is "Let's Go Fishing," which premiered in 1969. Above are segments from 1998, when Tamashiro Market's Hari Kojima was co-host. A 2011 obituary in the Honolulu Star-Advertiser described him like this: "Kojima's blade skills landed him on television. His folksy manner and the easy way he would suddenly break into pidgin English made him a Hawai'i TV icon."
And who can forget those old episodes of "Hot Hawaiian Nights," KHNL/K5's hit TV show that helped launch the career of Israel Kamakawiwoʻole in 1993? Above are recordings from 2002 and 2003 featuring Kapena and other musicians.
Spanning the early 20th century to about 2000, the Ulu'ulu archives are packed with many other "hidden treasures," says Quirante – from unused film footage to 8mm home videos, which she says hold a special place in her heart.
"Families recorded their own histories … that show a Hawai'i that is very personal and comes from people who lived it," she says. "The footage tends to be really special, like landscapes and flowers and food and hairstyles and clothing. It's more of a social history of Hawai'i than standard textbook history."
Visit uluulu.hawaii.edu/themes to explore some of the collections preserved in the vault. For collections that have been digitized, students, researchers, filmmakers and others can arrange to view the material online.
---
A look inside UH West O'ahu's Digital Emerging Media Lab
Check out UH West O'ahu's Digital Emerging Media Lab "Create(x)." It's a space for students, faculty and the community to create more innovative projects in creative media and research.