Moving Your I.T. And Data Into the Cloud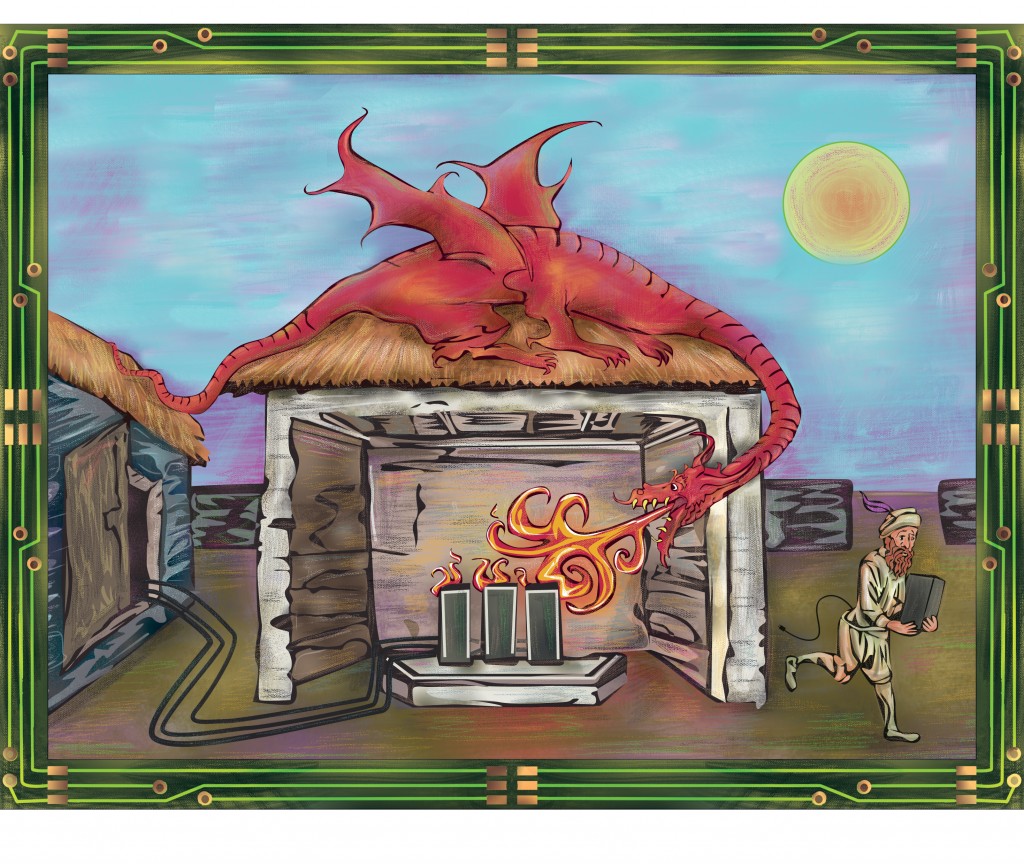 Our scribe explains the practical pros and cons of cloud computing, while our artiste tells the same tale as an epic quest for the holy grail of computer nirvana
Arnold Domingo, operations manager of HawaiiPrint, a graphics and textile printing service in Honolulu, was trying to do a physical inventory of company assets and accounts several years ago.
He was using Quickbooks software on one of the company's internal computers, "When all of a sudden it froze on me. I lost everything I was working on."
He contacted Jacob Petrosky of Honolulu's Digitech Solutions, who essentially advised Domingo and his company to move into the "cloud" – to put all their data and information-technology operations into a remote server with enough computing strength and backup to make such a crash much less likely.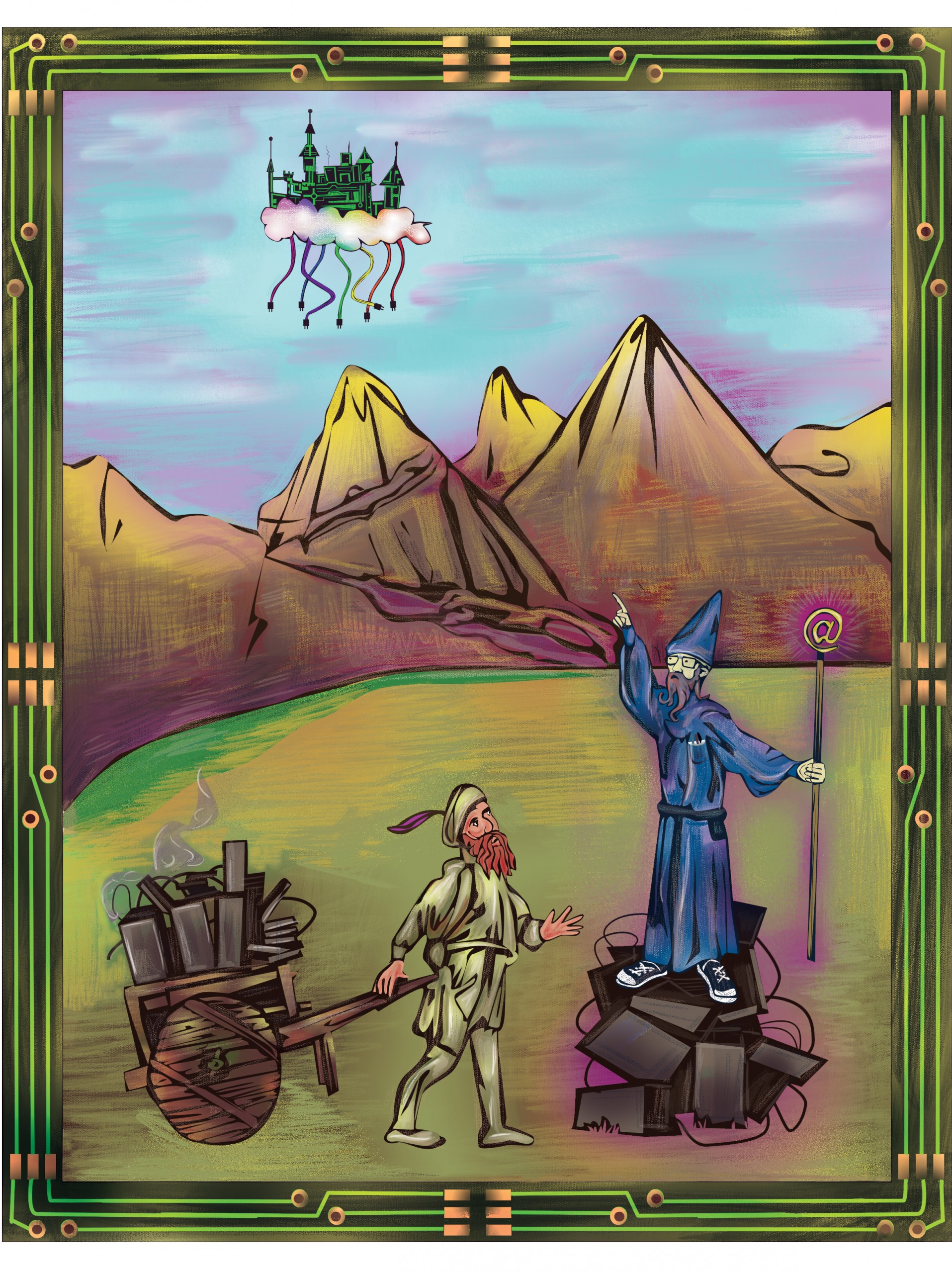 "Basically, it has been awesome," says Domingo. "For instance, we have an outside CPA and, previously, when they worked with us, they had to come into our offices and get on to one of our computers. Now they can do their work from anywhere."
Many other local companies have also abandoned their own servers and signed up with cloud-computing companies. The benefits are numerous. For instance, Domingo says, when he travels, he can instantaneously write checks, get stock status or do whatever work needs to be done from wherever he is. In the past, he often had to wait until he got back to the office to do the work.
In effect, HawaiiPrint's entire IT world has left its offices and lives in a bank of supercooled Cisco servers in a secure building on Bishop Street in downtown Honolulu. That's where Petrosky maintains his "cloud." But Petrosky, who initially dipped into the computing world when his brother got a first-generation Tandy computer from Radio Shack, is the first to admit that cloud computing is not for everyone.
There are, he says, issues of security, cost and even legal implications. But, when it makes sense, companies – particularly small and mid-size firms – can reap huge benefits.
With the economy struggling, he says, "People want to close their offices. Rent is high. So we take the server out of their office, virtualize it and put it on our servers. Then they can work from home or wherever."
Cloud computing, Petrosky says, is "kind of a funny buzzword," since people have almost always have had some kind of access to remote computing. If you've ever used Google or one of the Internet mail services such as Yahoo, you have been in one kind of cloud or another. But, today, a growing number of companies are putting more and more of their computer files and software in the cloud instead of in servers somewhere in their building. That cloud might be in Hawaii, or somewhere on the Mainland or in multiple places.
Getting a handle on the overall value and growth of cloud computing, whether in Hawaii or nationally, is difficult.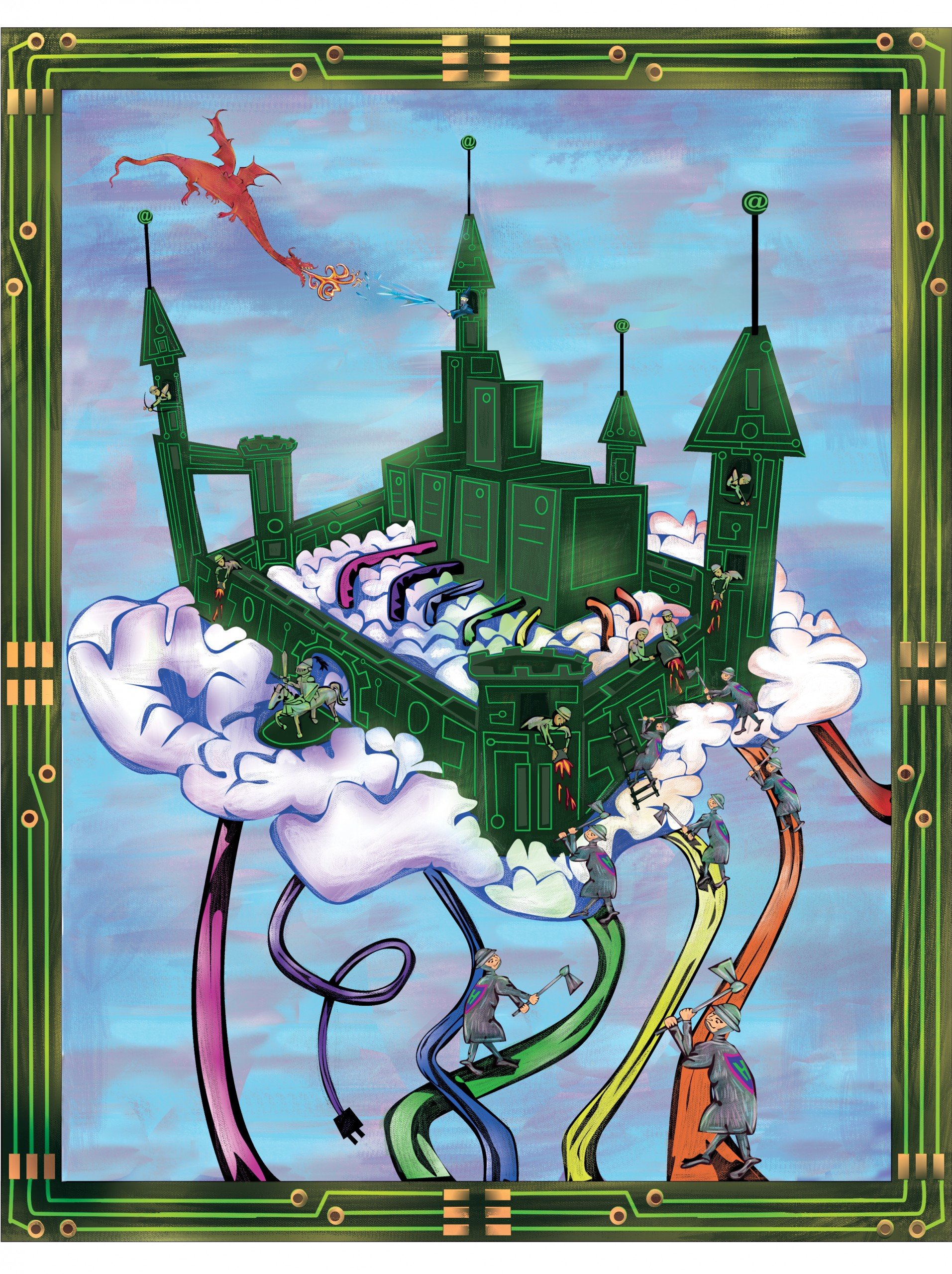 One study by Merrill Lynch suggested the cloud-computing market would reach $160 billion by the end of this year. Others peg the figures lower; whatever number is correct, much of the spending is not new, simply money shifted from more traditional technology.
Despite the terminology, Petrosky says, the cloud is practical, not magical. "All we have, really, is redundant power, our servers are ice cold and we have high security and excellent Internet access," he says. And there are always plenty of backups.
For a host of reasons, cloud computing is taking off. In fact, Petrosky's landlord,Wavecom Solutions, which provides space and facilities to Digitech, is moving into the cloud-computing business itself with a product called WaveFlex, which will operate secured data centers on Oahu and the Big Island.
Bob Teague, head of marketing for Wavecom Solutions, says the company recently moved into cloud computing services that range from raw hosting to offering, maintaining and refreshing the latest software. No more tearing the shrink-wrap off the software box and figuring out how to install it on the office computer.
If a business were not connected to a fairly robust Internet service, it would have to do so before migrating to the cloud, Teague says. A dedicated line might be necessary. The cloud's "Achilles Heel" is the network, Teague says. It has to be on, ready and fast around the clock. That's one reason Wavecom has a server station at remote Kawaihae on the Big Island, where a powerful fiber optic cable comes ashore.
Teague understands the misgivings of some businesses. "A lot of companies don't want to put mission-critical data into a (public) cloud," he says. And while most cloud services can handle almost any software a business might want to use, it has to be of a "recent enough vintage" so that it can be virtualized on the company's servers.
One of the biggest advantages of the cloud is on the development side, Teague says. If a company wants to explore new software or new solutions, it does not have to grab expensive hardware; it can simply jump up on the cloud.
Top-scale "farms" of servers located in Hawaii or elsewhere are not the only model. Peter Kay, an early advocate and promoter of the Internet in Hawaii, is about to launch a cloud company that takes a different approach. OpCloud.comwill piggyback on the massive computing power of Google and Kay's role will be to advise clients on how to use it. In effect, he will become an authorized Google reseller.
"I've been living this myself for the past 10 years and I realized there was a need to sell this to others," Kay says. "What cloud computing represents to me, finally, is more of a movement, the ability of people to be free to work wherever, whenever and however they wish, using whatever device they want. It's a tremendously liberating thing."
Kay's business model would rest on providing professional services and consulting, and receiving commissions from Google when customers join its cloud. "What we want to do is provide a space where businesses can join and share expertise and experiences. It's something different."
Burt Lum, well-known Honolulu technology consultant, commentator and self-described "digital Ronin," sees great potential for cloud computing but retains a bit of skepticism.
"You know, it is a bit of a marketing thing," he says. "If you use Google Docs, you are using the cloud. But, on the upside, the whole idea of shrink-wrapped software is long gone. It is all up there now."
The downside, Lum says, beyond the usual questions of security, is that you are ultimately dependent on whatever software your cloud host offers or is willing to service. He has run into this problem, finding that spreadsheets he has developed do not function properly on the cloud server he uses.
"If you are dependent on something that is not physically available to you, you can be in trouble," Lum says.
Also, no matter how robust the security wall is at the server farm you use, there is always the potential for hackers. "The more you rely on these cloud services, the more the potential for some of these hackers to get in.
"You have to decide: Do you want to go in that direction or do you want to isolate yourself?"
Security And Legal Issues
The top-of-mind issue for most people considering moving their IT activities to a remote "cloud" is security. Will there be a firewall? Who has access to your data? What happens if it goes down for any reason?
Good questions, and most providers have answers. But there are other questions to consider. Jason Bloomberg, managing partner with Zap Think, an IT consulting firm based in Baltimore, Md., laid out some legal issues in a recent blog post:
• Where is your cloud provider physically located? The legal rules about access to information and regulatory rules might be different from the place where you do business.
• If you need to arbitrate or sue, whose rules will apply?
• Moving data can be tricky. Some jurisdictions have rules about the movement of information, just as they have rules about the movement of physical goods across borders.
• The Patriot Act gives enforcement officials wide access to data stored wherever it might be. You might be totally uninvolved, but enforcement officials could access your data.
• You may have important data that is attorney-client privileged. What if a third party, the cloud provider, is in between? What are the legal ramifications?
Bottom line: This is something for you and your lawyer to discuss. Some thinking can be found at www.zapthink.com.