Multimedia Innovator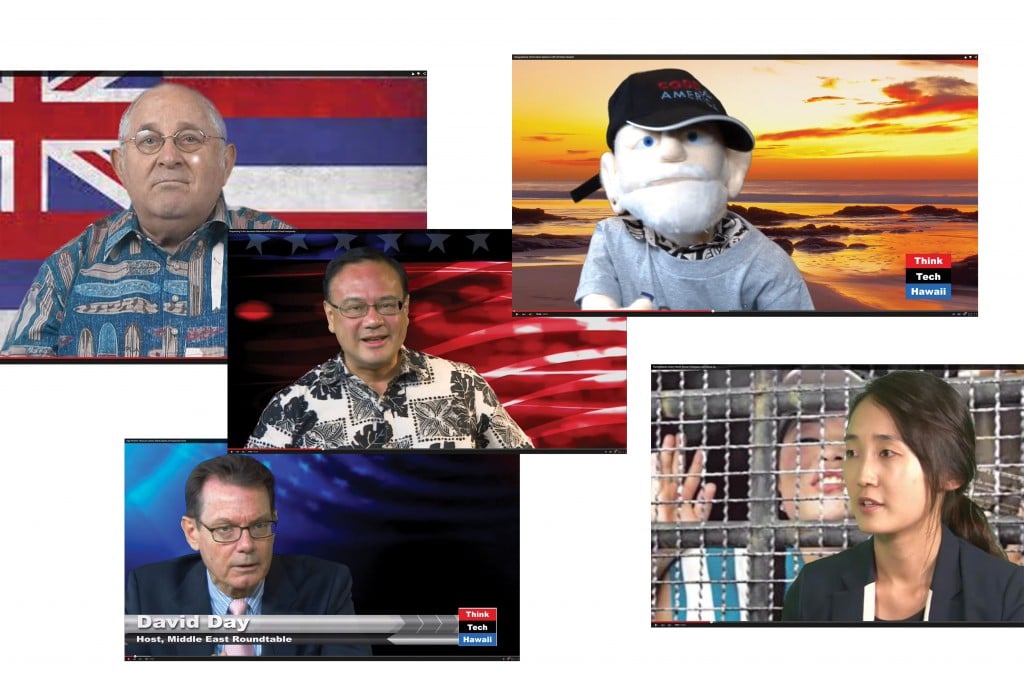 Jay Fidell didn't set out to be a journalist. The founder of the ThinkTech Hawaii arrived here from New York in 1965 as a Coast Guard lawyer and military judge.
"It was the time of Vietnam, and war was in the air," Fidell says. "But I had a really wonderful time in the service and learned a lot."
So it followed that, in 2001, after the USS Greenville submarine struck the Japanese training ship Ehime Maru off the coast of Oahu, PBS in Washington, D.C., asked him to cover the court of inquiry into the disaster that killed nine people.
"Jay thinks about ThinkTech 24/7. He has so many ideas, my job is to keep him real."

— Carol Mon Lee , COO, ThinkTech Hawaii

Fidell reported daily to the nation, standing on a chalk mark outside of Pearl Harbor. "That was the turning point when the bug (for journalism) bit me."
Now in its 15th year, ThinkTech is a multimedia company and 501(c)(3) nonprofit with stories in print and online, on the radio and TV. Downtown public forums are held monthly at the Laniakea YWCA.
At the time of the Ehime Maru disaster, Fidell and a group of high-tech advocates had just founded ThinkTech to shine a spotlight on technology, globalism, energy and economic diversification in the state.
"We were (and still are) looking for ways for Hawaii to be progressive," he says. "Science is the progenitor of technology. That led us to sustainability, then to aquaculture, agriculture and, ultimately, climate change. We were thinking about Hawaii beyond these shores."
The nuts and bolts of ThinkTech's mission is to create public awareness and enhance civic engagement. Each weekday at ThinkTech's downtown studio in the Pioneer Plaza, volunteer hosts engage community guests on local and global issues in 45-minute interviews streamed live on the Internet from noon to 5:00 p.m.
"I like people to belly up and do the shows live," Fidell says. "I don't want people to get into the rhythm of a replay."
In a typical week, topics ranged from "New Developments in Hydrogen" to "Managing Offshore Investments" to "The View From Delhi" to the eye-watering "Sausage Making at the 2015 Legislature." Hosts choose their subjects and invite their guests, with some reporting live via Skype from Asia and Europe. "We get a very nice array of content every week," Fidell says.
"If we were to centralize choosing guests for the shows, it would be overwhelming," he says. "… But by distributing that choice among our (25) hosts, we can reach further, and that is central to our model. We provide the platform and the equipment, then we broadcast the show and let it flow through our system."
Alice Li Hagan, director of custom executive programs at Shidler College of Business, hosts a weekly webcast, "Business Education Spotlight."
She's interviewed the Kalani High School Robotics Team 3008, the executive director of the Hawaii Opera Theatre, a chocolatier, the dean of UH's John A. Burns School of Medicine, and a social-media entrepreneur from Bangladesh, among others.
"I like people to belly up and do the shows live. I don't want people to get into the rhythm
of a replay."

— Jay Fidell, Founder, ThinkTech Hawaii
"Jay is passionate about promoting civic engagement," she says. "He has this amazing ability to recruit hosts from really diverse backgrounds."
"The tech community talks to each other all the time. Reaching beyond that to bring issues to the wider audience is one of the program's great strengths," says author and occasional ThinkTech guest Jerry Burris, the former editorial page editor for The Honolulu Advertiser. "Jay is good at identifying and surfacing issues and then focusing in on a very specific debate with a good mix
of people."
Each month, ThinkTech gets about 18,000 views on YouTube – just one of its media channels, says COO Carol Mon Lee. It also airs 12 hours of talk shows weekly on cable access
channel Olelo and has a show on Oceanic Cable channel OC 16 every Sunday at 10:30 p.m. Learn more at ­thinktechhawaii.com.
"Jay thinks about ThinkTech 24/7," says Lee, who acts as a kind of Earth-to-Fidell grounding link. "He has so many ideas, my job is to keep him real. Forget law, this is where his heart is!"
Lee, the former associate dean at the UH Law School, came on board last year to help Fidell shape a professional structure for the company, up until then a one-man show.
ThinkTech pays only a small crew of technical people: a floor manager, control room engineer and social-media manager. Everyone else is a volunteer. To cover costs, "We have about a dozen underwriters, with no strings attached," Lee says, adding, "We're certainly not rolling in dough!"
The goal is to shape ThinkTech into a modern digital-media company for the future. "We have a lot of friends in the community who like what we do," Fidell says. "We've got supporters financially, intellectually, socially and politically who we hope will help us do what we have to do. We care a lot about making this work."
Watch ThinkTech Hawaii
Online stream: ThinkTechHawaii.com
Youtube channel: youtube.com/ThinkTechHawaii
Television:
Sunday, 10:30 p.m.
Oceanic Cable channel OC 16