My Job: Weather Anchor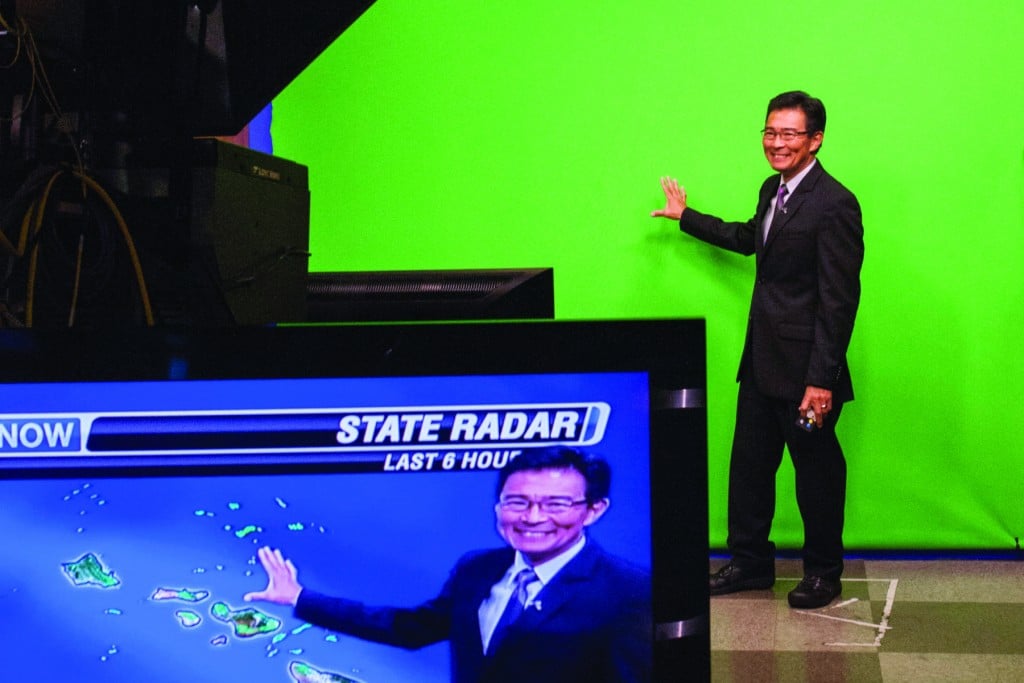 Name: Guy Hagi
Job: Weather anchor at Hawaii News Now
Experience: 15 years
Hagi will never forget his first day as the weather anchor at KGMB.
He had just returned from a family vacation to New York City. It was Sept. 10, 2001. The next day, he and his wife, then-anchor Kim Gennaula, woke up to a ringing phone. "People were calling us from all over the mainland," he says. "My grandma called and said, 'Are you guys home? Are you OK?' We turned on the TV and realized we were being attacked."
That day, Hagi would debut as the station's newest weather anchor, but because of the terrorist attacks on the World Trade Center, he was told to just deliver the weather in 45 seconds. No fanfare. 
"There was no, 'Let's welcome the new weather guy,' " Hagi says. 
Start:   
Hagi grew up surfing the breaks off Ala Moana and got a job working at Town & Country Surf. The shop provided a daily surf report to two local radio stations and when professional surfers proved unreliable, Hagi filled in. "They figured, 'Hagi can speak English fairly well. Let's have him do it,' " he says, laughing. "There were only a couple of people doing it and the station would replay it every half an hour, so my name got around. Wally Zimmerman (of KITV) wanted to reach that surf audience, so he called me in."
Best part:   
"I like the people I meet and the access I have," Hagi says. "In the surf-marketing business, I knew all the surf stars, but that was a small syndicate. … I got wider access once I got on TV. I go to the same function as the governor and I get to talk to him. I get to talk to the movie star who walks into the studio for an interview."
Misconceptions:   
"People don't understand that there are no guarantees with the weather. … There's no way of predicting accurately 100 percent of the time. The public thinks it's my fault, that Guy got it wrong. We're trying to teach everybody that the weather is unpredictable, but we're using the best science we've got."
Challenges:   
With Hawaii's nearly perfect weather, the hardest part is trying to make that interesting, he says. "Right now, we're in a stretch of weather that's fantastic and yesterday's forecast was similar to today's, and I've got the same people watching. The toughest part is trying to look for different ways to tell the story."