Nalu Health Bar LLC: Small Biz Editor's Choice Award winner for Food
"I describe Nalu as the power of friendship, how four friends made it happen against all odds," says Tomas Kloosterboer, co-owner of Nalu Health Bar.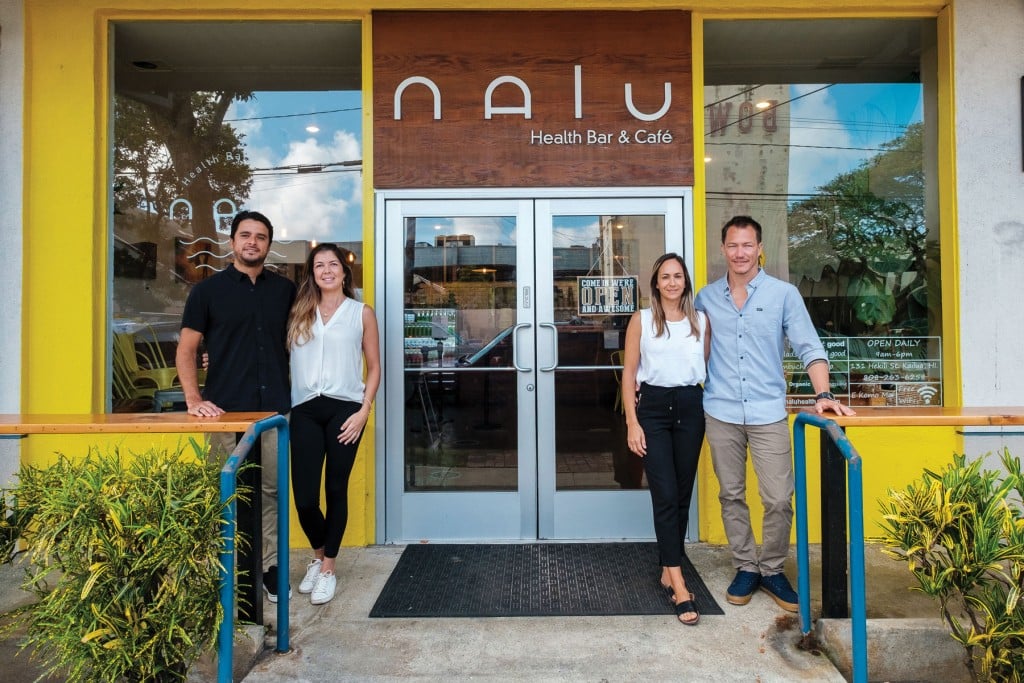 Nalu opened in August 2015 when two couples decided Kailua lacked a hip wellness cafe where people could pick up healthy, fresh food after an afternoon on the water or in the mountains.
The couples – Tomas Kloosterboer and Justina Ladogana, and Jota Munoz and Christiane Pfisterer – opened a cafe that reflected their South American roots and devotion to locally grown food. Together, they have totaled over $8.65 million in sales at three locations: Kailua, Hale'iwa and Kaka'ako's South Shore Market, Kloosterboer says.
The concept for Nalu was conceived on the water and developed in their kitchens. Kloosterboer says after long afternoons surfing in Kailua, they would go to the Kailua Foodland store to buy fresh ahi and make sandwiches at home, which they later called "Millionaire Sandwiches" because they could barely afford them. Armed with multiple homemade recipes, the four-person team wrote an ambitious 50-page business plan and launched Nalu.
"We threw ourselves in the fire and were like, 'Let's just go for it and we will figure things out as we go,' and turns out, it worked," says Kloosterboer.
The partners closed all locations in March 2020 at the outset of the pandemic but reopened both the Kailua and South Shore Market stores in May with safe take-out options. Kloosterboer says they look forward to gaining back what they lost to the pandemic and hope to open up cafes in Waikīkī and Kapolei in the near future.
"We've been through ups and downs, but we are still laughing every day."
SmallBiz Editor's Choice Award 2021 – Food
Nalu Health Bar LLC
Tomas Kloosterboer, Jota Munoz, Justina Ladogana & Christiane Pfisterer
Banker: Anna Lui, First Hawaiian Bank
Click here to see all the award winners from the 2021 SmallBiz Editor's Choice Awards and Hall of Fame inductees >>