Nalu Scientific Measures the Universe from Hawai'i
The local startup founded by UH researchers develops cutting-edge technology for use around the world, underwater and in space.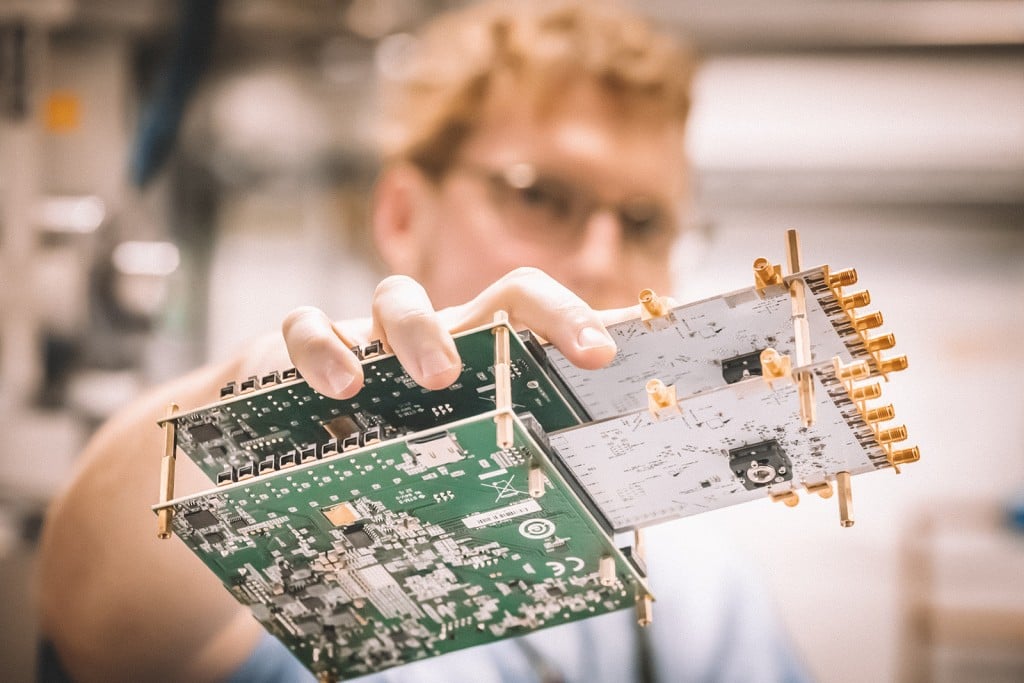 At the heart of every thriving innovation community is a university or two that conducts research, educates and inspires young minds, generates cutting-edge ideas and fosters startups that take products and services to market.
UH, and especially the Mānoa campus, play that essential role for Hawai'iʻs startup tech community and one of its recent and growing successes is Nalu Scientific. The company, founded in 2016 by Isar Mostafanezhad after conducting postdoctoral research in Mānoa's Physics Department, focuses on advanced electronics, including interfacing with sensor applications in fast-timing measurements.
The company says its cutting-edge technology is used in many areas, including electron collider experiments, remote sensing applications in space, medical imaging technologies and underwater distance measurement using a method called lidar.
Steve Auerbach, interim director of UH's Office of Innovation and Commercialization, says Nalu has been awarded more than 23 federal Small Business Innovation Research grants and has received more than $10 million in funding in its five years.
"On this journey, Isar has collaborated with a number of UH researchers on research and product development, employed a number of UH students and UH graduates, mentored innovators and entrepreneurs looking to follow in his footsteps, and has volunteered his time in various ways to support UH's and the state's efforts to diversify the economy," Auerbach says.
"As a UH alumnus, Isar is an inspiration to students and researchers and a role model for those looking to join forces with the innovation and entrepreneurship community to create more high-tech jobs for our local students and diversify our economy."
Kenneth Lauritzen started as a Nalu intern while a UH engineering student and now works there as a junior engineer. "If not for Nalu Scientific, I would have moved out of Hawai'i for a job in my field. There are very few opportunities in Hawai'i as interesting as the one that Nalu Scientific provides," he says.
Senior engineer Ryan Pang had spent 10-plus years on the Mainland working on aerospace, automotive and consumer electronic systems. "Nalu Scientific allowed me to return to Hawai'i and to remain in an R&D-centric engineering position rather than having to transition into a different engineering role," he says.
Mostafanezhad calls UH a "first class university" and says he's glad Nalu has allowed some of its graduates to live in Hawai'i while working in high-tech jobs. "My family had to come to the United States to have an opportunity to develop our talents and thrive. I understand what a sacrifice it is to leave home in order to build a successful life," he says.
"I'm grateful that Nalu has made it possible for many locals to study and work toward a career in engineering, and then be able to have an engineering job right here in Hawai'i."
"Work from home has a new meaning today, but for kama'āina, it has been a common and persistent goal to be able to stay in or return to Hawaii. To be able to earn a living here and actually enjoy the quality of life only Hawaii offers is something I hope every local company will be able to provide."
Auerbach says UH's Office of Innovation and Commercialization fosters collaboration between UH and the community to innovate local businesses and create high-quality jobs. "Nalu is a prime example of this and Isar is working with UH OIC to share his knowledge and replicate and scale his successful model," Auerbach says.
"I view the work that Nalu Scientific is doing as a force multiplier."
He says UH's research and academic enterprise brings in more than $400 million in annual outside funding. "Partnerships and collaboration with the private sector is foundational for a thriving innovation and entrepreneurship ecosystem."
He says one way to grow the local innovation community is to inspire more young minds. "In my opinion, we need to do more in the area of outreach and engagement with our K-12 and postsecondary students in helping them understand, appreciate and engage in innovation and entrepreneurship.
"When we have cool, deep tech/science/STEM startups like Nalu Scientific for the next generation to see, touch and interact with, great things will come from this."
The most promising part of Nalu's work is Mostafanezhad's team culture, Auerbach says.
"He has embraced and put into practice a culture of innovation, entrepreneurship and community engagement. He spends time working with UH and the next generation of founders to help them navigate their research, technology and startup journey. … Isar combines his deep understanding of complex scientific and technical problems with his business acumen to develop solutions that fit market needs, which in turn, helps our community diversify the economy."
Pang, the senior engineer, is optimistic about the future for both Nalu and Hawai'i's broader scientific community. "I think that Nalu Scientific has a lot of potential to help build Hawai'i's high-tech economy," he says.
"I think there's a misconception of what it takes to be a technology company in Hawai'i. In this day and age, the ability to coordinate and collaborate with people around the world is as easy as a click of a button. It's as easy to develop here in Hawai'i as in Silicon Valley," Pang says.