Nurturing Wonder in Kids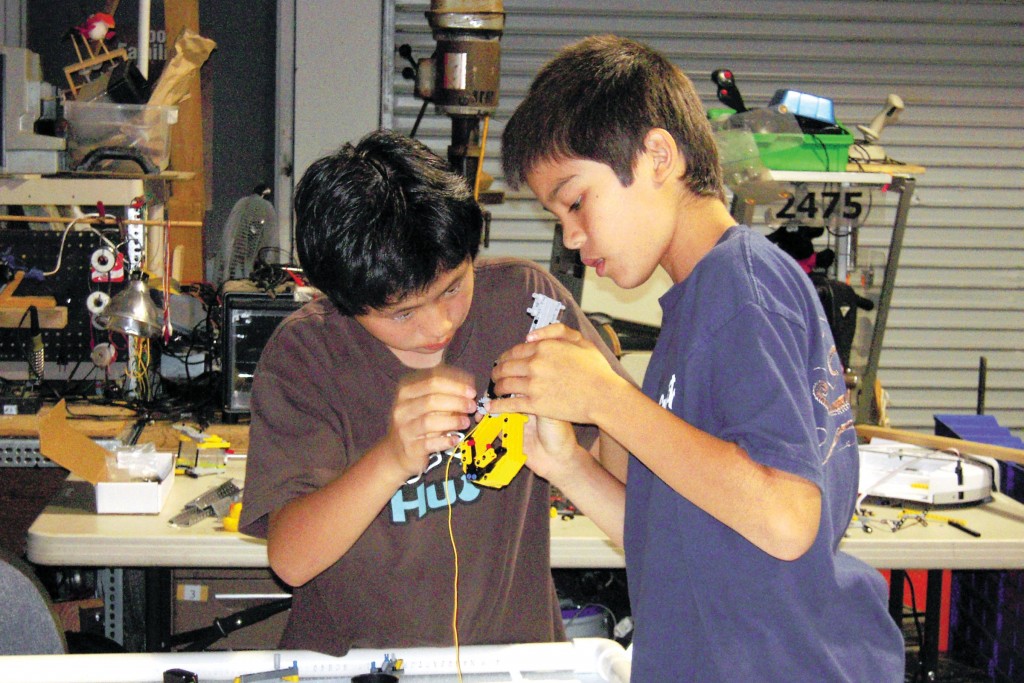 Earl's Garage is all about inspiring a sense of wonder in youngsters and nurturing their passion for learning.
Located in a warehouse-size garage in Waimea on Hawaii Island, Earl's Garage offers afternoon programs five days a week, according to program leader Katherine DuBose. On two days, children ages 5 to 18 work with adult mentors on robotics, both land-based and underwater. For two days, they focus on Growbotics, creating their own imaginary rural community. On Fridays, Earl's Garage is open for free-form tinkering.
DuBose says she came up with the basic idea for Growbotics, but the children have taken it far beyond her vision, and that's the way it's supposed to work. They envisioned and laid out their rural community, decided how to make it work and actually created systems for sustainability.
Noa Gagner, 14, and his mother, Emily Rogers, agree that Earl's Garage is worth the 40-minute drive from their home in Laupahoehoe. Noa has been coming for three years and says he has not only learned how to create robotics projects, but how to solve problems, and now wants to be an engineer.
The program began in 1999, DuBose says, and the earliest participants are now in college, with several in majors that they say were inspired and nurtured by their time at Earl's Garage. They include Max Barreto and Shasta Rizzi, both now 18. He's at University of California at Berkeley, majoring in mechanical engineering, and she's a freshman at Vanderbilt University who is leaning toward a major in engineering.
Earl's Garage was launched by the nonprofit Friends of the Future and inspired by Dr. Earl Bakken, now a Hawaii Island resident. He co-founded Medtronic in 1949 in a Minneapolis garage. One of his early projects was the first wearable, battery-powered pacemaker, and today, Medtronic is one of the world's leading medical-technology companies with annual revenue of $16 billion.
The budget for Earl's Garage is $80,000 a year, with funding coming from a trust created by Bakken, grants, and individual and business donations.
DuBose is laying out a five-week summer program, with each week devoted to a stand-alone project. Last summer, participants made electric guitars from cigar boxes. Another week, called Mechanical Mayhem, they turned the entire garage into a giant Rube Goldberg contraption.
www.earlsgarage.org
808-855-6777