With Fewer Houses for Sale, O'ahu Condo Sales Boom
Realtors say that's a normal part of the real estate cycle: Condo sales usually increase when fewer single-family homes are for sale.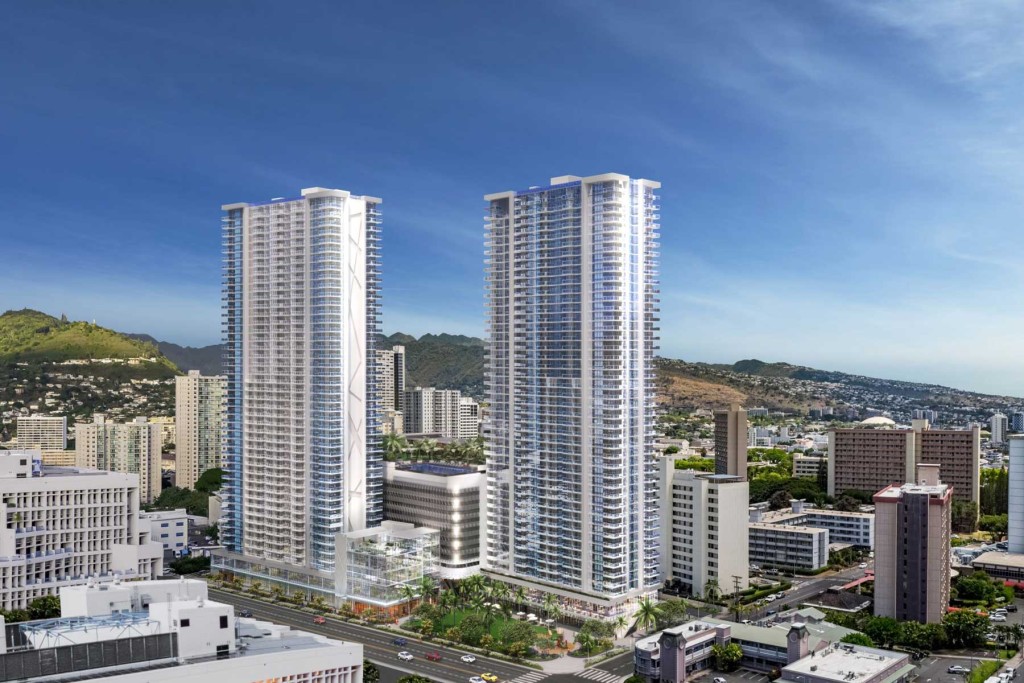 Oʻahu's condominium market heated up in 2021 and started 2022 just as hot.
Condo sales were sluggish in 2018, 2019 and 2020. When buyers sought more living space starting in the summer of 2020, they preferred single-family homes.
But 53% more condos were sold on O'ahu in 2021 compared with 2020: 7,203 units vs. 4,706.
The increase in median price was more modest than the increase in sales: In December 2021, it was $475,000, up 9.2% from December 2020, according to statistics from the Honolulu Board of Realtors.
January and February of this year were also hot sales months for condos. The number of single-family homes sold has inched up just 2.9% in the first two months of the year compared with the same two months last year. But condo sales increased 24% in the same period and the median price for those two months, at $500,000, is 9.9% higher.
"It's not an abnormal cycle," says Myra Brandt, broker and partner with Corcoran Pacific Properties. "That's just the nature of our market." When there are fewer single-family homes for sale, the condo market heats up, she explains.
The number of condos sold in January and February at 1,038 was nearly double the 567 single-family homes sold, and the number of new condo listings was also double that of new listings for single-family homes.
Sales Up 66% in Waikīkī
The busiest areas for condo sales this year are Ala Moana-Kaka'ako, where sales nearly doubled in January and February compared to last year; Makiki-Mō'ili'ili, up 39%; Mililani, up 31%; Moanalua-Salt Lake, up 25%; and Waikīkī, the largest condo market on Oʻahu, with a 66% increase.
Doug Shanefield, a Realtor-associate with Coldwell Banker Realty's Honolulu office, cautions that those numbers reflect a short period of time, "but if you look long term, it's more stable."
"We've had nice increases over time in a long cycle and that's happening again now," he says, noting that sales rose by 9% in February, while the median price rose 8.6% to $497,000. "But we actually still haven't reached the peak of the number of sales in a given year back in the last boom" – in 2005, when 7,990 units sold.
A lot of new condos that appeal to a wide range of buyers are coming on the market, says Shanefield, who is part of the Coldwell Banker sales team for The Park on Keʻeaumoku, a 972-unit mixed-use project that Nan Inc. is developing on Ke'eaumoku Street, a block makai of King Street in an area dubbed Midtown Ala Moana.
Buyers are also increasingly conscious of a condo's age, he says, noting that many of Honolulu's condo buildings are 40, 50 or 60 years old and require assessments and fee increases to cover costly maintenance and repairs, including the installation of fire sprinklers.
"People are looking at newer buildings and are willing to pay a little bit more for a new building where they have the sprinklers, as well as newer facilities and newer materials, so that they don't expect maintenance fees to be quite as high, or at least to be controllable, in the next decade or so," he says.