O'ahu's Priciest Homes Sell Fast – Often Above Asking Price
The demand is strong, Realtors say, but there are few homes for sale at the highest end of the local market. Demand will likely increase when international buyers return.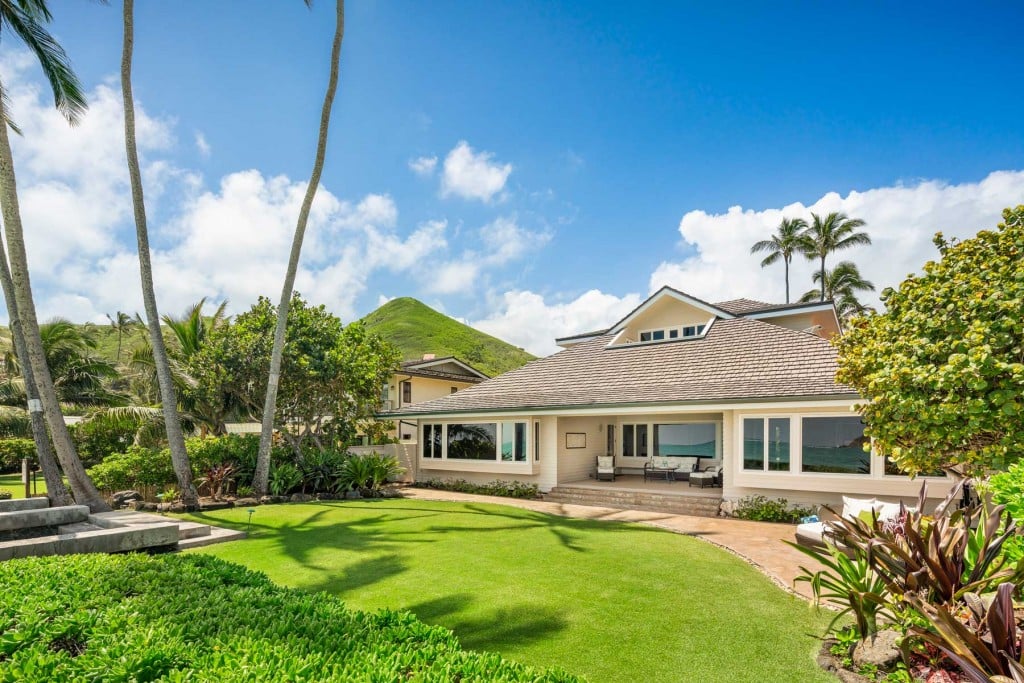 An oceanfront home in Lanikai with a postcard view of the Mokulua twin islands sold for nearly $11 million last week, the first $10 million-plus sale on O'ahu in 2022, and local Realtors expect brisk sales this year with more buyers than listings in that ultra-high-end market.
The property on Mokulua Drive has a main house with 5,867 square feet of space, five bedrooms, five full bathrooms and two half-baths and a 3,082-square-foot guest house with five bedrooms and 3 ½ baths on a half-acre of land with 75 linear feet of ocean frontage.
It closed on Jan. 31 for $10.89 million, the highest price for a residential property so far this year and the fourth-highest price for a single-family home on O'ahu in the previous 12 months, according to Multiple Listing Service data.
It also follows an unprecedented number of highest-end home sales in Hawai'i last year, when more than 75 single-family homes or condominiums closed for $10 million or more statewide, topped by the $45 million sale of a beachfront home in Wailea, Maui.
Less Inventory than Neighbor Islands
There were 10 residential sales of $10 million or more on O'ahu in 2021. Half were condos in Kaka'ako and Waikīkī, while the other five were single-family homes in Diamond Head and Kailua, topped by a beachfront Lanikai home that sold for $24 million in July, the highest price on O'ahu in more than 15 years.
"O'ahu doesn't have the inventory that Maui or the Big Island or Kaua'i have at that price point," says Tracy Allen of Coldwell Banker Realty, who represented the seller of the Mokulua Drive home that closed last week. "Our buyer profile is different – a lot of the buyers come here specifically because they have ties to O'ahu, or they're here for some kind of business, or they're here because of the medical (facilities).
"Those buyers will also look mainly at Kailua and Lanikai, as well as at Diamond Head and Kāhala — sometimes, too, the North Shore, where at least one home sold for more than $10 million," Allen says.
But lately it's been Lanikai and Kailua Beach, where more of O'ahu's higher end homes have been available to buy, she adds.
Ruthie Kaminskas of Corcoran Pacific Properties, who represented the seller in the $24 million transaction last year, also represented the buyers of the Lanikai home that closed last week, as well as a mauka Lanikai home that closed for just under $7 million on Feb. 3.
Kaminskas says her clients flew in from the mainland to see the house and "fell in love instantly, so we offered full price."
They were lucky.
Little to Choose From
Those seeking beachfront properties on O'ahu in the $10 million-plus price range will find little to choose from. There are only 19 single-family homes on O'ahu currently listed for $10 million or more, and four others are in escrow.
Only two of the listings are in Kailua: One home on Lanikai Beach went on the market during the first week of February for $12.5 million and another, a modern Lanikai hillside home on Lama Place with expansive ocean views, is listed for $14.8 million.
"I do have a lot of buyers, we just don't have the inventory, period," says Kaminskas. "We just don't have a lot to offer the luxury buyer at this point. We don't have enough to offer anybody."
Allen says that while her Lanikai listing sold for the asking price of $10.89 million, many homes, even those at the highest end, see multiple offers that drive the final price higher than the asking price.
Allen says a listing for a beachfront property on Kailua Beach had four or five competing offers before closing on Dec. 28 for $9 million, more than $2 million over asking price.
"Everything is multiple offers, regardless of the price point," Allen says. "I've never had inventory sell so fast and quickly with this much competition."
Work-from-Home Factor
Allen says the shift to work-from-home during the Covid pandemic inspired some wealthy buyers to move to Hawai'i and make the Islands their primary residence, while others bought second homes with the intention of spending more time here.
Anyone looking for beachfront property on O'ahu must wait for new listings and expect to pay more.
"This is the new baseline – if you want to be on the beach, or the ocean, in Kailua or Lanikai, this is the new standard, the new $8 million number is normal," says Allen. "Before we would push to that, and now it's the normal baseline, and it's going upwards from there."
Another factor affecting sales and appraisals is the speed at which these homes sell.
Appraisers looking for comparable properties are looking at closed sales when properties are in escrow for more than asking price, Allen notes.
So even if a buyer is paying with cash, "it's difficult for the appraiser to meet that price point, because the closed comps that would normally support it aren't going to close for another three to four months."
And there is an interplay between luxury condos and single-family homes, she says. A lot of people who downsized from homes in Kāhala or Diamond Head for luxury condos in Kaka'ako or Ala Moana came back to buy houses again once the pandemic started, Allen says.
And they are holding on to the condos even as they buy houses.
"They bought these luxury houses and they are using them still on the weekends," she says. "I think you're going to still see migration between the two, between the luxury Kaka'ako condos and luxury single-family homes."
Few Foreign Buyers – for Now
All this is happening with mostly local and mainland buyers in the mix — international buyers from Asia and Australia have largely been sidelined from traveling to Hawai'i for the past two years because of their home nations' Covid travel restrictions.
"With Covid numbers stabilizing, I think you're going to see a bigger pullback to the luxury condos from the international buyers because they love the new and they love the amenities, the concierge, the shopping and the restaurants," Allen says.
While many international buyers tend to like the newer condos in Honolulu, some purchase beachfront in Windward O'ahu or the Diamond Head-Kāhala area.
The other thing to watch is what's happening in the West Coast markets, especially California's Bay Area.
Miki Kanda, a Realtor with Coldwell Banker Realty who also works in California, notes that every flight between Honolulu and San Francisco has been full lately and says there are a lot of wealthy people looking to buy who can't find anything in the Bay Area.
"It's just a crazy market, but California's even worse," she says. "They have nothing to sell and there's so many buyers with cash. All the buyers I show are cash buyers."