Obama's Kailua Stimulus Program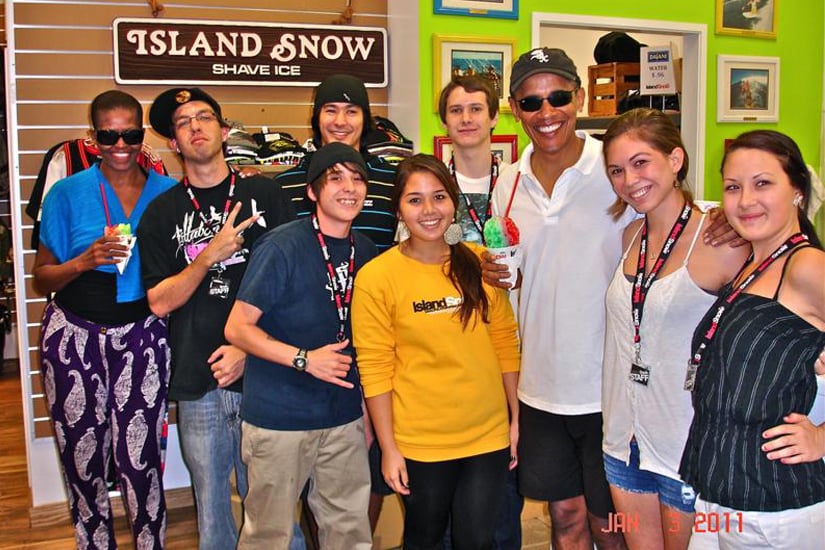 There's no question that business booms at Kailua's Island Snow shave ice and surf wear store whenever President Obama and his entourage are in town. But those well-publicized visits have left a long tail of increased year-round sales and revived a local brand.
Each time Obama vacations at a rented estate a few blocks away in Kailua Beach, he visits Island Snow to savor the shave ice. Others in his large party join in and many pick up omiyage.
"We've sold watches and all kinds of stuff to the Secret Service," says James Kodama, owner of the Windward Oahu store. "Lots of them are making purchases for family and friends for when they go home."
Without going into specifics, Kodama says the broad impact of Obama's patronage has been "substantial" and that he's "on track" to double sales of merchandise and shave ice for the fiscal year starting in November. He points to two big-picture changes:
• An increased awareness of Kailua as a destination, partly from the "Obama effect" and partly because Kailua and its beaches are being marketed aggressively to visitors, particularly the Japanese.
"We do get people who truck on over to Kailua just to see what this place is like. This helps not only me, but also everybody else," he says.
• The other impact of the Obama visits was more personal. When Kodama went into "semi-retirement" in 2008, selling or closing his larger stores at Ala Moana Center and in Waikiki, many people thought he had gone out of business.
The worldwide publicity of Obama's visits spread the message that Kodama was still in business, not far from where he grew up.
So, what does the president buy other than snow cones for himself and his family?
Kodama says the president politely declined a special "Obama" Island Snow T-shirt. "But I really would like an Island Snow T-shirt," he said.
So, that's what he got.