Preparing the workforce of tomorrow at Hawaii's public schools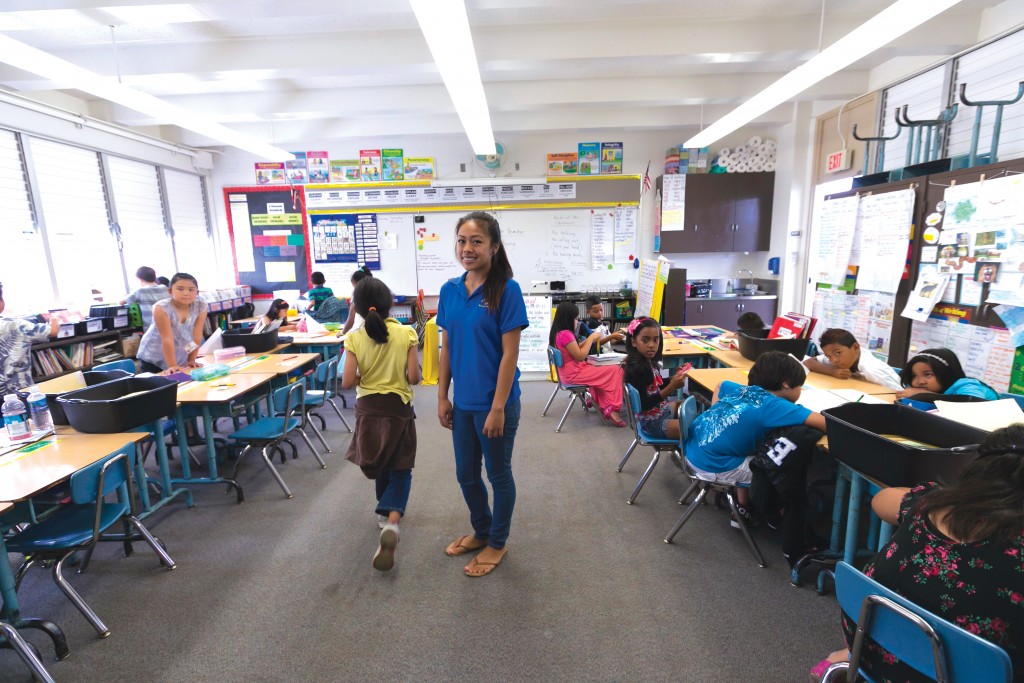 Download Pathways Offered by Each School (PDF)
Download Classes Within Each Pathway (XLS)
Instead of joining the chorus of complaints that high school students are not prepared for today's workplace, Russ Ogi, Eric Kim and Derek Kurisu are doing something about it.
They and many other business people are advising and supporting Career and Technical Education programs in the public high schools that help prepare students for jobs when they graduate.
"They come out with an understanding of the industry that they're studying, much more so than any book studies," says Dean Okimoto, owner of Nalo Farms, who serves on the advisory board for the natural resources career pathway. "They're looking at problems at that business, or at that occupation, and coming up with solutions."
The problem of unprepared high school graduates is not confined to Hawaii. Only one in five Americans thinks that today's high school graduates are ready for the workplace, according to a Phi Delta Kappa/Gallup poll released in August.
Luckily, many of Hawaii's students recognize the need for real-world skills and are enrolling in Career and Technical Education courses. Enrollment in Hawaii's courses has been rising since a federal law in 2006 provided CTE funding to the states, set some rules and formally adopted CTE as the proper term instead of the older phrase, vocational education.
"In 2010-2011, we had over 27,000 kids taking at least one CTE course," says Sherilyn Lau, a CTE specialist with the state Department of Education. That means nearly 60 percent of Hawaii's public high school students are learning hands-on and technical skills, demonstrating their proficiency and taking advice from business people who hope to hire them one day.
Russ Ogi, a consultant in 3D printing and direct digital manufacturing, has been a CTE curriculum advisor for the past four years. He remembers discovering firsthand the difference between regular school learning and what's needed in the real world, much like the difference between learning a language and actually using it.
"When I got out into the world it was very different," he says. "Say you read books on Japanese. When you actually go to Japan and try talking to somebody, conversational Japanese is very different. That's sort of how it was for me with my schooling."
Educators and teachers work with industry leaders to try to ensure that the curricula of CTE programs are relevant to the needs of the industry.
"CTE trains you to be able to walk out of that high school door and get a job," says Lowell Kalapa, executive director and president of the Hawaii Tax Foundation and a CTE advisor. "We have people who are looking for employees, and they're looking for employees they don't have to train because training is lost time, it's expensive."
Hawaii's CTE and similar programs nationwide are an evolved version of what used to be called vocational education, although educators want to make it clear that CTE is very different. "I don't even want to use the term voc ed," Lau says. "This is not your old voc ed."
One main difference is the emphasis on career pathways, which are broad groupings of occupations that share skills and knowledge. Hawaii has six career pathways:
arts and communication;
business;
health services;
natural resources;
industrial and engineering technology; and
public and human services.
The programs offered vary with each high school, depending on teacher expertise and student interest, according to Lau. "It's pretty much up to the schools," she says. "However, the schools try to offer as many as they can because their funding is tied to the programs."
Lau estimates that most schools have courses in four of the six pathways. They must provide at least three programs of study within each pathway; for instance, the business pathway includes accounting, entrepreneurship finance and management programs. Charter schools, she says, are eligible to teach CTE courses and receive federal funds, but only a few currently do.
Most jobs fall within one of these six pathways, and each pathway has technical skills that need to be learned. High school students begin by choosing a core course that lays the groundwork for the pathway, with subsequent courses building on the first.
"It's basically like picking a major in high school, or at least a concentration for a student to dabble in," says Denna Macanas, who graduated from Leilehua High School just a few years before CTE was implemented, but took the earlier versions of the courses. Now, she's deeply involved in Hawaii's natural resources pathway. Macanas is president of the Hawaii FFA Foundation and involved in the national FFA, which evolved out of the Future Farmers of America.
Each pathway has national student organizations to support it and FFA supports the natural resources pathway.
High school senior Shonn Hironaga is hopeful about his future thanks to the business pathway offered at Waiakea High School on Hawaii Island. "My sophomore year, I took business core, just because I had a friend taking it," he says.
Originally, Hironaga says, he wanted to become an engineer, but the business class showed him that he enjoyed creating business and marketing plans.
"I found that my end goal is going to be somewhere in the business field," he says, adding that he plans to study business in college.
Many other CTE students plan to build on their high school training in college and the pathways give them an idea of what programs they need to take in college to reach their career goals, says Ken Johnson. He served for 31 years at Honolulu Community College as the cooperative education coordinator and has been involved in CTE since its beginnings in Hawaii in 2006.
Johnson gives an example of how CTE helps high schoolers plan their education: If students like working outside and want to be groundskeepers, the natural resources pathway gives them the skills to do so right after graduating from high school. However, if they want to be plant propagators, they'll learn in the pathway that they need two to three years of postsecondary education and, if they want be botanists, they'll need four-year degrees.
Johnson says pathways can help lead to a lifetime of employment. "Although people have a variety of different jobs in their lifetime, they tend to keep jobs in the same general area or industry," he says.
High school graduates who continue their educations at community colleges can receive college credit for courses completed in high school, which saves them time and money.
Jessica Fernandez, a 2012 graduate of Farrington High, took courses in the school's business pathway, which led to a paid summer internship at Hawaii USA Federal Credit Union, a CTE supporter. At that internship, she opened new accounts, took deposits and provided customer service – skills that are among those taught in CTE accounting courses.
"I like being social, and I like dealing with numbers," says Fernandez, who continues to work at the credit union while attending UH-Manoa, with a focus on business.
Farrington senior Gezley Ebinger says the skills she learned in the public and human services pathway, such as how to build a lesson plan and manage a classroom, will help her to become a teacher someday.
"I come from a family with a lot of kids," she says, noting that she has always wanted to teach young children. Three days a week, Ebinger spends a few hours at Kapalama Elementary School as a teacher's aide to Brooke Gascon-Vea, a third-grade teacher who graduated from Farrington in 2006 after going through the same pathway.
"Our students are actually off-campus, in the working environment," says Marc Kawahara, a vice principal at Farrington who has taught CTE courses in the business pathway.
Each CTE pathway has an advisory council with industry professionals who make sure the courses reflect the skills they want in future employees.
"We talk to employers about what they want their employees to know and be able to do, and then we turn that into education," says Barbara White, associate director at the office of the state CTE director. That means a business person who gets involved will not simply attend a single meeting, but participate in an ongoing process to ensure a curriculum is up to date.
"We could have six meetings for just one set of standards," says White.
Kalapa says that some pathways are booming while others aren't. Popular arts and communications courses that allow students to develop animation, digital-media and graphic-design skills are on the rise, while some courses in the health-services pathway face less interest, such as those teaching infection control and laboratory procedures.  However, Kalapa would like to see the health services pathway grow in tandem with Hawaii's increasing need for long-term healthcare. "We also need people in the industry to come forward and help us build those standards," he says.
Another possibility, Kalapa says, is expanding the arts and communications pathway to include courses on the fashion industry, to capitalize on Hawaii's unique role as a melting pot of international fashion within the Asia-Pacific region. "We just haven't been able to get out to other businesses and engage them to come and volunteer and sit on the standards boards," he says.
Derek Kurisu, executive VP of KTA Super Stores on Hawaii Island, has been involved with programs like CTE since the "school-to-work" movement in the 1990s. "We always try to invite businesses in," says Kurisu, who is a member of the statewide business pathway advisory council. "A lot of businesses want to get involved at the schools but they really don't know how to make it happen." (See the "Get Involved" box below.)
Employers can also become judges in the yearly Performance-Based Assessment, a task-driven example of CTE skills put to use. The two-day event, held near the end of the school year, has CTE students from all over the state demonstrate what they have learned by completing tasks assigned and judged by employers in their field. Students in the business pathway often have to write a business or marketing plan, while those in the industrial- and engineering-technology pathway may be asked to improve an existing product.
"What I see is kids actually learning from businesses that write the standards, or who come up with the scenarios," says Eric Kim, videographer and owner of ImagineWurks, who has documented the Performance-Based Assessment for the past three years. "Kids in high school are coming up with things that local businesses are actually using. It's crazy."
Employers involved in CTE programs have recognized how the graduates will save them money in reduced training costs and employee turnover. "They want first dibs at those kids," says Lau. She says the DOE is working with employers to create a CTE job pool, a list of jobs starting with entry-level positions on up, for which CTE students will qualify based on the courses they've completed. The state Board of Education is also considering awarding a CTE Honors Designation to qualified high school graduates, says Lau.
Not all CTE students end up in the careers they had planned. Aaron Osalvo was considering a career as a mechanic, so he started working on cars in his high school auto courses and enrolled in the summertime Hawaii High School Auto Academy.
"Getting some experience in it before I actually made it my career made me realize it wasn't for me," he says. "If I didn't go through that program I don't think I would know what I know now." Plus, Osalvo adds, he is paying for his college education in business by working at a Jiffy Lube, using skills he picked up in CTE.
"We feel that is just as valuable," says White, "to help people learn what they don't like."
Some advocates believe that CTE education could help Hawaii and other states in their efforts to increase student proficiency in math, science, reading and other core subjects. A recent study prepared for the Association of Career and Technical Education by Achieve Inc. says CTE courses could be harnessed in that educational effort by giving students hands-on answers to their questions such as, "Why do I need to know this?" and "How will I use this?"
Ogi sees CTE as the best way of meeting the needs of the ever-changing job market. "If you want to know what the needs of a client are, you ask the client. And if you think of education with a sort-of business perspective, their clients are industry," he says. "… It's going to take a little bit of ramp-up time for CTE to really get established and start turning out those students who are immediately ready for the workforce, but it's got to start someplace."
---
Get Involved
CTE programs are looking for advisors, classroom speakers and places to take students on excursions. If you want to help, email goctehawaii@gmail.com. Learn more athawaii.edu/cte/goctehawaii.
Training Outside the Classroom
Some CTE programs take place during school breaks, outside of high schools, and are funded entirely by industry donations.
The Hawaii High School Auto Academy runs a six-week course during summers for recent high-school graduates and others.
The auto academy is in its ninth year, thanks to a collaboration of Honolulu Community College, the Cutter car dealerships and First Hawaiian Bank. Since the program began in 2004, FHB has donated more $125,000 and its latest gift of $22,500 in July ensures the auto academy will keep running through 2015. Students spend half their days doing class work at HCC and the other half in a Cutter internship.
The partnership was born out of a need for workers. "It is an industry that is starving for people and nobody thinks about it," says Terry Bennett, service manager at Cutter Chevrolet.
Chanel Taylor took automotive classes at Kaimuki High School for four years before graduating in 2005 and was planning to take further courses in college when she heard about the auto academy and enrolled. "They give you the hands-on experience of working at a dealership," she says. Taylor has since received her certification from HCC and now works at a Toyota dealership.
---
Courses of Study
Go to the online version of this story at hawaiibusiness.com to see links to:
A list of high schools statewide showing the pathways each offers;
A list of the full range of courses offered in the different CTE pathways, though note that each school does not offer all the possible courses in its selected pathways.
---
Completed Their Programs
Number of 12th grade students who have completed the requirements for a CTE program: