Problem-Solving Workout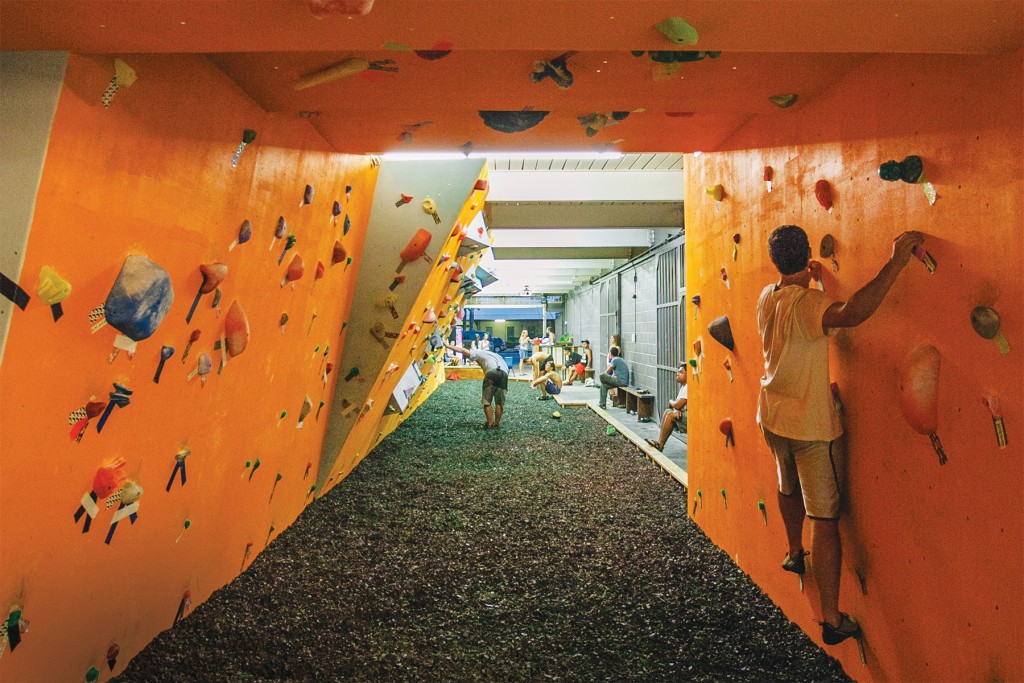 Cool Kakaako has been spawning no end of places to eat well. Now there's another place where you can work it off: the Volcanic Rock Gym on Keawe Street, a 2,000-square-foot bouldering facility that opened in April.
Just to be clear, we're not talking about something you can do with your body while your eyes watch "Breaking Bad." Bouldering, which splintered off from traditional mountain climbing in the 1960s, is also a workout for the mind.
Founded by a mathematician who also happened to be a gymnast, the sport's climbing routes are called "problems," and enthusiasts will talk about "breaking down" climbs into solvable units. If you sit down at nearby Taste Table or The Whole Ox deli, frequented by VRG's regulars, you might hear things like, "I just can't stop thinking about that problem."
"That's why we gave (the routes) names," says owner Justin Ridgely, who moved VRG from Waipio to Kakaako when it became clear that the vast majority of his clientele was driving there from town. "So you can go away and talk about it with somebody else. The social aspect is huge."
The "problems" at VRG, which have names like "Spock 'Em" and "Tasty Cake," are marked by difficulty level and begin at V0, which even this deskbound writer could scamper up with ease. They ascend and traverse the gym's surfaces at angles that range from gentler-than-vertical to across-the-ceiling.
When we visited in the early afternoon, climbers included a well-known restaurant owner, an attorney and a military man. VRG is wall to wall on midweek evenings, when nine-to-fivers of all stripes come to work off the stresses of the day in what has often been called a form of "moving meditation" – albeit one that requires a good grip.
VOLCANIC ROCK GYM
432 Keawe St.
Prices: Daily pass $15; monthly pass $60; monthly family pass $105
Hours: noon to 10 p.m.
Available for rental: climbing shoes and chalk