Protecting You From Bitcoin Fraud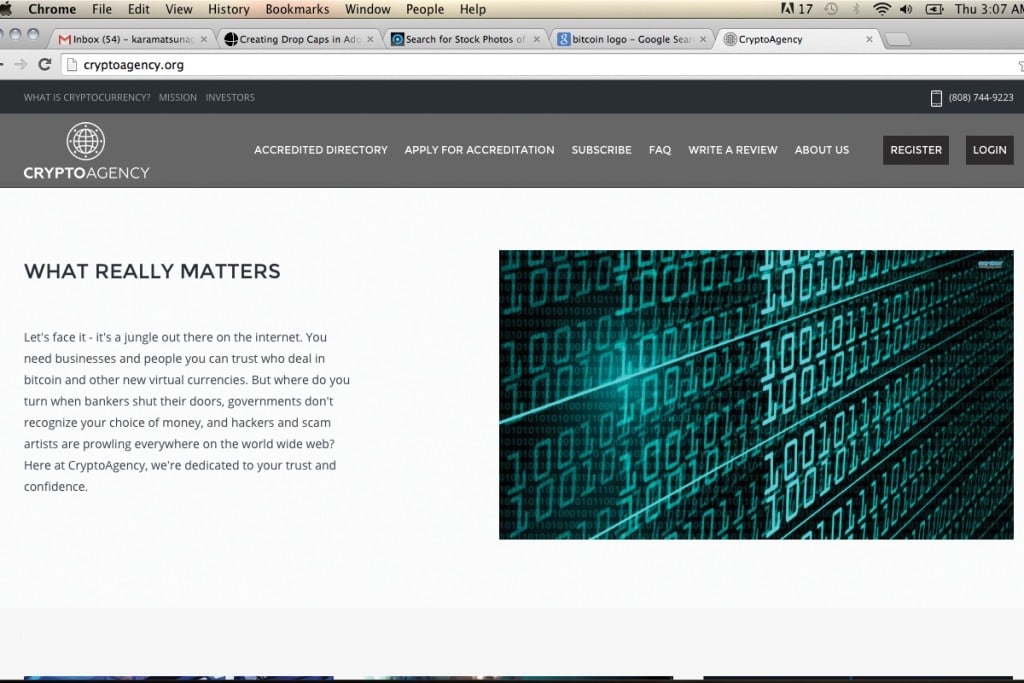 CREATOR: Larry Fenton has been an ironworker by trade for 26 years, holds a B.A. in history and political science from Chaminade University and a business certificate from the Wharton School of Business, and says he's "been looking for a way to get into the computer field for a while." His more than 10 years as an eBay seller prompted his interest in cryptocurrency and the start of his company CryptoAgency.
WHAT IS CRYPTOCURRENCY? It's a digital currency not issued by a central authority like the Federal Reserve. Instead, you can exchange your dollar bills for one of hundreds of different types of cryptocurrency, such as bitcoin, and use that currency to make transactions without paying interest or hidden fees. "Businesses that accept bitcoin won't have to pay a credit card fee. They'll pay a much lower bitcoin-related fee," explains Fenton.
WHAT CRYPTOAGENCY DOES: It's a website that's similar to Yelp – people sign up as users for free and write reviews about businesses. However, all of the 5,000+ businesses in CryptoAgency's database offer transactions through bitcoin. "It's mainly for consumers who want to take a look at companies that use bitcoin and decide whether or not they're a good company to deal with, because there are a lot of shady operators," says Fenton, adding that he started the business after dealing with a deceptive bitcoin company.
McKay Davis, co-founder of the local Meetup group Bitcoin Hawaii, agrees the bitcoin system needs a way to build trust because people have lost bitcoins to various companies and through multiple hacks of online wallets. "A trusted source that's simple enough for the average consumer to use would be beneficial to bitcoin when it does take off," says Davis. "It's kind of marrying the old school Better Business Bureau model with the new school cryptocurrency."
MARKET: Fenton says CryptoAgency's database of businesses spans the world. Anyone can exchange their traditional money for bitcoin at coinbase.com and begin transacting with businesses that accept bitcoin. "That's one of the safest and best methods to exchange U.S. dollars," says Fenton.
cryptoagency.org