Proving Ground for Young Talent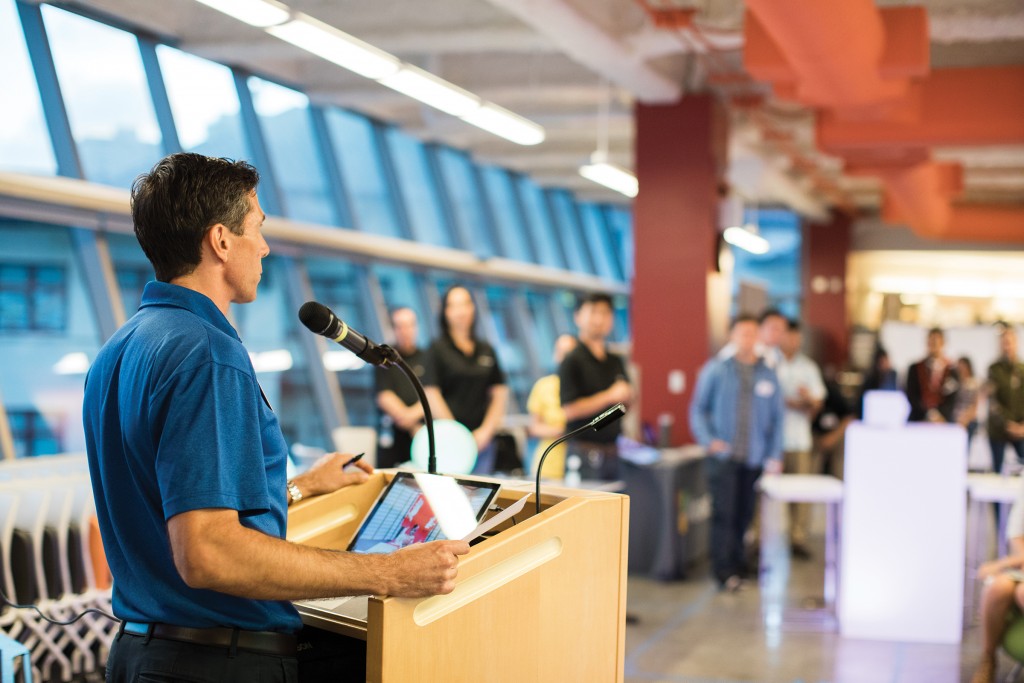 Students compete to demonstrate their entrepreneurial chops
Rose Wong's first job was at 14 working as a cashier and sushi roller for Kozo Sushi. Three years and seven jobs later, tired of minimum wage, she launched Kolohe Ocean Gems while still in high school.
Today, the jewelry business is thriving, said Wong, a sophomore studying entrepreneurship, marketing and finance at UH Manoa's Shidler College of Business. She's also president of Hawaii Student Entrepreneurs.
Wong presented her story along with plans for a new jewelry line to four judges at the 2018 Global Student Entrepreneurs Awards, held Jan. 18 at Iolani School's Sullivan Center. She spoke confidently, demonstrated a driven mindset and forthright vision, and won. The victory advanced her to the national competition in Dallas, where she hoped to build valuable connections that she can bring back to the UH entrepreneur community.
Her first jewelry was simple: necklaces made from gold-plated wire that she sold to classmates at Kaiser High School. She also built a website that allowed her to sell online. Now, her designs are much more refined.
When help is needed, Wong gratefully turns to her 12 siblings, each with different strengths. She says her sisters like to sell, while some of her brothers are great at manufacturing. "My brothers will fight over it sometimes, because I pay well," she joked.
Wong said she was nominated to pitch an idea for an app at the Women's Business Enterprise National Council conference in Las Vegas in June 2017. While there, she found an extra table at the conference's fair, so she set out her jewelry and sold out in a few hours, earning $1,000. "That's when I actually realized the potential of my small jewelry business and that I should be pitching it," she said.
Wong enjoys selling Kolohe Ocean Gems jewelry during marketplace events at Salt in Kakaako, the Blaisdell Center and other venues. She said perks like discounts for Instagram followers and free rings for large orders keep customers loyal.
Looking forward, Wong has big plans for a new jewelry line catering to finer tastes. "Rose Gold will be specializing in fine jewelry, gemstones and diamonds," she said, careful not to divulge too much of the business plan.
One of the competition's judges was Sean Tadaki, a founder of Commercial Asset Advisors and president-elect of the Hawaii chapter of Entrepreneurs' Organization. "Rose was very tenacious," Tadaki said. "It came through that if this didn't work, she's the type that could pick herself up and start something else."
EO's Hawaii chapter holds the Global Student Entrepreneurs Awards competition each year for students who own and operate a business, with 70 percent of the score focused on the entrepreneurs' potential and 30 percent on their existing businesses and achievements. "It's a great proving ground for young talent," said Tadaki.
EO board member Scott Paul said the quality of the GSEA nominees continues to step up every year.
BYU-Hawaii business management student Kalin Uluave was last year's victor and attended the 2017 national competition. "It was neat to see the different projects and see things I'd never thought about before," he said.
This year Uluave presented a new business, So'Da Bomb, a mixed soda and bakery truck parked at the Polynesian Cultural Center in Laie. He said a positive customer experience is the core value for So'Da Bomb and after nine months in operation his business has garnered $170,000 in sales and the trust and respect of the local community.
Nneka Brown-Massey majors in entrepreneurship at Wayland Baptist University. In 2016 she was preparing to attend college after a nine-year Army career that included service as a paratrooper in the 82nd Airborne Division. She said she could not find notebooks that appealed to her aesthetically and that's when the idea for Innovative Supplies was born.
She sourced artwork for covers from artists she connected with via social media, tapped an Instagram platform to promote the product and launched her business selling notebooks in July 2016. Innovative Supplies sold over 8,000 notebooks in its first 24 hours, enough to break the website, she said.
Rice Up Filipino Farmers is the business founded by BYU-Hawaii student Elvin Jerome Laceda in 2016. He presented it at GSEA in 2017 and finished as the runner-up this year, with judges commending him for his business accomplishments over the past year.
Rice Up began as an app to help farmers in the Philippines develop broader markets online and increase profits. Last year, Laceda and his team expanded by teaching farmers financial literacy and sustainable farming practices using technology. Rice Up has connected with the Jollibee chain to supply rice and other food for the popular restaurants, Laceda explained from the stage.
Bernard Uy of Wall-to-Wall Studios was both judge and keynote speaker for the evening. His advice: "Do the hard thing; sometimes it pays off in the long run." He also noted that consumers will tend toward the brand they feel an emotional connection to.
Of the 2018 GSEA cohort, Uy said: "I'm impressed when anyone can juggle a business and do something else like be in school. … I loved how they brought their personal passion to become a business passion, and that they weren't just looking at it as business opportunities. They had some emotional connection to the business side."