Raising Funds for Hokulea's Worldwide Voyage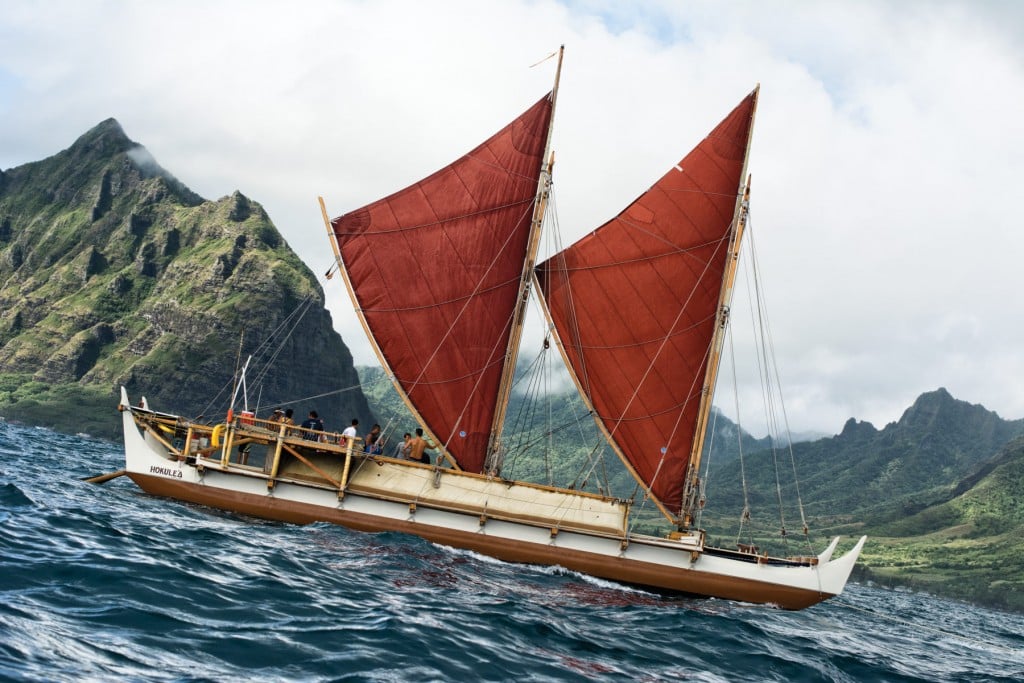 PHOTOS BY MONTE COSTA
---
"Raising funds in today's economy is no easy task," says Clyde Namuo, CEO of the Polynesian Voyaging Society. Neither is travelling around the world in a traditional Hawaiian sailing canoe, but the voyaging society is simultaneously working on both challenges. The fundraising is well underway for Hokulea's four-year, 47,000-mile voyage to 26 countries and about 60 ports of call. There will be a public canoe blessing in late April at Sand Island on Oahu and then Hokulea will leave for Hawaii Island, where the worldwide journey – called Malama Honua, which means caring for the Earth – will begin in May, weather permitting. The most well-known of the Hokulea navigators, Nainoa Thompson, describes the global journey by saying, "We will sail from Hawaii to Hawaii."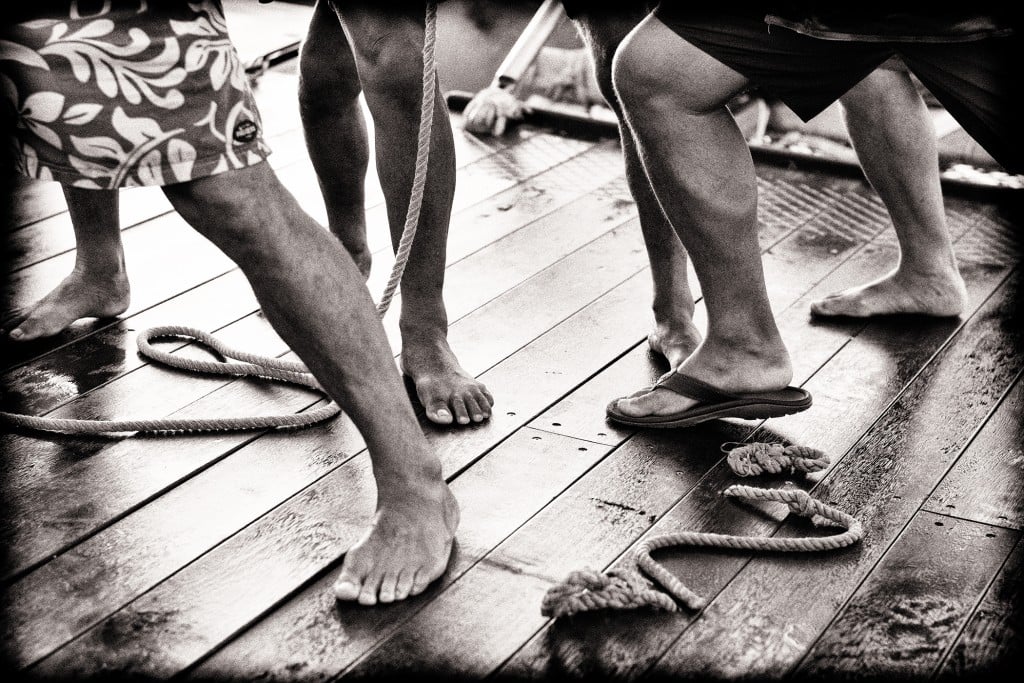 Education is an integral part of the expedition, so an escort boat, Hikianalia, will use modern technology to immediately send photos, videos and stories of the voyage back home and around the world so students and others can stay fully engaged. The two double-hulled canoes will travel together around the globe, and changes in routes and timetables will be noted on the website and blog at hokulea.org.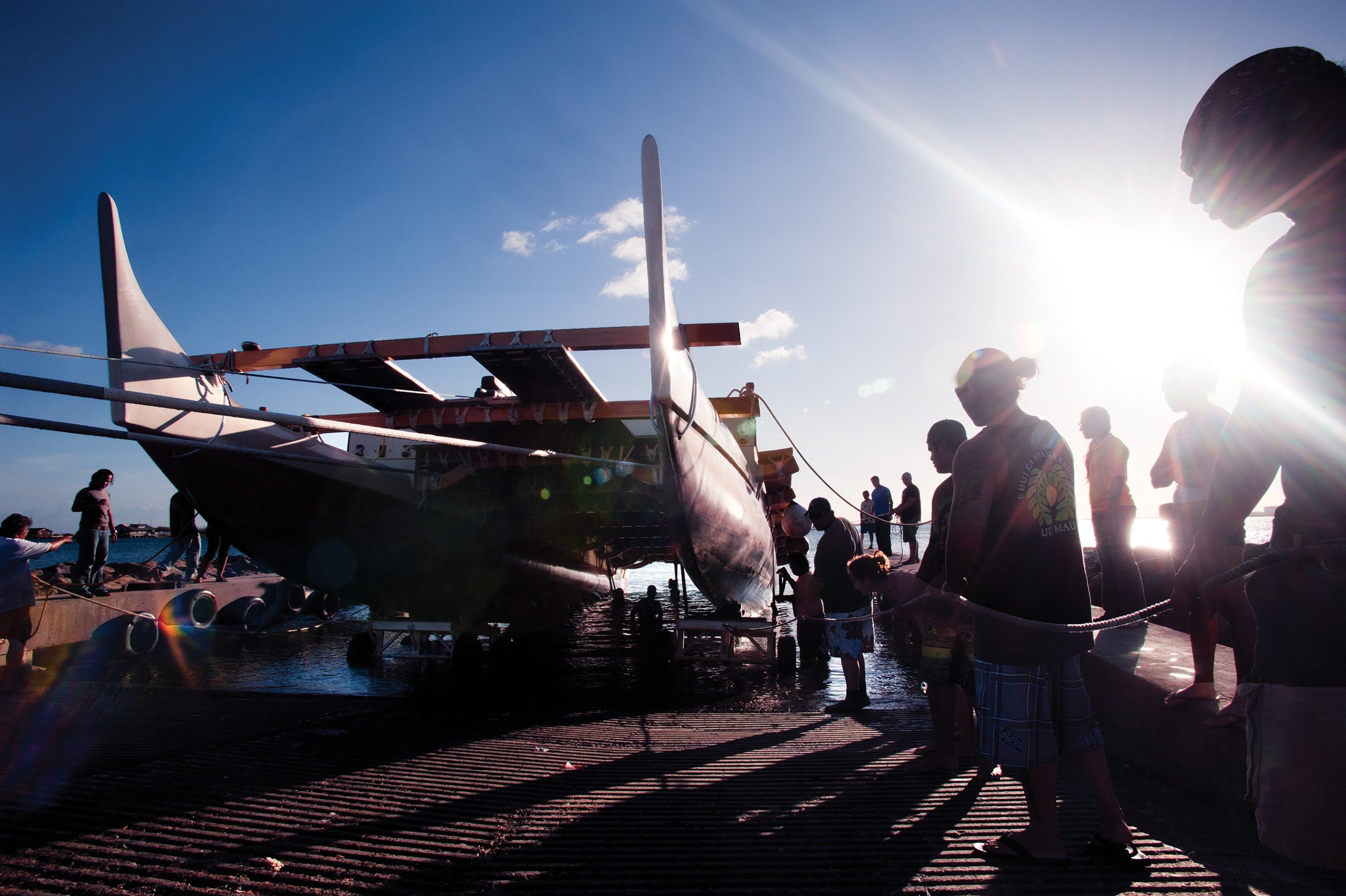 When the two canoes reach the eastern coast of America, Hikianalia will cross the Atlantic and visit ports in the Mediterranean, while Hokulea continues up the Eastern Seaboard, visiting indigenous and native communities. Then the canoes will re-connect and voyage together back to Hawaii.
The estimated cost of the journey is at least $12 million, with about $5 million in cash and in-kind donations on the books as of January 2014. The voyaging society needs support from a lot more companies, foundations and individuals, locally and nationally, so fundraising continues as the canoes are readied to sail.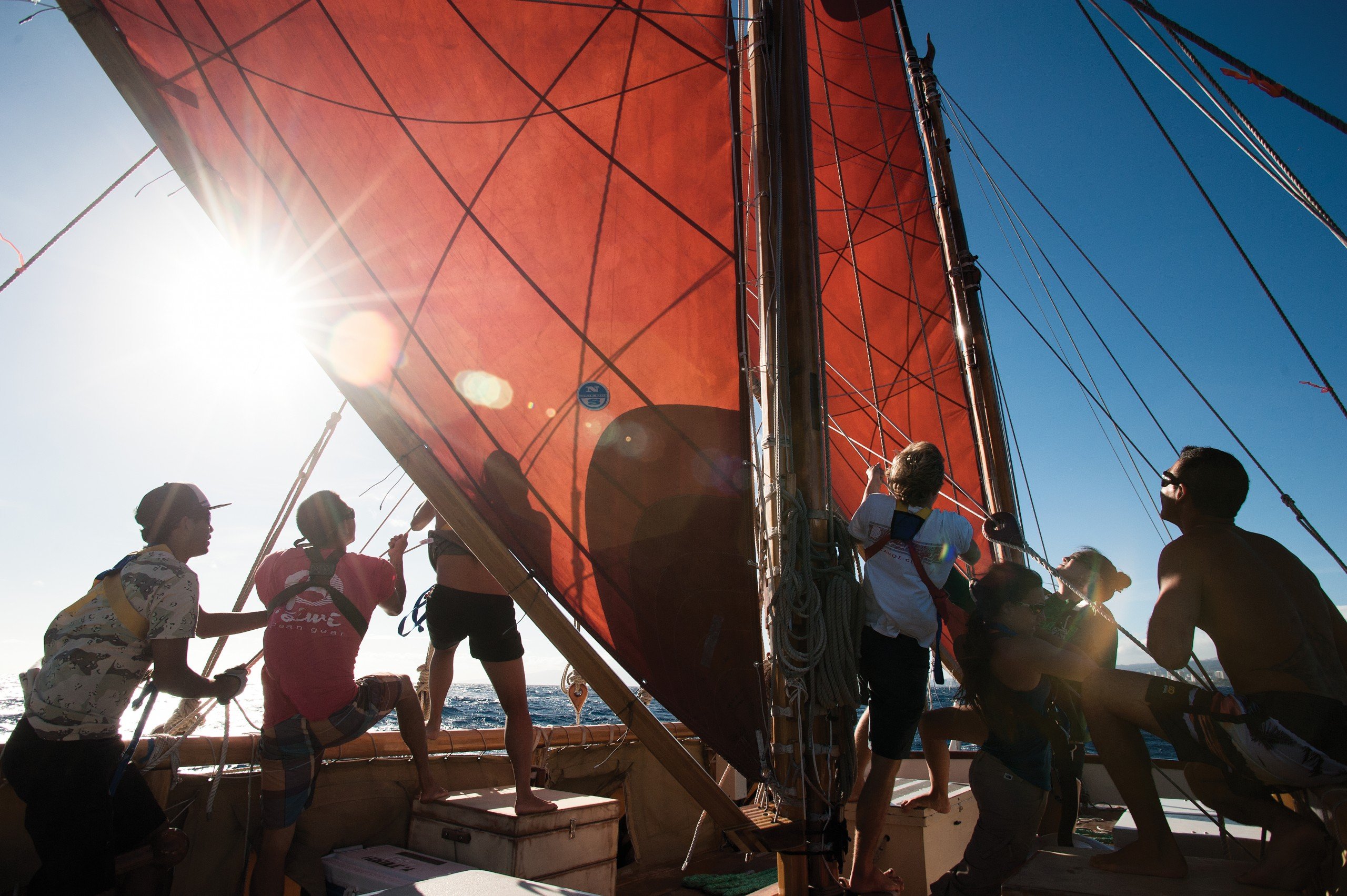 The first major sponsor to sign on was Hawaiian Airlines – an appropriate backer for a long-distance journey. As title sponsor, the airline is committed to providing up to 32 million miles of travel for the crew to any of Hawaiian's destinations, which is especially useful since crewmembers will be rotating in and out during the four-year odyssey. Hawaiian is also providing air-supply support throughout the Pacific.
Hawaiian says the value of the sponsorship is estimated to be $1 million. The sponsorship also means the journey will be officially called "The Worldwide Voyage Sponsored by Hawaiian Airlines."
When the sponsorship was announced in April, Hawaiian CEO Mark Dunkerley said, "The Worldwide Voyage honors a legacy of connecting islands throughout the Pacific that Polynesian navigators created centuries ago. It is our privilege as modern-day navigators and beneficiaries of that legacy to support this voyage and its message of sustainability and resource protection."
In November, Starwood Hotels & Resorts Hawaii and Kyo-ya Hotels & Resorts LP announced a five-year gift of $500,000 for the voyagers: $250,000 in cash and $250,000 of in-kind contributions.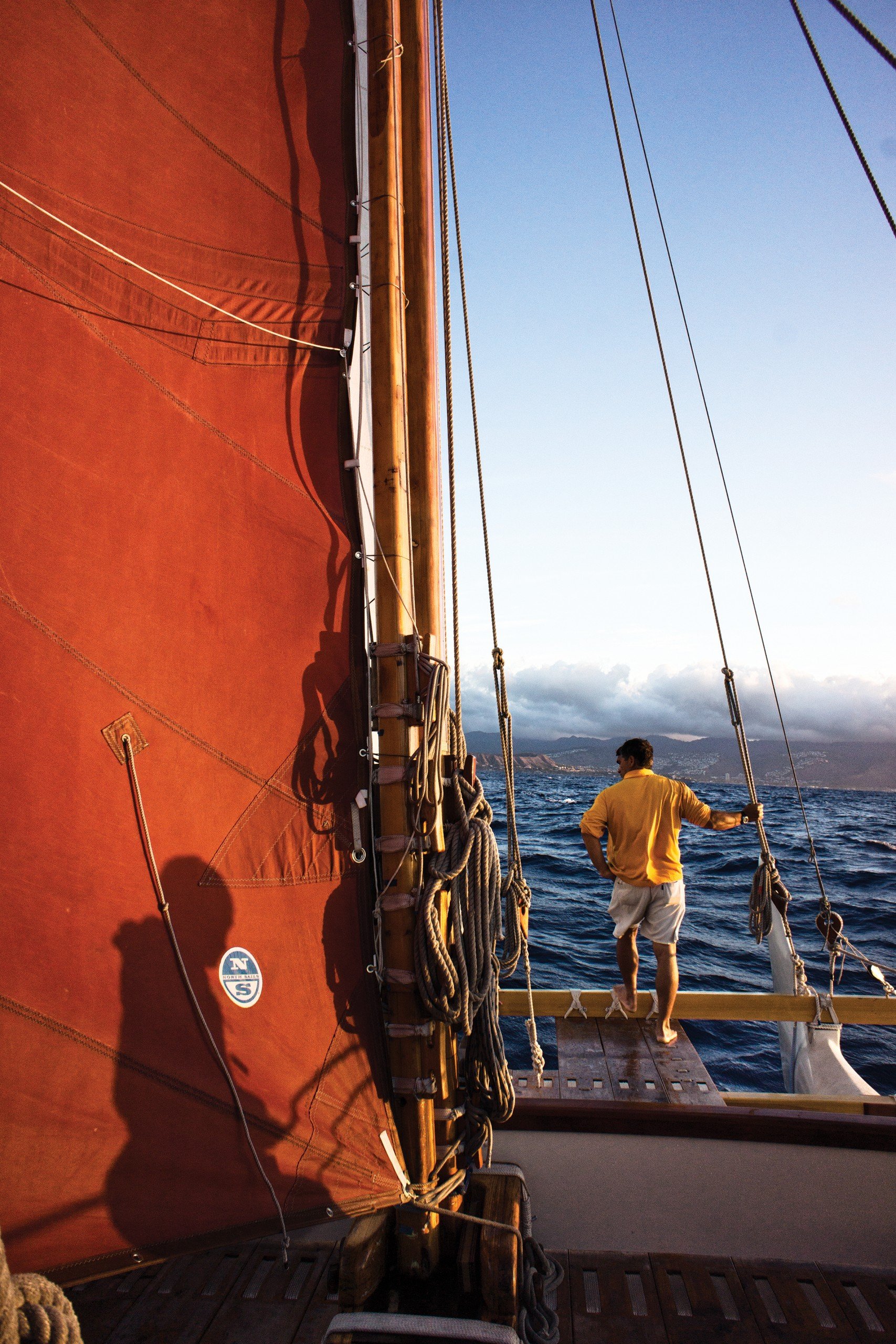 "Tourism is strengthened through education and appreciation of local culture," said Ernie Nishizaki, executive VP and COO of Kyo-ya.
"Hokulea's journey represents this for us and the entire tourism industry."
Soon afterward, Dr. Chuck Kelley, chairman of Outrigger Enterprises Group, announced that Outrigger Hotels and Resorts would provide more than $500,000 worth of support through fundraising efforts and cross marketing, and by providing accommodations at Outrigger hotels throughout the Asia-Pacific region.
Namuo says the crew of 12 will always sleep on board the Hokulea, but after many days at sea, a hot shower in fresh water at a sponsor's hotel will be a welcome respite.
Other contributions have come through, sometimes in unique ways, such as from the Hokulani Bake Shop. "They came to us and wanted to do something, offering a percentage of sales up to $2,000, resulting in the sale of 4,000 cupcakes," Namuo says.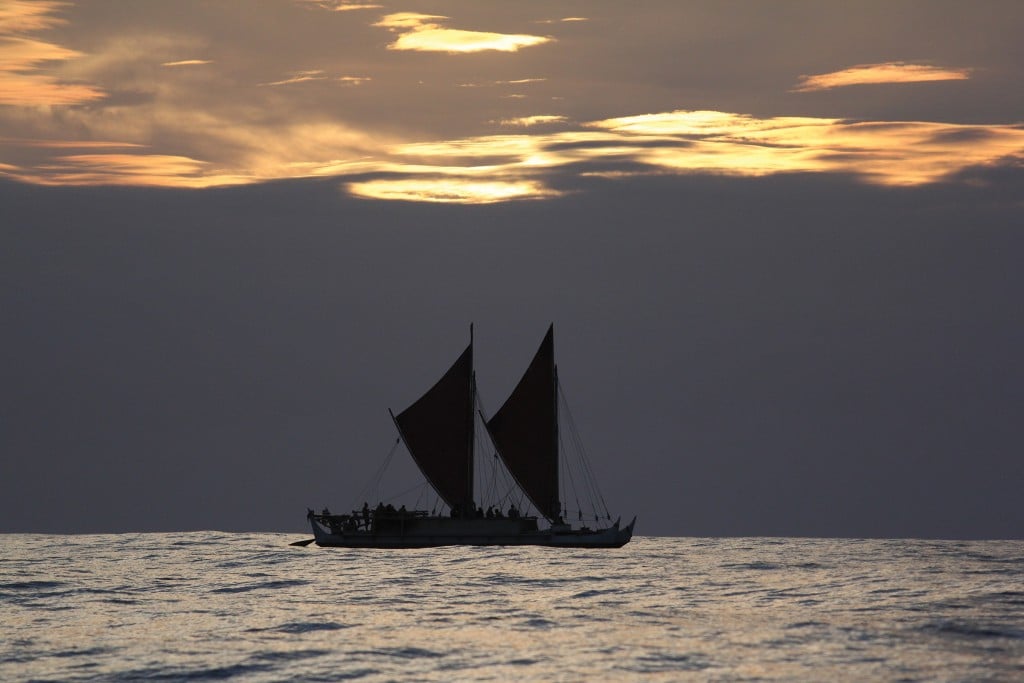 Matson Navigation will contribute shipping of necessary equipment throughout the Pacific. Bank of Hawaii donated $100,000, Central Pacific Bank has promised $10,000 a year over the next five years and the Office of Hawaiian Affairs has contributed $300,000, Namuo says. "Many other companies and foundations have been approached and are also considering donations."
Starting in May 2013, Hokulea sailed to 33 communities scattered around all the Hawaiian Islands to spread the word about the global voyage. During one stop last year, a volunteer put out a calabash bowl and, at the end of the day, handed more than a thousand dollars to the canoe team.
The legs of the voyage are segmented into sailing routes of a month in duration. Both Hokulea and Hikianalia will have 12-person crews, but they are all volunteers, many with families, full-time jobs and limited free time, so the crews will rotate. Safety is the No. 1 concern, so the crew will try to avoid all forms of danger, from pirates to storms.
Hokulea and its sister sailing canoes, Makalii and Hawaiiloa, have already completed dozens of voyages that have reached all the major Pacific islands, plus Japan, Canada and the U.S. West coast. Some 40 years of voyaging totaling about 140,000 miles. The upcoming journey will carry Hokulea and Hikianalia to Asia, Africa, Europe, South America and the U.S. East Coast. Part of the plan is to inspire and train the next generation of voyagers. "Without new crew dreaming of adventure, voyaging won't continue," Thompson says. That's why Malama Honua includes a mandate that 40 percent of the crew will be under 30 years old.
Many of Hawaii's education leaders provided their endorsement in May when they gathered at Hokulea's dockside base, Honolulu Community College's Marine Education and Training Center on Sand Island. Leaders of UH, the state Department of Education, Kamehameha Schools, Punahou School and many other charter and immersion schools signed a memorandum of understanding contained in a koa-bound book that will travel the world with the crew: "We believe that by inspiring children to explore, discover and learn about Island Earth, they will navigate the future of humanity toward vitality, renewal and compassion."
"Curriculum is being implemented at every grade level via the PVS website, hokulea.org," said Kathryn Matayoshi, state schools superintendent. "Students will be able to embark on a virtual educational journey and participate via various technology channels and the Internet."
Learn More
20 nations and about 60 ports of call
This map, based on one provided by the Polynesian Voyaging Society, shows the planned worldwide voyage of Hokulea and Hikianalia. The expectation is that the sailing canoes will visit about 60 ports in 20 countries, but the society says it is not disclosing most of the locations for safety reasons. One of those safety reasons is pirates, who may be tempted by sailing canoes whose speed – or lack of speed – is determined by wind and sea conditions.
---
Sailing Sister
Hawaiiloa, the most traditional of the sailing canoes, needs to be restored to continue its mission of training young voyagers
PHOTOS BY OLIVIER KONING
Once Hokulea leaves Hawaii's shores, sister ship Hawaiiloa will take the lead in training new crew with interisland trips, says Billy Richards, president of Friends of Hokulea and Hawaiiloa. Then those crewmembers will be ready when they take their turns on one of the many legs of the global voyage.
Richards, along with Jerry Ongies and Jay Dowsett, are leading the team to rebuild the Hawaiiloa, the only canoe made of traditional materials as much as possible.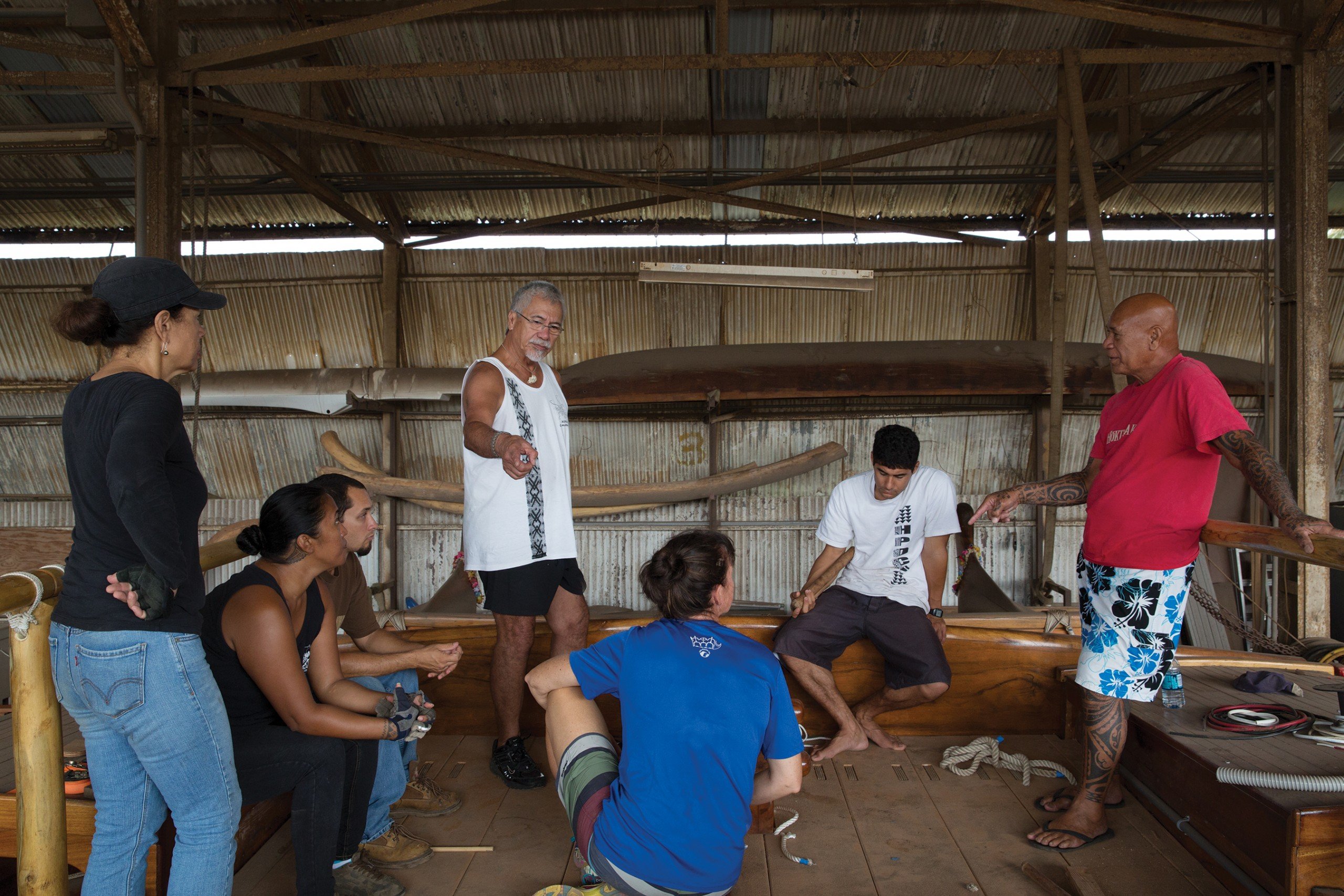 "In the late '80s I was part of the team asked to do a tree search in the koa forests of the Big Island," Richards explains. They needed a koa tree tall and wide enough to carve into a canoe. When they finally found a tree, they had no way to get it off the mountain. He laughs when he says, "I called the U.S. Marines to see if they could air-lift something that was five to six tons. They said 'no problem' until they heard it was up where the air was too thin to lift and fly."
Turning to "Plan B," they made contact with the Tlingit, one of the tribes that owns Sealaska Corp. in Alaska, who offered two Sitka spruce logs that were 200 feet tall, seven feet in diameter and over 400 years old. To those who question why Alaskan logs should be used in a Hawaiian canoe, Richards says, "Visit Ka Lae, South Point on the Big Island, even today and you can see drift logs from Alaska." Both Richards and Nainoa Thompson quote the journals of Capt. George Vancouver, in which he described the largest canoe ever seen in the Hawaiian Islands, something 60 to 100 feet long, carved from the trunk of a pine tree.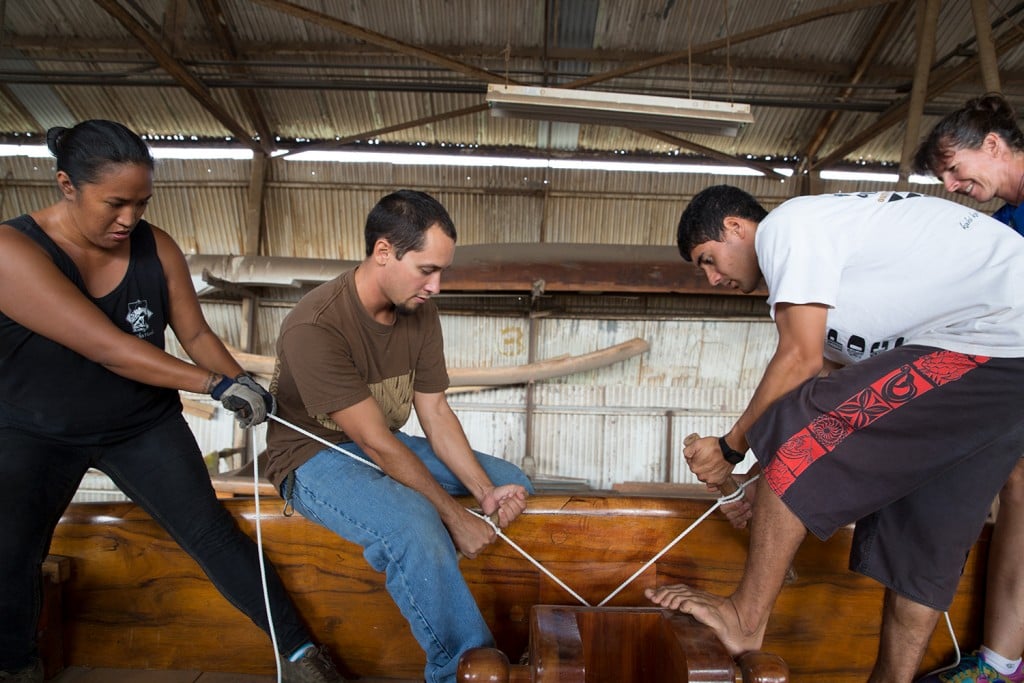 With those logs and the work of many hands, the 57-foot Hawaiiloa was created and it logged many thousands of miles of open ocean sailing. "Then it sat, on exhibit, like a fish out of water," Dowsett says. "It dried out." Now, it is up to Ongies, Richards, Dowsett and others to restore it.
Dowsett says the canoe had to come apart to be put back together. Unfortunately, no one made a master list, so the team is putting the pieces together, "a bit like a jigsaw puzzle in the round." Multiple cracks are being filled and mended with pewa, which are traditional Hawaiian butterfly patches.
Of course, like voyaging around the globe, canoe restoration costs money. Volunteers will perform many of the jobs, but thousands of hours must be invested by craftsmen who have to earn a living. Once purchased, the five miles of lashings need to be tied. A steering blade could cost $3,000, sails even more. While the Worldwide Voyage preparations move ahead, Hokulea's new crew members have the opportunity to learn the art of lashing on the Hawaiiloa.
---
Voice of the Canoe
Oiwi TV will be onboard all during the worldwide voyage, sending back pictures, video and data so students and others can connect with the adventure
Hokulea does not carry modern navigation systems. Its crew guides the boat by stars, wind, waves and other traditional methods passed down by countless generations of navigators.
Naalehu Anthony recalls the 1999 voyage to Rapa Nui, when a once-a-day radio connection to and from Hokulea provided all the crew's contact information, weather reports and condition updates.
"At 4 p.m. Hawaii Standard Time, every day, we received and gave only the most important information," Anthony says. "If there was a storm on the horizon it was up to the crew to handle since no additional weather report would be forthcoming until the next day."
Today, Anthony is CEO of Oiwi TV and the award-winning director of "Papa Mau," a documentary about Mau Piailug, the navigator who kept alive the Polynesian navigating tradition and passed it on to Nainoa Thompson and the other Pwo navigators. Anthony, along with Oiwi general manager Keoni Lee and their team are planning to ensure that Oiwi brings Hokulea's stories about the world back to Hawaii.
The idea behind Oiwi TV is to present news from a Hawaiian perspective, with videos in English and Hawaiian. You can watch it on Oceanic Channel 326 and on the web atwww.oiwi.tv.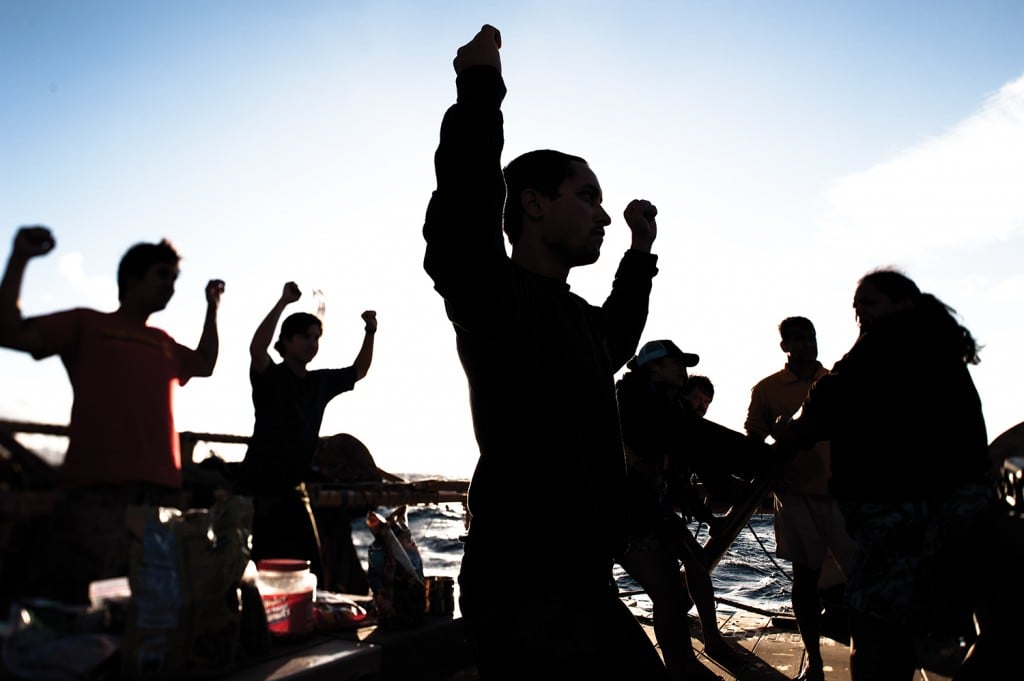 Daily updates from Hokulea would be impossible without the escort boat Hikianalia, a canoe with modern communication capabilities.
"The only way to move data is via satellite," Anthony says. "Out at sea there are no cell towers. Until this voyage, the cost was out of range. Now we will be able to send audio, still photos, video, scientific data and use Facebook, Twitter and Skype with schools and indigenous networks across the globe. The crew blogs will be a click away. Students will really be able to participate and learn, in real time."
The satellite link costs $4,000 a month for a journey that will last four years, in addition to the expense of four to six technicians, editors and news directors in the Honolulu office. Some members of the crews of Hikianalia and Hokulea have been trained to do added service as on-board photo editors and technicians. On top of that, Anthony says, they will also act as educators in the communities they visit, sharing their experience with local audiences.
Two Oiwi team members at a time will be imbedded as crew members for the duration of the four-year plus voyage, one on each canoe.
Each will do "double duty" because they will have a solid working knowledge of voyaging as well as the ability to operate the satellite feed and all technical programs. Anthony's own plan is to spend three month-long segments on the voyage each year.
Lee says this adventure is "so in line with what we are trying to do with Oiwi TV, showing everyone that traditional Hawaiian knowledge and culture has relevance and value in a modern context."