Real Estate Listings in 5 Languages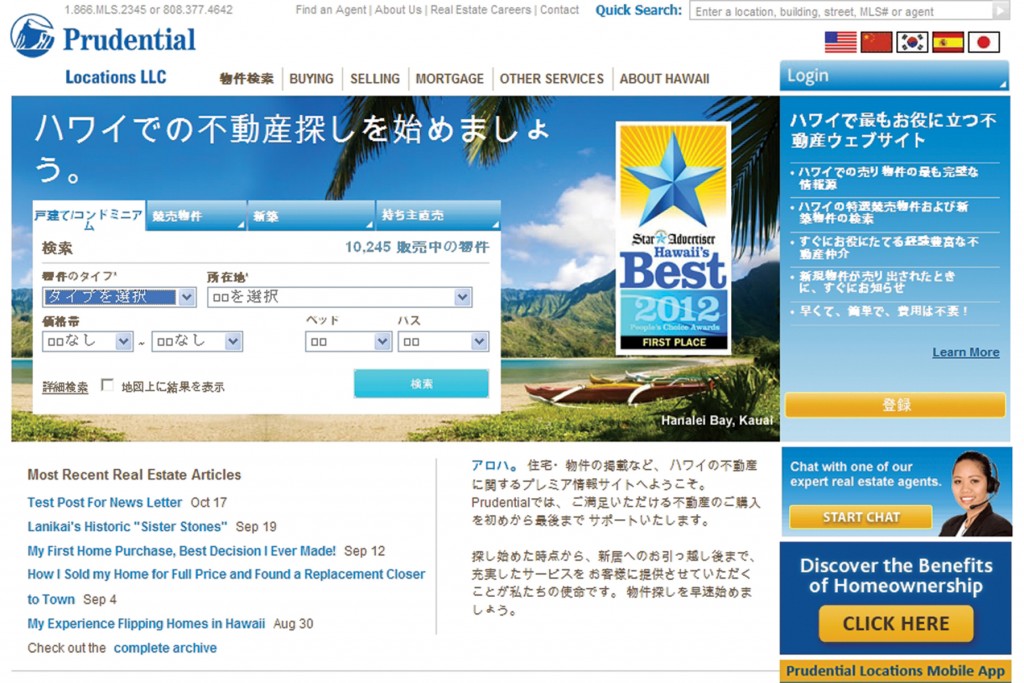 Many potential buyers begin their real estate search online, and more and more of those buyers are foreigners. That's why, in mid-February, Prudential Locations will launch a new website that offers fully translated listings in English, Japanese, Mandarin Chinese, Korean and Spanish.
Scott Higashi, executive VP of sales, says Prudential will be the only firm in Hawaii to offer this service for all MLS listings, new projects, sales by owners and foreclosures across the state.
"There's no other site aggregating this information," Higashi says. "And we're doing it in five languages."
He says the project was prompted by the steady growth in visits to Prudential's website from Japan, China and Korea. The Honolulu Board of Realtors' website is seeing similar growth in Asian traffic, says COO Rochelle Lee Gregson, so providing information in Asian languages makes sense.
"It would serve (Prudential) well to have communication done in a language these consumers are more familiar with," Gregson says. "Anyone who does that is, frankly, ahead of the curve."
Higashi says some other real estate companies offer translated information, but none offer as many languages. He also says some sites use online translation services such as Google Translate that aren't always accurate, whereas Prudential hires professionals to formally translate much of its site.
"There were easier ways, but we went the hard way to get that credibility with the consumer," Higashi says. "We know that if they have a bad experience on our site, the chances are they will be reluctant to visit it again …
"Consumers today have greater demands. We're just trying to keep up."