Real Estate Reboot
How the market for Hawaiʻi homes has been transformed by the pandemic, tech, customer preferences and other changes.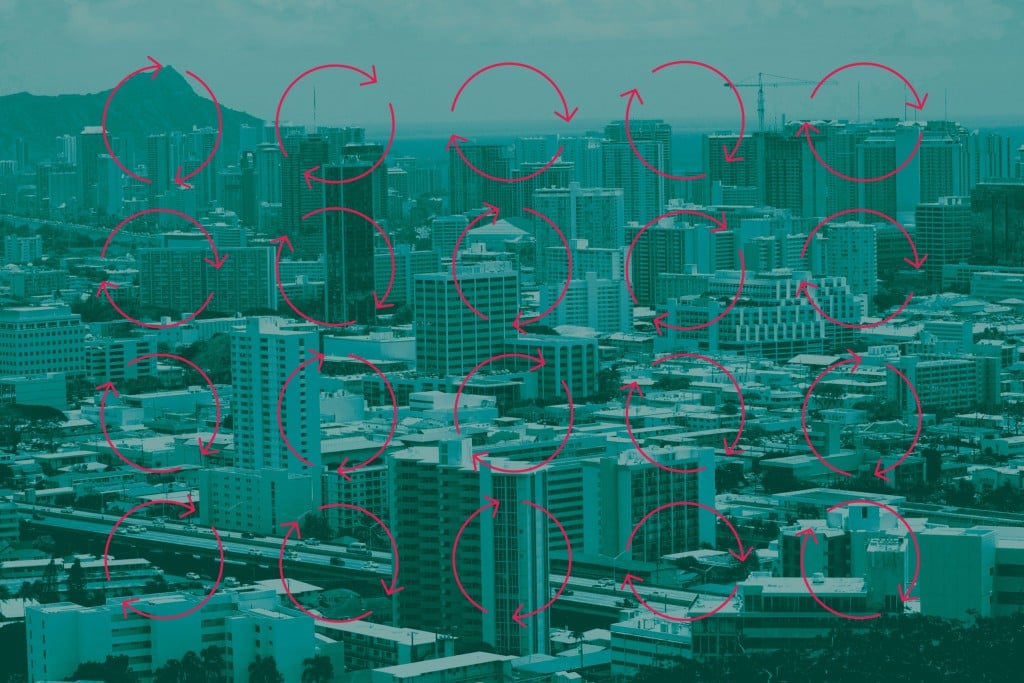 Hawaii Business Magazine wanted the inside story on changes in the local real estate industry, and especially how that affects buyers and sellers of local homes. So we invited six experts to a video discussion on June 15. Here are edited and condensed highlights from that conversation.
Participants:
Anton Steenman, President and CEO, Elite Pacific Properties
Don Butler,

President, Hawaii Mortgage Experts

Nancy Donahue-Jones,

CEO, Hawai'i Association of Realtors

Faith Geronimo,

CEO, Hawaii Information Service

Kalama Kim,

VP, Coldwell Banker Pacific Properties

Mike Pietsch,

President, Title Guaranty

Moderator: Steve Petranik, Editor, Hawaii Business Magazine
Glossary
Fannie Mae, the Federal National Mortgage Association, and Freddie Mac, the Federal Home Loan Mortgage Corp.: Enterprises created by Congress that buy mortgages from lenders and either hold these mortgages or package the loans into securities that may be sold on the secondary market.
Mortgage Backed Securities: Mortgages that are packaged together and sold as a whole to investors.
Secondary Mortgage Market: A market where home loans and servicing rights are bought and sold between lenders and investors such as pension funds, insurance companies and hedge funds.
Mortgage Servicer: Company that handles the payment processing and sends monthly statements to borrowers.
Margin Call: Brokers allow some customers to invest by depositing some money or other collateral into a margin account and borrowing the rest. A margin call is the broker's demand that an investor deposit more money or securities into the margin account.
---
Sales and Prices
Petranik: Please bring us up to date on sales prices and sales volume.
Kim: While new listings and new pending deals mirrored the emergency proclamations every step of the way, single-family home prices remained steady. This is likely because prices are a function of the supply of homes and demand for homes, both of which dropped simultaneously and similarly. Closed sales dropped by 22.5% and active inventory dropped by 21.1%.
The condo market moved in the same direction. However, condo demand dropped further than condo supply, which led to a drop in the average price by 15.4%. The overall market value experienced a severe drop in June by 11.2% and a whopping 66.6% for condos and townhomes.
The drastic drop in condos may be a result of many factors including condos implementing stricter rules on viewing properties during the pandemic, illustrating that many people still want to physically view properties before purchasing.
Steenman: Before the pandemic we had a great first quarter across Hawai'i, on regular real estate sales, brokerage sales, as well as sales of vacation rental and long-term rental properties. Since the pandemic, we have seen a significant drop in sales across the state. The Neighbor Islands were hit much harder, with single-family homes declining around twice as much as O'ahu in May.
On O'ahu, we have much more of a local economy – a larger population that moves around on the island – whereas the Neighbor Islands are dependent on Mainland buyers who haven't been able to come to Hawai'i during the pandemic.
Sales vary greatly across the Islands as well. Interestingly, the Big Island actually did OK year to date. It was just down maybe a couple of percentage points on single-family homes. Of course, the sale of vacation rental properties has come down a lot. Long-term rental properties held up well; we haven't seen much of an impact there.
There has been a significant reduction of listings, people taking homes off the market – in an environment where inventory was already low. On the other hand, condo prices have come down. The trend is people are now looking for bigger homes with more amenities such as a home office or larger kitchen because they have to spend a lot more time at home. They also favor single-family homes over condos also because they eliminate congestion associated with elevators and common areas.
Butler: We've also seen a decline in investor mortgages. I think a lot of investors were concerned they wouldn't be able to find tenants. But oddly, the investors who did stick around have found it very easy to get things occupied even in the midst of COVID.
Steenman: Investor sales are definitely down from our perspective. We are not seeing investors buying vacation rental homes or people buying second or third homes, then turning them into vacation rentals as they normally might.
One reason is there was a complete lockdown on tourist vacation rentals in Hawai'i until just recently. Another reason is all the new laws related to vacation rentals that have been enacted over the last 12 months in the different counties. It's created uncertainty for investors.
There is a little bit of conversion from short-term to long-term rentals, but they are very different types of markets. Long-term rentals are typically unfurnished, whereas vacation rentals are completely outfitted properties.
On the property management side, we've made a lot of procedural changes to social distance and sanitize. We use technology instead of meeting in person, and work closely with our cleaning crews to ensure more time for cleaning
between reservations.
Kim: In addition to the vacation rental market, the sale of luxury homes has also declined. During April we saw a large drop in luxury home sales (priced over $1.5 million) to just 21 on O'ahu.
Steenman: Yes. I think in any significant economic downturn, we see an impact in luxury markets. For one thing, people may be less likely to buy a $2 million or $3 million home without seeing it first. Secondly, when the stock market is volatile, investors and luxury buyers may delay discretionary spending.
We've seen movement to lower price points in the middle market. These are people who buy out of necessity, for example doctors who move to Hawai'i because they already signed contracts. Those people still need to move, and they still need to purchase homes. But there's a lot of pent-up demand for the luxury market, and over the last month or so, it has started to come back.
Pietsch: I'd agree that the investment side will continue to be slow, but we've also seen some anomalies on the ultra-luxury high end in the last few weeks, like the Gold Coast on the Big Island where people are coming in with cash and closing on properties. I don't know if those buyers have been here before and seen those properties, but I think seeing those cash sales is really positive on the high-end investment side.
Sales Innovations
Kim: COVID-19 made the sales process more efficient in ways by allowing only private showings (no open houses until now), drive-by appraisals and alternative signing using online notaries.
We found that while some buyers were willing to view homes virtually to begin the process, most scheduled a physical viewing before proceeding with an offer. Real estate professionals quickly adjusted to virtual meetings through Microsoft Teams or Zoom, adding a new skill to their toolkit.
They also increased their training regimens since they were working at home, allowing more time to sharpen their skills.
Donahue-Jones: We recently surveyed our Hawai'i Realtors Association membership and were pleasantly surprised that they are very optimistic about the future over the next 12 months. Clients, their buyers and sellers are now able to view properties 24/7 instead of the traditional open house on a Sunday afternoon from 1 to 4 p.m. This has allowed people to maintain social distancing and still view the properties.
Geronimo: We are definitely seeing a lot of innovation in the real estate space. A lot of the MLS services are reaching this feature parity. What kind of data do you put around the listing and the property information to tell their story? It's really about telling the story of the property, telling the story of your brokerage that's marketing the property in a compelling way. I think you'll see some really nice leveling up of how we're doing things with virtual tools and how statistics are presented.
Now, in this world of separation, the innovation in technology really has to be about how do you still evoke emotion and something visceral into the experience of showing a property? It could be you're looking at 25 properties online and then you're going to narrow it down to one or two to visit. I have seen a couple of production companies that might come to the forefront to offer these types of services to make things more personal and professional-looking and more visceral.
Steenman: It might be interesting if some rules change out of necessity. Currently there's a rule that pictures on the MLS cannot show identifiable people. But if a video or photo shows people in a home, you get a much better sense of dimension, size and depth.
Geronimo: I agree. Within the MLS industry itself, there were a lot of discussions about what rules we can relax during this time to help the brokers and agents and so it'll be interesting to see what comes because now is the time to review these things.
Pietsch: We've been getting creative with options for signing and mobile notary. It's not extremely efficient yet, but I think virtual closings through video will be much more efficient in the months ahead. We also introduced drive-thru signings to make our services more convenient and available to people in different ways.
People are still welcome to come into our branches to sign and that will always be available. But I think virtual processes will become more efficient and will continue to be a way of doing business.
Butler: We've partnered with Mike at Title Guaranty on the drive-thru signings. Customers appreciate the convenience of the mobile notary or drive-thru signing. It makes it an easy transition for them instead of having to schedule everything separately. There isn't time during the drive-thru for personal connection or chitchatting but all that can really happen on Zoom.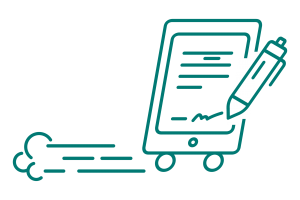 As long as we communicate properly on the phone or video chat, they feel comfortable with the process. It's convenient for our loan officers also because they're able to handle three or four signings within an hour or two without having to drive to different spots.
Donahue-Jones: Our Realtor members have been able to take advantage of the time to reconnect with some of their clients. People still want to have that human element. They incorporate the technology, but it all does start with the human element. Buyers come to the conversation with a lot more access to data, but it's the Realtor who helps to bring the local perspective to interpret that data.
Impact of Job Uncertainty
Petranik: We know mortgage rates are low and there's been a lot of refinancing, but are the banks tighter in their due diligence now? What about first-time buyers: Are they able to get mortgages fairly easily?
Kim: Rates continue to surprise us by remaining low and dropping to new historical lows. Lenders did make changes since the pandemic began to minimize their risk exposure; however, these changes are much less dramatic than the changes made to lending in 2008-2011. Some of the recent changes are an increased minimum credit score and last-minute employment verifications.
Butler: Yes, at the very end they're going to do a verification of employment to make sure the buyer is maintaining their employment. Pretty much up to the hour of funding, they need to be still working.
Self-employed people definitely go through a bit of a ringer. If they're not an essential business, we can't use their income or some lenders will allow us to use a portion of their income depending on the likelihood of their businesses continuing as usual. Previously, if we had two years' tax returns we probably wouldn't need a profit and loss statement. Now they're asking for profit and loss and corresponding bank statements, which is a big change.
Every lender is looking at unemployment risk a little differently, depending on their exposure in different markets. From our side, as a broker, we have multiple lenders to go to, so we're having to figure out which lender is the easiest for which type of borrower, and then of those lenders who offers the best rate. It's been a challenge for us. We lost a few here and there. People were laid off and not getting monthly income, so we weren't able to use the unemployment benefits to qualify.
For homeowners who are struggling financially, the forbearance piece that the government enacted has been a huge help. The government basically said that for all Fannie-Freddie government loans, if anyone calls and says, "Hey, I'm in trouble due to COVID," the lender is required to grant forbearance for three months.
After those three months are up, then you owe those three payments plus your next payment, all at one crack, which is scary. They are allowed to extend it for up to a year so they could call back in two months and say, "I need another three months."
But the problem is the payment keeps getting built up and a lot of the Mainland servicers are saying, "No, you got to pay the full crack at one time." I think more lenders are tacking it on to the end of the loan because even though the borrower doesn't pay their mortgage as part of this forbearance, the lender is actually obligated to pay the note holder as if they've received
the payment.
Some lenders are worried that they won't be able to continue lending because they have all these payments they have to make for the people in forbearance. We had some big name lenders that were contemplating bankruptcy.
Petranik: What's the market for securitized mortgages?
Butler: Fannie Mae and Freddie Mac are still buying at a rapid pace. To help support the mortgage market liquidity the Federal Reserve has been buying about $4.5 billion of mortgage-backed securities, whereas prior to COVID, they were not buying any. This number has varied from $9 billion to $3 billion per day but has been around $4.5 billion for the past week or so. That helps keep rates low. Before the Fed stepped in, wild swings in rates every day combined with servicing defaults and margin calls jeopardized lenders' ability to fund new loans.
When a lender locks a rate they commit funds to deliver the loan to the market as locked so when rates drop and the applicant switches lenders and cancels that lock, the initial lender loses money. When a borrower does not pay their monthly mortgage payment, the servicer still has to pay the investor behind the mortgage, so when thousands of mortgage holders couldn't pay that's a huge amount the lender needs to cover. Combined, these strain the lenders' ability to fund new loans.
The federal government stabilized the markets at least for Fannie-Freddie and government loans with the Cares Act, the backing of the Federal Housing Finance Agency and by actions by the Fed to help provide liquidity.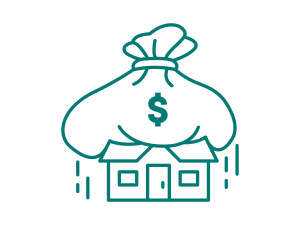 Petranik: What's the threshold for jumbo mortgages?
Butler: Anything over $765,600 on O'ahu is considered a jumbo loan and luckily, Bank of Hawaii and our local banks do a great job on jumbo loans. We're actually able to continue lending in that area, which is great.
Steenman: Real estate significantly impacts the local economy. There are nearly 20,000 agents whose incomes depend on commissions from buying and selling real estate. Then there are the third-party vendors, especially on the property management side of the business. Plumbers and landscapers, cleaners, repair people and inspectors. As rental volume decreases or real estate in general decreases, a lot of these people see big pieces of their business just evaporate. The economic impact is far-reaching in this business ecosystem.
Resilience and Recovery
Butler: The mortgage business is in a different place than it was in the Great Recession of 2007-2009. After the crash, getting back to a new normal took a few years, where they were almost too restrictive on lending. But today you still have 100% financing. You've got Fannie Mae going to 95%. We've got VA – a huge market in Hawai'i – which has no loan limit.
There's a lot of things in play on the mortgage side that once we do get moving again can help maintain momentum or boost it forward. Also, the technology push has been incredible. Getting our 50 employees to adapt to video technology has been a struggle for years, but now everyone's on board.
Steenman: Also during the Great Recession, there were a lot of other issues at play that potentially made it linger longer than this downturn will. Pre-pandemic, the underlying structure of the economy coming into this was really strong and healthy, so hopefully we can rebuild quickly. There is a lot of pent-up demand both on the real estate brokerage side and on the rental side. There is still low inventory and a lot of interest because Hawai'i is unique. There aren't many other places on the planet – particularly not on American soil – where you can find an experience like Hawai'i.
Donahue-Jones: I'm optimistic as well. There are a lot of people coming out of this that are going to say, "I don't need to be on the Mainland. I can be here in Hawai'i, and still work from home and do remote work." That is going to play a key role going forward in our industry and our recovery.
Geronimo: I continue to be inspired by the resilience and optimism in our industry. Every day I think, "How can I support the agents in the current market?" And when Hawai'i opens up and they're ready to go, how are we going to support them when they're running full speed with their hair on fire? I find that to be the challenge and the inspiration. All of the parts of the industry represented here today: This is how we help keep Hawai'i's real estate market moving and driving.